It all started when one of Sir Richard's staff, underwater photographer and marine mechanic Owen Buggy, found out that a ship which had been abandoned in the BVIs and languished for years in a junkyard was scheduled to be demolished. Now derelict ships rusting away in quiet harbours is nothing out of the ordinary on the BVIs, but this particular vessel was the Kodiak Queen, one of only five remaining ships from the attack on Pearl Harbour in World War Two. He touted the idea of sinking the Queen as an artificial reef, and the BVI Art Reef project blossomed into life from there.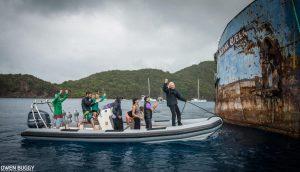 It took over nine months to thoroughly clean the vessel of all contaminants and make it safe for divers, and then construct the giant octopus sculpture that is draped over the rear of the superstructure. It now sits upright on the seabed, ready to welcome its first underwater visitors.
In his blog on www.virgin.com, Sir Richard was obviously delighted with the project, stating "We made waves in the BVI when we sunk one of the only ships to survive World War Two's Pearl Harbour attack, the Kodiak Queen. Having watched the Titanic countless times (what can I say, I'm proud to have Kate Winslet in the family!) and having sunk while crossing the Atlantic, I'm no stranger to seeing a ship make its way to the bottom of the ocean. It normally happens with great speed. However, the Kodiak Queen was so beautifully built that it took hours to go down.
"Cheers of joy and relief rung out when we heard her thud against the ocean floor – where the famous vessel will serve her new duty as a permanent eco-friendly underwater art installation.
"I'm already looking forward to returning for a dive once it has become a thriving marine habitat. Everything from corals to sea sponges, sharks and turtles will live on, in and around the wreck as it helps rehabilitate heavily over-fished marine populations."
He added: "Congratulations to Unite BVI, Maverick1000, Secret Samurai Productions, Beneath the Waves, Commercial Dive Services, Association of Reef Keepers and everyone involved for getting this amazing project off the ground and under the ocean.
"It was so lovely to see the local community embrace an initiative like this. Some of the team involved in building the wreck's art piece, a giant Kraken, have previously created sculptures for the famous Burning Man festival. Unlike Burning Man, where the experience is incredibly memorable but fleeting, BVI Art Reef will last for generations – instilling kids, locals and tourists with a passion for ocean conservation."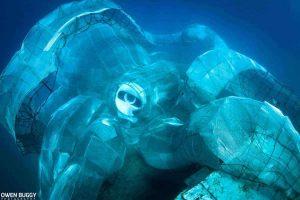 A comprehensive programme of coral-grafting is planned in the future, to boost natural growth on the sunken vessel, which in turn will create a vibrant artificial reef.
And that's not all. As Sir Richard announced on his blog: "I couldn't be more delighted that all this is happening in my own backyard. And it's just the beginning. We're already talking about creating and sinking other installations close to the wreck, to make it not only one of the world's most meaningful reefs, but one of the most vibrant and exciting too."
PHOTO CREDIT: Owen Buggy
PREFERRED PARTNER – You can dive the BVI Art Reef with luxury liveaboard Cuan Law. Check out www.allstarliveaboards.com for more information about this awesome vessel, its itineraries, and how you can explore the wonderful BVIs aboard the world's largest sailing trimaran.