SHEARWATER PETREL 3 | SRP: £1,130 STANDALONE UNIT / £1,345 WITH PORT CONNECTIONS
Introducing the Shearwater Petrel 3: A Dive Computer Powerhouse
Mark Evans: Shearwater Research are one of the biggest success stories in recent years. From first arriving on the scene, the Canadian dive computer powerhouse have steadily increased their market share and now it is virtually impossible to be at a dive site and not see several divers with a Shearwater adorning their wrist.
Comparing the Petrel 3 with the Perdix 2: Spotting the Differences
While many are familiar with the Peregrine, the Perdix and the Teric – which to be fair, will be the main units purchased by recreational and technical divers – there is also its venerable Petrel, now in 3 guise.
At first glance, the Petrel 3 looks very similar to a Perdix 2, but closer inspection reveals that the Petrel is an all-round meatier unit, and also has a larger 2.6-inch screen.
Enhanced Display Technology: AMOLED for a Brighter Dive Experience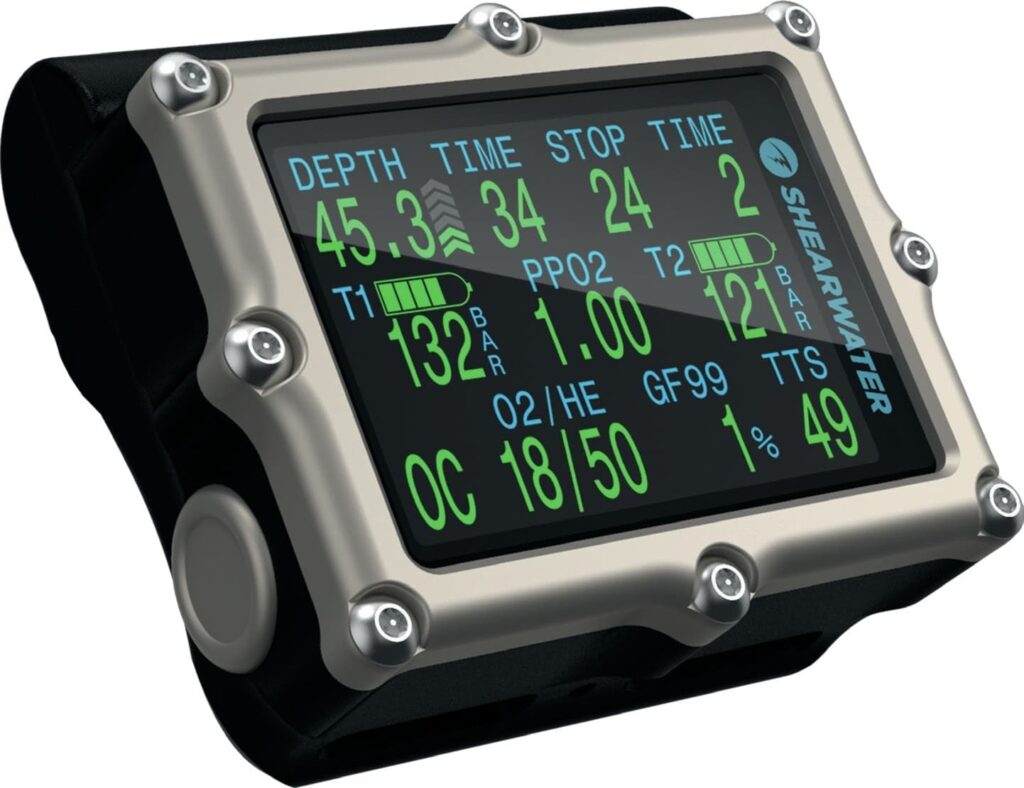 Not only is the screen larger, but at the brightest setting, it is unbelievably vivid. That is down to Shearwater using AMOLED technology for the display, the same as the wristwatch-style Teric, rather than LCD with an LED backlight as with the Perdix 2. This mega-bright display is protected from knocks and bangs by impact-resistant, aluminosilicate glass.
All-in-One Dive Computer: Catering to Every Diver's Needs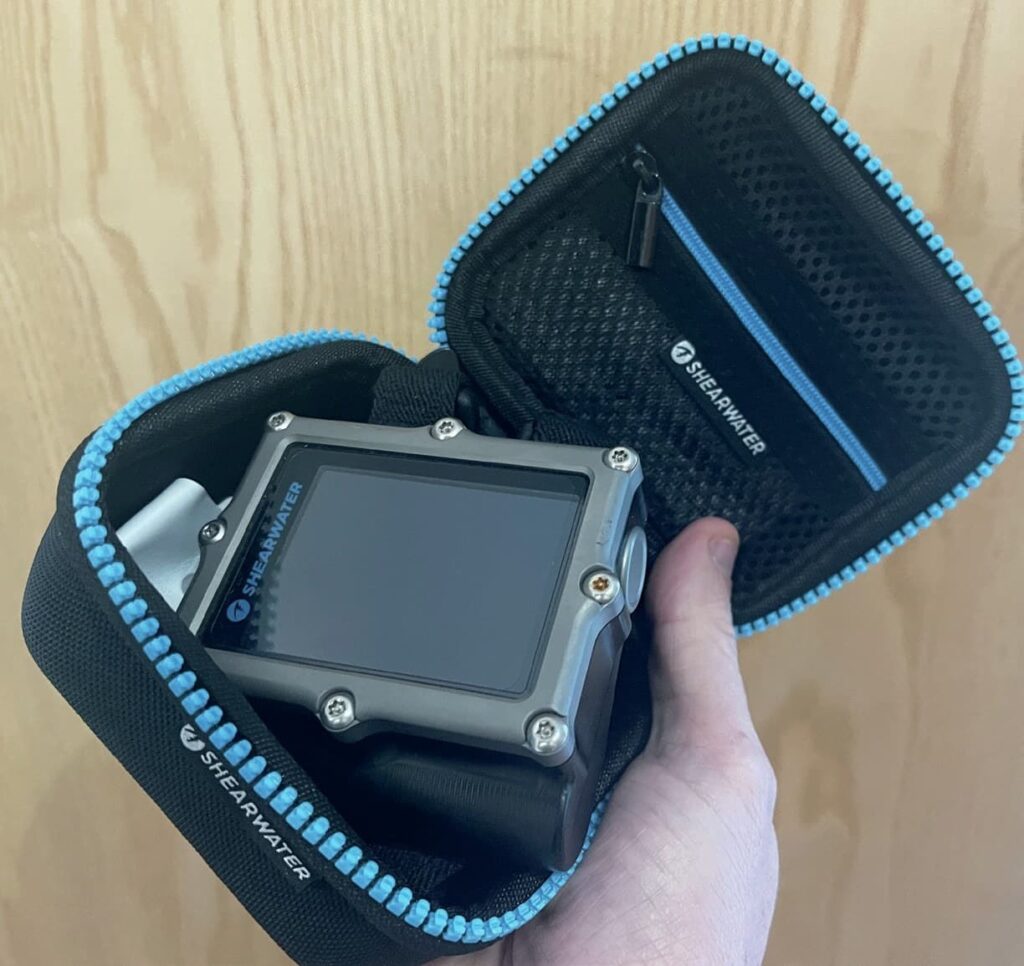 The Petrel 3 is a true multi-function dive computer. Like the Perdix 2, it really is in the running as 'the last computer you ever need to buy'. Running the Buhlmann GF algorithm (with optional VPM and DCIEM) and depth-rated to 290m, it can handle up to three nitrox mixes, is trimix enabled right out of the box, and can also do closed-circuit/bailout. There is even a gauge mode for those who just want the basic information.
User-Friendly Features: The Convenience of AA Batteries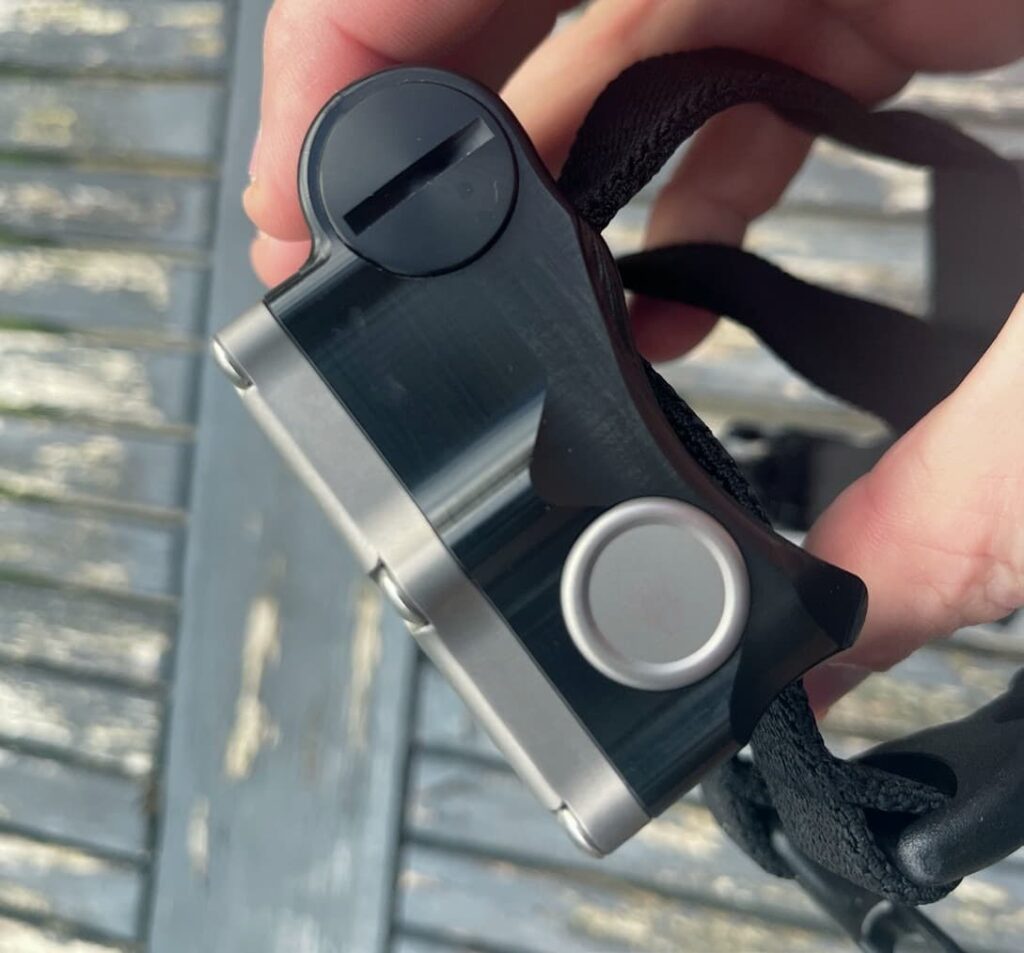 So basically, whether you are an entry-level diver, getting into technical diving, or a veteran CCR diver, the Petrel 3 has got you covered. The Petrel 3 does share many features with the Perdix 2. For instance, the Petrel also runs on a user-changeable AA battery. This is one of my favourite features on Shearwaters – it is literally a matter of seconds to swap out a depleted battery and insert a fresh one.
Vibration Alerts and Visual Cues: Staying Informed Underwater
Wherever you are in the world, you can pretty much find AA batteries – you don't have to worry about seeking out some weird size cell. I tend to keep a spare AA battery in the case of my Perdix 2 so I am always covered, but given the runtime you get out of a battery – around 40 hours from a standard AA alkaline cell – it is rarely needed.
Like the Perdix 2, it has a strong vibration alert system, as well as visual cues, which can easily be felt through a drysuited arm. I like how it vibrates to let me know it is entering its safety stop countdown, for instance, and then when it is complete, it gives another vibrate. Handy for when you are enjoying the last few minutes of your dive and don't have to keep looking to see how long you have left to hang. NB: Only 1.5v non-rechargeable lithium and 3.7v lithium rechargeable batteries support the vibration functions.
Multi-Transmitter Compatibility: Perfect for Multiple Cylinder Use
Another family trait is the ability to connect to multiple transmitters – four in the case of the Petrel 3 – which makes the unit ideal for those using several cylinders.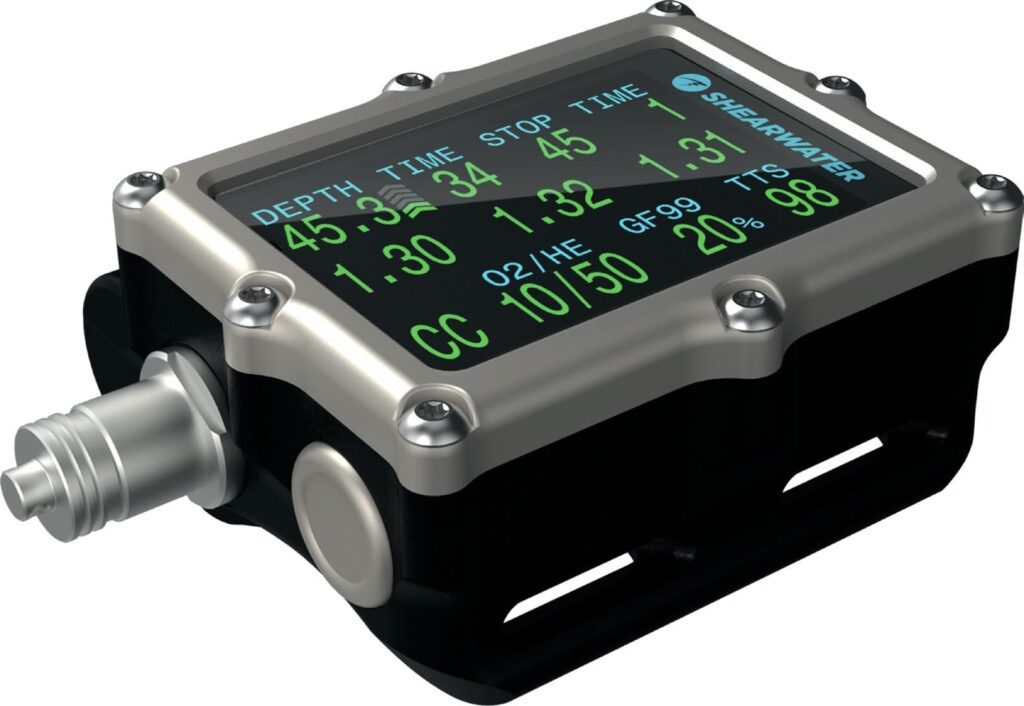 The Petrel 3 also boasts the same three-axis, tilt-compensated digital compass, which is available in all modes.
The Piezo buttons that make it simple to navigate around the intuitive menu, regardless of whether you are bare-handed, or wearing neoprene or even drygloves, and the titanium bezel, which is lightweight, durable and eyecatching, are also the same as its siblings.
Two Versions to Choose From: Standalone or Rebreather Monitoring
The Petrel 3 is available in two versions – a standalone unit, and a rebreather monitoring model, which has port connections for DiveCAN, 4-pin AK and Fischer connections.
Seamless Connectivity: Bluetooth and Upgradeable Firmware
Bluetooth wireless technology allows the Petrel 3 to effortlessly link to your smartphone, tablet, laptop or desktop computer, to download and display dive logs, etc, and the unit also features upgradeable firmware to make it future-proof.
Superior Protection and Comfort: Ballistic Nylon Case and Bungee Strap Kit
As with all Shearwaters, it comes in a zippered Ballistic nylon case, perfect to keep it safe during transport and storage. It is fitted with the same bungee strap kit as the Perdix 2, which I maintain are among the best on the market. The pinch clips are easy to close, tighten and open, even with gloves on, and I found that the computer stayed in place regardless of depth, etc. There is an optional bungee cord included for those who want to go that route, but personally, I prefer the elasticated strap set-up.
Deciding Between the Petrel 3 and the Perdix 2: Key Considerations
So who is going to buy a Petrel 3? Well, as I have described, it is a very capable unit, but then so is the Perdix 2, and it is several hundred pounds cheaper. The Petrel 3 is quite a chunky unit when it is sat on your arm, especially compared with the sleeker Perdix 2, but some people might like that feature. The AMOLED technology is amazingly bright and you can choose from myriad colours to personalise the display, but is it worth spending hundreds more over-and-above the Perdix 2, which has a fantastic display in its own right?
Ideal for Technical Divers: The Rebreather Monitoring Model
The Petrel 3 with the port connections, enabling it to be hard-wired into a rebreather, makes more sense for technical divers using CCRs.
Unique and Bold: The Stand-alone Petrel 3 for Individual Style
The stand-alone version is there for those who perhaps want to stand out from the crowd.
---
Also read: Apeks DSX Review: The Ultimate Dive Computer for the Future and Top 10 Dive Computers 2022
This article was originally published in Scuba Diver UK #71.
Subscribe digitally and read more great stories like this from anywhere in the world in a mobile-friendly format. Link to the article