Shearwater Research Inc., manufacturer of the increasingly popular Perdix AI and Teric dive computers has launched a brand-new model called the Peregrine.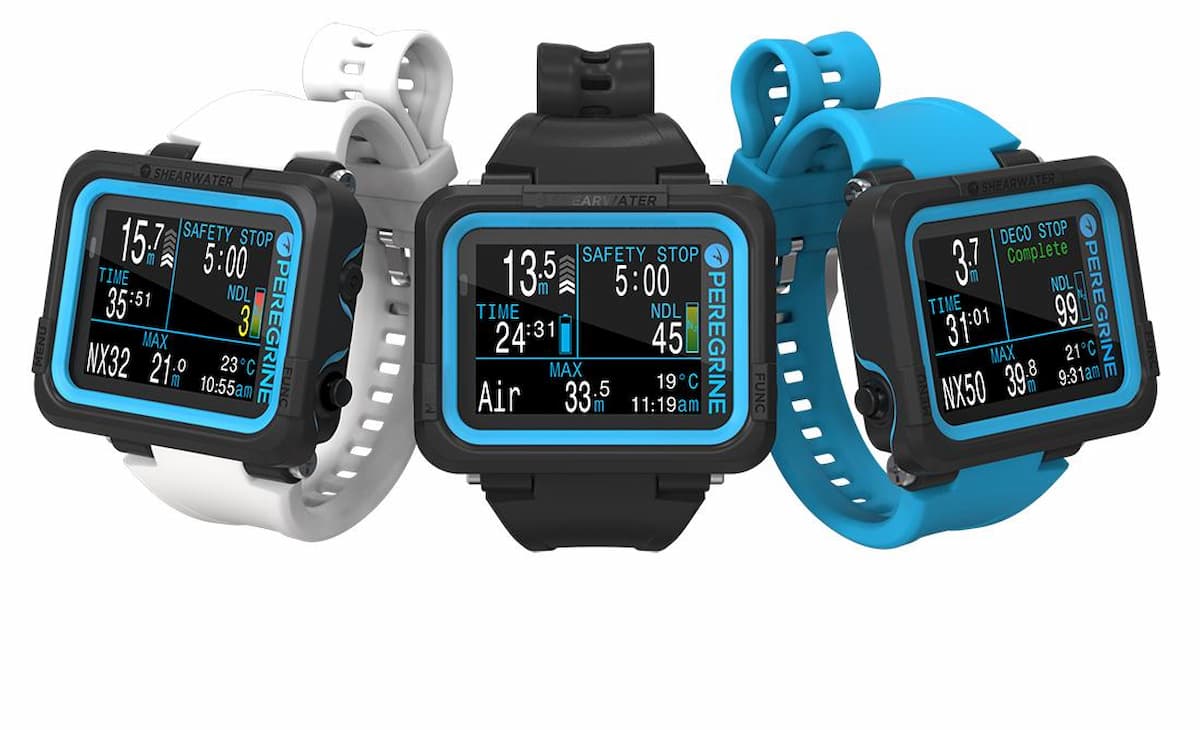 With a retail price point of $450 USD, the Peregrine is a full color, multi-gas dive computer that can be used in a number of diving modes – Air, Nitrox, 3-Gas Nitrox and Gauge mode that is sure to be easy to use for divers of all experience levels.
The aim of Shearwater's new Peregrine is to provide recreational divers with a highly affordable option while retaining most of the same features and functions fundamental to Shearwater's Perdix AI and Teric model dive computers.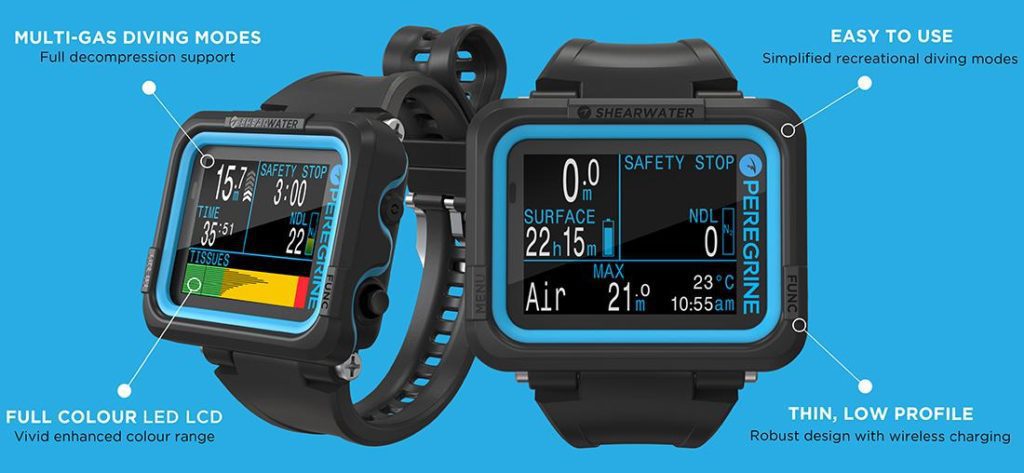 Highlights of the Peregrine include the same 2.2-inch/55.8mm wide, high-resolution color LCD display set in a highly robust low profile 77mm x 68mm x 25mm thick case with a depth rating of 394 ft / 120 m.
In addition to the Peregrine's 2.2-inch Color LCD display providing a high contrast, easy to read screen with automatic screen brightness, the display may be customized with user-defined fonts in a selection of sizes and colors as well as a choice of layouts for display information. There is also a setting that allows the display to be inverted should the diver wish to wear the Peregrine on their opposite arm.
Firmware is based on the Perdix recreational 3-Gas Nitrox Bühlmann ZHL-16C algorithm with gradient factors designed for single, two and three gas modes with switchable gas choices for advance Nitrox diving applications.
Like all shearwater computers, there is simple 2-button interface with a super easy to navigate menu making predive programing and operation underwater highly intuitive.
In addition to color codes of green, yellow, and red visual alerts, Shearwater added one feature not present in the rest of the line; a vibration alert system that can be activated by the diver to coincide with the visual alerts on the display.
While the Peregrine provides both full decompression support and a built-in quick dive planner, some of the advanced features like technical modes for Trimix and CCR diving, the digital compass, and air integration were left out.
Features the Peregrine retains include full CNS Tracking, no lockout for dive plan deviations, as well as a Gauge mode, making the Peregrine a great backup for those advancing on to technical diving.
For wrist mounting options the standard rubber strap can be replaced with a double bungee cord placement as favored by most technical divers.
Another nice feature is the wireless data transfer via Bluetooth that enables divers to download up to 200 hours of logged dives to either a home computer or Shearwater's Cloud as well as uploading free firmware updates as they become available.
In place of the user replaceable AA battery needed for running all Perdix models, the Peregrine features a similar sealed rechargeable battery system capable of yielding 30-hours of dive time per charge via a charging pad much like those used by some model smart phones.
Backed by Shearwater Research's reputation for rock electronics with their well-known menu system that makes changing modes oh-so-easy the Peregrine is definitely worth considering.
For more information, visit https:www.shearwater.com/products/peregrine/
Peregrine Specs
Dive Modes: Air, Nitrox up to 40%, 3 Nitrox up to 100%, and Gauge mode
Algorithm: Bühlmann ZHL-16C
Computer Dimensions: 3.09" x 2.67"x 0.98" (77mm x 68mm x 25mm)
Depth Rating: 394 ft / 120m
Wrist Mounting Options: Standard 26mm Black Silicone adjustable strap & double Shock Cord.
Display Type: Full Color LED LCD
Display Size: 2.2" / 5.59cm
Screen Resolution: 320×240 QVGA
Weight (computer only): 122g (0.27 lbs)
Battery Type: Rechargeable Li-ion Battery
Battery Life: Up to 30 hours (medium brightness)
Dive Log Capacity: Approximately 200 Hours
Both NDL Planner and Deco Planner functions
User installable Firmware Updates
Available Languages: English, French, German, Portuguese, Korean, Japanese, Italian, Spanish and Simplified Chinese, Traditional Chinese