Forty years after Space Invaders captured the imagination of video gamers around the world, Bite-Back Shark and Marine Conservation has replicated the iconic format in a short animation — Sea Invaders — to highlight the speed and ferocity of industrial shark fishing and the urgent need to support shark conservation efforts.
In the time it takes to watch the 60-second film, 120 sharks will be killed around the world. On screen, the film plays out in 'real time', with two sharks being slaughtered every second. As each shark is killed by the fishing boat, it explodes to reveal a shark fin, the most-valuable part of shark, used as the title ingredient in shark-fin soup.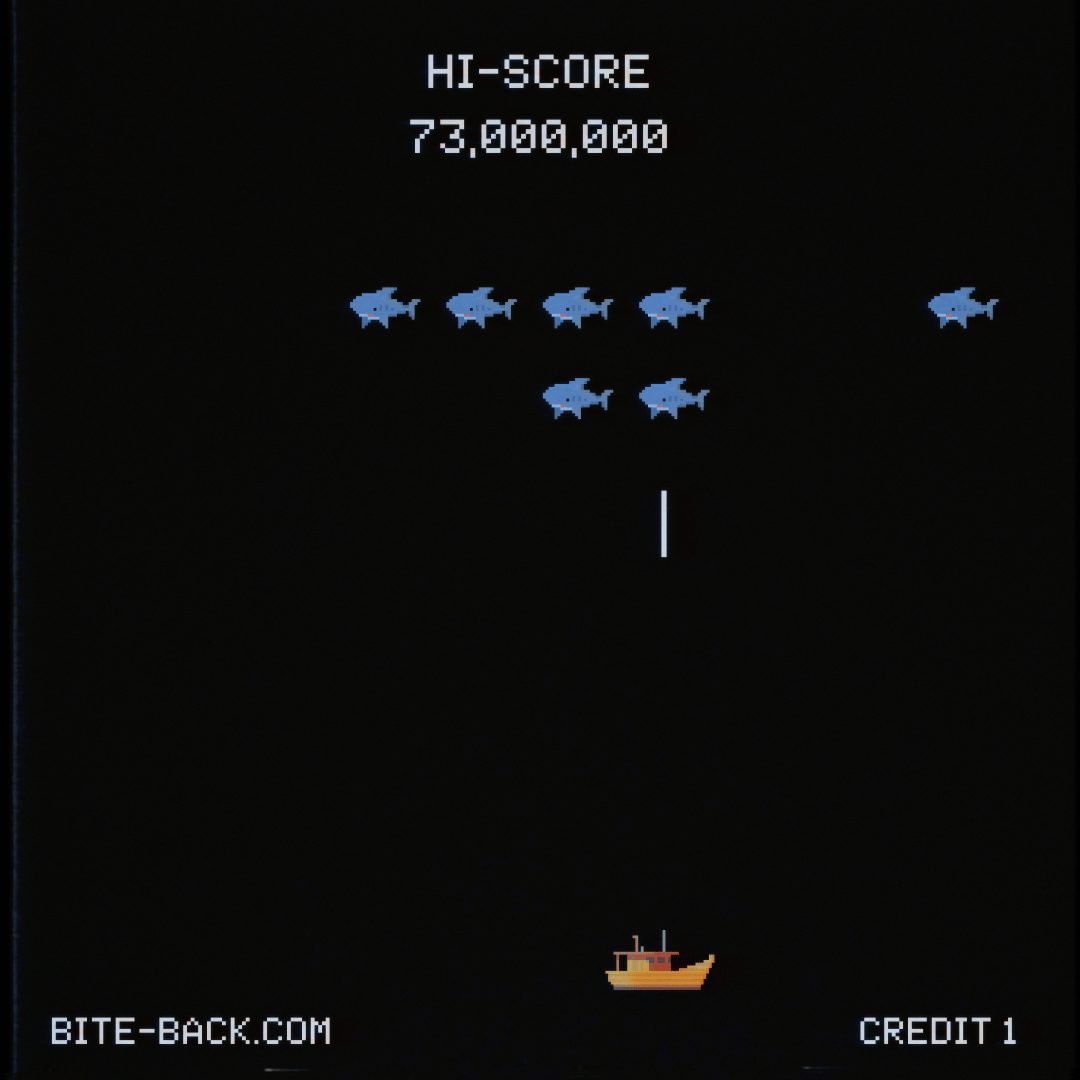 Campaign director for Bite-Back, Graham Buckingham, said: "In the 40 years since Space Invaders appeared in arcades, many shark populations have shifted closer towards extinction. It's no longer enough for a small section of the public to be concerned about the unsustainable fishing of global shark populations. We need everyone to understand that the lions and leopards of the ocean are being wiped out. We're not going to let it be game over for sharks and hope that people who watch this will feel compelled to stand up for sharks and join forces with Bite-Back."
Every year, around 73,000,000 sharks are killed. As a result, one in four shark species is listed as threatened including great whites, hammerheads, oceanic whitetips and threshers. To show the extent of the global problem the film ends with a table of hi-scores, listing the top ten shark-fishing nations in the world.
London-based graphic design and animation agency, Studio La Troupe, created the pro bono film for Bite-Back. Spokesperson for the agency, Danny Barnes, said: "Swapping aliens for sharks immediately charges the film with emotion. In the beginning the viewer is helpless to stop the onslaught of the fishing boat but Bite-Back gives them a chance to pull the plug on this killing spree. We hope the film is widely shared and more people are inspired to support Bite-Back's hard-hitting and vital campaigns."
Among Bite-Back's successes, the charity has prompted ASDA, Iceland Foods and MAKRO to end the sale of shark meat and inspired an 82 percent fall in the number of UK restaurants serving shark-fin soup.
To join Bite-Back, visit: www.bite-back.com and pledge £2, or more, a month. Every penny from its membership programme goes towards its campaigns to end the sale and consumption of shark products in the UK. Each Bite-Back member receives a welcome gift and a 15 percent discount code to spend on merchandise.