Scubapro has a great reputation for making top-quality dive kit, and the Twin Jet Max continue this tradition.
They blend the vent design from the old-school Jet Fins with a broad paddle section that also incorporates a short split.
According to Scubapro, the blade is a dual-compound design that offers a stiffer blade with more feedback. Semi-rigid side rails enhance stability, while the vents reduce drag, and the soft foot pocket provides lots of comfort. The extended sole plate gives additional leverage to improve the transfer of power from foot to fin.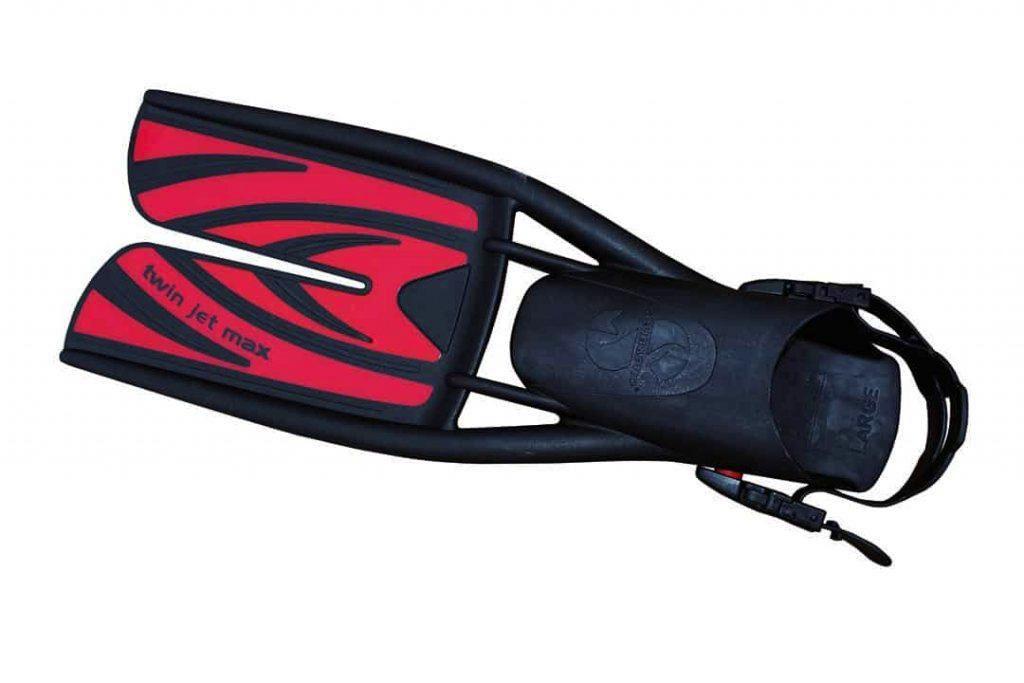 The Scubapro Twin Jet Max fins are equipped with a traditional rubber adjustable heel strap, with pinch-release buckles.
The Scubapro Twin Jet Max fins are a big, heavy fin which combine the design elements of a split fin with a traditional vented paddle fin – and bizarrely, it works well.
You get masses of propulsion from a normal fin stroke, though you can feel those leg muscles working, and though they are long and broad, you can also get a reasonable frog kick, back kick and helicopter turn out of them, though their sheer size makes the latter a bit of a chore.
VERDICT
They are priced well for what they are, but I would upgrade to a stainless steel spring strap over the traditional rubber effort.
Big, heavy fins combing paddle and split fin designs, with decent performance, comfy foot pocket and traditional straps.
Want to read more Scuba Equipment Reviews?