Scubapro has had back-inflate BCDs in their line-up for many years, ranging from larger units like the Knighthawk to more travel-orientated BCDs like the Glide Tec Pro, but the Hydros Pro treads a different path to its predecessors and, in fact, won the 2016 Red Dot award for product design.
At first glance, it is more reminiscent of the Glide Tec Pro, which was a stripped-back, lightweight BCD that was ideal for travel. However, once you get over that initial overview, it is clear that the Hydros Pro is a completely different animal.
WHY IS THE SCUBAPRO HYDROS PRO DIFFERENT?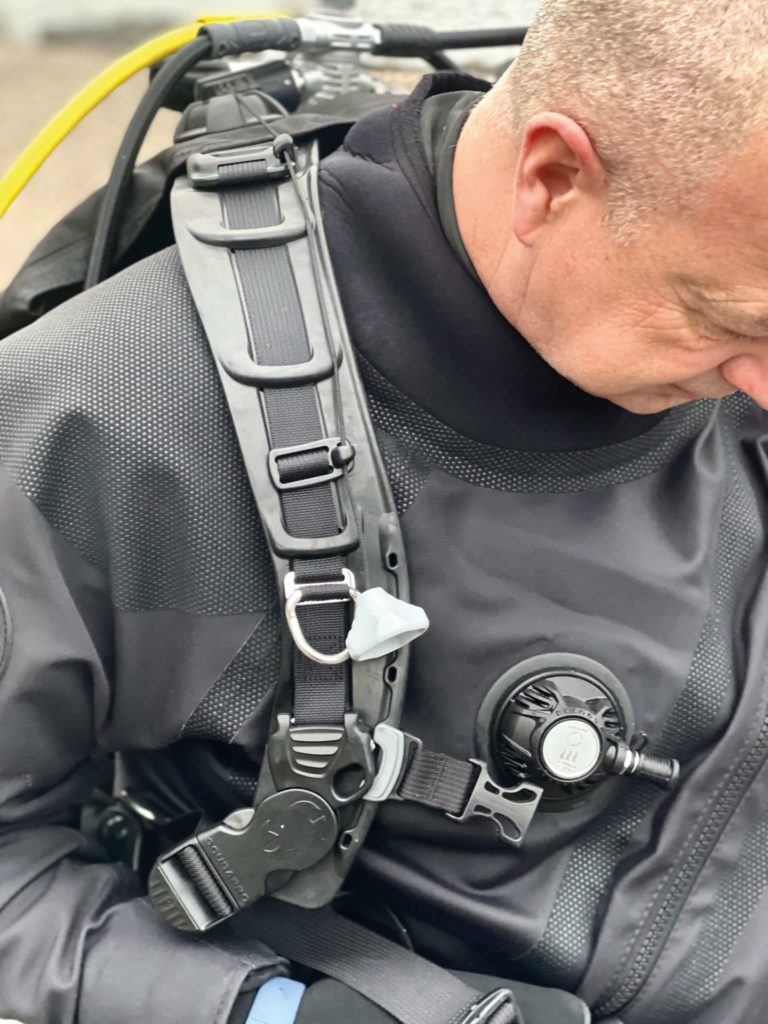 The back pad and the straps are all made of injection-molded Monprene, the same material that the innovative Seawing Nova fins are constructed from. This stuff is extremely resistant to UV, chemicals and abrasion, but perhaps more importantly, it is also virtually instantly dry when you exit the water – the water literally sheds off it. Having had padded backpads balanced on top of doors to be in front of air-conditioning units, desperately trying to get them dry before a flight home, I really appreciate this development!
With swivelling shoulder clips and a chest strap, the harness has a great fit, and snugly and comfortably hugs your body, reducing any cylinder movement both topside and underwater.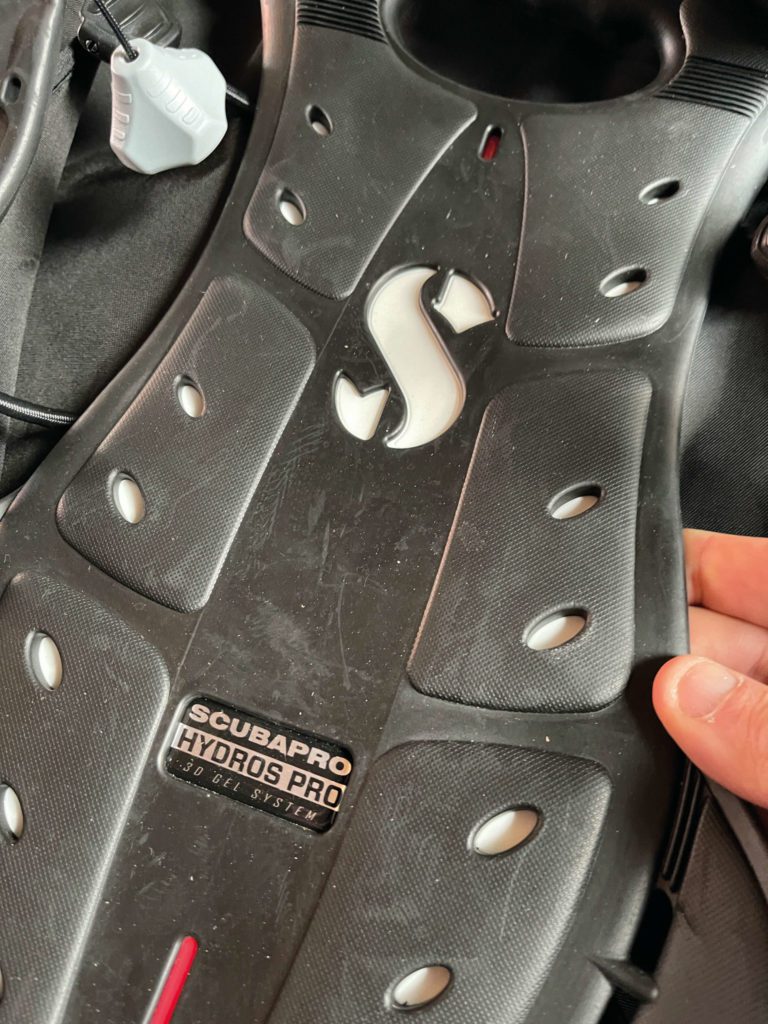 SCUBAPRO HYDROS PRO INTEGRATED WEIGHT SYSTEM
The Hydros Pro has neat integrated weight pockets that slot into almost skeletal mounts, which not only cuts down on weight and looks cool, but as they are also made of Monprene, they don't retain any water either. These can be removed quickly and easily, so if you were travelling somewhere where weight allowance was extremely tight, you can strip down the Hydros Pro to basically a harness and wing.
You can also get these weight holders in different colours, so you can switch up your jacket to match your other kit, or add a bit of vibrancy into your equipment. The weight' pockets' are held in place with the tried-and-tested pinch-clip system – there is no way they will fall out accidentally once they are clipped securely in place, but on the flipside they are very easy to remove when you need to get them out, such as to hand up into a RIB.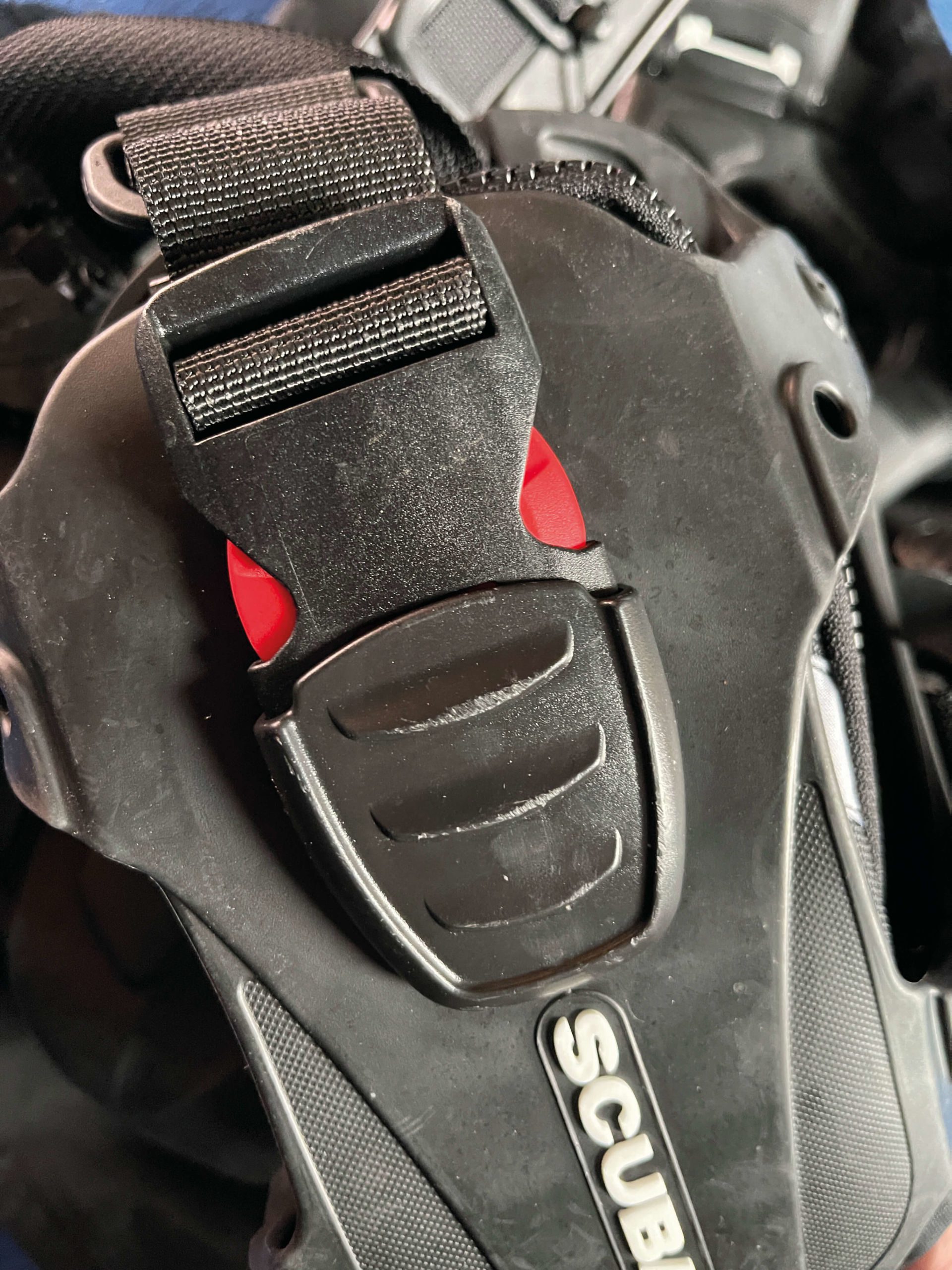 All this use of Monprene also has another benefit – the BCD is virtually neutrally buoyant, which means you will need less lead to get below the surface. However, for when you are diving in a thicker neoprene suit or a drysuit, and you need additional weight, there are also two non-dumpable trim pockets on either side of the wing.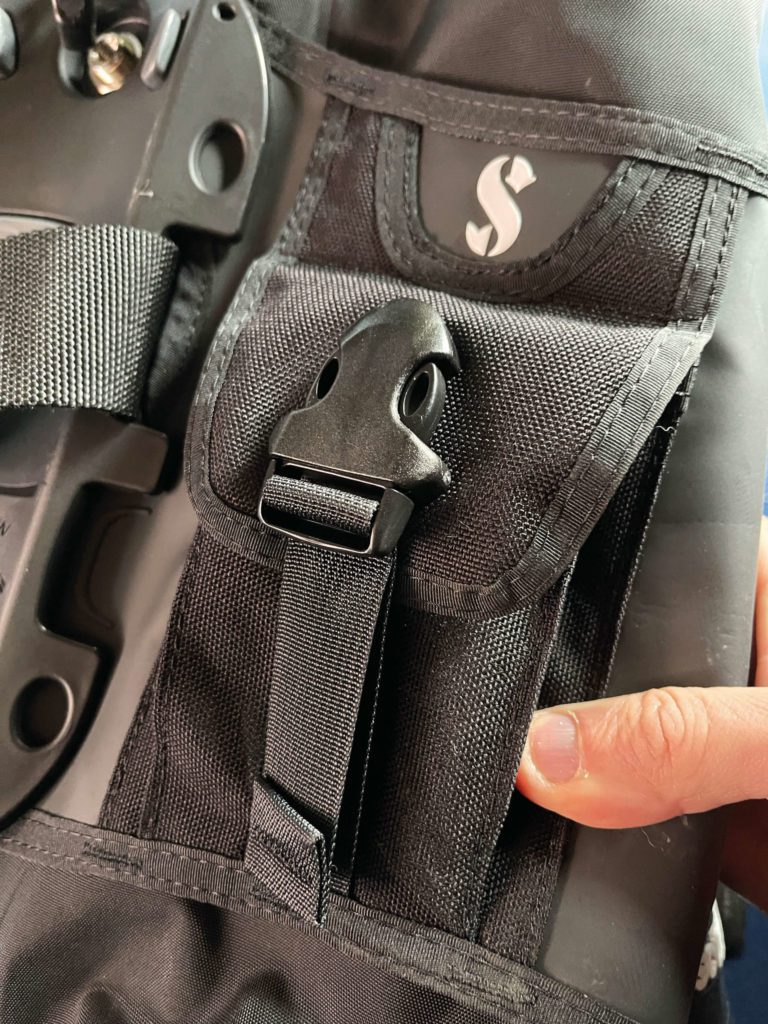 SCUBAPRO HYDROS PRO WING
Ah, the wing, let's talk about that. It is streamlined and quite compact, and this is further enhanced by the use of a tri-bungee system which controls air distribution to maintain this compact shape underwater, and allow high lift at the surface. It has a pull dump at the bottom left side, and there is a pull dump on the right shoulder, so anyone coming from a Scubapro jacket-style BCD will instantly feel comfortable with where everything falls. These pull dumps are very efficient, and I like the large toggle, which is easy to locate even wearing thick neoprene or drygloves.
The Hydros Pro is equipped with the latest version of Scubapro's balanced power inflator, and I still maintain this is one of the best on the market. It is comfortable in the hand thanks to the ergonomic design, and it can deliver huge amounts of gas when required.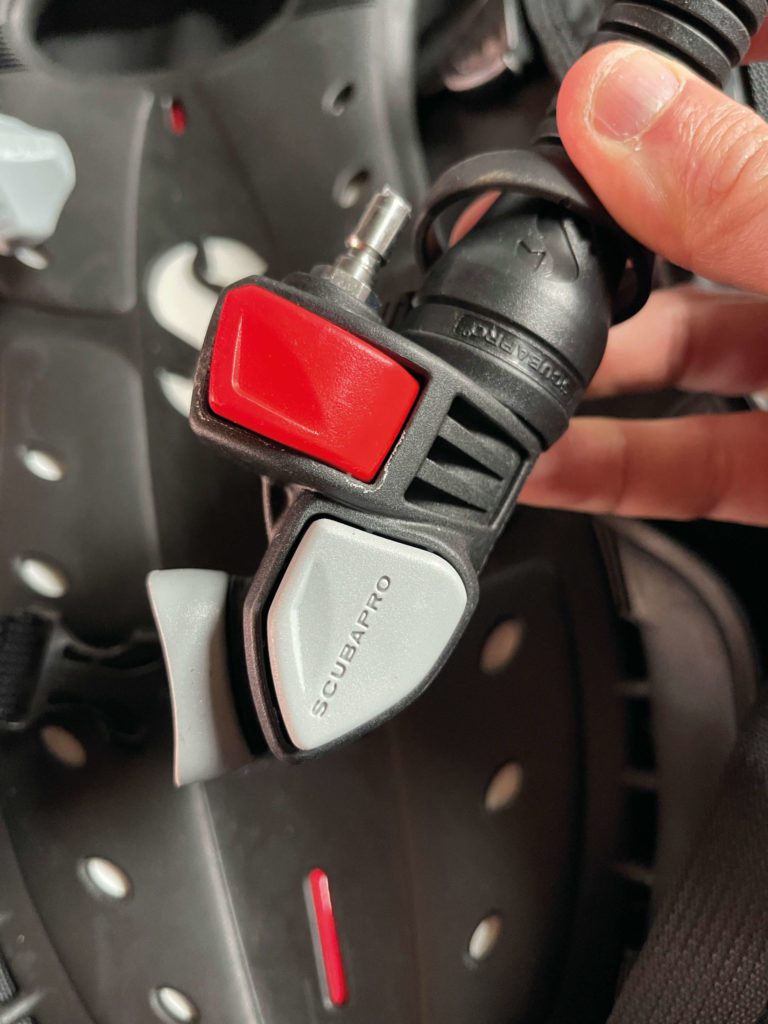 HOW MUCH DOES THE SCUBAPRO HYDROS PRO WEIGH?
The design allows you to pack the Scubapro Hydros Pro neatly for storage in your dive bag without anything loose hanging off. Weighing in at just under 5kg | 11lb, it isn't the lightest BCD but is still a good choice for those that like to travel with a full-size BCD.
SCUBAPRO HYDROS PRO BCD REVIEW SUMMARY
Should you BUY, SHORTLIST or AVOID the Scubapro Hydros Pro? We're saying it should definitely make the shortlist.
I was very impressed with the Hydros Pro when I took it diving. It is very comfortable indeed, and the Monprene straps conform to your body shape extremely well. Once I had adjusted all of the shoulder and chest/waist straps, there was virtually no movement and the jacket felt almost adhered to my back. All of the controls – power inflator and pull dumps – fell easily to hand. It gave me plenty of lift on the surface and held my head well above the water, but underwater it offered plenty of stable support in a comfy horizontal trim position.
Now it comes in at a fairly hefty price tag, but you do get what you pay for. The Monprene construction means it will take a lot of abuse before showing any wear at all. There is no fabric, Velcro or zippers on the harness, and virtually every component – including the buckles – can be replaced without stitching, so you really have got a BCD for life, as if you ever do manage to wear out or damage an element, it can be quickly and easily fixed or replaced.
The Hydros Pro comes with a carry-on backpack for storage and travel, and it is amazing how small this BCD will actually go once you strap it all up together.
If you've found this Scubapro Hydros Pro BCD review helpful and you want to show a little support, consider using our affiliate link to make your purchase. We'll earn a little commission which we invest into reviewing more products.