Scubapro has launched the new GO BCD (SRP: £405), a lightweight and foldable travel BCD loaded with the comfort and convenience features globe-trekking divers are looking for.
A true travel BCD, the GO is constructed of 210 denier nylon covered with polyurethane and then RF soldered for maximum wear resistance. It is Scubapro's lightest front-adjustable BCD (size medium weighs only 2.5kg) and is designed to fold into a compact package that fits easily into a travel dive bag.
But it's once you arrive at your dive destination that the GO BCD really shines. First off, the GO BCD comes equipped with Scubapro's new user-friendly Quick Cinch tank buckle system. This innovative, patented tank strap assembly adjusts easily and will fit any tank size; this is especially handy if you find yourself renting different tanks at different dive operations. An upper tank band is provided to help secure the tank for maximum stability at depth.
New compact rotating shoulder buckles make it easy to don the BCD and comfortably route shoulder straps. An adjustable sternum strap and a cummerbund with double-pull over-strap aid in dialling in the perfect fit.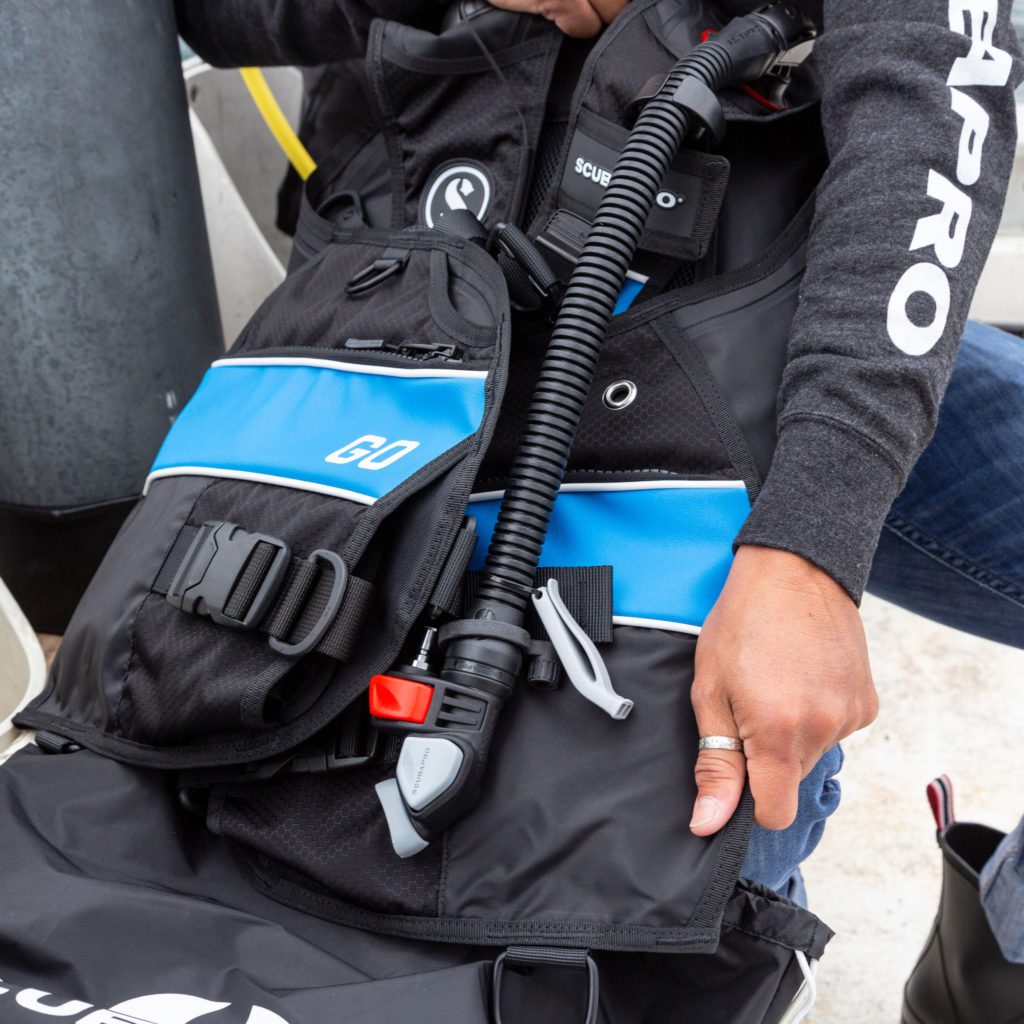 The GO BCD – in the water
In the water, the wraparound bladder comfortably hugs your body without squeeze. The Airnet ergonomic backpack enhances that comfort while offering a water-draining, easy-fold design. The quick-release integrated weight pouches each hold up to 4.5kg of ballast weight, ditch easily and secure with low-profile squeeze buckles. Two large low-profile zippered pockets, one fitted with stainless steel knife attachment grommets, provide lots of cargo-carrying capability. In addition, five aluminium D-rings, including two large pre-bent D-rings on the shoulder pads, offer convenient clip-on points for additional gear, and two octopus pockets are provided for securing octopus and console hoses.
The GO BCD is available in five sizes (XS-XL) with buoyant lift ranging from 10.2kg to 19.4kg, depending on size, with a choice of a Balanced Power Inflator (BPI) or an AIR2 Back-up Inflator Regulator. Optional trim weight pockets are also available.