Vobster Quay's recording-breaking charity Santa diving event returns on Sunday 15 December 2019 for another round of festive fundraising frivolities. Run in aid of the Royal National Lifeboat Institution (RNLI) and the Dorset and Somerset Air Ambulance, this ever-popular annual fundraising event aims to raise sack-loads of cash for two very deserving charities.
Update: Ho Ho Ho! Vobster Santas is back, the 2022 event will be taking place on 11 December.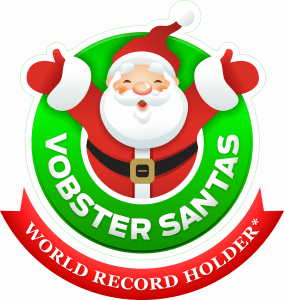 Divers of all levels are invited to grab their Santa outfits – and as much festive cheer as they can muster – and head down to Vobster Quay near Mells, Somerset for a mass-sponsored Santa dive in aid of charity. In previous years, the event has attracted divers from the far corners of the UK to join in the festive merriment for one last diving 'swan-song' before the Christmas and New Year break. Back in 2015, the event smashed the world record for the most Santa divers, with 188 divers taking to the waters donning their festive finery – a record that remains unbeaten to this day!
Vobster Santas isn't just about world records – it's also about raising some serious cash for charity. Vobster Quay encourages all divers to get into the spirit of the season to raise much-needed funds for the RNLI. Through individual sponsorship and JustGiving donations, divers can invite their friends, family and work colleagues to sponsor them to join the mass Santa dive in the balmy waters of Vobster Quay dressed in their finest festive gear. Since the events' inception, Vobster's Santa divers have helped to raise over £35,000 for the RNLI.
Vobster Quay will also be raising money for the Dorset and Somerset Air Ambulance by raffling off a selection of great prizes donated by some of the biggest brands in dive equipment. Tickets will be available on the day for just £1, or can be purchased in advance from the Vobster Quay shop.
"It's been over ten years since the very first charity Santa dive took place at Vobster Quay and every year the event just keeps getting bigger and better," enthused Vobster Quay manager, Tim Clements. "Vobster Santas is a superb way for divers to say a massive thank you to the both the RNLI and the Air Ambulance Service – two organisations that are responsible for saving so many lives every year. We're immensely proud of all that Vobster Santas has achieved, and hope that even more divers will join this year's event on the 15th December. I'm confident that we can make Vobster Santas 2019 the biggest yet!"
Divers wishing to participate can get involved by simply registering their attendance at www.vobster.com/vobstersantas. Once registered, Santa divers can start fundraising in a number of ways, either through direct sponsorship (download the Vobster Santas 2019 sponsorship form at www.vobster.com/vobstersantas and then pester your friends, family and work colleagues to sponsor your dive) or through JustGiving.com (take all the hassle out of fundraising by simply pointing your family and friends to the Vobster Santas 2019 JustGiving page at www.justgiving.com/vobstersantas2019).
Photo credit: Jason Brown