Aqua Lung Phazer (SRP: £86)
Mark Evans: The Aqua Lung Phazer are a robust pair of fins, which feel nice and solid. They are quite large fins, with a broad blade, and this incorporates Wave Rib Technology, which according to Aqua Lung translates as the elastomeric rubber sections of the ribs working together with the wave-shaped structures down the side of the blade to accumulate the energy of every kick that is released during the kick cycle. The Phazer also have a bungee heel strap with large thumb loops.
The Phazer incorporate a lot of technological advances in terms of design and materials, and this translates into a pair of fins which generate lots of power in all fin kicks – though like their cheaper siblings reviewed last month, you need strong legs to get the most out of them – but while they are a big fin, they are still reasonably easy to manoeurve around in. The bungee heel strap makes donning and doffing the fins a doddle.
Samara Ironside: Aqua Lung have always been at the forefront of innovation in the diving market, and the tri-material Phazer fins continue this tradition. While at first glance they appear to be yet another sturdy paddle fin, they have a few features that makes them stand out from the crowd. Foremost is the so-called Wave Rib Technology, which refers to the side ribs of the Phazer. Here, that cool-looking 'wavy' design actually does something – the elastomeric rubber sections of the ribs work together with the wave-shaped structures, accumulating the energy of every kick, which is then released during the kick cycle, for maximum efficiency.
The Hydro Power Channel, the hole in front of the foot pocket, allows the water to flow through the blade, further enhancing power and stability, and the blade has a soft TPR membrane to better canalise water during the primary and recovery portions of the kick cycle.
I think the Phazer are a very good option for anyone looking for a fin with efficient power use, that features new technological advancements, offers a strong and sturdy feel, and a variety of vivid colour options – this pink pair really 'popped' in photographs both underwater and topside. They are a dream for donning and doffing, and perform well in the water with a range of fin kicks, though personally I found them a little on the heavy side, and quite a long fin. The long blade is a dream when needing power, but makes it a little more difficult to manoeuvre in tight situations. When purchasing fins, consider your typical diving environment – if you are someone who is often in open water with lots of space to move, these fins are a great option; for someone who is often in confined spaces, such as wrecks and caves, a more compact fin (such as the Apeks RK3s) may be a better fit.
Verdict: Robust, eye-catching fins at a decent price – you just need strong leg muscles to get the best out of them due to the sheer size of that blade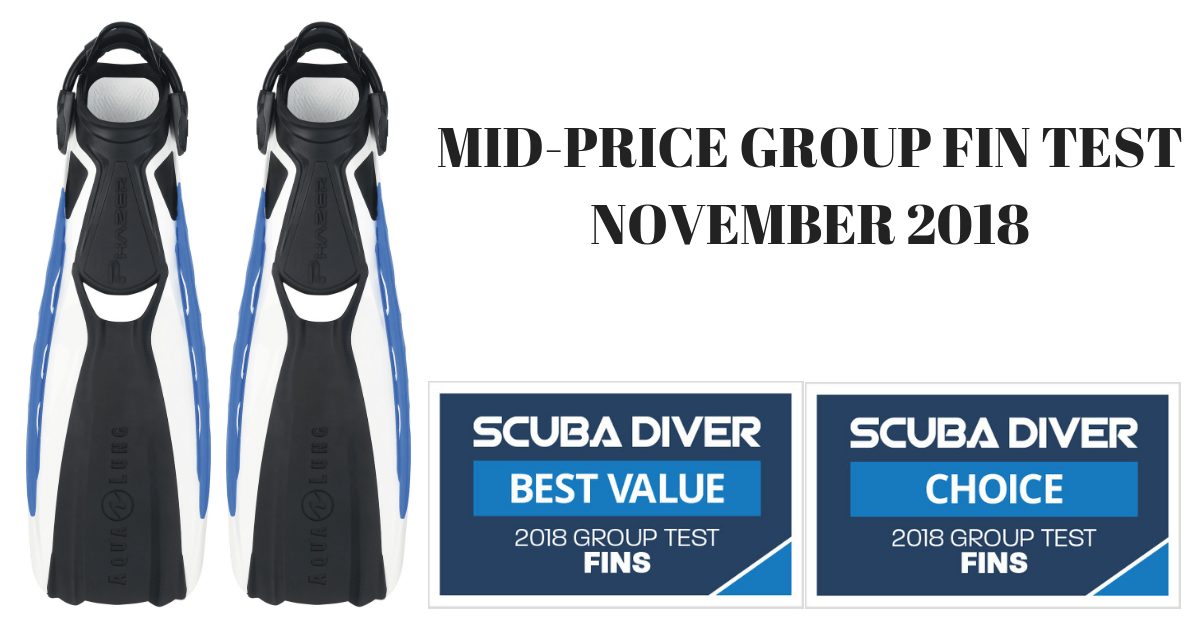 Currently Aqua Lung are offering a Discovery Starter Pack for a set of Phazers and a Reveal X1 or Reveal X2 for just £99 which is a saving of £53. Both masks also scored highly in test, and come highly recommended. Full details of the offer can be found on their website, or speak with your local dealer www.aqualung.com/uk/2019-mask-and-fin-offers
*Disclaimer* This is a paid for promotion from Aqua Lung using the unbiased and impartial editorial we published in the November 2018 edition of Scuba Diver magazine.
Our gear content is sponsored by Mike's Dive Store, the UK's premier dive retailer. For all your diving needs visit them in-store or online for your diving, freediving, snorkelling and servicing.