We chat to North Wales-based marine biologist, freelance underwater videographer and HSE pro diver about the challenges of filming in UK waters, and his work with angel sharks in Wales.
As we always do with these conversations, how did you first get into diving?
A: My diving started back in 2015, where for years I had spent summers snorkelling the bays of the Llŷn Peninsula but longed to head below the surface to experience the underwater world for prolonged periods of time as seen on many TV programmes. I wasn't sure where to start and what was required, but I then came across a local BSAC dive club on the Llŷn Peninsula, which was the Llŷn Sub Aqua Club. I got in contact and booked a try dive during a club evening at the local pool.
I clearly remember the exciting moment of donning the gear and taking that first breath from the regulator below the surface. It was a sense that I had never felt before, a feeling that I wanted to continue to enjoy more and more and this was just in the pool with nothing except for tiles to be seen. The thought of completing the sheltered session training and heading out into the sea became more exciting.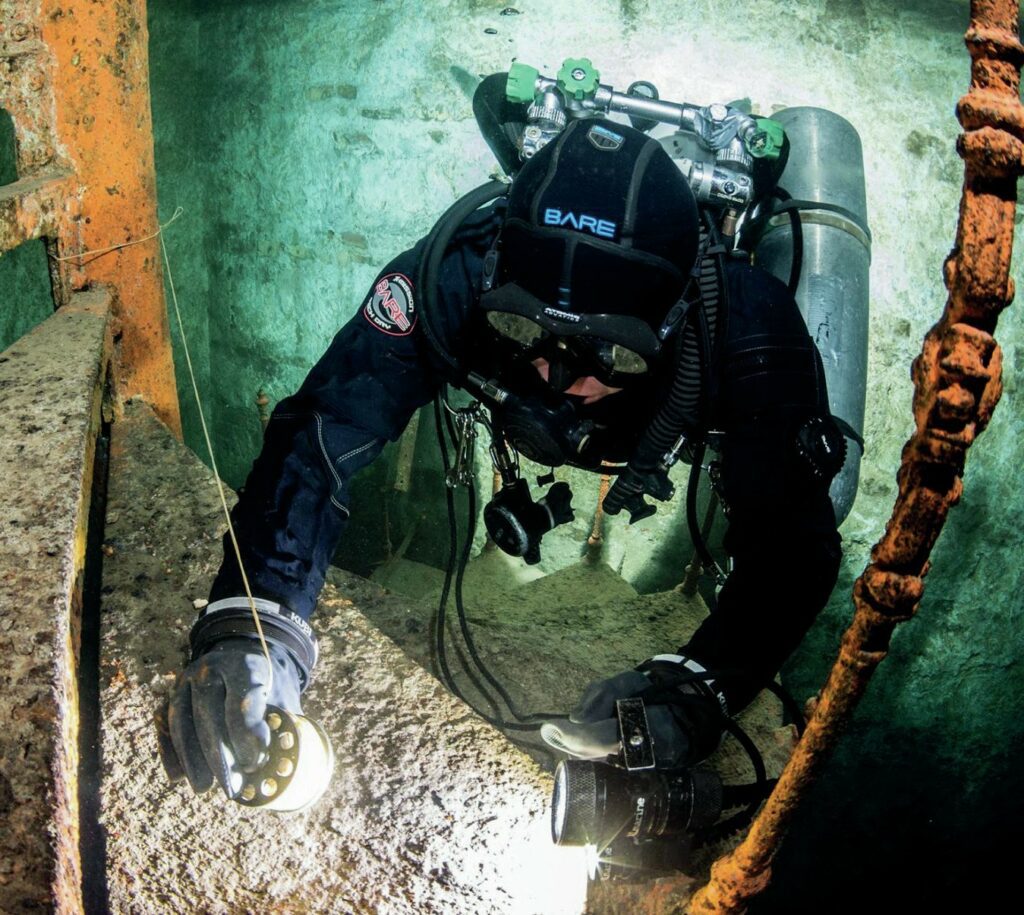 When did you decide to make diving your full-time career?
A: As a full-time role I'm a marine biologist working as the Project Co-ordinator for Project SIARC (Sharks Inspiring Action and Research with Communities), where Angel Shark Project: Wales continues within the umbrella of the project. I then do freelance diving around this. The journey of becoming a freelance diver started two years after my first experience of diving. I thought that my diving career would be mainly based as a scientific diver due to the ambition of becoming a marine biologist, however, it took a slightly different route than expected.
This started by taking a GoPro underwater and after a few dives then showcasing them on social media. The clips got a lot of attention as many didn't believe the footage was from the Welsh coast, with colourful marine life and clear blue waters. This motivated me to film more and reveal more from my local area and engaging people with the marine environment. This then is where my underwater videography journey started, where previously I had never really picked up a camera or had much interest in videoing and photography. This led to the name 'JDScuba' being established and the associated social media accounts.
But this passion of showcasing the marine environment took over and shortly after I bought my first compact camera that allowed for better images and videos. A few months later I was diving at a site that I had dived many times and ended up filming footage of lesser-spotted cat sharks (Scyliorhinus canicula) mating. Knowing how rare this was to see, let alone film, I put it on social media and within a short time it went viral. Following this, I had my first enquiry of licensing video stock, which happened to be for an episode during Discovery Channel's Shark Week. And from there I continued to shoot and grow, and over the years it's lead to footage being filmed and featured on a range of TV shows from BBC to Disney.
Videography though was only part of the journey, in 2017, I completed my HSE Part IV (Professional Scuba) in Plymouth in January, just to make it more challenging. A course that challenged me as a diver and to this day is one the courses that I have enjoyed the most. Qualifying as HSE Diver has meant that over the years I've been fortunate to dive with many great teams in a range of different roles from media dive teams to commercial teams completing maintenance tasks in near-zero visibility. Most of the freelance diving though is done for media or scientific purposes. The variation is one of the things that I really enjoy about being a freelance diver, always keen to take on different jobs along with diving with so many great people.
You are a freelance underwater videographer – what are some of the biggest challenges of shooting in UK waters?
A: Diving in UK waters comes with its challenges, as they often say during the early days of training 'if you can dive in the UK, then you can dive anywhere in the world'. However, add a camera in the mix then there are more challenges to overcome. The first big one is the visibility. I'm fortunate to live in an incredible part of Wales on the Llŷn Peninsula however, it doesn't take much for the shallow water around the coast to churn up and become turbid, making it difficult to see marine life yet to try and film.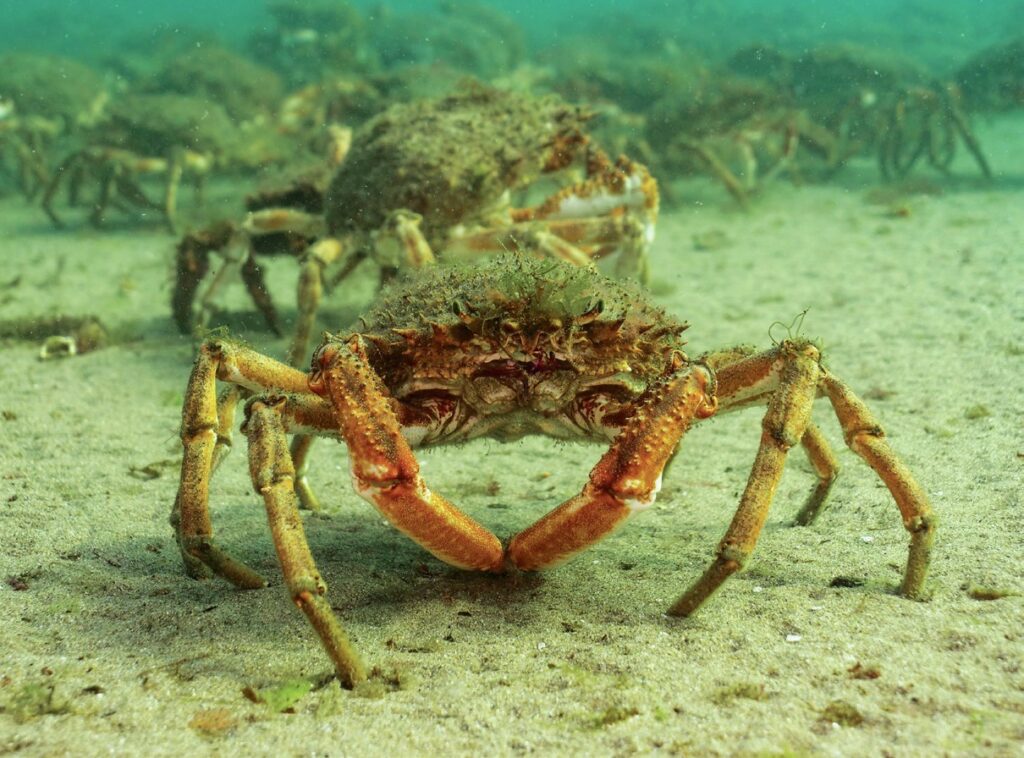 You are heavily involved in the Angel Shark Project – tell us more about this intriguing project.
A: I'm the project co-ordinator for Angel Shark Project: Wales and helped in starting the project back in 2018. The aim of the project aims to better understand the critically endangered angel shark (Squatina squatina) off the Welsh coast. Where we work closely with fishers and coastal communities along the coast, through the engagement over 2,200 records have been shared with the project dating back to 1812, along with many photos and incredible memories of the species. Many of these records were shared by fishers however, a handful of them have come from divers and snorkellers who have been fortunate to see this incredible species.
Who would have thought that you could find angel sharks off North Wales – I've always associated them with the Canary Islands. What is it about these sharks that captures your imagination?
A: For sure, the Welsh coast isn't the first location that comes to mind when you think about angel sharks. But angel sharks have always been found along the Welsh coast as well as the wider UK. Over the last 50 years, the range of the angel shark has declined, where they were once found throughout the North East Atlantic and Mediterranean. Now they have a unique stronghold in the Canary Islands, along with populations around the Mediterranean, Wales and Ireland.
Personally, I think angel sharks are just a remarkable species and so unique in their biology and appearance. They aren't your typical shark due to their flat body and camouflage that allow them to hide within sand or mud. Then, they have this uniquely lightning-fast strike to capture prey such as fish and crabs. Seeing this strike in person is remarkable – if you blink you will miss it.
What is your most-memorable diving moment?
A: I've been fortunate to dive in many locations around the world, however, by far the most memorable diving moment was seeing and filming an angel shark off the Welsh coast. Many times I had said it was impossible to film an angel shark off the Welsh coast due to their rarity and very few encounters in the water. But a bank holiday in August 2021 changed this, I had the choice to go for a dive or do some housework so I chose to go for a dive.
Hoping to see a thornback ray (Raja clavata), ten minutes into the dive I saw a tail, a tail that I had only seen in the Canary Islands. It was an incredible and shocking moment when I realised that in front of me was an angel shark, but this was made more special as it was a juvenile at around 30cm in length. After the initial shock, I then got my composure back and ensured that I got the footage that I had only dreamed of getting. It just goes to show how every dive can be different and am fortunate to have some incredible species that are found on my doorstep beneath the Welsh seas.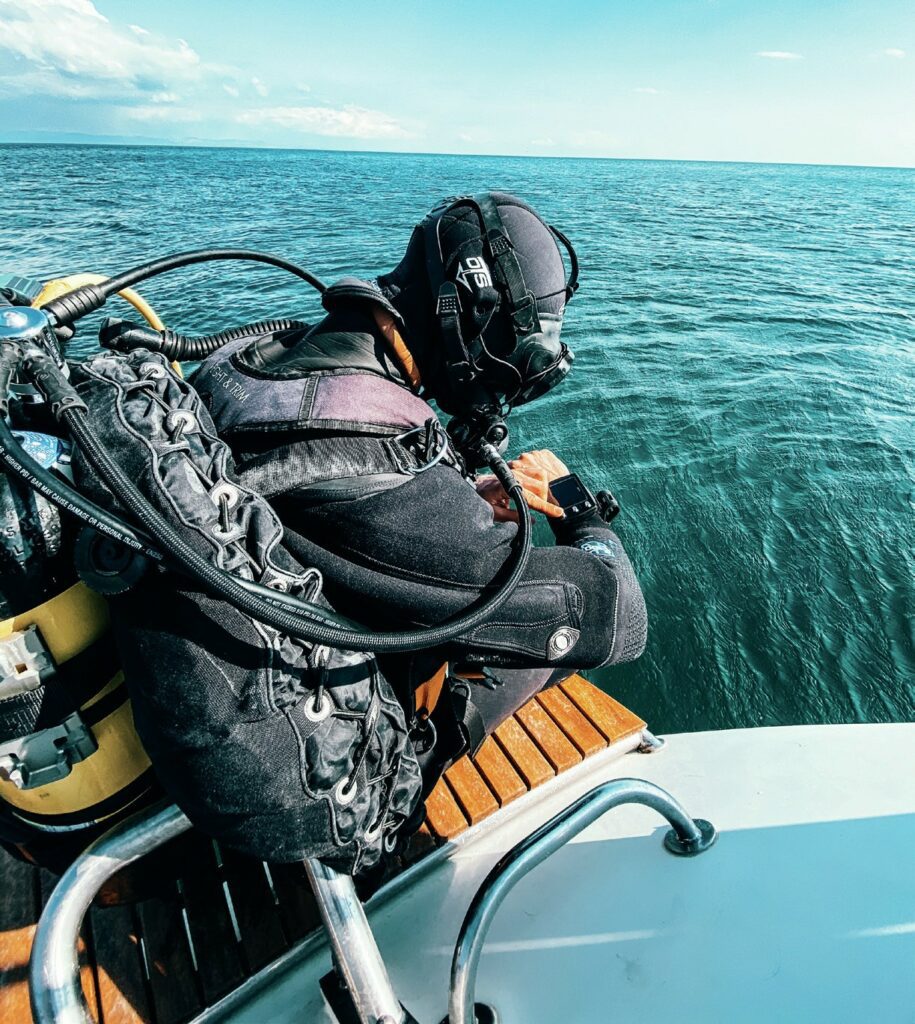 On the flipside, what is your worst experience underwater?
A: Diving the Welsh coast brings lots of exciting dives with some pleasant conditions however, there are many dives that are dark, cold and very poor vis with less than 50cm in some cases. But, parts of the coastline also have strong currents and it's being in these locations when the strong currents pick up that provides some of those more uncomfortable dives.
This is particularly the case for some sites on the North Llŷn Peninsula and Bardsey Island, where these currents occur and some of those locations where you get the yo yo moments that make ascending challenging, and in some cases, quite scary.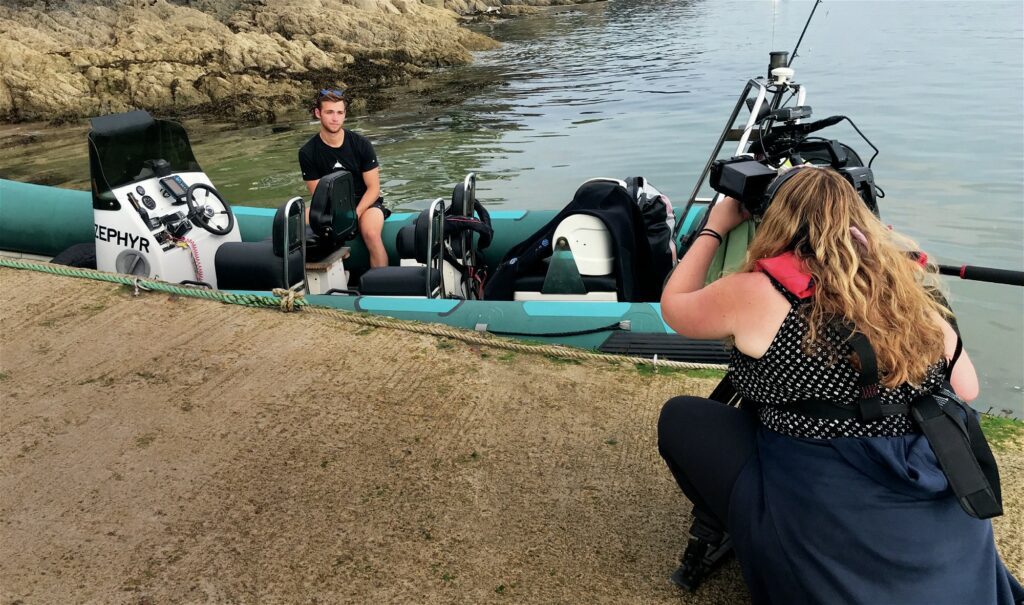 What does the future hold for Jake Davies?
A: The last few years have been amazing with so many different experiences and opportunities, many that bridge my passion of marine biology, communicating the science and wildlife. Looking ahead there are lots of exciting plans in the pipeline to continue the work as a videographer, working on a range of underwater media-based projects along with gaining more experiences in the different diving disciplines, from safety diving to light commercial work.
For the filming list, I'm aiming to continue to tick off plenty more shark, skate and ray encounters around the UK and hopefully capturing some more exciting marine animal behaviours. For training, I'm continuing in building my diving experience and am planning on moving into rebreather diving to further filming opportunities both in the UK and further afield.
Rebreather diving is something that I've been keen on doing for years and is the right natural progression in expanding my diving skillset and opening new opportunities.
There are also plans of doing more in front of the camera to showcase what we have around the UK coast, particularly along the Welsh coast. There's a lot going on, but all are exciting and it's great having the variety as it's always nice to network and dive with new people, it's something that I am always keen to do when heading to new locations. Equally, I am always open for divers to get in contact to come for a dive when up in North Wales. So, if you are in North Wales and fancy a dip, feel free to reach out.
Photographs courtesy of Jake Davies
---
This article was originally published in Scuba Diver UK #68.
Subscribe digitally and read more great stories like this from anywhere in the world in a mobile-friendly format. Link to the article