The Underwater Water Tour
Guru Award Winner for 2020, Chelsea Haebich, Adelaide
UTA: What was it that inspired you to take up nature photography?
Chelsea Haebich: I came to diving somewhat later in life than most people and had never picked up a camera, but that first dive, nine years ago, under the Jetty at Rapid Bay in South Australia just blew my mind. I was inspired by the colours and the creatures. The variety and energy just astounded me.
I was so excited about what I saw and wanted to share it with anyone who would listen, but I found it so hard to convey what I was experiencing in words, so I grabbed a camera and never looked back! A little Panasonic point and shoot. Loved it.
My long held fear of cameras went out the window pretty fast from there on, apart from Instructing, I hardly ever enter the water without a camera. I feel compelled to capture what I see and feel, from the tiniest Clingfish, to the towering pylons of our local Jetties. I have always loved nature and animal interactions and now I feel inspired daily to capture that in images as best I can.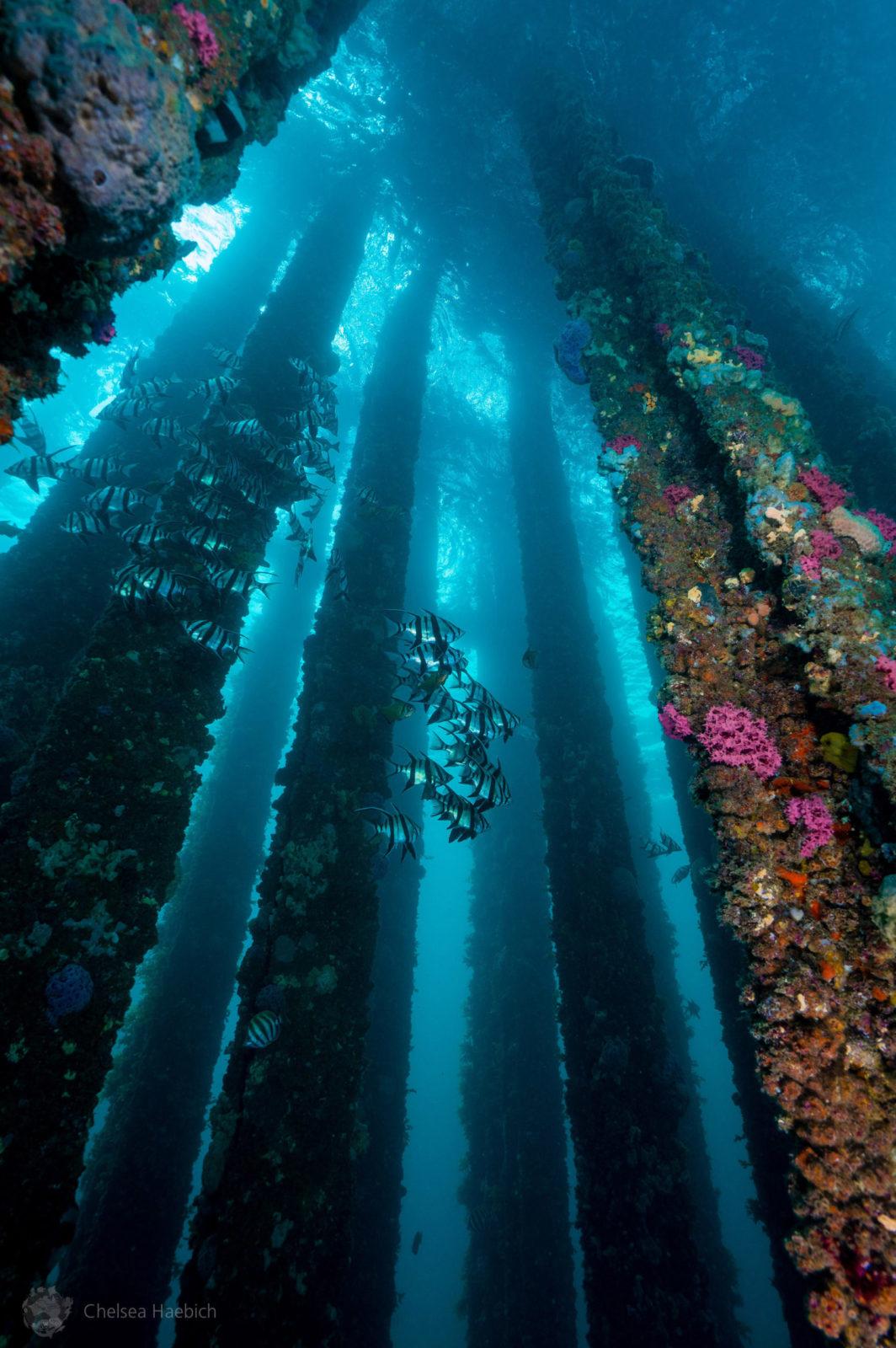 UTA: What is your aim when you're taking images?
Chelsea Haebich: My aim when taking images is to capture something about the animal or moment that makes people keep looking. With tiny creatures I love to capture the detail that often can't see until I'm home looking at it on my computer. This draws me back to images to keep seeing detail. I really like to capture character and humour as well.
Right or wrong I find many of the behaviours and habits of Marine creatures very comical and endearing. I love to capture character as it gives people something to relate to when they look at an image. The image of the Australian Sea Lion is an example of that. The look it's giving the camera conjures up images of peoples own puppies at home.
Marine life is so often seen as cold and glassy eyed. I try and capture those personalities, or at least the personalities I see! I want people to connect and find something they love in a world they could never image themselves entering. I believe people will protect and look after things they love and understand better. So I guess my aim is connection, both for myself in the moment and for others when viewing the images.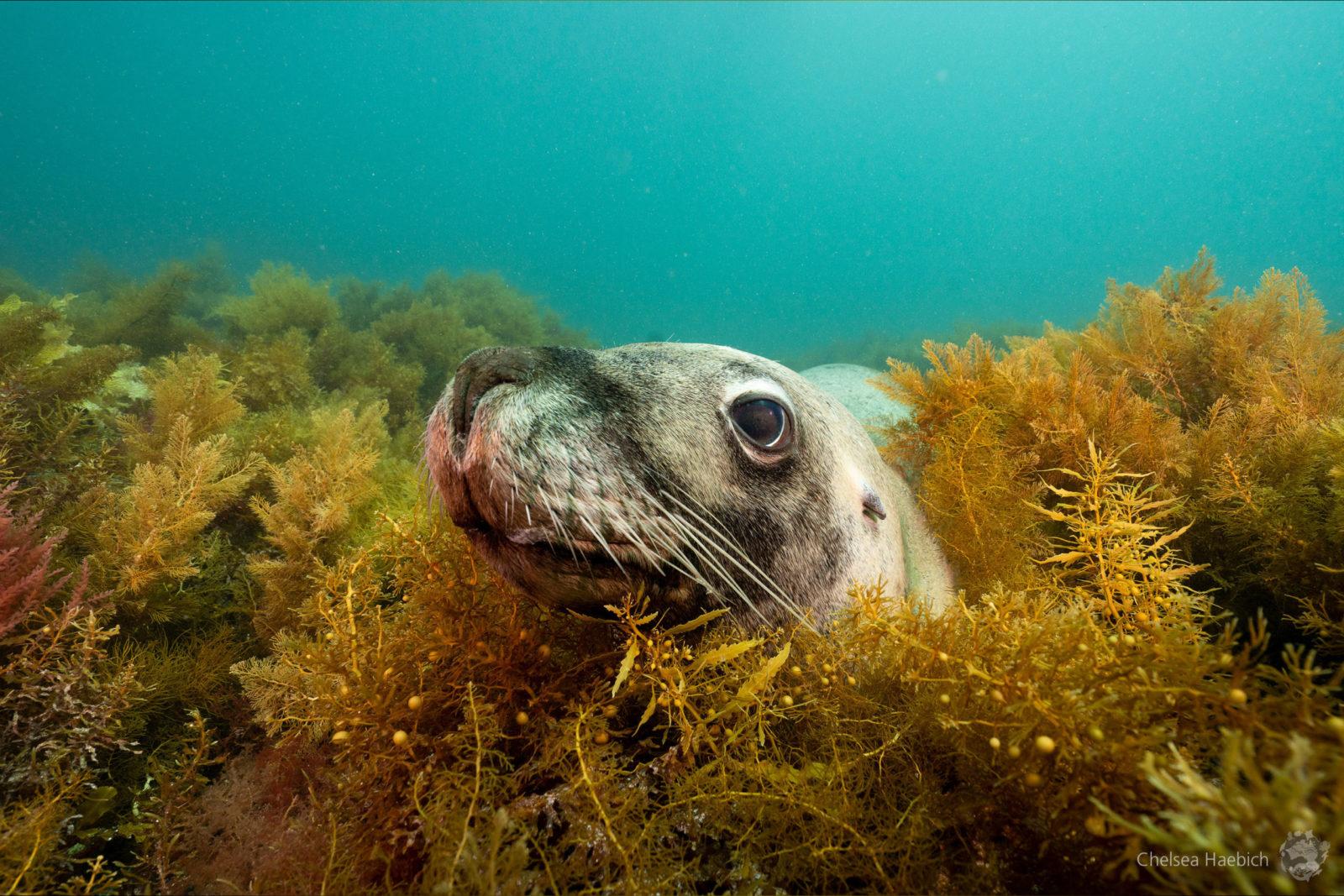 UTA How will winning the Underwater Tour Guru Award help you moving forward?
Chelsea Haebich: Personally, winning this award might make me stop doubting myself and have a bit more faith in my abilities. Something I struggle with for sure! Moving forward I hope it can put my work out there further and bring people and connections into my life that will help me grow as a photographer and further share this astounding world with more people. I love seeing peoples curiosity and hearing their questions about the Underwater World. If winning lets me share that more, grow more and impact more people then that would be wonderful and very fulfilling
UTA: What do you consider your own challenges when taking photos?
Chelsea Haebich: What do I consider my own challenges when taking photos (I was going to say something about the challenge of a permanently empty bank account, but I don't think that is what you are looking for here in this question) Seriously though, my challenges when taking photos is getting out of my comfort zone and experimenting more.
I work a regular job full time and don't get to dive as often as I like, so I want bang for my buck when I do. I love to come home with new images to edit and explore and sometimes I don't think I push myself and risk a card full of learning errors because I need to come home with something! So time would be the other challenge. I really have to push everything else aside to get the dive time I want, often neglecting other important life matters…which of course I can TOTALLY justify at the time
UTA: Do you have any preferred underwater subject or concept?
Chelsea Haebich: I don't have a preferred underwater subject or concept when I dive. Sometimes I have a goal or a shot in mind, but on the day I really like to just see what is presenting itself when I am down there. I don't like to turn down opportunities with a critter or a shot just because I have a set goal. I really like to just let the world pass me by while I am down there and see what my eye picks up on.
I dive and set up my camera to the conditions we have here in South Australia and try to make the most of the day. Sometimes wide angle happens, but macro is more reliable here in SA. I don't set out with any very set ideas. It's part of what I love. I never know what I am going to come back with. It does mean you have to be on your toes with your settings and sometimes completely rethink what you are doing, but that all part of it for me. It helps me switch off!
UTA: What has been your best moment underwater so far?
Chelsea Haebich: My best underwater moment?! I have had many of them and for many different reasons, but one that comes immediately to mind was the dive where I captured the image of the Sea Lion. We were drifting at a site we knew you could potentially interact with them, but when some time passed I thought "Oh well, today is not the day". Then out of nowhere, like a pair of torpedoes came these two Long Nosed Fur Seals. This was great.
My Buddy Brett is a mate with a great sense of humour and play and he immediately began spinning and turning upside down. This sent the seals crazy. They loved it and got more and more relaxed and cheeky with us. But, as fun as they were, these weren't the guys I wanted to see the most. Then right near the end of the dive, the two Seals seems to back off….then in cruises these two massive Australian Sea Lions to see what all the racket was about. They are so graceful and beautiful and very smart.
They took a few very cautious, slow and wary passes of us and then, like a light switch had been flicked it was game on! Jumping and zooming everywhere and getting more courageous with each pass. I didn't know where to point the camera next. I could have stayed there all day. Such playful, funny and inquisitive creatures. I won't forget a second of that dive….I think the only thing to pip that dive might be diving with Humpbacks!
UTA: What are you planning next?
Chelsea Haebich: Well, with everything that has happened to the world with Covid-19, many of my plans have been shelved like everyone else and a serious rethink has happened! I am very fortunate to have such a diverse Marine environment to dive in at home and that I have no restrictions on that. So, until last night my plans were very local.
I have in the pipeline a trip across our peninsulas exploring our coasts and Jetties with a good friend from NSW, but with borders closed we keep rescheduling…we have gone from Cuttlefish aggregations, nope…to Cuttlefish hatching…no, again…to Leafy Sea Dragon Season (hopefully!)! But aside from my local trips around the state, I guess I will be furiously planning my time with Humpback Whales and keeping everything crossed we can make that happen. I still can't believe it!
Photo Credit: Chelsea Haebich
Want to read more Q&A's
Technical Diver Extraordinaire Q and A With Gemma Smith
Aquatic Entertainer Q and A with Sarah Daily