Project Manta was founded in 2007 to investigate the population biology and ecology of manta rays in eastern Australia.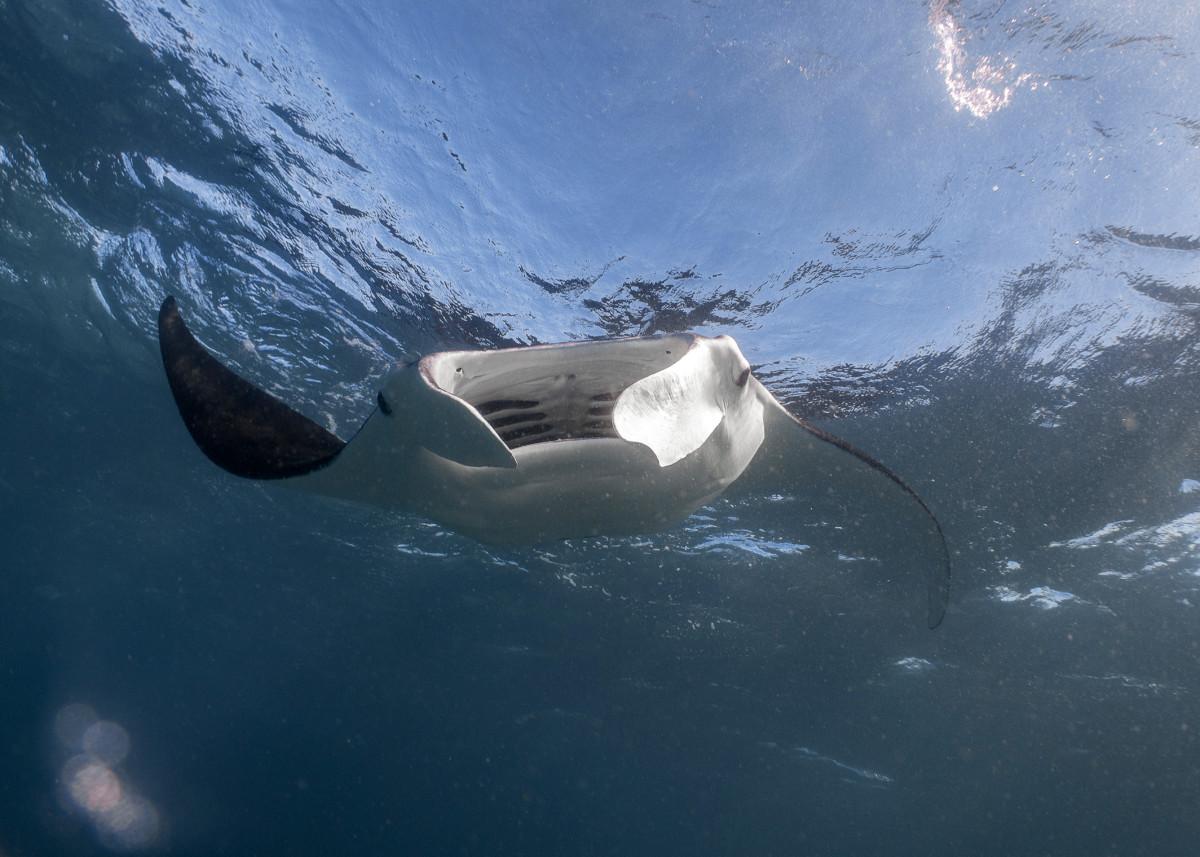 The research group is comprised of a multi-disciplinary team, originally based out of the University of Queensland. In 2014 the project went national, teaming up with researchers from Murdoch University and Deakin University to investigate connectivity and movement around Australian waters, and has recently shifted base to the University of the Sunshine Coast. The research has been funded by two Australian Research Council Linkage Grants, with the support of several industry partners.
Despite the popular interest worldwide for manta rays, very little was known about their biology and ecology until recent years. Our research project has focused its energy on the population ecology and biology of manta rays around the Australian coastline. We aim to provide important information on the life history characteristics of manta rays, which is needed to inform conservation efforts globally. The main aspects investigated are:
Population ecology (population size, structure and distribution)
Habitat use at aggregation sites
Feeding ecology (diet composition, feeding behaviour, preys' nutritional quality etc)
Cleaning ecology (cleaning fish's species, parasites, cleaner fish segregation, cleaning stations)
Photo identification (photo-ID) is one of the key methods used in our research as individual manta rays can be differentiated by their distinctive ventral markings, comparable to human fingerprints. 'Citizen Science' is a major component of Project Manta for photo-ID data collection. Professional and recreational divers provide photographs and sighting information of manta rays along the entire east Australian coast. Involving the community with our research has not only led to increased public awareness about manta rays and their marine environment, but has also led to discoveries that would not have been possible without these contributions.
Knowledge of manta ray distribution and movement patterns is vital for conservation purposes. The reef manta ray is known to occur and aggregate at several locations around the Australian coastline. However, the vast and unpopulated coastline provides challenges for research, as we simply do not have the resources to investigate the whole area.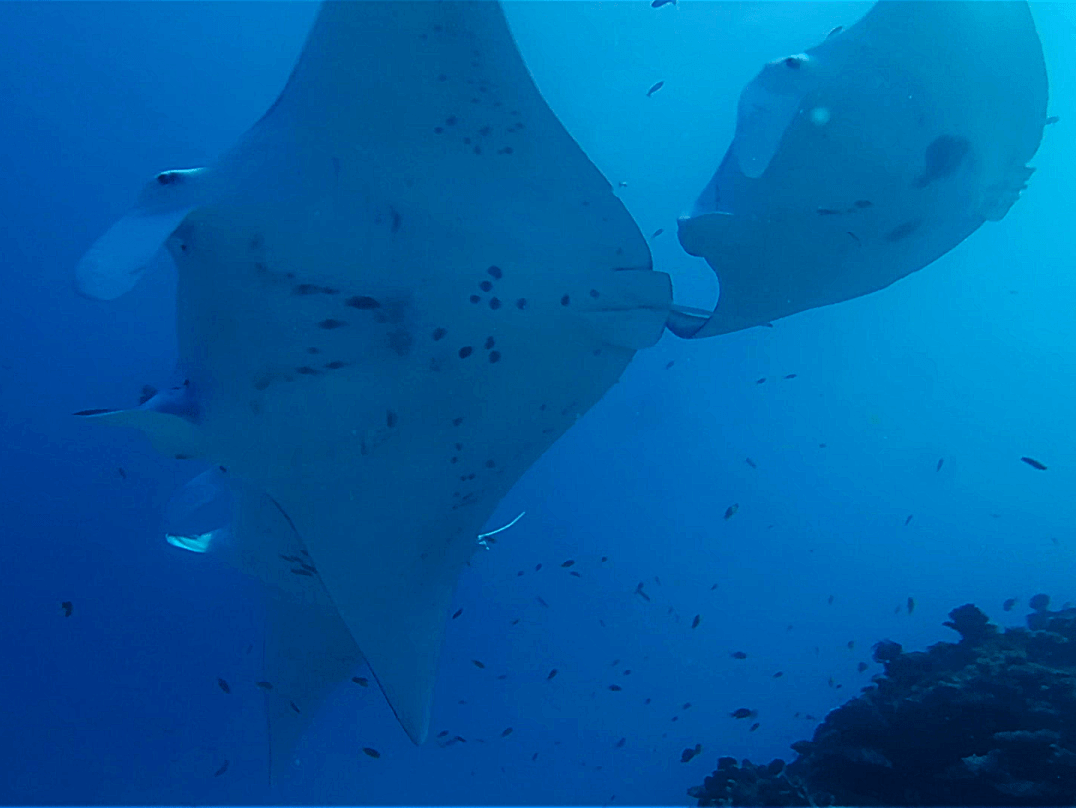 Away from the well-known aggregation sites we have relied on some non-traditional methods to fill in the gaps. Our PhD student, Amelia Armstrong, has compiled sightings from internet blogs, youtube, facebook etc, as well as mining government surveys and reports to confirm the distribution of manta rays around the whole northern coastline of Australia and down to approximately 30 degrees latitude on each coastline.
Citizen science contributions have also been able to update our knowledge about the long-distance movements of this species. In June 2018 we received photo-ID submissions of two individuals from the wreck of the SS Yongala, just south of Townsville. And both individuals had previously been sighted off North Stradbroke Island in southern QLD.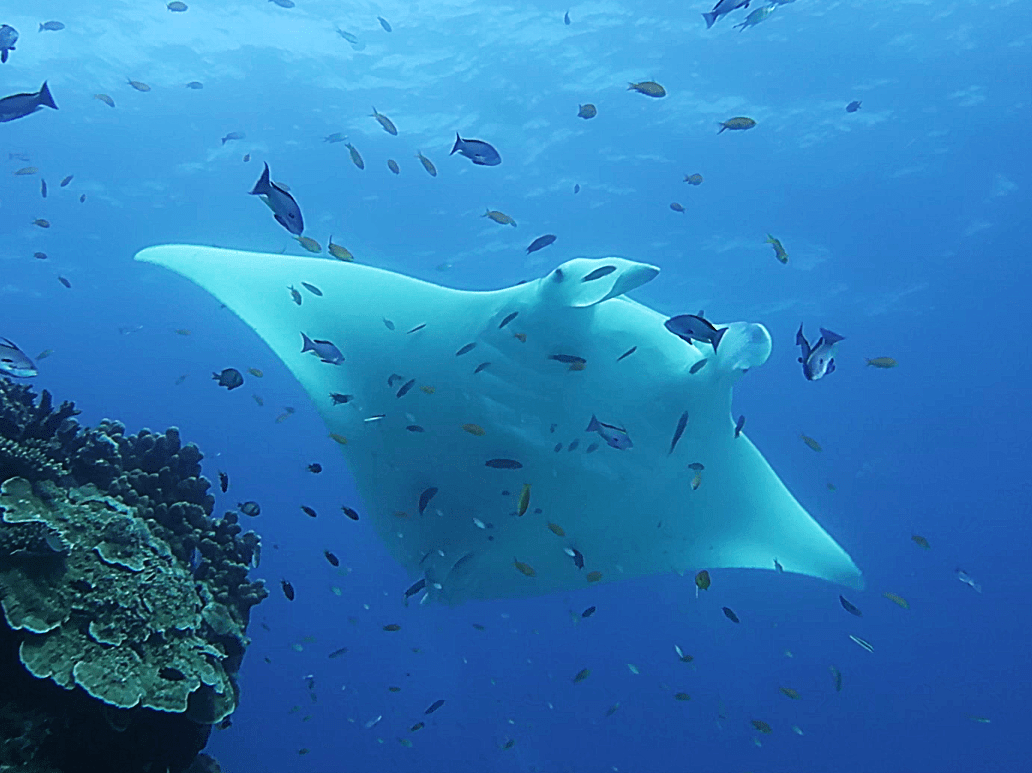 This represents a 1150 km point to point movement and is the largest known distance covered by a reef manta ray. In fact, this finding almost doubles the previously documented movements for this species, which were in the region of 600-700 km.This finding has potential bearing on the management of these species, as it shows they are capable of moving distances that could represent crossing borders between jurisdictions where they are subject to differing levels of protection. This finding was only possible with the help of our citizen scientist supporters.
The Project Manta team visit Lady Elliot Island several times a year. On these expeditions we conduct research which includes photographing, observing and recording manta ray behaviour. In the lab, we identify individual rays from photographs and enter the results in our sightings database. Lady Elliot Island is an important aggregation site and is integral to the important research undertaken by Project Manta on the east coast. Manta rays can be seen at Lady Elliot all year round, but aggregate by hundreds during the winter months.
Lady Elliot Island is also home to the oldest known manta ray. Nicknamed "Taurus", he was first photographed in 1982 as a mature male. This means he was likely at least 10 – 15 years of age when he was first seen, making him at least in his late forties now, potentially older. But the oldest manta is not Lady Elliot's only claim, it is also the only place in the world where the famous pink manta ray has been sighted! The only known manta ray of its kind, which we believe is likely the result of a genetic mutation.
Regular updates about Project Manta's recent discoveries and research news are distributed to the public through email, Facebook and other internet resources. If you would like to learn more, or if you have photo-ID images of manta rays from around the Australian coastline, please go to our website (https://biomedical-sciences.uq.edu.au/project-manta), check out our facebook page (https://www.facebook.com/ProjectMANTA), or send us an email (project.manta@uq.edu.au).
Article Written by Asia Armstrong
Photo Credit: Amelia Armstrong & Asia Armstrong
Want more conservation-related articles?
500 Green Turtle Hatchlings Released
Ceningan Divers release online Education Centre to promote environmental conservation
Florida Passes New Bill to Stop Further Sales of Shark Fins