A paddle steamer and riverboat hotel has sunk off South Stack, near Holyhead in Anglesey, while it was being towed to its new home in Northern Ireland.
The MV Oliver Cromwell, which was first built as a Dutch barge in 1922 and then converted into a riverboat hotel in 1993, had been moored in Gloucester Docks for the past 25 years. It was put up for sale by English Holiday Cruises last year with a £245,000 asking price, and was enroute to Coleraine, in Northern Ireland, when disaster struck yesterday (Friday 25 May).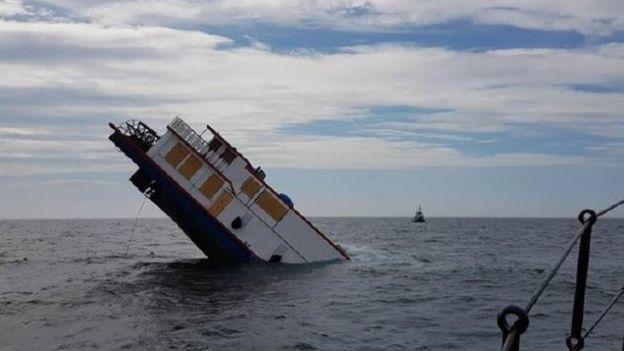 It started sinking some 12 miles west of South Stack, and Holyhead Coastguard were contacted just before 2pm but could not prevent the boat from sinking into the depths of the Irish Sea. Thankfully, no one was onboard the vessel when it went down.
Tony Price, the coxswain of the RNLI's Holyhead all-weather lifeboat which attended the scene, deemed it was too dangerous to put any crew members on the stricken vessel, and commented: "It was very sad to see such a lovely vessel sink like that, but no-one was endangered and the lack of fuel on board meant there were no environmental issues."
It now rests in over 50m depth – perhaps Anglesey has just gained a new technical-depth shipwreck…
Photo credit: RNLI/Jay Garden