Oyster Diving will be hosting the recreational diving for Paddle-Round-the-Pier (6-7 July), Europe's largest free beach festival, raising £1,000s for charities. Each year, around 50,000 watersports enthusiasts descend on Brighton and Hove beach for a weekend of fun, competition and entertainment. A few of the many events include live music, a kid's stage, lots of watersports events, including scuba diving, surfing, kayaking, stand-up paddle boarding, kite-surfing and windsurfing. Oyster Diving, the Brighton-based five-star PADI Dive Centre, will be looking after this year's scuba-diving activities, which include trydives and a pier dive.
Oyster Diving's instructors will be conducting trydives in the 20-metre Paddle-Round-the-Pier outdoor demo pool and anyone aged ten years plus is welcome to come and have a go.
Oyster have also arranged to a boat dive around the old West Pier on Sunday 7 July at 12.30pm. The dive is open to anyone who is Open Water Diver or higher and dived within the last 12 months. The boat will meet at Oyster Diving's offices on Shoreham Harbour.
Divers can hire kit on the day, or get air fills.
As well as scuba-diving related events, you can come and meet Oyster Diving's instructors in the PADI tent at Paddle-Round-the-Pier and find out about other courses and future events.
2019 Underwater Summer Games
For people who want a real laugh, come and enter the Underwater Summer Games, Oyster's annual charity event in aid of The Scuba Trust. This year ,the Mayor of Brighton and Hove has offered to open the games, where divers can compete in tournaments like:
Fastest to set up their dive kit
20m tired diver tow
20m underwater sprint – no fins
40m surface sprint – with fins
Fastest buddy pair to swap kit underwater
Underwater discus
Underwater javelin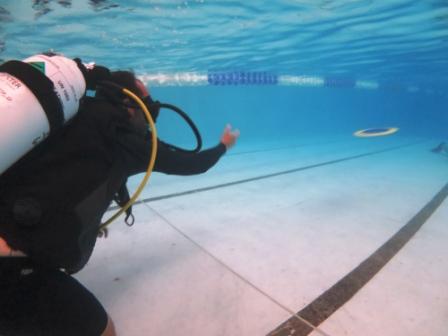 Anyone who is a qualified diver can enter, just bring your swimwear, certification and towel. As there are limited places, register your place for free with Oyster Diving.
The Scuba Trust helps those with disabilities and their friends experience the joy and freedom of scuba diving. The aim of The Scuba Trust is to provide a level playing field by arranging training and obtaining funding to subsidise applicants who, due to disability, encounter difficulty in finding suitable instruction and who may face a greater outlay for training and recreational diving after certification. For more details, visit: The Scuba Trust