Trialling the new PADI IDC, gaining Platinum CD status – again – and becoming a Career Development Centre rounds out an exciting year for Ocean Turtle Diving and ProDiveUK.
Ocean Turtle Diving has been operating out of Basingstoke for over 15 years and has gone through many transformations, both as the popularity of diving has grown in the UK, and also with the changes in ownership that it's had.
The most notable of these came at the end of 2014, when the business was bought by instructor Kerrie Eade. The intention was clear from the outset that she really wanted to make her mark on not just the dive centre and the customers and club members that were inherited when it was bought, but on the dive industry as a whole.
As an OWSI and new to the UK dive industry having arrived from Spain, where she really fell in love with diving and knew it had to become her career, some tough targets were set to help propel not just her, but the dive centre forward.
The first thing was to come up with a plan to further her training, which she did by working with established Course Directors such as Dale Spree and Steve Prior in order to become a Staff Instructor, before moving up to Master Instructor, where she was then able to apply to PADI to become a Course Director.
With a strong business case and by showing all of the positive improvements and changes that had been implemented at Ocean Turtle since she took over, it was never in doubt that she would be accepted onto the course, which she completed in March 2017 in the gorgeous setting of Kota Kinabalu.
It was on the return from Malaysia that the professional training on offer at Ocean Turtle could really take off, but finding a way to really make a unique offering and utilise all of the training and investment while being based in Basingstoke – a landlocked town in the south of the UK – wasn't looking that promising.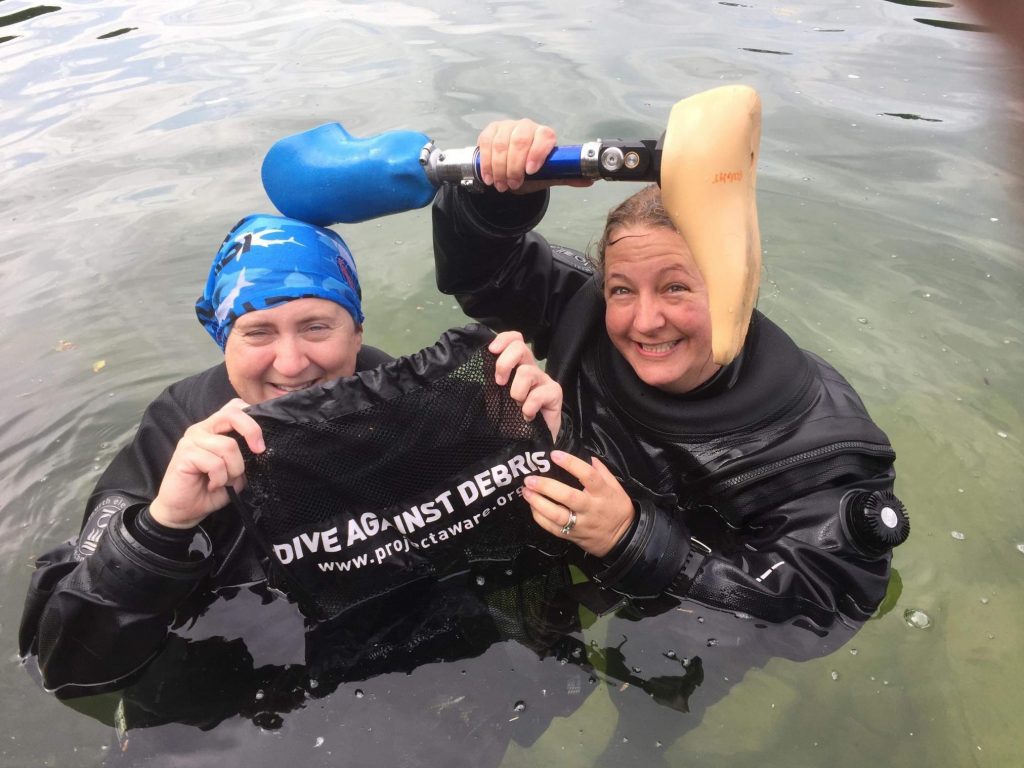 Then, after a completely spectacular dive on the M2 from Portland, a conversation took place between Kerrie and Bettie, who had recently qualified as a Staff Instructor, and it went a little like this;
KE: "Wouldn't it be great if we could go around the world and teach IDCs?"
BC: "OK, let's do it then!"
That was all that was required for ProDiveUK to be born in May 2017, with the mission of providing high-quality, professional-level PADI training in the UK and beyond.
ProDiveUK was successfully launched in October 2017, and relationships with other dive centres in the UK – such as Scuba School in Studley, and the new outfit that were just planning their emergence, Sub Sea Adventures in Wales – also started to be formed.
The first full year was a total whirlwind, with eight IDCs conducted across the Caribbean, UK and Spain, with Ocean Turtle quickly becoming the centre of all Instructor Training activity, resulting in all of the domestic instructor team being trained by ProDiveUK in some capacity by the end of 2018. The number of graduates also resulted in Pro Dive being branded the 'Teal Army' at the Instructor Examinations due to the onslaught of the corporate colour at these times. Due to the hard work and number of candidates trained during this year, Kerrie earned the accolade of becoming a Platinum Course Director for the first time, and was awarded her certificate at DEMA this November.
The success of ProDiveUK and the drive from Kerrie to really push Ocean Turtle forward has had an exponential effect throughout 2019. Bettie has now successfully completed her Course Director Training Course, which has resulted in an even-more-unique offering for instructor candidates, as they now get the benefit of two Course Directors.
The most-notable achievement for the dynamic duo, however, has been taking part in the field trials for the brand-new IDC, which was officially launched at DEMA this year. When Kerrie and Bettie are asked to trial something, they really do go all out to get the best results, and planned three IDCs across three continents to test how it would be received.
The main difference on the new programme is a shift to make a lot of the old-style presentations part of the candidate eLearning, and give them a really solid grounding in teaching, standards, risk and the curriculum before they join their teaching team. The huge benefit of this is that time with Course Directors and Staff Instructors is now spent on real-world, practical application of skills and knowledge to make the candidates a lot more prepared to teach as soon as they receive their certificate of completion.
Another huge benefit is that there is now a lot more focus on rescue skills in the syllabus to make sure that all emerging instructors come out of their training extremely capable and competent in not just teaching their students rescue skills, but also performing them if the need were to arise.
There have yet again been IDCs across the globe, with courses being conducted in Sharm El Sheikh and the Caribbean, and Kerrie will once again be recognised at DEMA 2020 in New Orleans for reaching Platinum status for training so many new PADI professionals. With plans to go even further afield in 2020, with new partnerships being formed in the Philippines and Bahamas, who knows what lies ahead!
Back home at Ocean Turtle, the hard work and partnership with ProDiveUK has resulted in them being awarded the highest PADI store rating of Career Development Centre, which will mean that professional training can be extended at a vocational level with a range of internships and, with the recent approval from the CTP, Ocean Turtle now has approval for ex-service personnel to apply for funding and train with them.
With all these amazing achievements and opportunities for the coming years, we can't wait to see where both Ocean Turtle and ProDiveUK go next!