Here is a small sampler to diving the wrecks in North America's Great Lakes By Becky Kagan Schott
Hard to believe, but North America's Great Lakes – Lake Superior, Michigan, Heron, Erie and Ontario are one of the best shipwreck diving locations in the world. The Great Lakes are the largest group of freshwater lakes on earth with a surface area spanning some 94,250 square miles between all five. And these lakes remain instrumental for shipping for the upper mid-east region of North America and Canada.
Connected to the Atlantic Ocean through the Saint Lawrence River, these inland seas have claimed thousands of ships over hundreds of years from wooden schooners to steel freighters, and each has a unique story. They have stories of heroism, tragedy, mystery, and the most powerful are the stories of survival. Many foundered in collisions with other ships, fires, ice, and violent storms. These wrecks are haunting and have laid on the bottom, preserved in the cold freshwater for hundreds of years.
Diving here is like turning back the hands of time and visiting a time capsule. History becomes alive when you can see a ship's name painted on the stern, century old cargo including automobiles, train cars, shoes, coal, and even boxes of preserved lifesavers inside one cargo hold. The wooden sailing ships have masts standing 90 ft tall with rigging still attached. They almost appear as if they are still sailing on the lakebed. Some wrecks have wheelhouses and wheels in place, tool benches inside the engine rooms, pictures hanging on the walls, galleys with pots in the sink, light bulbs screwed into lamps, and don't be surprised to see a bell still in place. So many artifacts can be seen because nothing is permitted to be taken. Every year new wrecks are being discovered and there is much more to explore in each lake. Wrecks range from recreational, some almost shallow enough to snorkel, to technical depths below 200 feet.
The cold freshwater is what keeps the ships preserved but the summertime temperatures can range from 39 degrees on the bottom to 60's on the surface so a drysuit is necessary. If you like shipwrecks and history and are looking for a dive destination closer to home, then check out all that the Great Lakes have to offer.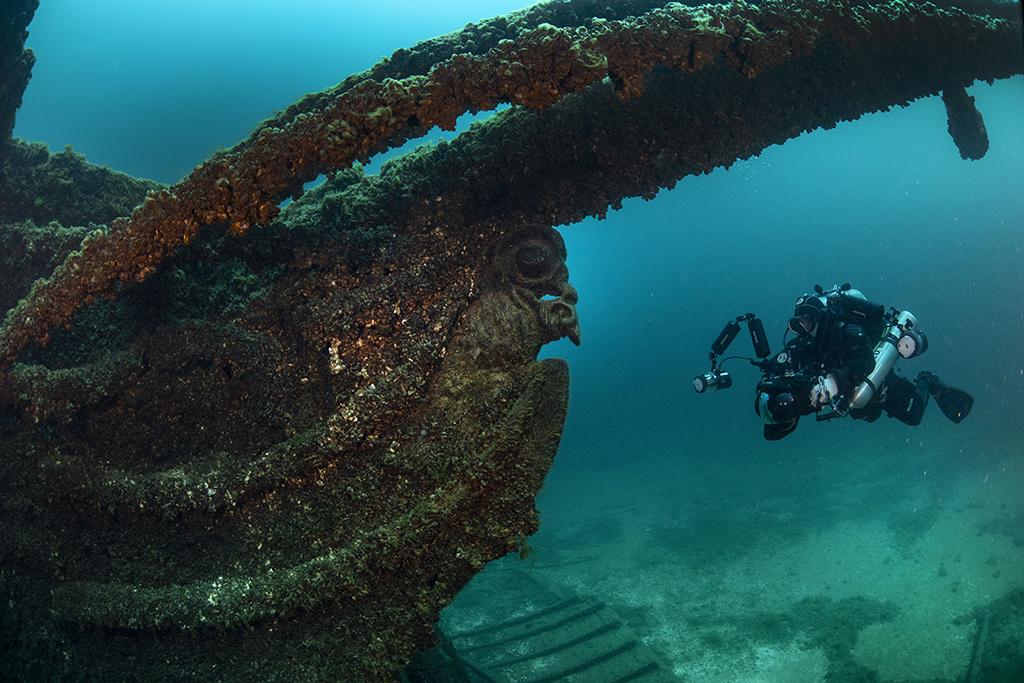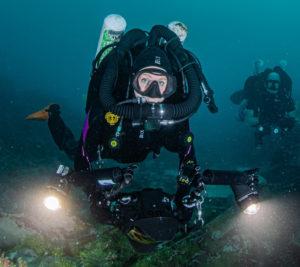 Becky Kagan Schott
It is difficult to move through the world of diving and underwater exploration without hearing the name Becky Kagan Schott.
Holding a degree in Journalism from the University of Tampa she started her career in Broadcast news with CBS and FOX, before creating her own business Liquid Productions in the field of underwater cinematography which has led to her receiving 5 Emmy Awards as an underwater cameraman.
In addition to her skills handling a camera underwater Becky is also an avid a technical diver as well as a highly experienced TDI instructor on the Megalodon Rebreather from air diluent to trimix. Her next set of scheduled Rebreather Courses is coming up this December from 12-17th, 2020, which also presents the opportunity to join her on one or more of her recreational and technical trips she has organized to dive the Great Lakes (July 11-18th 2021), Truk Lagoon (May 14-27th 2021) and Croatia (Sept 25- 3rd 2021).