John Kendall from training agency GUE said: "There are possibilities to gain HQ waivers for younger divers where applicable (normally when they are already known to the GUE community, and obviously with parental permission).
Personally, I have taught a Rec 1 class to a 13-year-old, however, he struggled with some of the theory portions of the class, especially the calculations.
"Otherwise, it is 14 years old – Discover Diving, Supervised Diver or Recreational Diver 1, 16 years old – Rec 2 (Rescue, Triox, Navigation), Fundamentals, and DPV1, and 18 years old – Rec 3 (Rec Trimix, Deco), Tech 1 (51m Trimix, Deco) and Cave 1."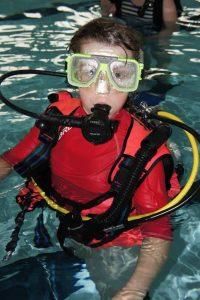 Gary Asson, National Diving Officer for the Suba-Aqua Association, said: "The SAA takes the safety and enjoyment of all in our sport very seriously. This is reflected in section 2.5 of the diving officer's responsibilities, Diving and Young People. This sets out how young people should be trained, and what they can do at what age. Any training can only be undertaken with parental/ guardian consent, and subject to kit of the correct size being available. Also, the young person must have a level of maturity commensurate with the level of training and be able to handle the weight and bulk of the kit.
"There is little research available into the effects of depth and pressure on young, developing bodies in respect of propensity to DCI, PFOs, effects on bone development, vision development, etc. The welfare of the young is a central part of the SAA's policy. The following reflects guidance from the UKSDMC and is designed to keep juniors as safe as possible, while still allowing meaningful training.
"10-11 year olds can participate in trydives, snorkel and scuba training in the pool, to a depth of 3m. 12-13 year olds can do full scuba training, to a depth of 15m, and can qualify to SAA Open Water/ CMAS 2* Diver. 14-17 year olds may build up experience, knowledge and skill to qualify as SAA Dive Leader. Once qualified, they can dive to 35m, and can lead divers qualified to SAA Club Diver level and above."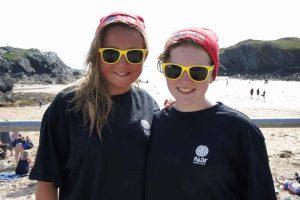 Mark Powell, business development manager for TDI/SDI, said: "Students between the ages of 10-14 may obtain an SDI Junior Open Water Scuba Diver certification, and then when they reach the age of 15, they may upgrade to an SDI Open Water Scuba Diver certification.
"In order to upgrade to an SDI Open Water Scuba diver certification, the student must provide verification of initial certification (certification card or formal verification letter on agency letterhead), as well as providing verification of diving activity in the last 12 months (logbook or personal dive computer download). Divers who are under the age of 18 must provide letter of approval to upgrade signed by parent or legal guardian.
If recent diving activity cannot be produced, diver will be directed to their nearest SDI Dive Centre or equivalent to complete the Inactive Diver / Refresher programme with an active instructor. Upon successful completion of the SDI Inactive Diver/Refresher programme or equivalent, active instructors must provide a signed letter of update completion or signed logbook entry for the junior diver to submit to SDI World Headquarters or Regional Office."
BSAC encourages a love for the marine environment from a very early age, with activities specifically designed for young children to enjoy with their families. Courses such as BSAC Beachcomber help young ones to discover the rock pool wonders of our coastline and parents can download the course materials for free.
When it comes to getting youngsters safely into the water, BSAC Snorkelling – which is open to children from the age of six – is the next step. BSAC Snorkelling is an ideal introduction to the underwater environment and helps to develop confidence in the water. BSAC's investment in snorkelling, including work with the Amateur Swimming Association, also paves the way for youngsters to learn to scuba.
Our entry-level Ocean Diver course is open to children from the age of 12 and once qualified, under-14s can scuba dive to a maximum of 20m. Youngsters can then go on to the next BSAC diver grade, Sports Diver, and can also participate in a range of Skill Development Courses – including boat handling, first aid and marine life appreciation – to widen their knowledge and enjoyment.
From the age of 16, young people can embark on BSAC's instructor training courses and start extending their range and diving experience, bringing on the next generation of divers.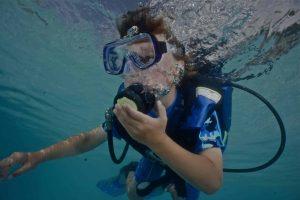 RAID allows training to start at ten years old for junior divers, with the use of training credits (the online training materials) varying from 10-11 year olds who will use a Junior Open Water credit (maximum depth 15m), and 12-15 year olds who will use the Open Water 20 qualification with various junior diver restrictions (maximum depth 20m).
These courses are designed to train students to be able to dive with an adult buddy diver of at least the same level of certification or higher in open water conditions like that in which their training was conducted in or better, without supervision of a dive leader.
IANTD has long supported diving being available to as wide a range of people as possible, including youth. We feel firmly that power of childhood inspiration should be nurtured, particularly where it relates to the natural world.
With this in mind, the IANTD recreational programmes are available from 12 onwards, including rebreather experience. However, the IANTD reputation is more firmly established for technical and advanced diving programmes. Here we accept students from 15 with guardian permission.
IANTD training philosophy is also orientated firmly toward diver specific, allowing for bespoke training for the individual. This allows the developing personality of younger divers to be accommodated in the learning rate and teaching style delivered by the instructor. IANTD instructors are training to educate an individual, not deliver a standard course at a standard pace. This is crucial to harnessing the enthusiasm of younger divers and allowing it to flourish into genuine diving achievements.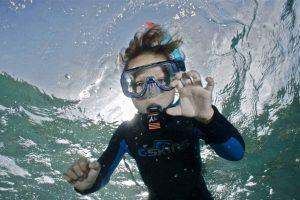 Scuba diving opportunities for children in the PADI system start from the age of eight years old. The PADI Bubblemaker is a very popular pool experience where children get to try out scuba diving in shallow pool water, and many centres offer Pool Parties.
The PADI Seal Team is also available for children from eight years. This is a more in-depth programme which introduces a variety of skills to children over a series of Aquamissions, such as Creature ID Specialist, Safety Specialist and Night Specialist.
The first full certification option for children is the Junior PADI Open Water course, which they can begin when they turn 10. This course is exactly the same as the PADI Open Water Diver certification, though there are special depth and ratio requirements for children on this course. After certification, 10 and 11 year olds have a maximum depth of 12m and must dive with a PADI Professional or Parent/Guardian. 12-14 year olds have a maximum depth of 18m after certification and must dive with an adult certified diver.
However, diving education for children doesn't end there! Junior PADI Open Water Divers can also go on to complete their Junior Adventure Diver along with many PADI Specialties, and when they turn 12, they can complete their Junior Advanced Open Water course and Junior Rescue Diver courses.
Children can Discover Snorkelling at any age, and then progress to the PADI Skin Diver course from the age of eight.