Divers across the greater Adelaide region are celebrating the installation of new stairs at the end of the Port Noarlunga jetty. Sixteen months ago (69 weeks or 484 days, but who's counting?) a particularly vicious winter storm tore the stairs off the jetty at one of the most popular dive sites in South Australia.
Since that day, divers have had either to climb down a set of narrow metal stairs and ladder half way along the jetty (not accessible at low tide) or swim 300 metres out to the reef and back. Marine Life of Port ANZ Noarlunga, Art Exhibition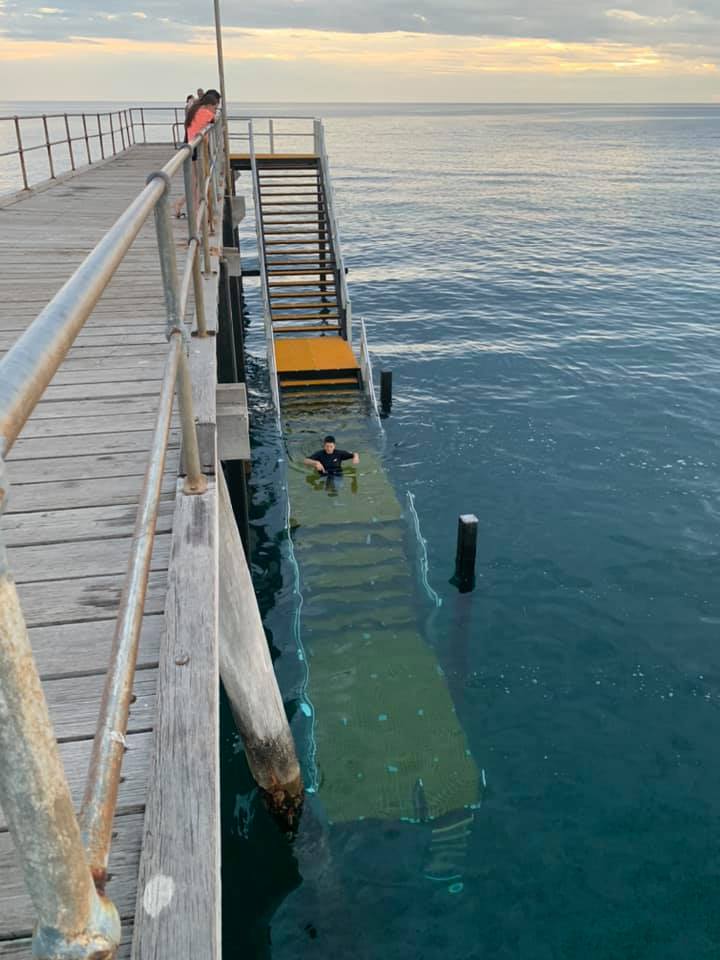 While most divers adapted to the inconvenience, many training courses had to relocate further south to Rapid Bay. Some have suggested that the increased numbers of less experienced divers at Rapid Bay may have contributed to the disappearance of the leafy seadragons resident in the area.
Getting a new set of stairs at Port ANZ Noarlunga took considerable time and was not without its challenges: the jetty had to be assessed for its own structural integrity, the Council had to budget for the unexpected and significant costs, and access to a barge and crane large enough to do the installation had to be arranged from halfway across the State.
The Scuba Divers Federation of South Australia (SDFSA) worked with Onkaparinga Council on the new design while keeping the diving community aware of progress. And the outcome is simply magnificent: a gold standard in non-slip stairs that provide ample room for snorkelers and divers to enter and exit (even with the current COVID-19 personal spacing guidelines), and platforms that work at different tide levels, accessible to deal with any emergencies that might arise at any time.
The SDFSA commends Onkaparinga Council for their investment of time and funds to make Port Noarlunga, once again, a premier dive site for the State.
Photo Credit: Donovan Wood