Isotta, the underwater photo equipment manufacturer recognized by their red camera housings has come out with a new housing for ProPro's Hero8 Black video camera.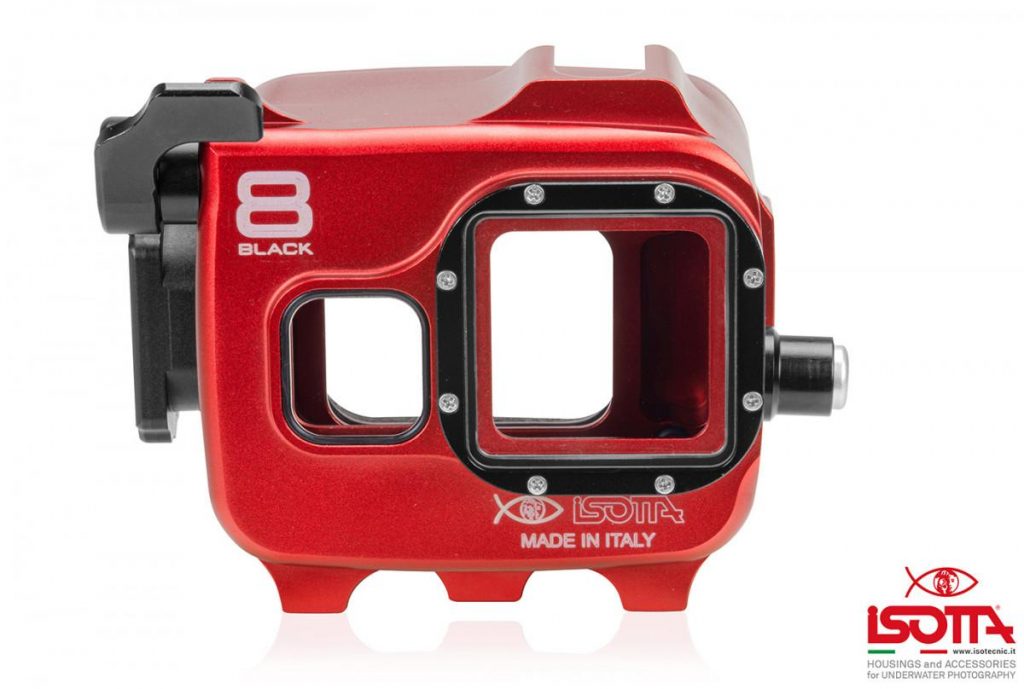 Designed and built specifically for GoPro's Hero8 Black video camera, Isotta's new GP8 housing offers a number of features sure to grab any GoPro user's interest.
Suited for the rigors of the deep sea, the housing is milled from a solid block of aluminum and coated in Isotta's signature red anti-corrosive anodizing. To ensure watertight integrity to a working depth up to 200m everything from the housing's rear door, as well as the housing's single function button and record start/stop lever (also made of aluminum) incorporate double O-ring seals. When it comes to sealing up the housing before a dive, Isotta's single-handed one-turn mechanism locks the rear hinged door securely in place.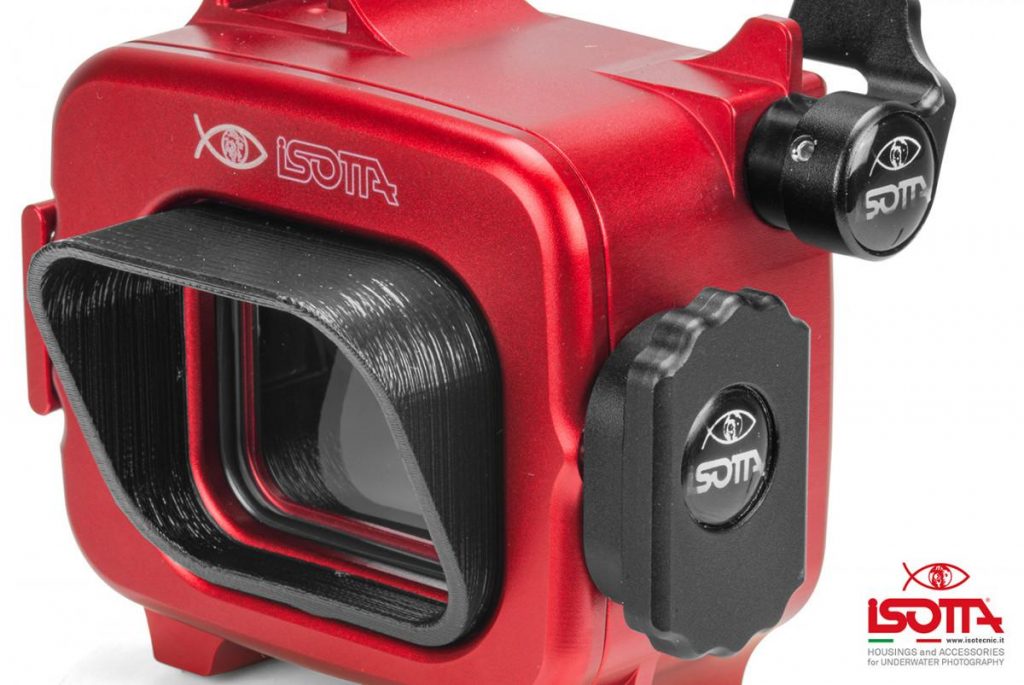 The production know-how and the use of innovative development techniques become apparent when users start operating this housing. All controls operated via Isotta buttons, allow it to be used even with thick gloves.
The most important feature for ensuring clear optics for the camera, the GP8 utilizes tempered mineral glass in place of plastic that conforms evenly in front of the Hero8's lens. A hood over the rear display to make it easier to view the screen in bright conditions is also included on the housing.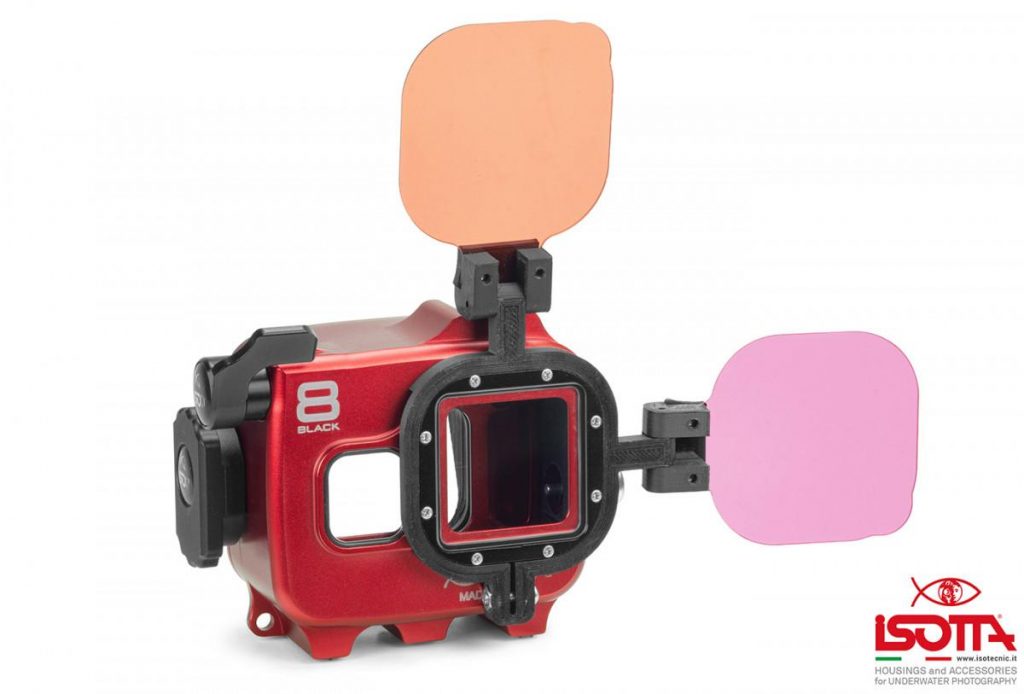 As a result of the design changes made to the new Hero8 housing, previous accessories for Hero5, 6 and 7 models are not compatible. Isotta is also releasing a red and magenta set of filters with a double flip filter system specific to this housing.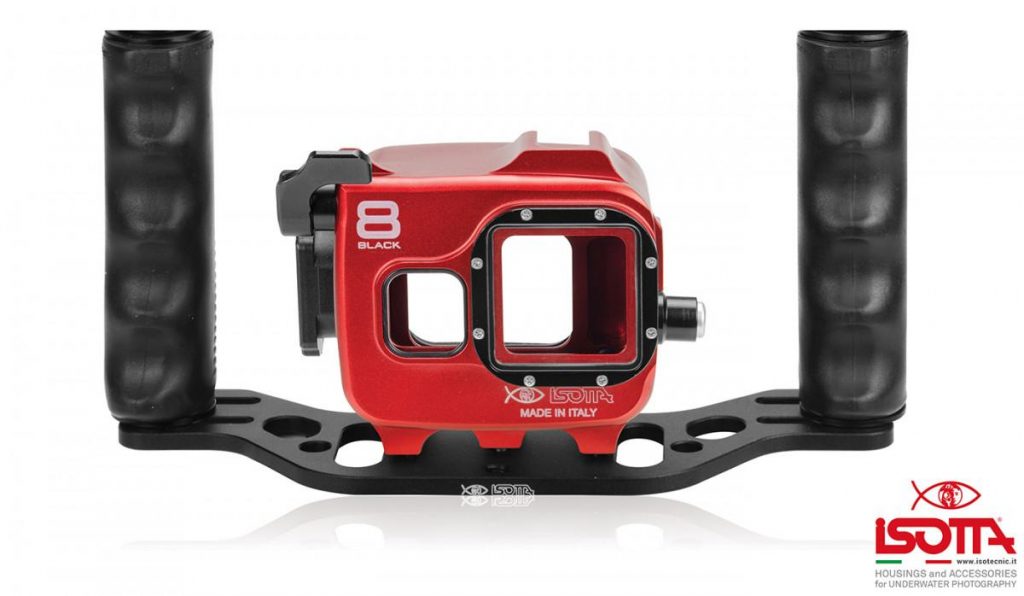 Different accessories such as a tray with handles or a good-man handle can be mounted by using the M6 / 1/4-20-inch threads located on the bottom of the housing. The housing also offers a cold shoe adaptor at the top allowing the installation of further accessories such as lights.
TECHNICAL DATA
Anodized aluminum body; done in Isotta's Signature red
200 metres depth rating
Access to all GoPro Hero8 Black physical controls
Single-hand closing mechanism
Double O-Ring seals on all buttons and removable parts
Weight: 290 grams (with hood)
Size (with hood): 105 L x 70 D x 81 H mm
Size (without hood): 105 L x 51 D x 81 H mm
Isotta expects the housing will be available by early April 2020 with a retail price around USD $496.