Design for the best diving experience
MISSION ONE is a powerful and intelligent dive computer. Its advanced alarm system provides effective vibration and on-screen notifications. By syncing with the ATMOS™️ App, you can view the Divesite's GPS and keep your unforgettable diving stories. Sleek and robust construction, make it the most desirable dive companion to ensure your best diving experience.
Ultimate Diving Experience
1.2″ Hi-Res Color display, outstanding readability
Vibration, Visual and Audible alarms.
Constant backlight, ideal for murky and night dives.
Easy to use menu with intuitive user interface.
Multi-lingual adjustability.
100 Dives Memory in unit.
Exploration
Constant On-Screen Digital compass
Easy to Set compass bearings.
Mark entry and exit GPS locations.
Divespot GPS guidance. (GPS does not work underwater)
Dive Features
Mode: Air / Nitrox / Fredive / Gauge / Off
Gas: Single gas (Oxygen 21-40%) Decompression model Bühlmann ZHL-16c (GF configurable)
In-water activation
Dive planner
Depth & time alarm (10 sets for freediving mode)
Alarm methods (Visual, Vibration and Audible Buzzer)
Surface time
No-Fly time
Digital compass
Freediving stopwatch
Sunrise & Sunset times
Residual tissue loading reset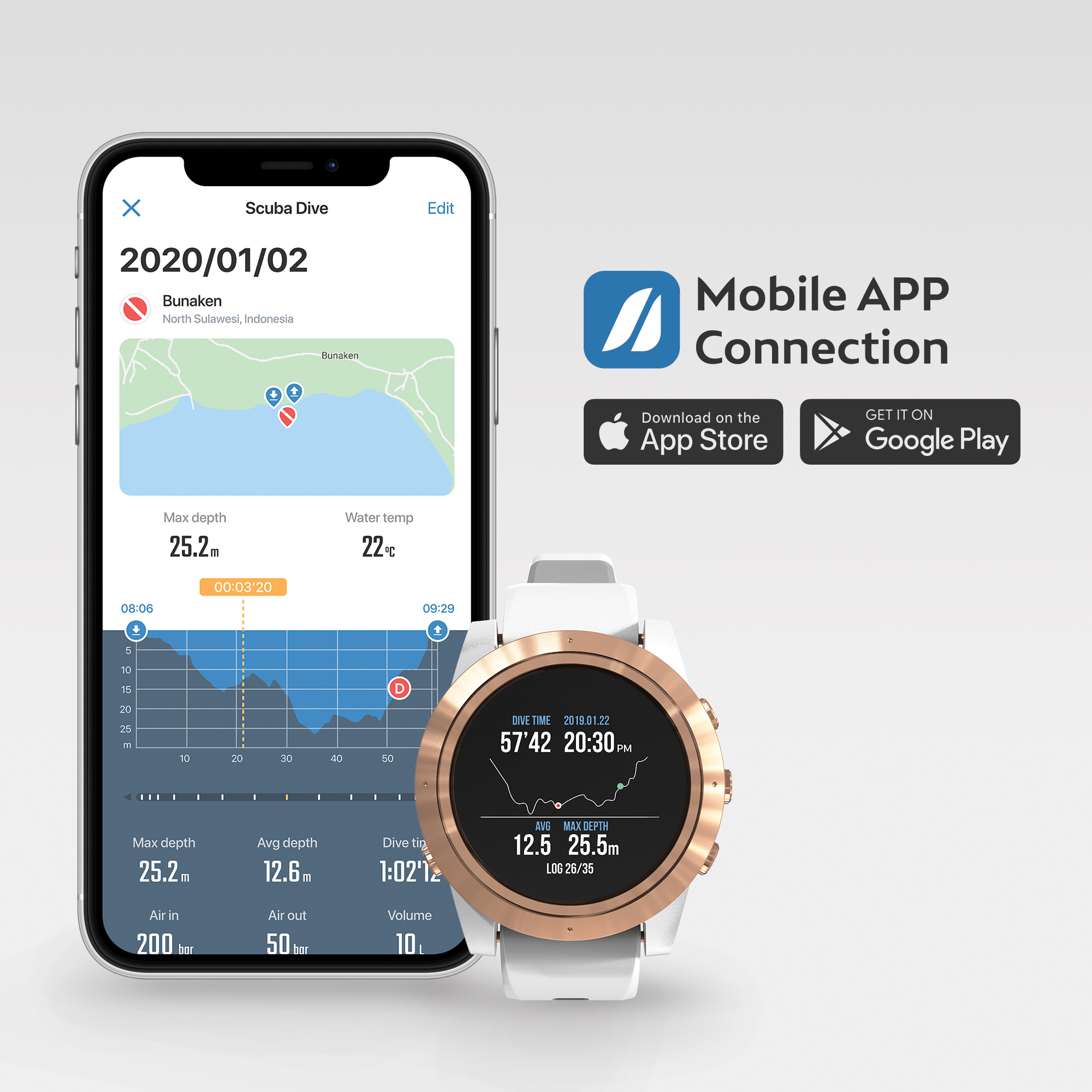 Model: MISSION ONE (KD2)
Water resistance: 10ATM (100 m / 328 ft)
Measurements: 50.5 x 50.5 x 18mm
Weight: 90 g
Display type: 1.2", sunlight-visible, transflective, hi-res color display
Bezel & Button material: Stainless steel 316L
Languages: EN,KO,JA,ZH-CN, ZH-TW
Logbook memory: 100 dives
Metric and imperial units:  Yes
Watch band: Silicone, width 24mm
Battery life:
Diving (backlight off): Up to 40 hours
Diving (backlight mid): Up to 15 hours
Time mode: Up to 15 days
Turn on smart notification: Up to 10 days
Firmware upgradable: Yes (USB)
Click here for Scuba Diver ANZ issue 33