Authorities in Australia suspect that a fossilised 8cm tooth belonging to a long-extinct giant megalodon shark which has gone missing from a remote national park has been deliberately targeted by thieves.
The stolen megalodon tooth, which was one of two located in the UNESCO World Heritage-listed Ningaloo Coast, was in a semi-secret location and attached to a rock. Unlike the other tooth, which is visited by tourists, the position of this one was known only by a small group of people, and had actually been physically covered up with natural features to hide it. It is thought it was removed with chisels and hammers.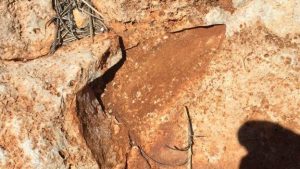 Arvid Hogstrom, from Western Australia's Department of Environment and Conservation, commented: "The worst part is they took the better specimen, which was not so well known." He also said that while the monetary value of the tooth was not known, it 'would not be very high' as fossils of teeth from the megalodon, which could grow up to 18 metres in length and weigh up to 100 tonnes have been found across the world, including in Europe, Africa and the Americas.
Photographs courtesy of the WA Government