And so the whirlwind tour of Grenada and Carriacou by the Scuba Diver team has come to an end.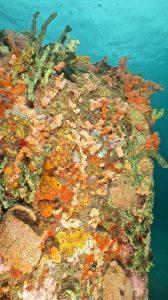 Yesterday saw our final day of diving in Grenada and Carriacou, taking in some of the main island's finest reefs with Dive Grenada. Flamingo Bay, Dragon Bay and Happy Valley were our targets, and all three delivered. Overnight rain meant visibility was not at its best due to a bit of run-off, but there was still much to enjoy, including veritable forests of soft corals, huge barrel sponges, dramatic mini-walls undercut with overhangs and little crevices just right for lobster and crabs to hide out in, vast shoals of snapper and Creole wrasse, barracuda, trevally, French angelfish, and a monster anchor embedded into the wall.
The kit is drying in the warm sunshine – typically, the weather for the coming week shows light winds, plenty of sunshine and not much rain! – our bags are packed, now it is time to start collating all the images and copy ready for a series of features and guides in Scuba Diver to run over the next 12 months. Look out for the 16-page Scuba Diver Guide to Grenada and Carriacou in the September issue for starters!
https://www.scubadivermag.com/mark-evans-grenada-shipwrecks/