The ANZAC Dive'-A new record for Australia and New Zealand in the Mariana Trench
DSSV Pressure Drop, Challenger Deep, Mariana Trench, Pacific Ocean.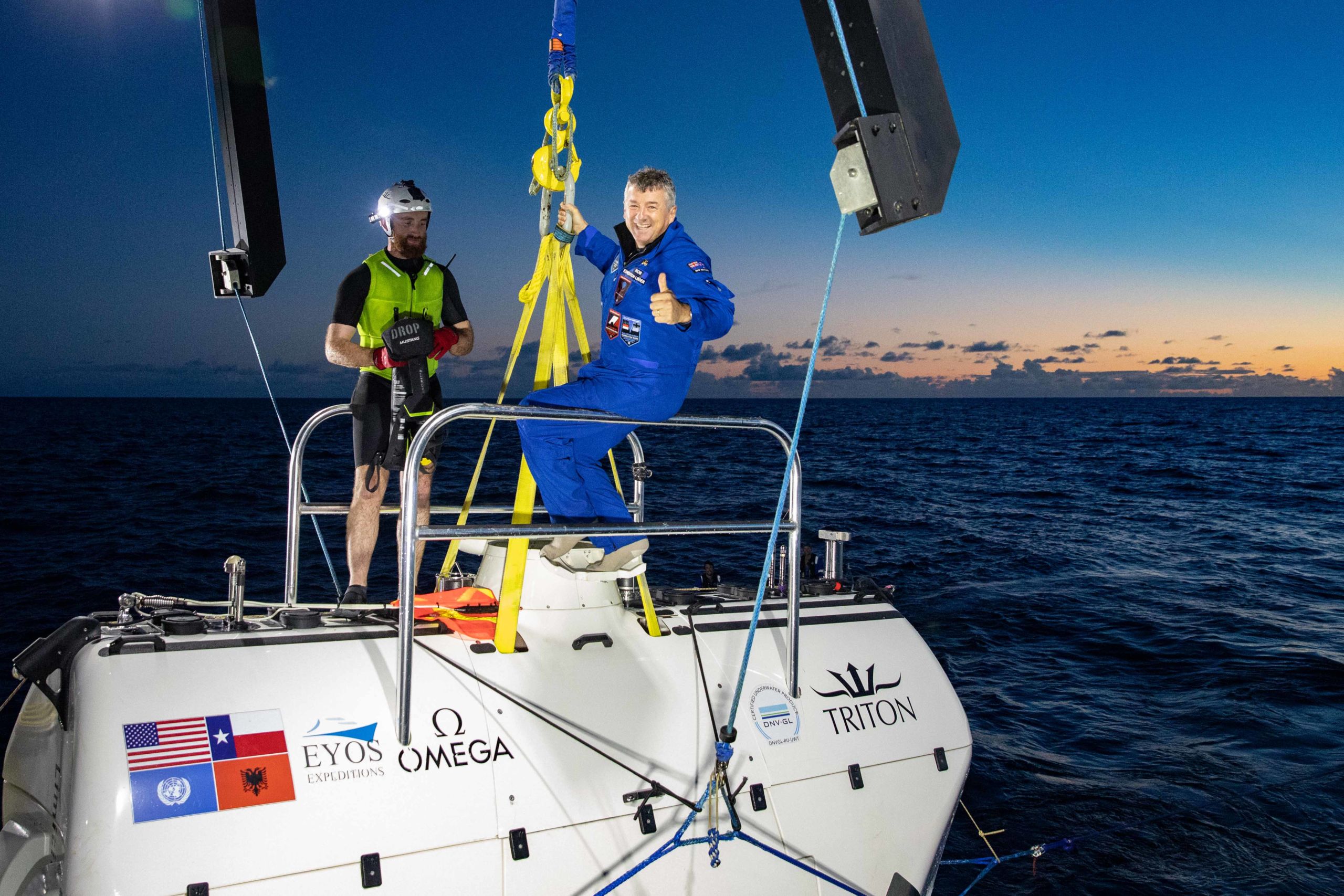 8th April 2021. Tim Macdonald (Australia) and Rob McCallum (New Zealand) today completed a submersible dive to the bottom of the Challenger Deep, Mariana Trench. The pair achieved a preliminary depth of 10,925 meters at the deepest point of the world's ocean, setting a depth record for both nations as they became the deepest diving Australian and Kiwi ever. The successful dive was announced from the DSSV Pressure Drop, the expedition's 68m support ship currently over the Mariana Trench, located 360kms SW of Guam.
The 12-hour dive was completed in the world's only submersible certified for operations at any depth in any ocean—the DSV 'Limiting Factor. 'The submersible, a Triton 36,000/2 owned by Caladan Oceanic, is the world's only private full-ocean-depth vehicle and is best known as having taken humans to the deepest point in each of the world's five oceans during the world record breaking Five Deeps Expedition in 2019.
The two-seat submersible is capable of withstanding pressures of up to 1,400 bar. "That's akin to having 11,000 tonnes per square meter at full ocean depth. The pressure on the hatch alone is equivalent to 2,200 tonnes or five fully laden 747's" said pilot Tim Macdonald.
"We did spare a thought for Sir Ed (Hillary) as we descended through 8,850m (the equivalent height of Everest) and still had another couple of kilometers to go. It's a very long way down and testament to the incredible engineering that has gone into this vehicle and to the team that support it" said McCallum.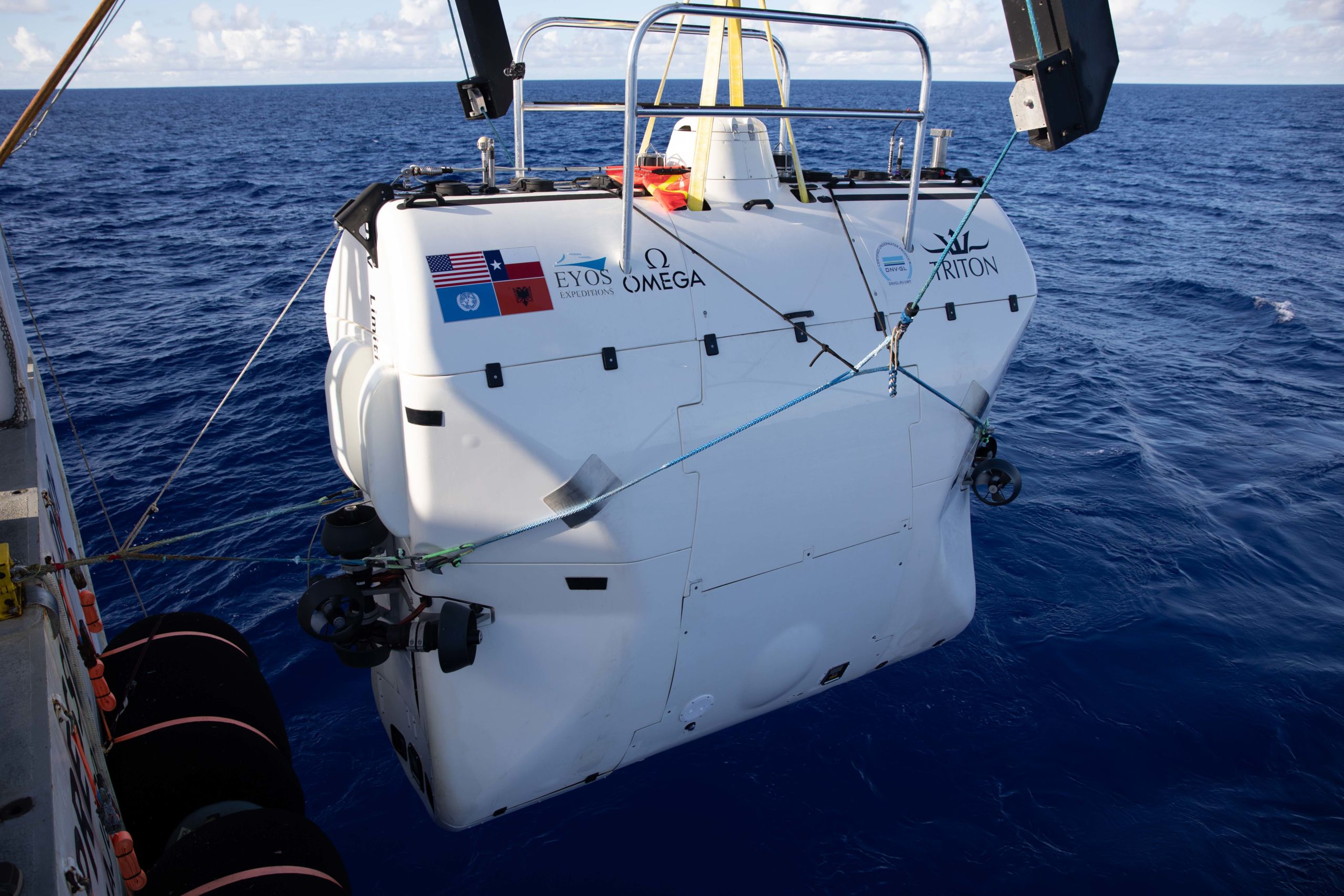 The dive's primary purpose was to test acoustic navigation equipment that will be used as an aid to deep ocean research. When operating at extreme depths, researchers need to rely on acoustic telemetry to navigate to know precisely where samples were collected. "It was a busy dive but we took the time to set a light-hearted world record; the world's deepest ever vegemite sandwich, and Anzac biscuits; which is something only Australasian's really understand" said Tim Macdonald.
The pair conducted a series of technical acoustic tracking exercises, ran a 2000m long high- definition camera transect and collected geological samples. During the dive the submersible interacted with three autonomous 'landers' that had been placed on the seafloor prior to the dive and used its manipulator to collect geological samples. "This privately funded vehicle is poised to make some of the greatest gains in ocean science. It both demonstrates our new ability to reach into the hadal zone, but also of the importance that private funding will play in the future exploration of the deep ocean."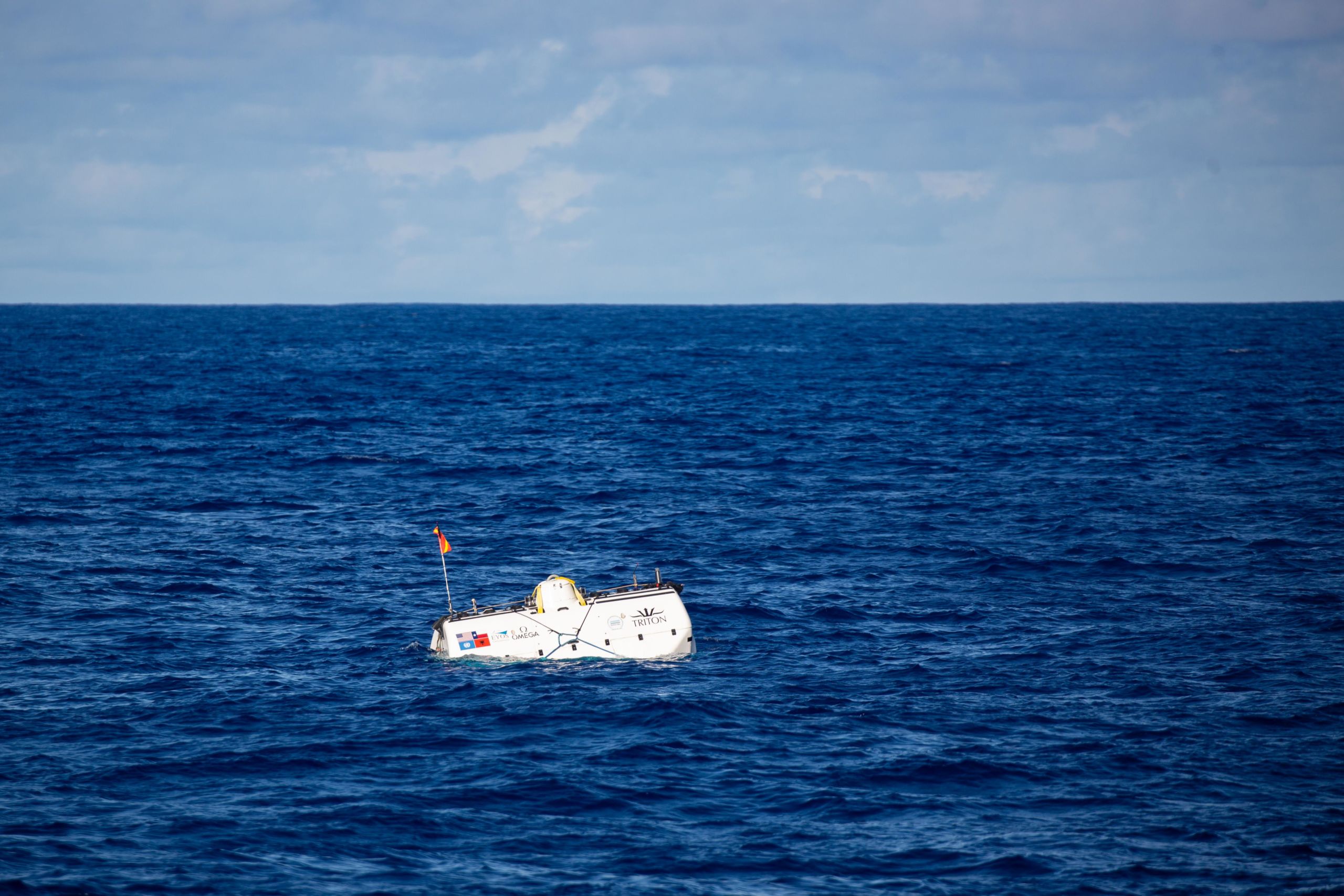 "Our team includes 14 nationalities and while we all work together as one team, there is always a special ANZAC bond between Aussies and Kiwis. The team labeled this 'the ANZAC Dive' and the name stuck long before we were given official permission to use it" said McCallum. The team includes Australians Reuben Kent from the Australian Maritime College (AMC) and James Keane from the Royal Australian Navy who work with deep water communications and underwater navigation. In total, the team has 34 members who work in ship operations, ocean mapping, science, sub technical and outreach.
Australian Tim Macdonald (AMC Engineering Alumni) was part of the design and build team for the submersible and is the Engineering and Operations Lead for Caladan Oceanic's underwater operations. He has just qualified as the third ever pilot of this submersible. "It is a tremendous privilege to be able to operate a vehicle where every dive is into the unknown. This presents some challenges, but it also presents almost limitless opportunities" said Macdonald.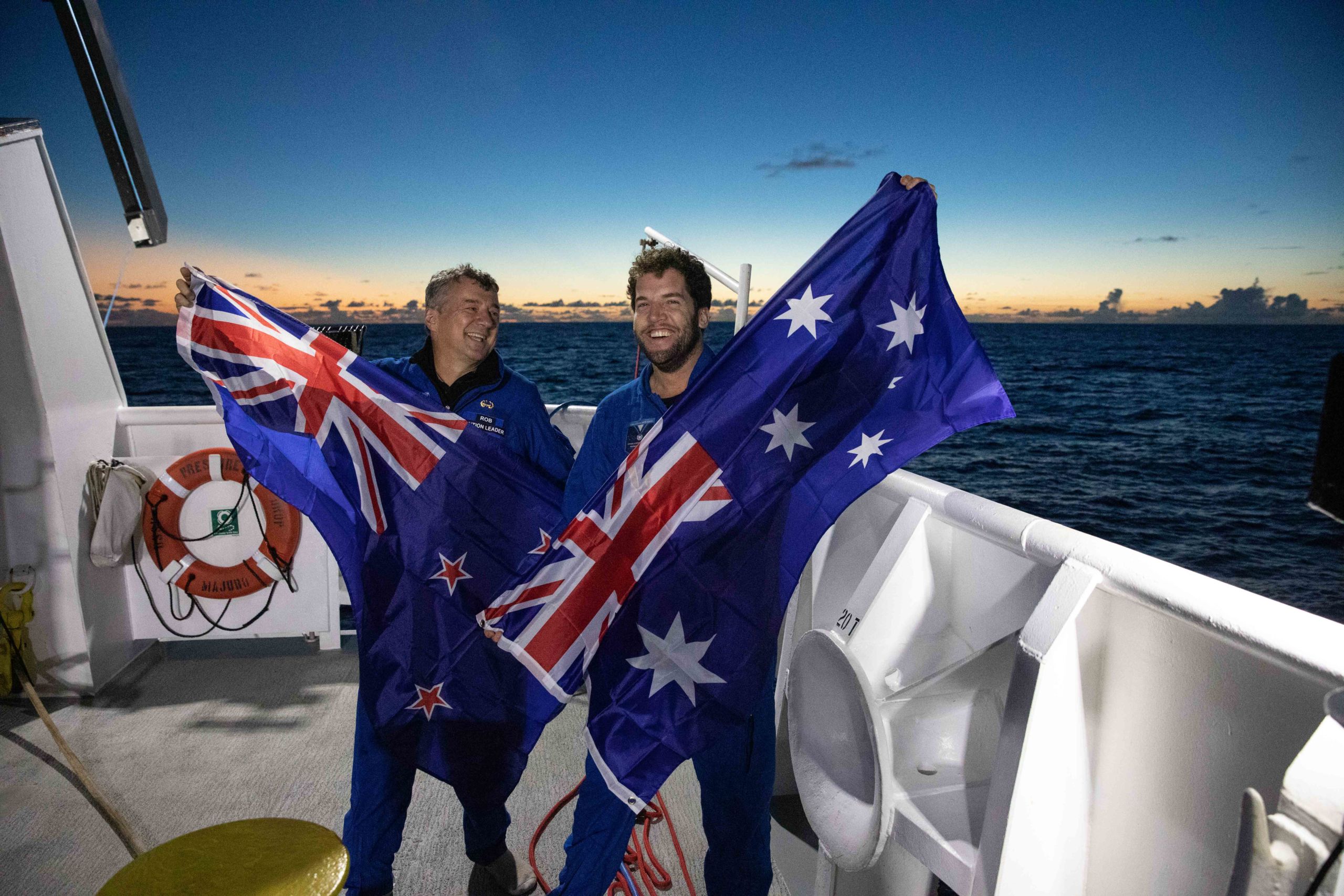 New Zealander Rob McCallum is a 20-year veteran of ocean exploration and is regarded as an expert in deep water submersible operations. His company EYOS Expeditions has planned, managed and led hundreds of expeditions, including every expedition that has been undertaken by DSSV Pressure Drop and her submersible. "This is a remarkable vehicle, a true pathfinder to the last frontier of exploration on Earth– the deep ocean.
She will enable us to explore to any depth in any ocean and the discoveries she will make in the future are almost beyond comprehension" said McCallum. "During the dives conducted in March alone, she has traversed 172,000 vertical meters, enabling us to visit a huge part of the ocean that has previously been unseen by scientists"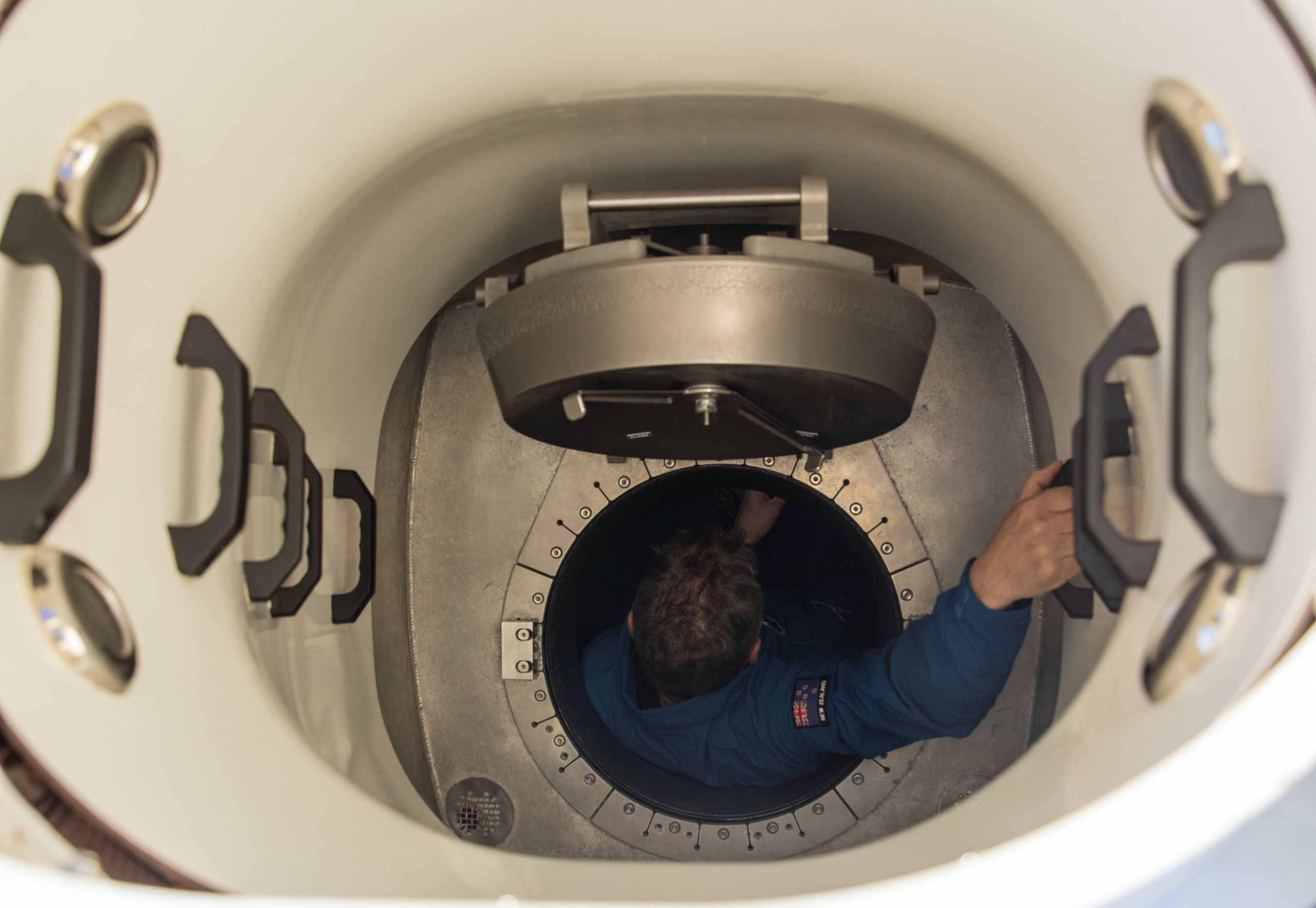 "It was terrific to have an Aussie and a Kiwi work side by side. In that regard it was a very ANZAC dive– two good mates from opposite sides of the Tasman working together under pressure" said Macdonald. "I guess that's what ANZAC is all about" said McCallum.
The team is now headed to Australia to conduct science research deep in the Indian Ocean, a joint project with the Minderoo University of Western Australia Deep-sea center sponsored by Andrew Forrest.
For more information visit www.eyos.com and www.caladanoceanic.com
Click here for Scuba Diver ANZ issue 32