After a week of fantastic critter-spotting in Lembeh, Byron Conroy and Lena Kavender head off on the luxurious Solitude Adventurer for an epic liveaboard trip taking in Misool and Raja Ampat
After a week in Lembeh, we caught a flight from Manado to Sorong in West Papua. After spending all my time peering through a macro lens, it was time for big stuff and pristine reefs in Misool and Raja Ampat. Rated as the most-biodiverse marine environment in the world, hidden under the most stunning of landscapes, it should be on everyone's bucket list.
Luxurious Catamaran
From Sorong we boarded the most-impressive liveaboard I've ever seen. The Solitude Adventurer is a 36-metre aluminium catamaran built in 2000 and fully renovated in 2017. It was originally built as a private yacht, which can be seen in the many luxurious features this vessel has to offer. I have been on a number of liveaboards both in Raja Ampat and elsewhere, but none of them can compare to the Adventurer.
Lena and I met up with the rest of the group in the spacious indoor lounge featuring several tables, sofas, huge flat-screen TV, library and even a free massage chair. Cruise director Diego gave a welcome briefing followed by a presentation on safety and dive procedures. Once the paperwork and induction was out of the way, we spent the next hour getting to know our new friends and exploring the ship. In addition to the great indoor lounge, we found no less than three outdoor relaxation areas on the bow of main deck, stern area at upper deck and a huge sun deck on the top.
The eight ensuite cabins are all way more spacious than I have seen on other liveaboards, located on the upper floor with floor-to-ceiling windows. The state room is bigger than some people's apartments and has even got an ensuite private sauna!
Rare Fish Sighting
For this trip, all guests had arrived early in the morning and so Diego decided that we had time to start diving on day number one. We did the checkout dive at a site with the catchy name Red Light District. Raja Ampat is known for its potentially strong and unpredictable currents, but this site was easy, shallow and protected. It was a nice, relaxed first dive of the trip still with plenty to see, such as blue-spotted lagoon rays, mantis peacock shrimps and a beautiful pair of the rarely seen copperband butterflyfish.
Mantas in Misool
Overnight we steamed south to Misool and woke up the following morning to a day full of diving. Our daily routine was: Dive 1 followed by big breakfast (light breakfast for the hungry before the first dive), Dive 2 then lunch, Dive 3 followed by snack, and dusk or night dive followed by dinner and dessert. There was no shortage of either diving or food.
We spent three days cruising around Misool and were lucky enough to dive some of the best sites the area had to offer. At Nudi Rock I experienced the most-fishy dive of my life. We spent the whole dive being literally surrounded by enormous shoals of fusiliers, yellow snapper, jacks, trevallys, sweetlips, barracudas, batfish and several large grouper. At the safety stop we were accompanied by two hawksbill turtles busy eating soft corals and sponges.
The highlight of Misool was our dive at Shadow Reef. Diego mentioned in the briefing that mantas can be seen at the site, and the excitement immediately started to build up. He also mentioned that currents can be strong and recommended doing a negative entry from the zodiac.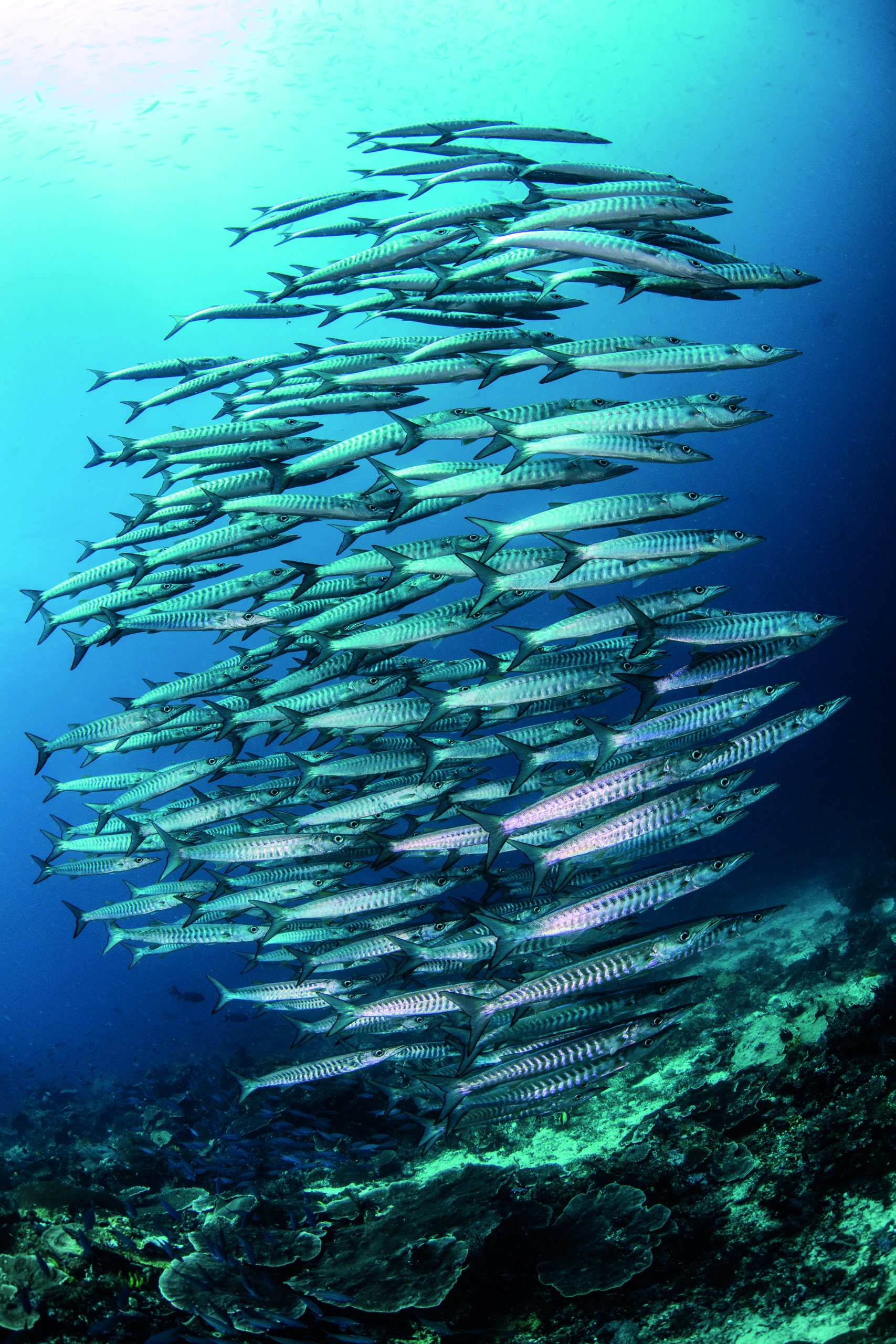 As the zodiac driver counted down – '3,2,1 go!' – for our backward roll, I rolled in the water negatively buoyant and realised that I was descending right into an enormous manta ray. I quickly had to inflate my wing in order not to literally crash land on top of the manta. What an awesome start to the dive!
The rest of the dive went on with the same level of excitement as we saw no less than four huge mantas including a black one. Lots of batfish, snapper and other reef fish were also joining in. All in all, a fantastic dive that I will not soon forget.
In Misool we also got to dive the photogenic Boo Window's and the Farondi Cave. Both offer phenomenal silhouette photo opportunities with a diver sitting in the window of the cave opening. Farondi Cave is like a long tunnel starting shallow at 5m, and goes down to 30m, where the divers come out and can follow a wall back to shallower depths. On this one dive we spotted at least 15 Bargabanti pygmy seahorse – Misool really is a pygmy seahorse haven.
Raja Ampat And The Joy Of Giving
On day 4 we steamed towards Raja Ampat, diving our way up north. In the afternoon the friendly crew of the Adventurer took us to one of the most-iconic places in Raja Ampat, the incredibly photogenic Piaenemo viewpoint.
After climbing the many stairs to the top of the mountain, the reward is priceless – dozens of perfectly shaped green islands sticking up from the mirror-like turquoise ocean.
It is hard to think of anything more beautiful and peaceful than this place, and is a sight I wish all people would get to experience during their lifetime. Later on we also got to visit one of the local inhabited islands.
The crew of Solitude Adventurer visits one of the islands every week providing gifts for the children as a way to give back to the local community. This week, the zodiac was loaded with children's backpacks, pens, shoes, clothes and toys.
The children and adults alike greeted us with big smiles and welcoming faces. You can truly feel how much they appreciate the gifts and it also seems like they really enjoyed our visit. The island's mayor took us on a walk around the small island containing maybe 100 houses, a church and a tiny shop.
Raja Ampat offers just as good, if not even better, diving than Misool. The area offers a great variety of dive sites such as mangroves, walls, bommies, slopes and jetties. We had the pleasure of completing two dives at Cape Kri.
This site is known for having the most-biodiversity ever recorded on a dive site, and I have to say that it definitely lives up to its reputation. Here we were diving with a shoal of over 100 ribbon sweetlips that let us take photographs from every angle without moving an inch.
Above groups of barracuda and jacks circled us. At the same time we spotted a huge bumphead parrotfish and a giant grouper. Oh, I forgot to mention the blacktip reef sharks cruising by. It is almost too much to handle and the adrenalin levels were sky high.
BBQ Under The Stars
On the last night, the chef and the kitchen team arranged a wonderful BBQ up on the top deck under the stars. The crew were singing some local Indonesian songs and some proved to be quite skilled with the guitar. What a great way to finish a fantastic trip and to reflect upon the week together with the other guests aboard before heading back to Sorong and reality.
We spent the whole dive being literally surrounded by enormous shoals of fusiliers, yellow snapper, jacks, trevallys, sweetlips, barracudas, batfish and several large grouper
After climbing the many stairs to the top of the mountain, the reward is priceless – dozens of perfectly shaped green islands sticking up from the mirror-like turquoise ocean
Photographs by Byron Conroy