THERMALUTION RED GRADE ULTRA
Mark Evans: Well, what can I say. The Thermalution Red Grade Ultra really delivered. I had been impressed by previous vest-only incarnations from this company, but this full-length suit is on a different level completely. The thigh heating elements make such a difference to your overall warmth, and okay, we are nearing double figures temperature-wise even in quarries now, but it still gets chilly after an extended period of time underwater and so I could feel the benefit.
The controls are simple – each 'slide' lights up a different colour, which corresponds with the power setting. Easy! I just stash the controller in a thigh pocket on the dive.
INFORMATION
Suggested retail price: £1,050
Number of dives: 4
Time in water: 3 hrs 50 mins
APEKS MTX-R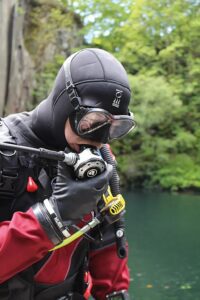 Mark Evans: With a BCD Group Test in three price brackets, as well as some general 'test' dives, the MTX-R has been getting plenty more in-water hours. And no surprises for guessing that it continues to impress.
Wherever I take it, UK or abroad, it gets plenty of attention for its slick good looks – the white and matt metal combo works so well – and it is refreshing to be able to say that it performs just as well as it looks, per- haps even better. It faultlessly delivers gas regardless of depth, temperature, current, position and so on – just what you want from a go-anywhere regulator.
INFORMATION
Suggested retail price: £529
Number of dives: 29
Time in water: 28 hrs 15 mins
ZEAGLE HALO
Mark Evans: The Halo has been getting a workout recently, with plenty of 'test' dives in their own right, as well as an outing in the high- end price bracket for our BCD Group Test. The comfort and fit of the Halo is excellent, and can be adjusted to your personal requirements. The backpad and straps have plenty of padding, and once it is cinched up correctly, there is zero tank movement topside or underwater. I also like the zippered pockets, which are easy to access even with a bulky drysuiton – just practice that you are opening the pocket up, though, not where the integrated weight pouches go!
INFORMATION
Suggested retail price: £567
Number of dives: 9
Time in water: 8 hrs 45 mins
DEEPBLU COSMIQ+ DIVE COMPANION
Mark Evans: Finally retrieved the DeepBlu Cosmiq+ Dive Companion from Test Team
member Dave Hope, who had taken it with him to Grenada and clocked up some warm-water hours. Now it is back in the UK's colder waters and still performing well. I am still a huge fan of the vivid screen display, which is just so easy to read even in the lousiest UK conditions. I also like the heavy-duty NATO-style webbing strap, which can be quickly and easily adjusted for a wetsuited or a drysuited wrist, and holds the computer securely in place during the dive.
INFORMATION
Suggested retail price: £230
Number of dives: 14
Time in water: 12 hrs 55 mins
AQUALUNG REVEAL X2
Mark Evans: Along with the Cosmiq+, we also got the
Aqualung Reveal X2 back from Mr Hope. It had found
favour with many divers in Grenada, and its comfort, fit
and decent field of vision have gained it plenty of fans
over here as well. Art Director Matt Griffiths collared it
as a replacement for his ageing Scubapro mask, and was in-
stantly smitten. He liked the all-black colour scheme of
our test mask, but most of all the comfort of the super-soft silicone skirt. It is one of those masks that you can just 'slap' on your face and it fits, no faffing around getting it settled in place.
INFORMATION
Suggested retail price: £46
Number of dives: 9
Time in water: 8 hrs 45 mins
SHEARWATER RESEARCH PERDIX AI
Mark Evans: The Perdix AI has been busy again, accompanying me for the BCD Group Test dives, as well as a few 'test' dives. Testament to how good it is, I just chuck it on my wrist and it is as if it has always been there. I glance at the screen and immediately know what it is telling me. When a computer becomes second nature, you are onto a winner.
INFORMATION
Suggested retail price: £870 (comp only)
Number of dives: 9
Time in water: 8 hrs 35 mins
RATIO iDIVE SPORT EASY
Mark Evans: We finally got our iDive Sport Easy, in a subtle black finish. In the flesh, it is a neat, lightweight and reasonably compact unit, which will not look out of place on your wrist on a day-to-day basis. It got its first outing during the BCD Group Tests, and the screen display
proved clear and easy to read even without the back-
light, but switch this on and it really pops. I'd recommend setting this to 'permanently on' here in the UK. And because it is rechargeable, no worries about running the battery down.
INFORMATION
Suggested retail price: £375
Number of dives: 2
Time in water: 1 hrs 50 mins
XDEEP NX ZEN
Mark Evans: It felt a little like Christmas at Scuba Diver HQ, as the arrival of the Ratio computer was swiftly followed by the xDeep NX Zen. I had been looking forward to getting this unit after briefly trying one in the Bahamas last year, and it did not disappoint. It is very comfortable and performs well, but perhaps most importantly, it looks the business. Look at the construction of that backplate, for instance – it is like a piece of modern art. You could hang that on your wall as a discussion piece. The workmanship is simply second to none.
INFORMATION
Suggested retail price: £535
Number of dives: 7
Time in water: 6 hrs 55 mins