MISS SOLOMON ISLANDS JOINS THE CAMPAIGN TO ENCOURAGE MORE SOLOMON ISLANDS YOUTH TO LEARN TO DIVE
"Learn to Dive" sponsorship program extended to 30 November Exclusive weekend 30 October to learn to dive with Miss Solomon Islands
Miss Solomon Islands Gladys Habu has joined the 'Learn to Dive' campaign as an ambassador, to encourage Solomon Islands youth to learn to scuba dive. The successful campaign announced in August has been extended for sale until 13 November and travel until 30 November for eligible participants aged between 10 and 21 years old, to undertake sponsored 3-day open water diving certification with Dive Munda.
The leading dive operator has been instrumental in the initiative, which is also supported by Agnes Gateway Hotel, Solomon Airlines and a host of private and business sponsors. Miss Solomon Islands, Gladys Habu said she is thrilled to add her support and excited to be undertaking the diving course herself, on the weekend of 30 October through to 2 November.
"Currently I can only dive the Solomon way and I am really looking forward to joining other young Solomon Islanders later this month to learn to scuba dive," she said.
"Not only will this campaign teach many more youth to dive, it is bringing together those who are passionate about the oceans, encouraging a deeper understanding and care for our waters."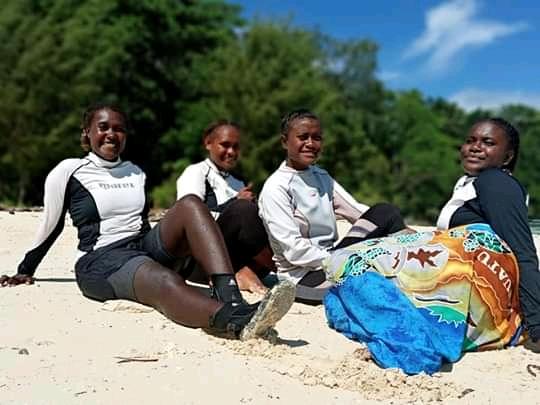 "This is critical for the future, for our diving and marine industry, and also for sustainability in the Solomon Islands," she said.
Belinda Botha, Operations Director for Dive Munda said the involvement of Miss Habu was especially significant, due to her deep connection to the ocean, as a climate change action champion and her passionate concern for the wellbeing of Solomon Islanders, women andyouth in particular.
"We are thrilled to have Gladys join us as an ambassador and excited that she will also learn to dive. We strongly encourage girls as well as boys aged between 10 and 21 years to nominate to participate and welcome sponsors to come onboard to support these youth," Ms Botha said.
Youth who are interested in learning to dive under the sponsored programme, even to learn to dive with Miss Solomon Islands on the course weekend of 30 October-2 November, can contact dive@divemunda.com. Applications must include the candidate's name, age, location, and background information as to why they wish to learn to dive. Parental agreement and medical clearance will also be required and candidates need to be able to read English.
Once registrations are received, Dive Munda facilitates the process with a panel including representatives from the industry who will assess and select the successful candidates. Successful candidates must make their own way to Munda to undertake the courses.
"Response to the campaign has been tremendous," said Ms Botha.
The cost of the 3-day open water course is SBD $2200. However in partnership with Solomon Airlines, Dive Munda will cover SBD $800 towards course fees and will fund certification costs. The remaining SBD$1400 is provided by private or business sponsors who have come forward wanting to support a young Solomon Islands person to become a certified open water diver.
"Scuba Schools International (SSI) is also partnering with us and we have received sponsorships from all over the world, from both corporations and individuals," she said.
"By the end of 2020, we expect to have trained and certified 80 Solomon Islands youth asqualified open water scuba divers," she added.
The initiative is also supported by Agnes Gateway Hotel and Solomon Airlines with the airline and hotel creating affordable packages valid until 30 November, at 30% off the usual airfare and accommodation rates for youth and their families to travel to Munda.
The discounted airfares are available from Honiara and Gizo to Munda, exclusively for thoseparticipating in the 'Learn to Dive' sponsorship and for those accompanying them. Solo Diver packages for those aged 16-21 years, start from just SBD$2300 ex Munda, SBD$3936ex Gizo or SBD$4714 ex Honiara, including accommodation and the dive course. Special twinshare packages are also available for accompanying adults of younger divers.
Solomon Airlines praised the initiative as 'a great opportunity for youth and the future of tourism'.
"We are proud to partner in this initiative, as well as producing a generation of new divers we will also be encouraging these youth ambassadors to continue to care for our country's natural resources and even work in our future tourism industry," said Solomon Airlines Manager Commercial Colin Sigimanu.
As well as being a climate change action champion Miss Habu also dedicates her time to theNational Referral Hospital, where she currently works full time as a Pharmacist and is raisingfunds to support development of the hospital's cancer unit as part of her charity work. A charitable dive event to raise funds for the National Referral Hospital Cancer Unit, is also planned as part of the Lagoon Festival in Munda in November, with details to be announced next month.
More information on the 'Learn to Dive' special packages including a downloadable flyer is available online.
Photo Credit: Gerald Rambert @gerald_rambert