One of the Best Dive Destinations in the world
Komodo National Park is often revered as one of the best dive destinations in the world.
This beautiful and diverse area is incredibly rich in marine life, offering a huge variety of pelagic fish, sharks and macro subjects, plus superb and untouched coral reefs, and amazing topography.
This hidden gem for divers is made up of three main islands, Komodo, Rinca and Padar, plus numerous smaller surrounding islands. Also included in the marine area of the park is the West section of Flores Island. The flora and fauna here are some of Indonesia's finest; it is on the list of the 7 New Wonders of Nature, and it is the World Heritage Site by UNESCO.
Diving Komodo National Park is possible all year round. Its rich marine life and a big variety attract divers of all levels.
Location of Komodo National Park
The reason why Komodo's underwater world is so spectacular and the reason for its reputation as one of the best dive destinations in the world is its location.
The Komodo National Park is located between the island Sumbawa (west side of the park) and the island Flores (east side of the park) and is surrounded by two big seas. There is the Flores Sea in the North that is the marginal sea to the Pacific Ocean, and the Sawu Sea in the South that is the marginal sea to the Indian Ocean. The two oceans create water movements, and this natural flow brings food for the fish, the underwater inhabitants and the corals. Plus an unforgettable experience for the divers.
This is a place where anything and everything can happen, and the fun really begins. We experience significant daily tides, where the water surges through three narrow channels creating strong currents. Thanks to these currents' divers can encounter big fish and enjoy some great "flying" experiences in the rapidly following water.
Incredible Dive Sites of Komodo 
On dive sites like The Cauldron (also known as The Shot Gun) divers get a first-hand experience of these powerful currents, feeling like they are a bullet flying out of a gun. There is nothing to hold on – once you are in the grip of the current you just have to finish the ride.
Other dive sites offer great chilled drift dives where divers can flow along coral gardens or just hang out with the manta rays at dive sites like Manta Point.
At Castle Rock divers can encounter schools of giant trevally, turtles, schools of barracudas, sweet lips and napoleon wrasse. Thousands of gold band fusiliers will often surround the divers and on some occasions, we counted up to 12 grey reef sharks. It is also possible to spot white or blacktip sharks, bamboo sharks or nurse sharks.
Though less known, Komodo National Park is an incredible destination for macro. Dive spots like Wainilu attract photographers from all over the world. Even Mandarin fish can be spotted here.
These are just some of the amazing dives sites that make Komodo National Park one of the best dive destinations in the world.
A Comfortable Arrival 
The whole experience is rounded off by the beauty of the landscape. Getting to the dive sites is an enjoyable and scenic journey as you watch the green islands and beaches passing by, especially if the diving boat offers lots of space and comfort. Divers enjoy drinks, exotic fruits and snacks while reaching the first dive stop. Then get energized with a freshly prepared Indonesian style lunch during the day.
Diving in Komodo National Park is possible all year round. The temperatures reach 25-28 degrees. Visibility can vary between 10 and 30 meters. There are dive sites that cater to more experienced divers while other locations are suitable for beginners. Diving Komodo National Park offers you great conditions to learn diving in currents.
Divers can reach Komodo National Park by plane from Bali. It is just a one-hour flight from Denpasar to Labuan Bajo. There are different airlines offering several flights per day. Labuan Bajo is the starting point for all tours into the Komodo National Park.
The town itself offers a great selection on accommodations, varying from backpacker to a 5* hotel. Even though it is not yet developed as some destinations on Bali, one can enjoy a delicious dinner in one of the many restaurants offering international and Indonesian cuisine, or visit the local warungs or Masakan Padangs (small, local and authentic Indonesian restaurants).
A no less important point is that there is a hyperbaric oxygen chamber in the Siloam Hospital in Labuan Bajo. No need to fly for emergencies to Bali anymore.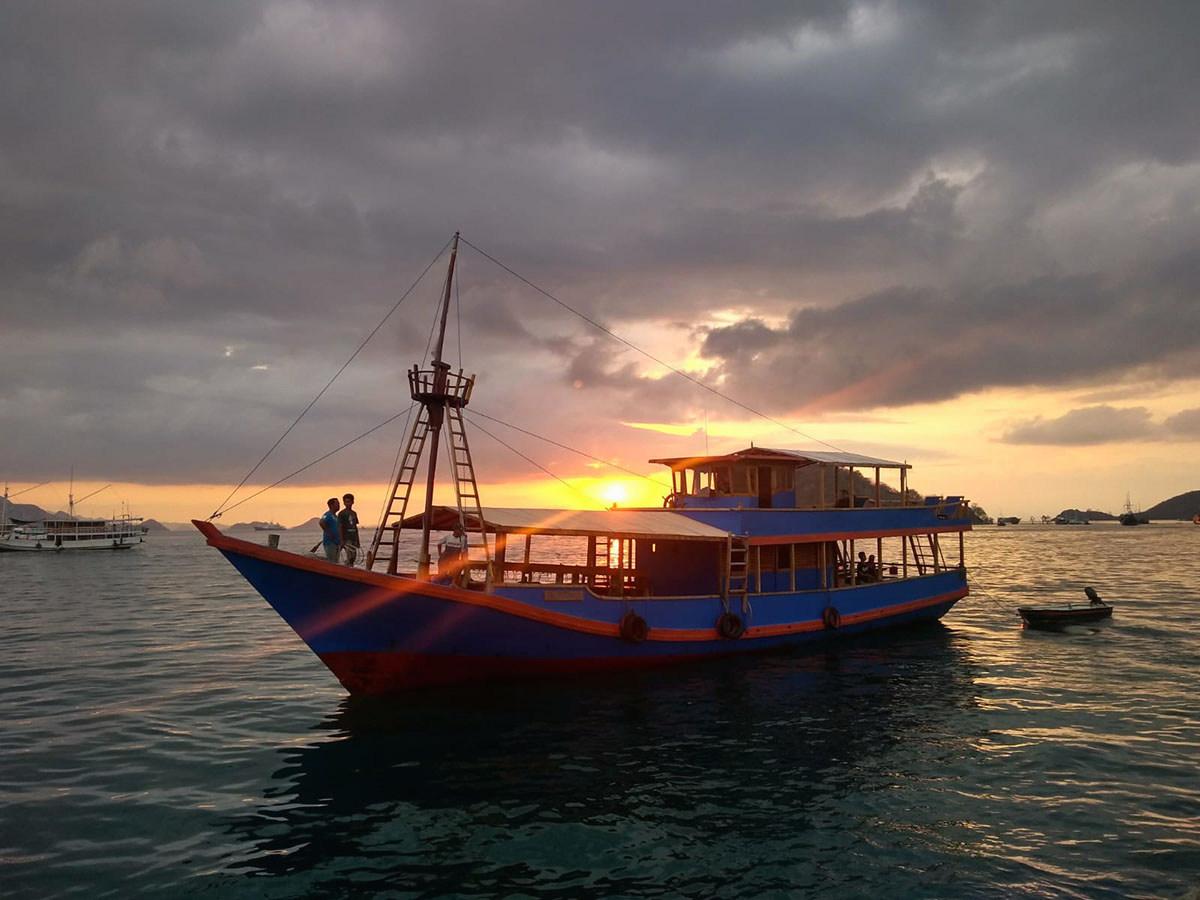 Explore more
There is always the "dry" day which divers can spend in the surroundings of Labuan Bajo, they can visit waterfalls, rice fields in a unique shape of a spider web, or caves such as Hobbit Cave, Mirror Cave or Rangko Cave, a cave with a swimming pool inside. A day in Labuan Bajo or its surrounding areas can be relaxing, adventurous and beautiful at the same time. Dive into Komodo World, explore and come again and again.
We are an SSI dive centre in Labuan Bajo, located inside the 4* Bintang Flores Hotel with direct access to the beach. We offer daily dive trips on our boat as well as a wide range of dive courses. We aim to offer professional diving in a familiar atmosphere. It is important to us that diving and your whole stay with us get a personal touch.
Article Written by Wet Frog Divers
Photo Credit: Dmitry Peretyatko
Not had enough? Top 10 Best Dives Sites in the World