By 2050, the combination of global and local stressors will threaten almost all coral reefs. Without actions taken to minimise local stressors, the percentage of threatened coral reefs worldwide will rise to 90 percent by 2030 – and close to 100 percent by 2050. The damage is swift, and the recovery is prolonged. The ocean needs a faster solution with sustainable actions.
The Biorock Indonesia team participated as speakers, facilitators, and side event organisers in the Archipelagic & Island States Start-up & Business Summit 2019 in Manado, North Sulawesi, Indonesia on 30 October – 1 November. The AIS Forum consists of 46 countries and the event was attended by 21 archipelagic countries and island states.
Marine ecotourism is one of the fastest-growing industries with the most-significant multiplier in creating job opportunities, economy, infrastructure, and also the environment. In many places, marine ecotourism creates a substantial impact on both environmental degradation and restoration. The focus of this session was to discuss the expansion of marine ecotourism as a path towards a sustainable future with equitable distribution of resources and responsibilities through peaceful partnership and the pursuance of the blue economy and associated development frameworks.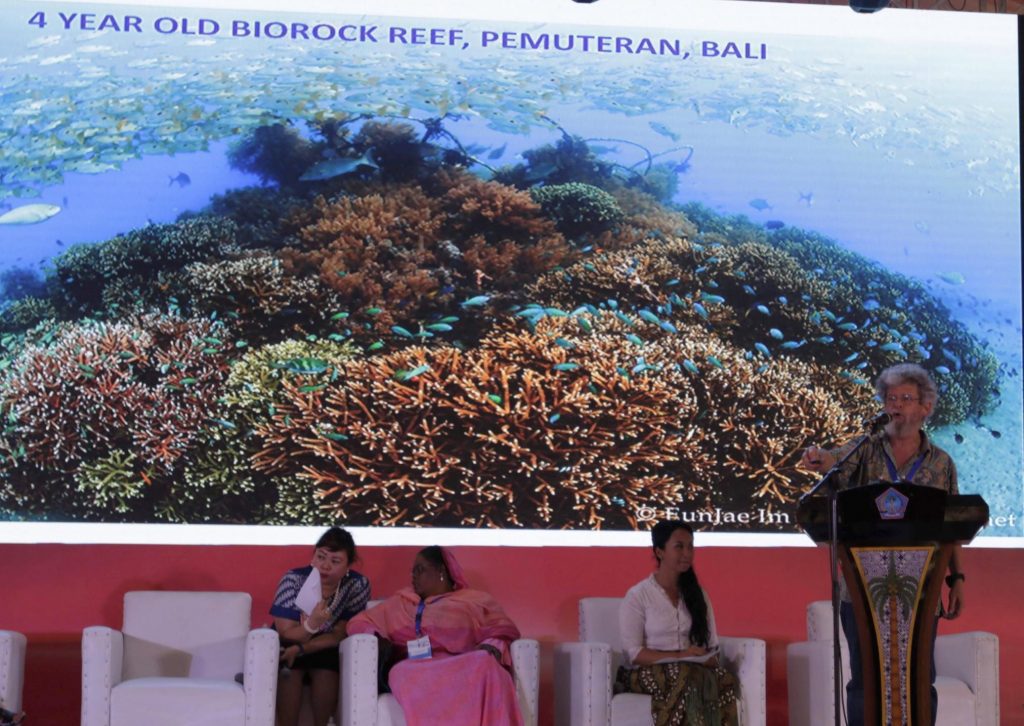 Thomas JF Goreau, PhD, the technology co-inventor and scientific advisor of Biorock Indonesia, and was one of the speakers of a session on the 'future of marine ecotourism'. He spent his childhood in several Pacific countries and experienced first-hand how fast the coral reefs have degraded in the last 60 years. He has also witnessed that so many coral reef restoration efforts are useless because they could not beat the speed of degradation – and the pressure on water quality is becoming bigger all the time.
"Regenerating our dying marine ecosystems will become even more critical in the years to come, and without it, there will never be a 'blue economy'," said Dr Goreau.
Biorock Indonesia also held the Sustainable Marine Ecotourism Workshop as a side event of AIS Forum 2019. Students from Sam Ratulangi University attended the events to gain more knowledge and awareness on marine ecosystem restoration and blue economy. Prawita Tasya Karissa, the Executive Director of Biorock Indonesia, explained how the technology has helped to restore an eroded beach in Gangga Island, North Sulawesi, in just a few months after installation. This could be applied in other areas facing beach erosion and coral degradation by involving the local community and beachfront resorts to actively restore and protect the marine environment.
Photo credit: Beginer Subhan