ZuBlu is proud to introduce Ecoventures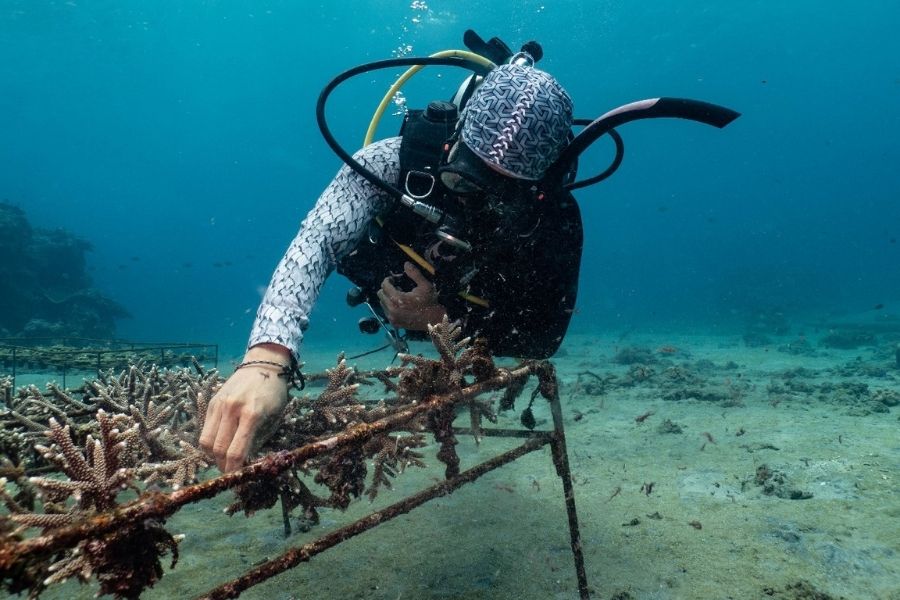 Ecoventures are a carefully-curated portfolio of sustainable scuba programmes from around the world – putting the power of change in the hands of everyday divers. Through Ecoventures, travellers can help to explore and restore the world's oceans, whilst creating a vital source of revenue for conservation organisations.
A 2020 survey of the ZuBlu community identified a disconnect between scuba divers' desire to 'travel green', and their ability to actually do so. The survey revealed that 92% of people want to dive more sustainably, but 75% struggled to find the information they needed to make a more informed choice – a so-called 'eco-gap' that is slowing sustainability efforts within dive travel. But now, with Ecoventures, ZuBlu will help to bridge this gap – bringing marine conservation programmes and sustainable travellers together.
ZuBlu's portfolio of Ecoventures includes some of the most sought after dive internships, ocean conservation programmes, and citizen science volunteer opportunities from around the globe. These sustainable projects allow divers to do more during their dive holiday, helping to restore and sustain the oceans as they continue to explore them. Each and every Ecoventure empowers divers to:
Support the preservation and rehabilitation of marine ecosystems
Protect threatened species
Contribute to conservation work or collect vital data
Immerse themselves in extraordinary landscapes and local communities
Kick-start a career in marine conservation
Surround themselves with dive professionals and marine biologists
How it works
Divers can simply browse ZuBlu's selection of sustainable dive programmes, using the unique search tool to filter by country, date or type of marine life they'd like to encounter. Then, once the perfect project has been found, ZuBlu brings the traveller and their organisation together, introducing both parties so they can plan the trip with ease.
ZuBlu Gives Back
Importantly, Ecoventures will also create a vital source of revenue for the programmes, enabling guests to continue supporting the organisation of their choice – and the environment – every time they travel. Whenever they book another dive trip through ZuBlu, part of the cost is donated back to their chosen programme, creating a new revenue stream not reliant on external funding. In fact, the benefits of Ecoventures reach well beyond a single scuba diving holiday, as divers develop dive skills, expand their knowledge of the marine environment, and continue to support conservation initiatives, after their programme has ended.
ZuBlu is strongly committed to sustainable dive travel and determined to bring together travellers and the best eco-conscious resorts, liveaboards and unique experiences throughout the world. With a hand-picked portfolio of sustainable operators, alongside up-to-date, expert advice on how to travel more sustainably, ZuBlu enables divers to make more informed choices at every stage of their journey.
Discover ZuBlu's Ecoventure Search
ZuBlu is the world's leading dive travel company, with 550+ resorts and liveaboards from dive destinations across the world.
Secure online booking, expert travel advisors and exclusive deals mean guests can discover, compare and book scuba diving holidays with ease.
For more information about ZuBlu, please visit ZuBlu Diving Website