Barbados harbours some superlative wreck and reef diving
Barbados is well known as a party island and a hangout for the rich and famous, but it also harbours some superlative wreck and reef diving. Mark Evans went exploring, into the Blue in Barbados.
Barbados doesn't feature on the 'must-visit' list of many divers, and that is a crying shame, as the island is a bit of a hidden gem when it comes to diving in the Caribbean. Not only does it boast some stunning coral reefs, but it is also home to an awesome shipwreck trail where you can explore several vessels in one shallow dive, and one of the largest artificial reefs in the region in the shape of the 111-metre-long SS Stavronikita.
The Stav, as the Stavronikita is known locally, is the jewel in the Barbados diving crown. This massive Greek freighter was built in Denmark in 1956 and was originally named the Ohio. On 26 August 1976, while en route from Ireland to the Caribbean and carrying a cargo of 101,000 bags of cement, the vessel caught fire, killing six crew members and injuring three others.
An explosion that followed the fire destroyed all the ship's radio equipment, making it impossible for the stranded crew to call for help, so they resorted to painting 'SOS' on the side of the hull. Even so, the 24 remaining crewmen drifted in the open sea for four days before finally being rescued. The stricken Stavronikita was then towed to Barbados.
A year went by, and the vessel was still anchored off Carlisle Bay. On 24 October 1977, after it became obvious the Greek government had abandoned her, she was purchased at an auction for the sum of $30,000 by the Parks and Beach Commission with the aim of using her as an artificial reef. The ship was first stripped of all the machinery and brass that could be salvaged, and then she was cleaned of pollutants, namely the 70,000 gallons of oil being carried in her fuel tanks.
On 21 November 1978, she was towed to a spot just 400 yards offshore on the west coast of the island. A US Navy demolition team set seven charges totalling 200lb and blew holes in the ship's hull, causing her to sink. She came to rest upright in around 40-42m of water, with her deck level around the 28-30m mark.
Having been on the seabed for 40 years, she is absolutely smothered in corals and sponges. Dropping past the foremast on your first descent, you will be stunned at how much growth literally coats the entire structure. It was impossible to see any metal at all. Once you get down to deck level, the amount of sponge and coral growth does drop off a little, allowing you to make out winches, pulleys and other machinery.
The bridge superstructure has collapsed, as a result of the ravages of winter storms, so it is no longer safe or advisable to penetrate in this area. However, this does not detract from the wreck, but rather adds to its charms, making it feel more 'genuine' as a shipwreck. Turtles often pay a visit, and barracuda and amberjack stalk the wreck, while smaller jacks swirl around the foremast in a thick cloud-like baitball.
This is, without a doubt, one of the best wreck dives in the Caribbean, and a must-dive for anyone visiting the island.
If you are new to diving, or haven't got your Deep Diver cert yet, never fear, because the Carlisle Bay 'wreck trek' is the perfect environment for you. This Marine Park is home to not one, not two, but six shipwrecks of varying size teeming with marine life.
It can be dived from a boat or from the shore (I tried it both ways) and the majority of the wrecks come so close to the surface that even snorkellers can enjoy the experience. However, while this shallow depth makes them a perfect introduction to wreck diving for beginners or novices, there is plenty to see and do on them – particularly the Bajan Queen and the Eillon – that they also make an excellent dive for more-experienced divers.
The park is roughly marked out underwater by old cannons, large anchors and pylons to lead the way from one wreck to the next, though some of these are becoming covered by sand, so it is easy to become a little disorientated, especially if the visibility is a bit stirred up. The best bet – at least for your first visit – is to follow a guide who knows the site like the back of their hand. Most dive centres on the island regularly visit Carlisle Bay, and in this instance, we went for the grand tour with G from GFish Barbados.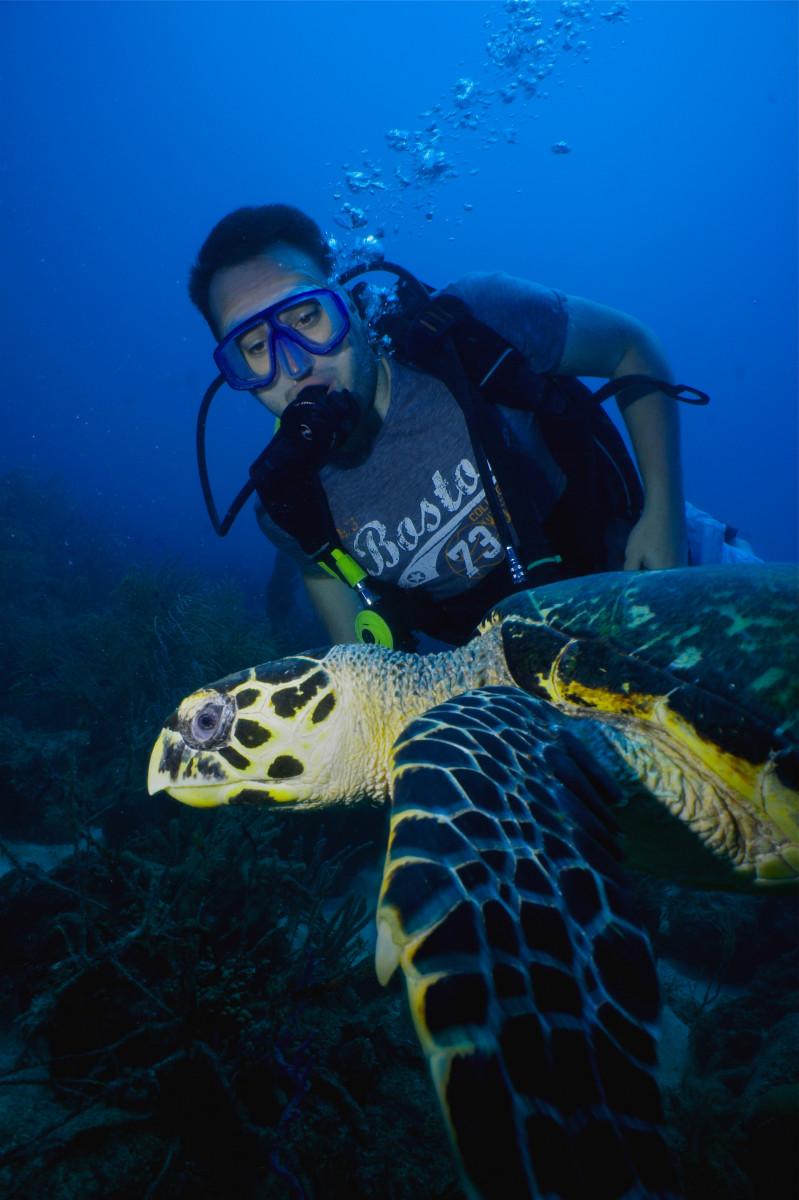 I'd met G back in 2003 on a previous visit to Barbados, and at that point he was a boat captain. Now he owns GFish Barbados Dive Centre. With his infectious grin and larger-than-life personality, not to mention a Predator-style mass of dreadlocks, he is hard to miss, and underwater – with his long freediving fins – is easy to follow!
G took us on a meandering route through the Bajan Queen and the Eillon, the two largest shipwrecks in the park, which offer numerous penetration possibilities, including on the Queen a great swim-through in the well-lit, wide-open engine room. You can pretty much go from one end to the other on both wrecks, and there is plenty of marine life to see inside and outside.
Even the smaller wrecks are very photogenic, and while some don't offer any penetration options, the sheer amount of coral and sponge growth – and the associated fish life – more than makes up for this.
The dive operators have added a few 'additions' for some underwater fun and games, including a couple of telephones resting on a guide pylon. G obligingly 'took a call' and posed for a photograph!
Later in the week I had the opportunity to get another dive in on Carlisle Bay, this time from the shore. There is a car park right near the beach entry, and it is easy to get fully kitted by the car and then just stroll into the water, putting on your mask and fins once you get chest-deep. Then it is just a case of taking a leisurely surface swim on your back until you reach the wrecks, which are marked with mooring balls, so you have something to aim for on your swim out.
It is a fair distance from the beach, but nothing too strenuous, and our arrival time was spot on – the Barbados Blue boat was just leaving, and that meant we had the site to ourselves, only encountering divers right as we came to the surface as they left the newly arrived High Tide Watersports dive boat.
Because we now knew the lay-out of the shipwrecks, it was easy for myself and buddy Ross to cruise around the vessels we wanted to see again – predominantly the Bajan Queen and the Eillon – and get a few more photographs in the bag. Not being in a group meant we could take all the time we needed.
The shipwreck trail in Carlisle Bay is deservedly known as one of the best sites on the island for a bit of rusting metal, and it really does have something for everyone. It needs more than one visit, and doing a boat dive with a dive centre and guide followed by an independent shore dive really allowed me to explore it fully.
The shipwrecks of Carlisle Bay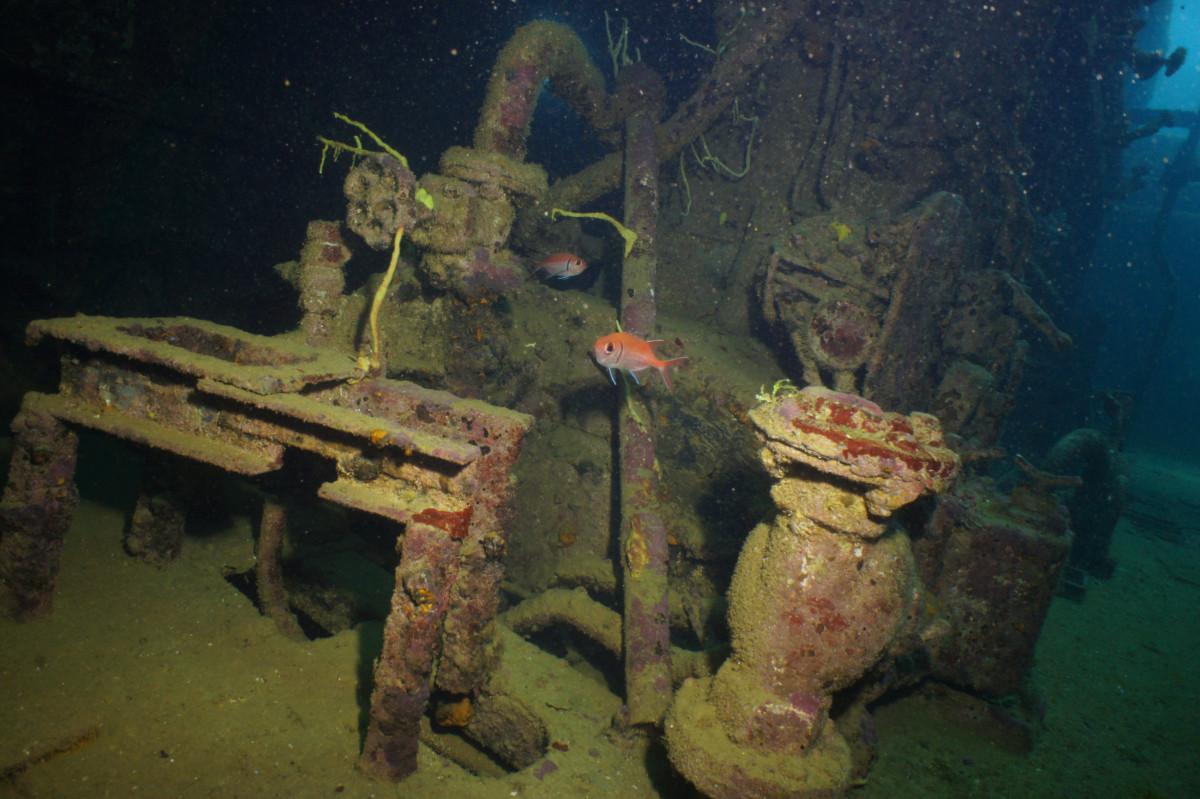 The Berwyn
This World War One 21-metre-long French tug boat was sunk in 1919 by her own crew, and now sits in just 6m of water, with her upper superstructure coming to 2-3m below the surface, depending on the tide.
She is still in remarkably good condition, and thanks to the shallow depth is smothered in soft coral and sponge growth, and is always surrounded by shoals of reef fish.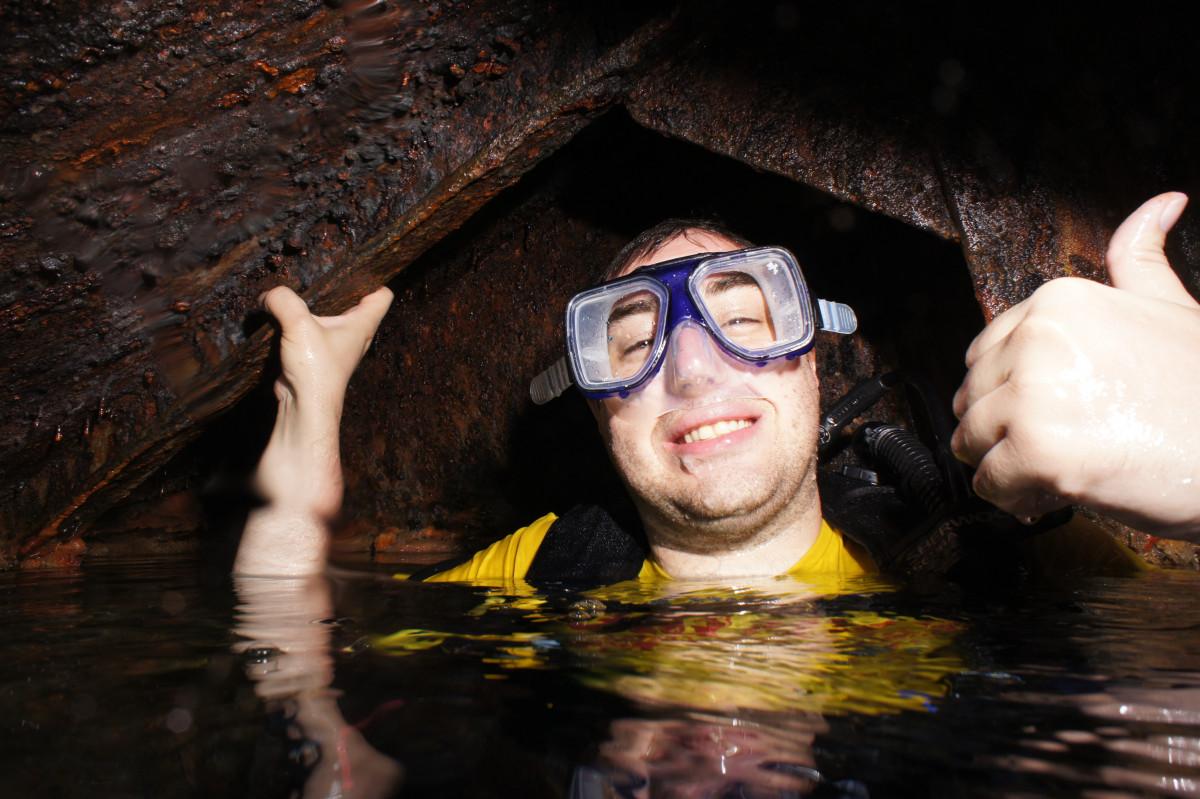 The Ce-Trek
The Ce-Trek was a derelict concrete boat which was sunk in Carlisle Bay in January 1986 in a depth of 13m. It has still collected a healthy covering of soft and hard corals and sponges in the 25 years it has been down on the sandy seabed.
The Eillon
The second-largest shipwreck in the Carlisle Bay collection, this 33-metre-long drug boat was tied up for six years in the Bridgetown careenage before it was purposely sunk on 8 June 1996.
It now sits at a jaunty angle on the sand in 16m and is easily penetrable – you can even find an air pocket in the bow at a depth of 7.5m that is big enough for a couple of divers to surface for a chat (just remember to only breathe from your regulator, though!).
The Bajan Queen
The pride of the Carlisle Bay fleet, the 36.5-metre Bajan Queen was originally named the Pelican when it worked as a tugboat during the construction of Bridgetown Harbour in the 1960s. A decade later, it acquired its new name when it was retired from the tugboat business and converted into a party boat. The Bajan Queen holds many fond memories for thousands of locals and visitors alike, and it is fitting that it ended up as a dive site in the marine park. It was sunk on 19 May 2002 and, while she sits in 10m, because she is so large, she rises to just below the surface.
The Cornwallis
This Canadian freighter was sunk by a torpedo from a German U-boat during World War Two, but on 22 October 2003 it was relocated from its previous resting place and deposited in just 4.5m in the marine park.
The Barge
Lying in just 3.6m is this Naval Landing Barge. It isn't much to look at, but it has plenty of colourful sponges adorning its angular frame, and shoals of snapper and bigeye soldierfish can be found sheltering inside.
Photographs by Mark Evans
Want to read about more great places to dive?