Interview with Underwater Photographer, Damien Mauric
How did you get started in underwater photography?
I grew up on the shores of the Mediterranean and at a very young age, I was already playing with my fins, mask and snorkel. My passion for breathing underwater came quite late and I still managed to become a certified diving instructor in my early twenties. I was not interested in becoming a full time scuba diving instructor, but it was a great opportunity for me to spend more time in the water and to get to know better the underwater world almost for free. I actually gave lessons at a diving school in Spain for several years during the summer season and this is where everything started.
One year, the owner of the diving centre proposed me to start a new service by taking and selling pictures to our clients. The day after we were placing an order for a small Nikon point and shoot camera and a Fantasea housing. I had no photography skills, but I was in the business of underwater photography. My first pictures were terribly bad, but I was hooked.
What came first – diving or photography?
Diving!
What's in your underwater photography kitbag?
My primary camera is a Nikon D7200 DSLR in an Aquatica Housing. I'm shooting wide-angle 95 per cent of the time so my primary lens is a fisheye. I have a preference for the Nikon 10.5mm f/2.8 which is very sharp. I sometimes also use the Tokina 10-17mm which is more versatile, but I find the images too soft and the colour rendition not as good as the Nikon lens. For macro photography, I'm using a 60mm and a +10 wet diopter close up lens from Aquatica. I also carry with me a 1.4x Kenko teleconverter that I will be using for macro or wide-angle photography.
When it comes to domes, I have a preference for glass for both of my 8" and 4" domes. Finally, I'm shooting with a pair of Ikelite DS160s. They are bulky and require heavy external battery packs, but I don't care as the quality of light is incredible. They recycle fast, are powerful, and the rounded bulb creates a warm and homogenous light which is hard to beat.
Favourite location for diving and underwater photography?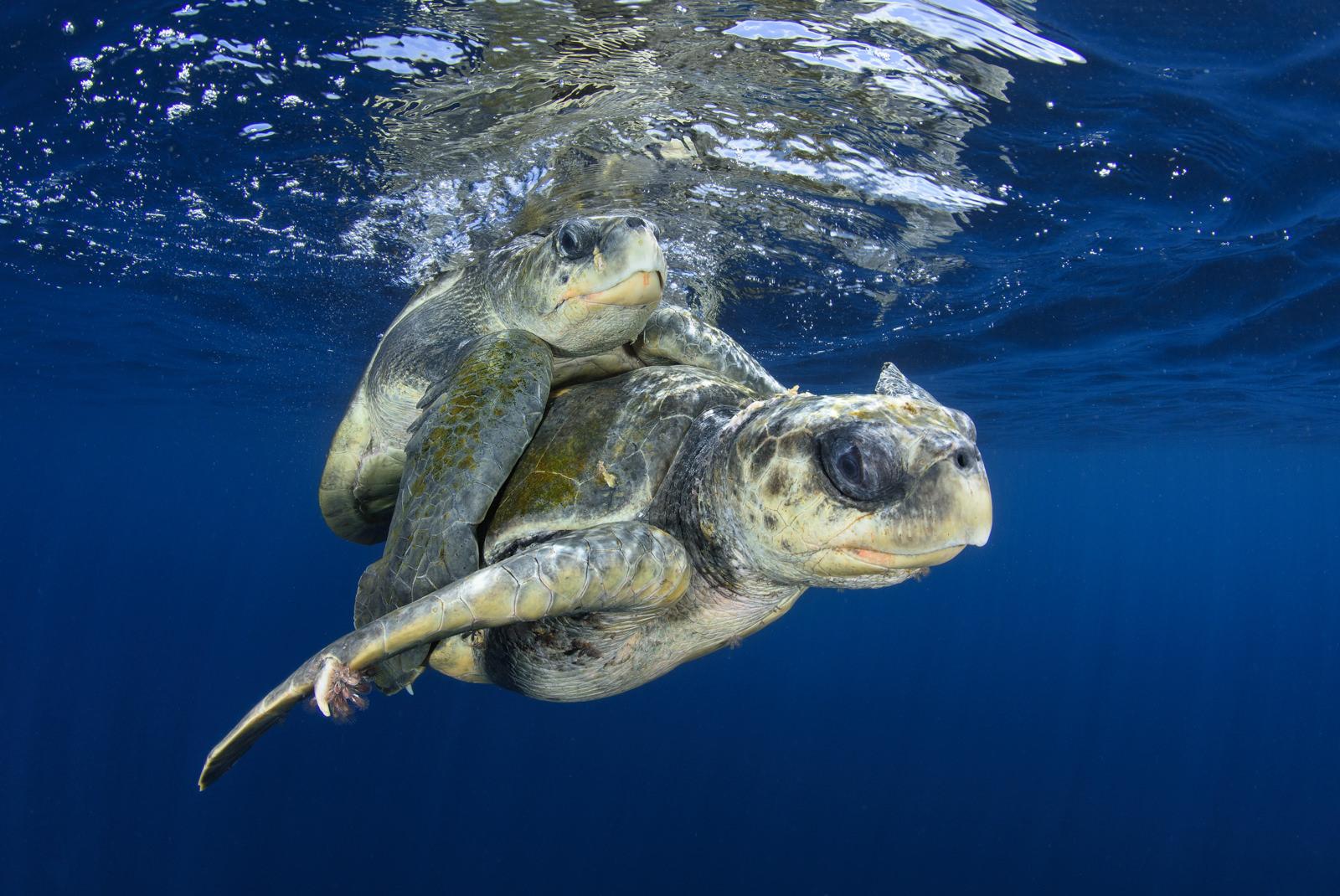 It's a tough question. I don't have a favourite location but many favourites. In general, if the ocean is healthy and full of marine life, I'm fulfilled. That being said, Cocos, Malpelo and the Galapagos which form the three protected points of the eastern Pacific's famed Golden Triangle, are at the top of my list as the pinnacle of big-animal diving.
I also love diving in the Raja Ampat for the abundance of life. Every piece of rock is carpeted with life, pristine coral reefs, giant sea fans, multicoloured soft corals, large schools of fish, pelagics and incredible macro opportunities; in short it's a heaven for underwater photography and every dive is a new opportunity to bring back new and unique images.
Most challenging dive?
Challenging dives are usually the combination of factors such as current, depth, lack of visibility, heavy gear, bad dive buddies and the lack of preparation. For some reasons I enjoy challenging dives as I know that it will result in something unique and special pictures. I've never felt really in danger except once or twice where I have pushed the limits a bit too far for the sake of a shot.
I remember a particular dive at Darwin in the Galapagos. I was diving alone for some reasons and the current was very strong that day. I was stationed close to a deep rock which seemed to concentrate all the hammerhead activities. Hammerhead sharks are very shy and it's almost impossible to take pictures from the inside of the schools unless you dive with a rebreather. That day I was using an open circuit and the only option to get very, very close to the school seemed to be to stop breathing for a minute and swim at them against the current (it's called the blue diver technique). It worked, but I almost collapsed to get that picture.
Who are your diving inspirations?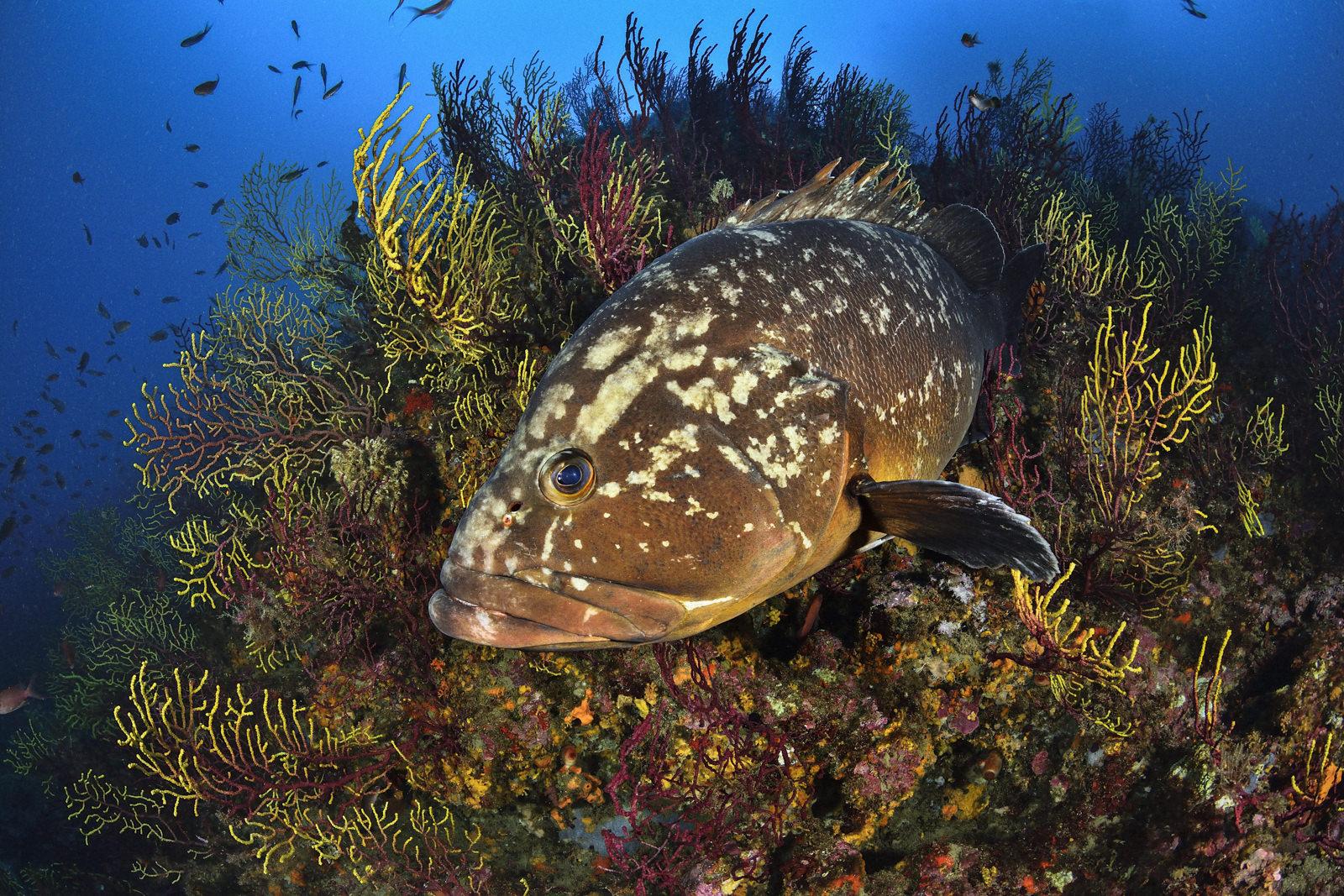 Without a doubt Jacques-Yves Cousteau who was a friend of my grandfather André Mauric, a naval architect based in Marseille. He cooperated with Cousteau to rejuvenate the Calypso and he designed Cousteau's new boat, Alcyone. The most iconic shark dive in Coco Island is a seamount where you can encounter thousands of schooling hammerhead. It was named after Cousteau's expedition in 1988, and as it happens, that it is one of my favourite dives.
When it comes to underwater photography, my main inspirations are Brian Skerry, David Doubillet, Laurent Ballesta and Alex Mustard. That being said, every photographer is potentially a source of inspiration and that's the reason why I enjoy so much sharing with other photographers.
Which underwater locations or species are still on your photography wish list and why?
My bucket list is huge as the world is so vast. If I could only name a few locations I would choose Fakarava and the Marquesas in French Polynesia as I've been dreaming of it for ages. I also would love to dive British Columbia, the wrecks of Scapa Flow and Bimini, and experience the thrill of diving with a great white shark without a cage in Australia. In short, there's plenty enough to do for the coming years… unless we screw up our planet massively, which seems to be the case.
What advice do you wish you'd had as a novice underwater photographer?
Underwater photography is a great hobby, but it is a very difficult one to master. It takes a lot of time and effort to get decent pictures and even more hard work to produce good ones. You should not be discouraged if you do not achieve the expected results on your first attempts. For this reason, try to accelerate your learning curve by getting to the source and participating to underwater photography workshops. For years, I've tried to learn things empirically, while the expertise of someone like Alex Mustard has helped me to progress in one week more than I had achieved by myself in 10 years.
For this reason, as a novice photographer, you should connect to other underwater photographers and online communities (avoid social networks). Underwater photographers are generally very friendly and happy to share tips, productive feedback and advice.
One last thing, as you interact with other photographers, do not be impressed by the ones with the most expensive gear. It does not necessarily mean they are the best.
Hairiest moment when shooting underwater?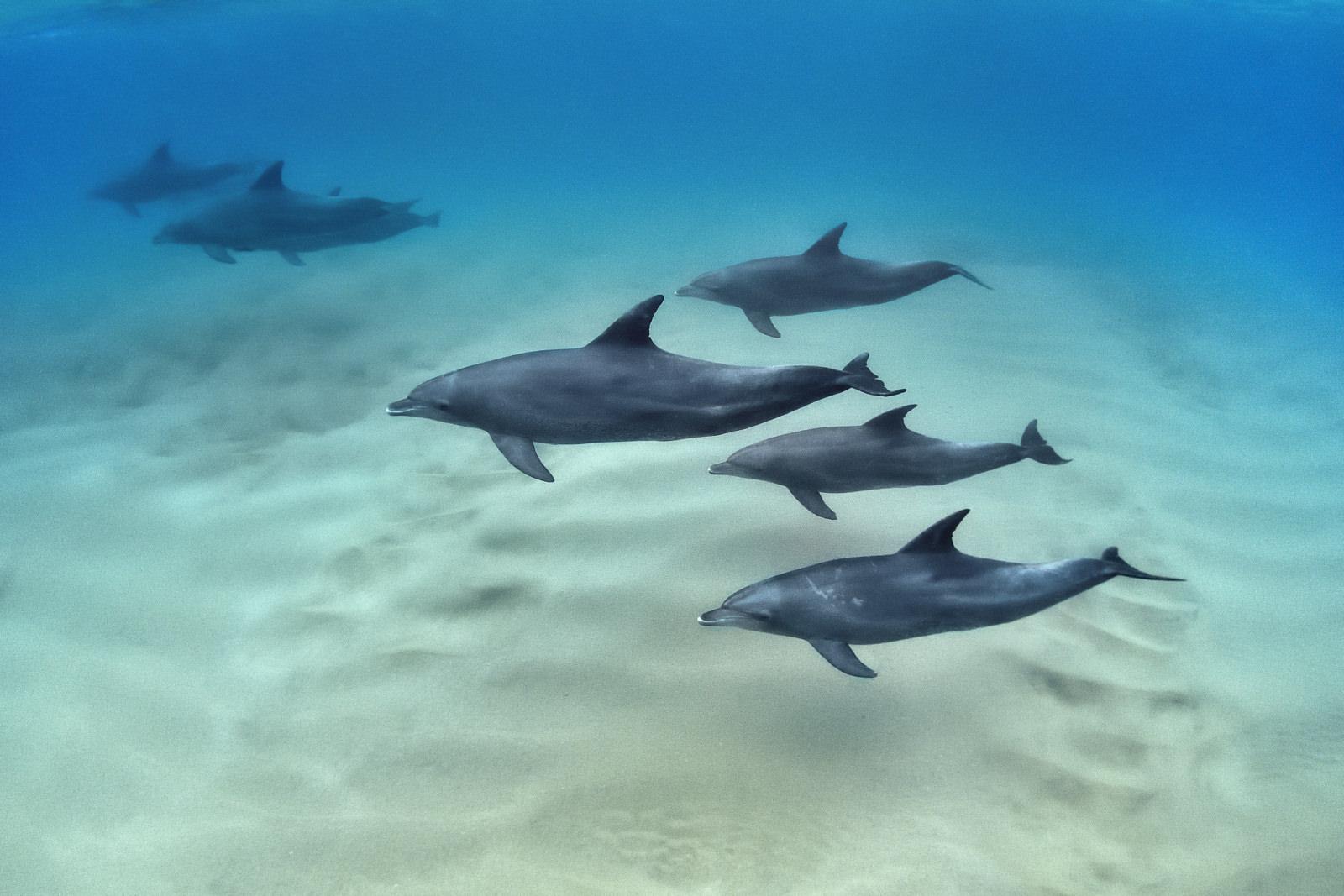 South Africa without a doubt. In 2016, I took part on an ocean safari and for a dozen days we had been searching for marine life 20 to 30 miles off the coast of Port Elizabeth, South Africa. You would not believe amount the life you can find in such remote places; dolphins, whales, sea lions, penguins, sunfish, sardines, birds, turtles and sharks.
One of these days, I was on the surface taking pictures of sea lions when suddenly I felt something violently grabbing my fins. In a split second, I looked back to find out that I just had my fins bitten by a big bronze whaler shark. Shark bites are still visible on my fins to this day.
What is your most memorable dive and why?
July 2016, Darwin Arch in the Galapagos. Our dive is coming to an end. It's been absolutely incredible — hammerheads everywhere, trevallies in the thousands. Safety-stop time, and I find it hard to tear myself away from this ridge that has given us so many spectacles over the last hour. I reach stop depth and out of nowhere comes a bus-sized whale shark. She is huge, cruising calmly through, her tail barely moving, yet she is so fast in the water compared to me. She passes through and leaves me behind, far too brief an encounter.
Back in the panga, we head toward our ship. Dark, curved fins slice the surface ahead of us, and I ask the skipper to slow down. I carefully enter the water and put my head under as the animals swim into view: pseudorcas, also known as false killer whales, one of the largest and most elegant of the dolphins. Mothers swim close to calves while big males guard the group. A large male, more than five metres long and probably a tonne and a half, swims fast toward me, making powerful reverberating clicks, then stops only a metre away. I'm not welcome. As I'm waiting for the panga, I realise that a couple of other dolphins are following, and the dolphins are followed in turn by silky sharks.
Damien Mauric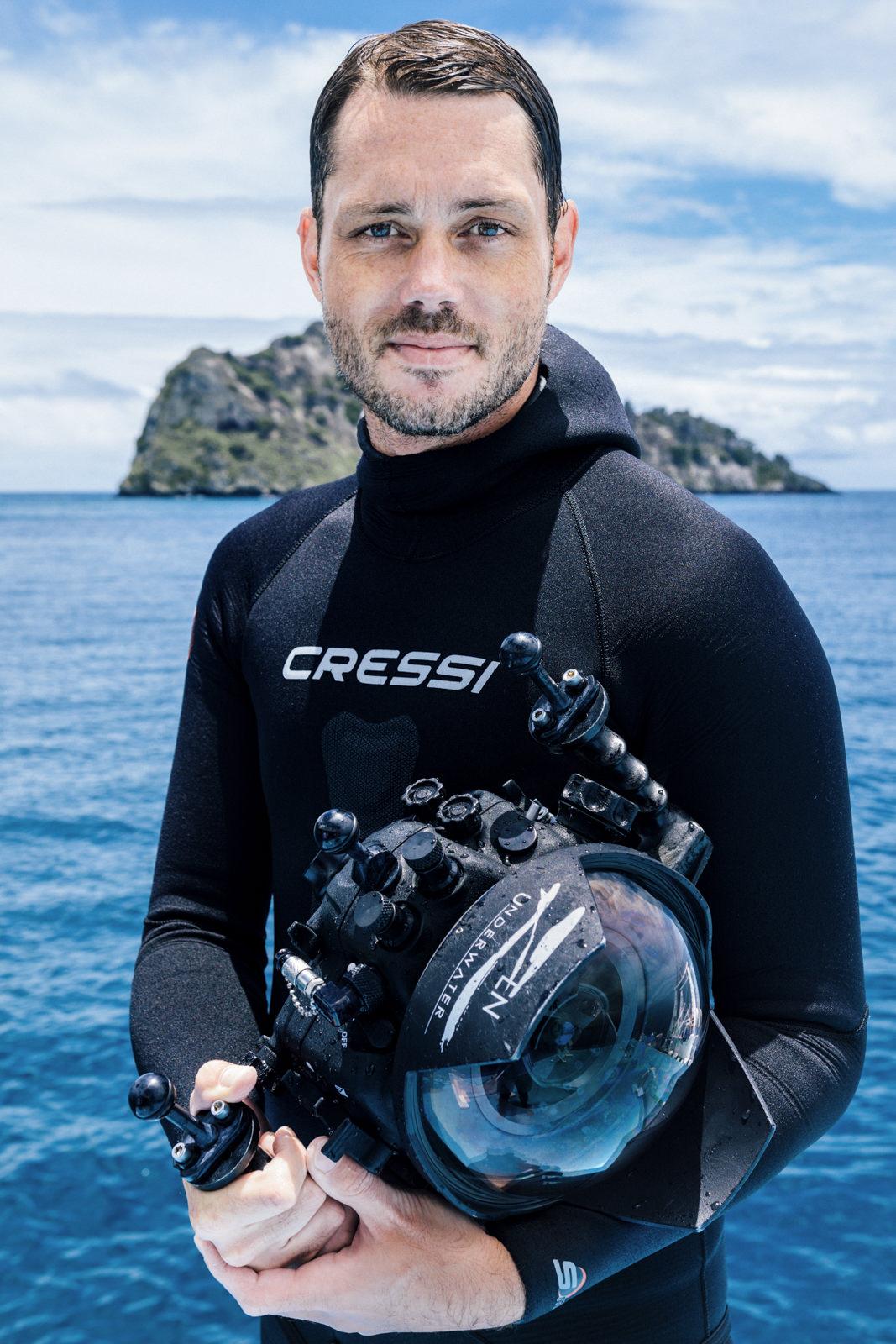 Damien Mauric fell in love with the sea at a very young age and is addicted to getting lost in the blue hues of the deep with incredible density and gradient of colours. His passion for the sea could be called a family legacy. Damien was born in the South of France into a family with tight links to the ocean. His grandfather was a naval architect who cooperated with Jaqcues-Yves Cousteau and designed Cousteau's boat, The Alcyone, and Damien's godfather was a diver and underwater geologist.
He grew up on the shores of the Mediterranean with his fins, mask and snorkel in hand. His passion for breathing underwater came quite late, in his early 20s, when he became a certified diving instructor and gave lessons at a diving school in Spain. It was then too, that he became interested in underwater photography.
For the past 15 years, Damien has been diving and shooting in most of the world's seas and oceans including the Red Sea, the Indian Ocean, Atlantic Ocean, Caribbean Sea, North and South Pacific Ocean and the Mediterranean.
As a diver and underwater photographer he's witness to damage to the world's oceans by human activities that have largely depleted fish populations and brought species to the brink of extinction because of a lack of interest in environmental concerns. With Brian Skerry, David Doubilet and Alex Mustard as his inspiration, Damien hopes that by sharing his images he can help raise consciousness for protecting the oceans. His mottos is simple but important, "Protect the Oceans".
See more of Damien's work over on his Instagram page