Photo supremo Alex Mustard offers hints and advice for budding snappers wanting to make an impression in the 2022 Underwater Photographer of the Year competition
Those who came along to the GO Diving Show in March will have seen a gallery of stunning large-format prints from the Underwater Photographer of the Year 2021 competition (UPY). And on Saturday afternoon on the Main Stage, there was the award ceremony, giving people the chance to see even more winning pictures, and be able to pick up some insight from winning photographers. But UPY isn't just a spectator sport – you could already have a winning shot or two nestled on a hard drive. Competition judge Alex Mustard shares his Top 10 tips to help you be one of the photographers being celebrated at the show. You have to be in it to win it.
STAND OUT FROM THE CROWD
UPY attracts thousands of photographs across the categories and almost all of them are very good shots. Your best chance of catching the judges' attention is by standing out. This can mean showing us a subject or a technique that we've never seen before, but often it is about just putting your own twist on what everyone normally does.
This might be shooting a macro subject with a wide-angle lens, or converting a colourful subject into a black and white image. The key is to think different – and enter what you have that others don't.
You will always impress the judges with a notoriously challenging species, or try to increase the impact of a shot with a secondary subject in the frame (like a shrimp on the head of a moray, or a shark cruising over a wreck).
I am a big fan of images that reveal some natural behaviour from the subject, while many photographers like to use innovative or difficult techniques like split levels, long exposures, off-camera strobes or snoots. Judges like to reward photographers who have made the effort to take their images that bit further, as long as the technique is justified in the picture.
PERFECT PRESENTATION
Judging a large competition always starts with several rounds of culling the entries. And when all the pictures are good, the judges will look for any imperfections to help reduce the numbers. We will look at the eventual winners more than a dozen times through the rounds and we often get to know them better than the photographers that took them. So little will escape our gaze.
Please take your time to process and properly prepare your photos for submission. It is better to submit five finished files, than ten sloppily presented pictures. Importantly, this does not mean over-processing, the trick is usually to produce a naturalistic look.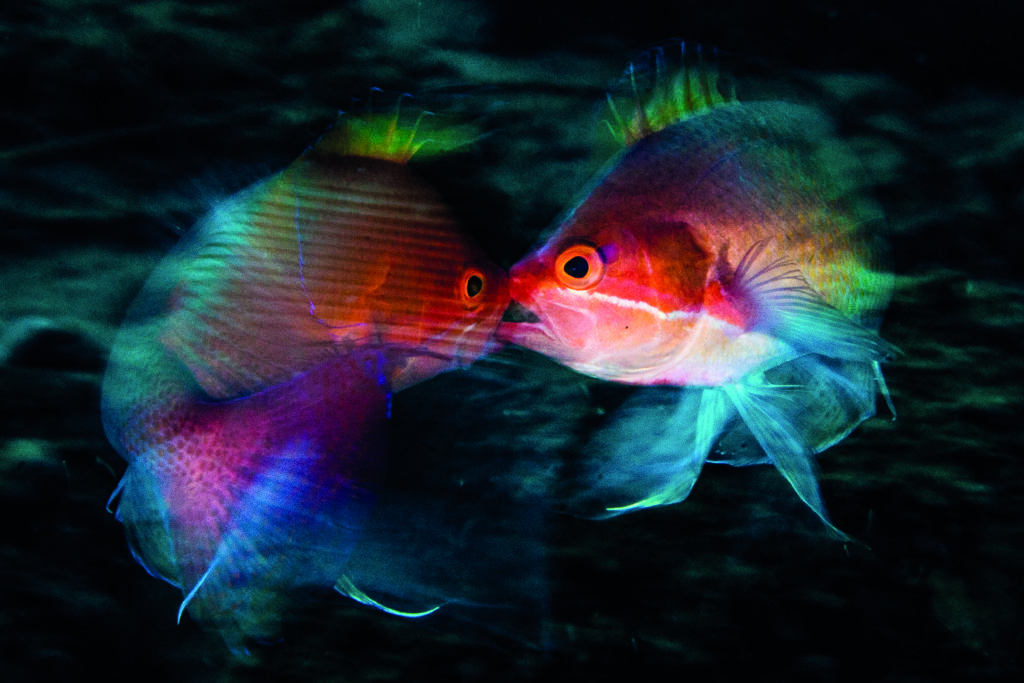 Over-sharpening, over-saturation and boosting the contrast too much are the most-common mistakes that lead to pictures failing. Another common mistake is over-cropping. Tightly cropped pictures get instant attention and plenty of 'likes' when viewed on a phone, but we judge your images seen large, where a tight crop can limit their appeal.
NOT ALL SHOTS ARE CONTEST SHOTS
Not all photographs are likely to do well in competitions. In fact, I know that many of my favourite photos are never likely to succeed and I have never entered them. Some photos are ideal for telling a story on the pages of a magazine, others the perfect piece of art to hang on your wall. Nothing wrong with that, but you need to recognise it.
First and foremost, competition photos should wow people. One of the best ways to find your images that have this immediate impact is to tile 20 or so across your computer screen and look away, then look back and see which immediately catch the eye. These are usually photos with rich colour and contrast, and contain strong compositional shapes. If they get your attention, it is likely that they will do the same with the judges.
AVOID PHOTO COPYING
It is important to look at the winners from previous editions of UPY. This will give you an impression of the standard and the types of images that do well in each of the different categories. We start the judging by reminding ourselves of last year's winners for the same reason.
But it is definitely a mistake to submit a carbon copy of a well-known shot – even if you took your version first! Instead use the previous winners as inspiration, take the ideas on board and make them your own. The same goes for entering duplicates of celebrated shots taken by the judges, these will end up in the 'seen it before' pile.
RESPECT MARINE LIFE
The most-popular subjects for underwater photography are living creatures and UPY (and any decent photo competition) wants to promote the right kind of approach with wildlife. Do not take and enter photos that show stressed or moved animals – these shots are against the rules.
Common transgressions are benthic species floating in the water column or creatures picked up and plonked on unnatural backgrounds. In UPY, all the judges are experienced underwater photographers and we have a good idea of what is natural. And even if you make it past the judges, you run the risk of being named and shamed by your peers when the results are out and the infamy of being excluded from the results.
Furthermore, since we don't want to promote the harassing of marine life, we are unlikely to award any images that might encourage others to do this when emulating a winning picture. So if your image could create an ethical doubt, it is highly unlikely to be successful.
AVOID EMOTIONAL ATTACHMENT
Many photographers have taken photos capable of winning competitions, but not all of them enter the right shots. This is perhaps harder than ever because with digital cameras we can take so many frames it makes choosing what to enter harder than ever. The most-common mistake is to enter images that you are emotionally attached to.
Pictures that were difficult to take or came from an amazing dive are likely to be your favourites, but the judges won't know how hard you worked for them. Enter your best photos, not the photos from your best dive. Winning shots must stand alone as images, without their backstory.
So forget how hard it was to get the shot, or how many years you had to wait to see that species. Instead show your shortlist to friends, family or even colleagues at work. Non-divers can be especially valuable in guiding what you enter. If in doubt, try entering five shots that you love and five that your friends like the most and see which do better.
UNDERSTANDING THE COMPETITION
When trying to decide which images to enter it can help to consider the merits of the different categories and how competitions are judged. UPY usually attracts more than 5,000 entries, but some categories get more entries than others. Statistically, you are far more likely to win in smaller category. British waters categories get the fewest entries, with British Waters Compact Cameras getting the least.
The largest categories may have close to 1,000 images, so judging will always start by trying to reduce that number over several rounds, before a smaller selection is debated and discussed at length.
Culling is a difficult job, and the easiest reason for judges to reject a photo is a technical flaw. Don't enter shots that are not sharply in focus, correctly exposed, attractively light and interestingly composed. Get these basics right and you won't give the judges an excuse to reject your shots before the business end of the competition.
FOLLOW THE RULES
Like any sport or competition, UPY needs rules to make the competition fair. We have tried to keep the rules short and simple, but please read and follow them. Each year we have a few entries that are immediately excluded because they have not followed one the rules. The most-common ones are being taken more than five years ago, or having the photographer's name on the image. The other common transgressions are macro shots in the wide-angle category, or overseas photos in the UK category. Don't let it be you!
IN IT TO WIN IT
Every year when the results come out someone will say to me 'I have a much-better shot of that at home'. Well, the judges can't give you first prize unless you enter! You aren't going to win the lottery without a ticket. So make sure you don't miss the deadline and get your pictures in. Even if you are not successful, we still give you feedback on how each of your images progressed through the rounds.
DON'T TAKE IT TOO SERIOUSLY
Photography competitions can bring out the best in underwater photographers, but also the worst! You should take your photography seriously and strive for those great shots, but treat competitions as fun. They are. Judging will always be subjective and even if you have amazing photos you won't win every time.
There is always an element of luck in getting the nod from the judges, especially when the margins are so small. You can never predict what other people will enter, and some years we may get a flood of photos of one species that makes it harder for all of them to do well. So if you don't win, it doesn't mean your photos are no good. You might well be top dog next time.
Photographs by Alex Mustard