You have invested plenty of cash in your dive gear, so you want to protect it, and here Scuba Diver Editor-in-Chief Mark Evans gives you some hints and advice on the best ways to pack honed from over 25 years of travelling around the world to diving destinations.
Many of us love to head off to sunnier climes for a spot of tropical diving, but before we get to enjoy those crystal-clear, bath-tub warm waters, we have to negotiate one of the most trying aspects of dive travel – packing all of your precious kit, ensuring it is as safe and secure as possible while trying to avoid being crucified by the increasingly restrictive luggage allowances and over-weight bag fees.
Hold luggage
First up, you need a bag to carry your kit in. Now there is a smorgasbord of dive bags on the market, ranging from gigantic roller bags to vast holdalls and everything in-between, and so it is a case of finding something that will comfortably take all of your gear – and your clothes, etc – but won't demolish the weigh scales.
Some of the large roller bags available will swallow a full set of dive kit and enough clothes for weeks with no effort, but the problem I have found with many of these is that they weigh a ton! When we did a bag test a few years back, we found some of the roller bags weighed over 5kg empty! Now when you might only have 20-23kg of hold baggage allowance, you don't really want to be giving up such a chunk to the bag before you've even started loading your gear. On the flip side, I have seen some ultra-lightweight dive bags, which weigh under 1kg, but are so flimsy it's doubtful they would survive one dive trip, never mind several. It is finding a happy medium.
If you are going to be using a trolley to get from your car/drop-off point at the airport to the check-in desk, then it might be worth looking at a simple holdall-style bag. With no frame, wheels or extending handle, these are always lighter than roller bags. However, you aren't going to be wanting to carry one long distances when it is loaded up with equipment.
I prefer having roller wheels so I can just grab and go with the bag. I have found that trolleys might be easy to locate at your home airport, but often at my final destination, it is far easier to just pick my bag off the luggage belt, and wheel it out of the airport.
One final thing to bear in mind. When choosing a dive bag, consider what it looks like. I don't mean aesthetically, though that is important to some people, I am talking logos and brand names. Personally, I don't like having a bag which loudly proclaims 'I contain expensive dive equipment', so I tend to go for bags with no logos at all, or minimal branding, where possible.
I cycle between two styles of dive bag when I head off on assignment for Scuba Diver. One is a more-traditional roller bag, in this instance made by Stahlsac. Stahlac are more expensive than many of their rivals, but they are extremely robust – my bag has probably done more than 250 trips and is still going strong. It is quite plain – just black with a blue stripe on the front – so doesn't indicate it has dive kit inside, and with decent-sized wheels, it can handle a bit of rougher terrain when necessary. It weighs in over 3kg, but it is very durable and works well.
The other is from Scubapro, but Mares and Beuchat also do a similar design. Basically, it is a soft roller bag. There is no rigid frame or extending handle, it is essentially a big holdall with wheels on the bottom. This makes it very light – about 2kg lighter than my Stahlsac bag – so when I need to take my drysuit or a thicker wetsuit, or more test equipment, and weight is a premium, I defer to this bag. It is also the perfect bag to take on liveaboards, as when it is empty, it can collapse and fold in on itself so it takes up hardly any storage space in your room or in their luggage locker. It does have a bit of branding on, but it isn't too in your face, so I can deal with it.
My packing process is virtually the same for both bags, the only difference being that everything goes into the one area with the Scubapro bag, rather than two separate sections with the Stahlsac. So, let's move on to the actual packing.
The first things to go into my bag are my fins and my mesh bag. The mesh bag is more than big enough for a full set of kit. With a squeeze, I can get two sets in it, but when it is empty, it weighs nothing and folds in on itself into a neat disc. To make the most of the space in my bag, I put my boots into the foot pocket. The foot pockets on my Force Fins are very solid, but other fins can be softer, and so doing this also helps prevent the foot pockets from being crushed while in transit. My mask, in its padded case, goes between the fins at the bottom of the bag, and my DSMB and reel, small torch and tech shorts go on top of the mesh bag.
Next, I lay my wetsuit, be that my 3mm or 5mm full-suit. I don't do shorties. I put the torso in the middle of the bag, and then carefully coil my regulator into this area. I then folder the arms in over the regs, and finally the legs over the top as well. This now cocoons my regulator, which is my most expensive piece of kit in this bag, in layers of neoprene.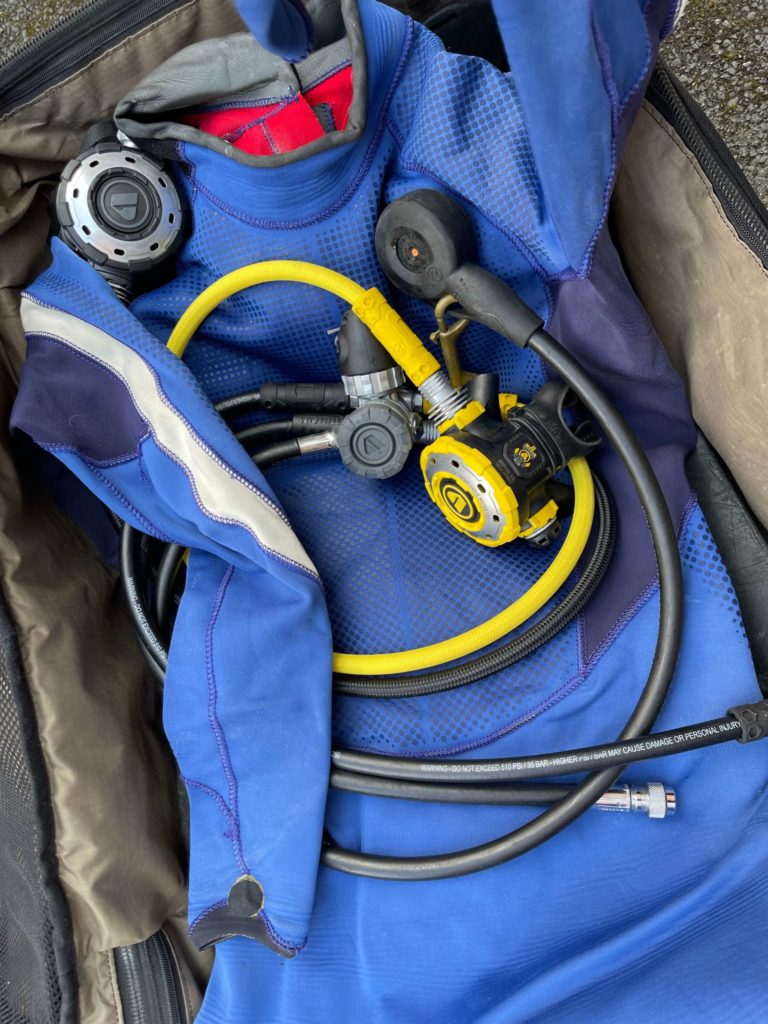 Next, my BCD – usually my go-to Dive Rite Transpac II – goes in. I ensure the wing is totally deflated and tuck the straps, etc, in and around the wetsuit and regulator. My knife and Trilobite cutting tool are permanently attached to the shoulder straps.
I always take a snorkel – if dolphins, mantas or something put in a surprise appearance, I have it with me. This just tucks down the side of the BCD.
If I am going somewhere where the temperatures are a little lower, say the Mediterranean in spring or autumn, then I will add a hood and gloves into the mix, and these will just go at the bottom of my bag along with the mesh bag.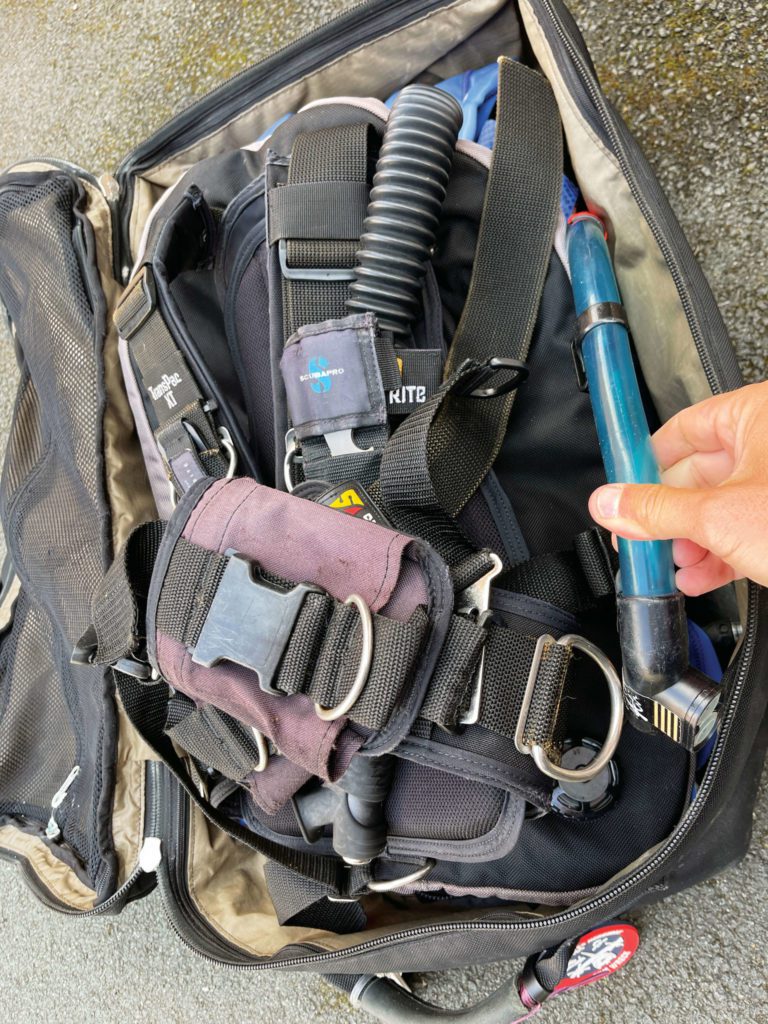 The only other thing which goes into this section of the bag when I am packing the Stahlsac are my flipflops or sandals, and my microfibre towel. The rest – my clothes, wash bag, charging cables, extension lead, etc – all go into the top section. With the Scubapro, I just pack all of my shorts, T-shirts, etc on top and around my dive kit, and in the front pocket.
I always put an external strap around my dive bag, whichever I am using. One, it makes it more recognisable when it comes round on the luggage belt, and two, it helps take pressure off the zippers when the luggage handlers are being a little, shall we say, overzealous with their handling of the bags.
Now, this is just how I pack my dive bag for travelling. I am not saying this is the only way, everyone will have their own methods and practices, but packing my kit like this has never failed me in more than 25 years of dive travel. Hopefully, it will have given you some food for thought when you pack for your next dive trip.
Hand luggage
Many divers have cameras and housings these days, as well as one or two dive computers, plus all the peripheral accessories, so packing your hand luggage is, if anything, even more of a nightmare than dealing with your hold bag!
When I first headed off on diving holidays, packing my hand luggage was a doddle. I just grabbed a rucksack and chucked in a book, my Sony Walkman and headphones (you can tell how long we are going back here…), my passport, tickets, dive certs and my dive computer. There was probably a fleece in there too. And that was it. If it tipped the scales at 4kg, I'd be surprised.
How things change. Now it is like a military operation packing my hand luggage. I have to get my MacBook Pro, charging cable, camera, housing, port, strobes, battery chargers, arms, dive computers, etc, as well as passport, dive certs and tickets, into a small bag, which is then often limited to 7kg, or sometimes even less. It is a constant headache, but through a lot of trial and error over the years, I now have two bags which allow me to generally avoid any weight issues and still pack everything I need to get my assignment completed – if for any reason my main hold baggage, which has all of my dive kit in it, goes missing, or is delayed, I can always use rental equipment and still get in the water taking pictures.
My go-to bag is a little roller bag. With everything I need in here for a standard assignment, it weighs in around 9.5kg. However, thanks to its dinky dimensions, I think I have only once in about 400 flights been asked to put it on the scales. It just doesn't look like it would hold more than 6-7kg. When asked if I have hand luggage, I hold it up, and then they just hand over a cabin tag to put on the grab handle. Sorted.
I prefer to use a roller bag over a rucksack, as if you are wandering around the terminal, or have lengthy stopovers enroute to and from your destination, it is far more comfortable and easier towing one of these around.
Now, let's go through the packing. Many of these bags have loads of pockets, etc, but I find this only increases the bulk – and with it, the chances of having the bag weighed. My one is very basic. It has a small zippered pocket on the top, which is where I put my dive certs and my passport and tickets, and then a large zippered pocket below, which holds my headphones, wallet, phone, etc. It then just has one main zippered compartment, and into this goes everything else.
I put the fibreoptic strobe cables and charging cables coiled into the top pocket on the main flap. The zipper long since died, but the pocket still does what I need it to.
I then put my housing in first, followed by the two strobes. Around these I then put the dome port and camera itself, which I wrap in bubblewrap for a bit of added protection. In the spaces, I put my primary dive computer in its case, the battery charger, my phone charger, my MacBook Pro charger. I also put my sunglasses in their case in here as well. This will fill the space quite nicely, so there is no real movement of any individual pieces, and they are protected by the stiff bottom and sides of the bag.
Finally, I put my MacBook Pro, in a padded case, in on top of everything. Once I close the top flap and zip it shut, the laptop holds everything in place when I stand the bag upright.
With everything in the bag in this order, when I am going through security, it is a quick and easy task to upzip the top of the bag, slide my laptop out, and leave the padded case in-situ holding everything in place.
Generally, I get pulled at security because of all of the electronics, etc, in the bag – most underwater photographers will be familiar with this. But having it packed like this means that when they request the bag opened, I can just flip over the main compartment, and when they remove the laptop case, everything inside is clear to see.
If I know I am going to be travelling on an airline which is extremely tight on hand luggage weight, I will defer to a lightweight rucksack, which will save me a few kilos over the roller bag. In this instance, a Scubapro one. My rule of thumb about not having bags with logos on, etc, doesn't really apply to hand luggage, as I will always have it with me.
I like the Scubapro bag because it has a main compartment that will take my housing, strobes, camera, dive computer, etc, and then the chargers, cables, will go in the secondary compartment. The laptop neatly goes into its own section on the back. One, this is very secure when you are wearing it, as it sits against your back, and two, when you need to get your laptop out at security, it is right there. My passport goes into the little front pocket.
It is not as easy to pack all of my paraphernalia in this bag, I have to be honest. A wide-open compartment as on the roller bag is far easier to safely and securely pack your precious gear, but if I employ a few of my T-shirts from out of my main bag as extra padding, wrapping the strobes, port and camera in one each, I have never had any issues. If I was using a rucksack more often, I would probably try and find a lightweight version of those photo pro ones, where the entire front opens up – very similar to my roller bag – and then you have compartments padded with foam for each piece of equipment. However, as I mainly use the roller bag, I can make do with the Scubapro one for the time being. One thing I do like about it is a strap which slides over the retractable handle on my Stahlsac roller bag and makes it nice and easy to roll about in the airport as one piece of luggage.
I can usually pack the rucksack and keep it under 7kg, but if you are on one of those flights where hand luggage is prohibitively tight – we are talking 5kg – then you need to bring in a trick I picked up from travelling with some seasoned underwater photographers. You need a photographer's gilet, which is festooned with cavernous pockets. If you are in a situation where you know your hand luggage is going to be weighed, and that it is going to tip the scales at several kilos over the limit, then stash strobes, chargers, camera bodies, etc, in these pockets when you check-in. Your hand luggage will then come in under the required limit, and once you are away from the check-in desk, you can safely pack all of your gear back into your hand luggage ready to go through security. Sneaky, but it works. I even saw one jacket that they had sewn a pocket into the back that could take a laptop!