In continuation of the 25-year legacy of HEPCA and its pro-active intervention in the protection and conservation of the Red Sea environment, it has added an impressive new member to its fleet – the Amr Ali R/V Red Sea Defender.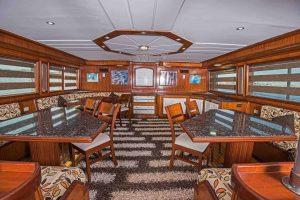 The new flagship of HEPCA, acquired in co-operation with the US Forest Service, is a specially modified diving and liveaboard vessel that will sail the length of the Egyptian Red Sea coastline bringing together patrolling and mooring system management with scientific research and education.
Named after HEPCA's late director, who dedicated his life to the protection of the Red Sea, the  boat will be an invaluable platform to enrich our knowledge of the Red Sea (through research), and to foster true appreciation of marine resources through a hand's-on approach to environmental conservation education.