The Australia New Zealand chapter of the Explorers Club inaugural expedition to see the Great White Shark
After the movie Jaws and Blue Water White Death the Great White shark has the reputation as probably one of the most feared animals, not only in the ocean but on the planet. Sadly, it is very misunderstood and because of this not many will get conquer their fears and visit these beautiful animals.
If you could manage to overcome the fear or are prepared to try, it is a unique and incredibly special experience that cannot be compared to anything else. There is no better place to help understand and get close-up and personal with the great white shark than Rodney Fox Great White Shark Expeditions operating in the Neptune Islands of South Australia. Therefore 13 intrepid adventurers from the ANZEC chapter of the Explorers club recently did just this.
It was during the trip aboard the Rodney Fox and chatting about "why" with guests that one of our fellow explorers who was a non-diver disclosed his fears. He was on the trip to achieve his goal of overcoming his fears and seeing a great white shark and from a safe platform.
Never having even worn a face mask and snorkel let alone get in a cage to face a Great White, his anxiety and stress levels were high but with the help and guidance of the crew, encouragement from the other guests and of course the Great White shark he achieved his goal and now has much respect for the animal he feared so much. Most adventurers were there to face a Great White shark to witness that they are not the aggressive man-eaters portrayed by many. Some of the quotes from our adventurers: –
"They don't gather in groups, except we're finding some exceptions to that, so to find more than one in a spot is really, really cool because you just don't see that".
"One minute we're looking at predators renowned for, you know, being dangerous and scary, and, you know, top of the food chain. And the next minute, again, with a living creature that is showing love and affection and playfulness"
"Great whites were something I wanted to see for years and years.
I don't know why. I think it's human nature, just wanting to see them again and again and again.
They're very intelligent animals and you can see that as they go by and you look at them.
You can tell they're very intelligent animals".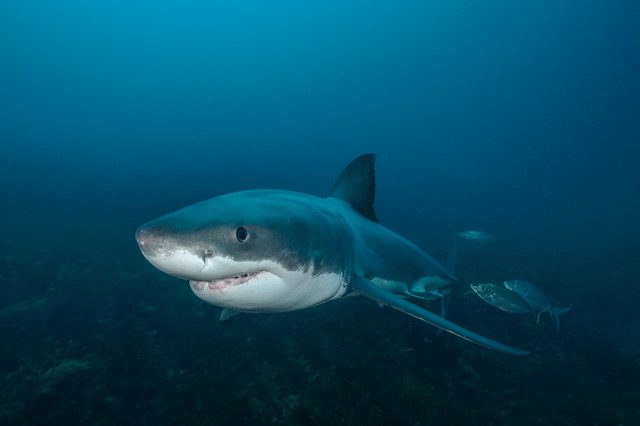 The unique and brilliant part about Rodney Fox Shark Expeditions is they are the only shark diving company in the world that offer divers the opportunity to dive with a Great White from a bottom cage (the cage goes to the ocean floor). This cage allows experienced divers to witness and photograph sharks in their natural habitat. Watching the sharks in their natural surroundings as they cruise through the kelp and seagrasses gives you the perspective of their enormous size. It is quite a privilege and a humbling experience.
For the non-diver the surface cage provides an incredible opportunity to experience sharks up close and personal. The shallow cage operates a surface supply regulator so easy for the non-diver to be able to jump in and witness the sharks. This cage is still a great cage for qualified divers and great for photographers.
We all know that when we go diving, we are not going to a circus and the animals do not always act on command. Sometimes there may be a lull in shark activity and not show up or just show up for an hour or two. It is not all bad though as the Neptune Islands are not far from Hopkins and Thistle Islands.
Hopkins Island is home to the Australian Sea Lions, and it is possible to dive or snorkel with these playful animals. It is a great place for photography as they tease and whiz around and are generally very curious and will come close. Thistle Island is also a rather special place for a sunset visit and a walk along the beach area where you can spot the black footed wallabies in the rocks. These small wallabies are very shy but very cute. Late afternoon cruises along the beautiful coastal beaches and visiting the sea lion colonies are all an extra bonus and a great part of the itineraries.
Andrew Fox, together with his father Rodney Fox created the Fox Shark Foundation. The foundation is a core element of the Rodney Fox Shark Expeditions and shows their care and passion for understanding and protecting the sharks. Andrew Fox is a marine biologist and during the trips presents a very informative talk giving an insight to the sharks and the Fox Shark Foundation.
Some of the crew are marine biologists and critical research and conservation of the sharks around the Neptune Islands through the Fox Shark Research Foundation was established in 2001. With scientists frequently onboard, every shark is recorded on a dive, as well as other biological and behavioural information on the sharks. The database has over 1000 individual images and Fox Shark Research Foundation works closely with CSIRO (Commonwealth Scientific and Industrial Research Organisation) to analyse biopsy samples and tag individual animals.
During the trip not only did we broadcast live to Glynn Greensmith from ABC Radio nationwide but our film maker/storyteller extraordinaire, Anthony Gordon made a short film of the trip "12 Shades of Grey". We had 12 different sharks visit during our trip and three were new to the area. Each one was monitored, catalogued, and photographed for future reference. The trip was a huge success and many thanks to our Explorers, the amazing crew who worked non-stop to give us the best possible experience and of course the Great White Sharks. If you are interested in becoming a member of ANZEC or joining us on one of our nights of adventure please contact anzecmembership@gmail.com or visit our website https://www.anzec.org
12 Shades of Grey is the story of this expedition and the first hand, uncut views of those adventurers that looked below the waves and surfaced with a new appreciation for the Great White Shark.
Great White shark diving is not for everyone. People talk about the black soulless eye of the great white shark, but there is nothing soulless about the eye and it is not black! It is such a beautiful, graceful animal that commands respect. What other animal in this world has someone like Valerie Taylor so beautiful but strong, fight to protect it and love it?
Written By Jayne Jenkins