Girls That Scuba has announced their ambassadorship programme, with ten female divers who will work closely with the female dive community to promote females in diving and represent diversity, positivity and empowerment.
Girls That Scuba was founded on the simple idea of creating a safe space to celebrate females in scuba diving, and over the past three years they've grown into a hugely diverse group of women and cultivated a positive, supportive community.
The GTS Ambassador Programme has been launched in order to work with a small group of inspiring women to elevate positive representations of females in the diving industry. They hope that through celebrating the successes of female divers and championing diverse role models, GTS can encourage even more women of every age, race, sexuality, religion, ability, and size to pursue scuba diving as a hobby or career. They want to continue to spread positivity within the dive community and share their excitement and passion for exploring the underwater world.

Nouf Alosaimi, Saudi Arabia
Nouf is a certified instructor from Saudi Arabia, and the first Saudi female technical diver. She is the creator of two platforms to promote diving in the Red Sea – 'Redseacitizen' and 'Pink Bubbles' – which aim to encourage more Saudi women to start scuba diving. She is also Nike's modest swimsuit athlete and has featured on swimming campaigns around the world.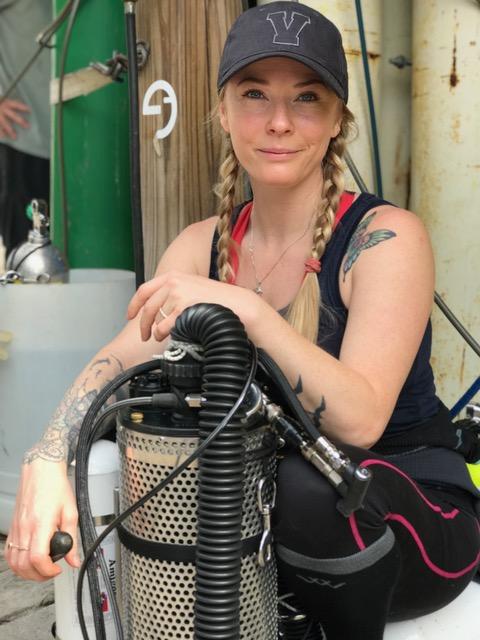 Maria Bollerup, Denmark
Maria is a multi-stage tec sidemount diver and a certified rebreather instructor from Denmark. She has worked professionally as a diver all over the world for the past 17 years. In that time she has continued her education within diving, slowly moving from recreational instructor to technical instructor. Her biggest passion is cave diving and she has participated in and executed several wreck and cave expeditions around the world, and is an active advocate for female explorers. As the CEO of a Scandinavian dive travel agency, she actively uses her experience in the diving industry to secure safe diving courses around the world for young people.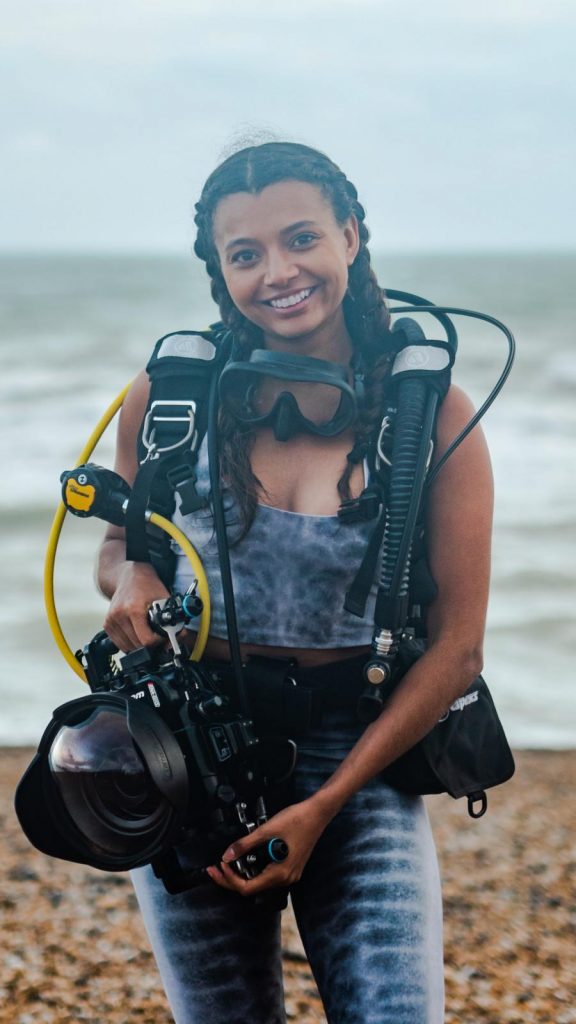 Inka Cresswell, United Kingdom
Inka is from the UK and is a PADI Instructor, Advanced Nitrox Diver, AAUS Scientific Diver and Underwater Photography Instructor. She has a degree in Marine Biology and a masters in Wildlife Filmmaking, and currently works as a researcher on ocean based wildlife documentaries. Her underwater cinematography work has been featured on the BBC. She is currently working collaboratively with several NGO's and dive companies to make marine conservation and STEM careers more accessible for women and minorities. With her camera and scientific journals, she fights to change the way we interact with the natural world and hopes that her work will not only educate and inspire a new generation of conservationists, but arm them with the tools they need to educate others and drive real conservation impact.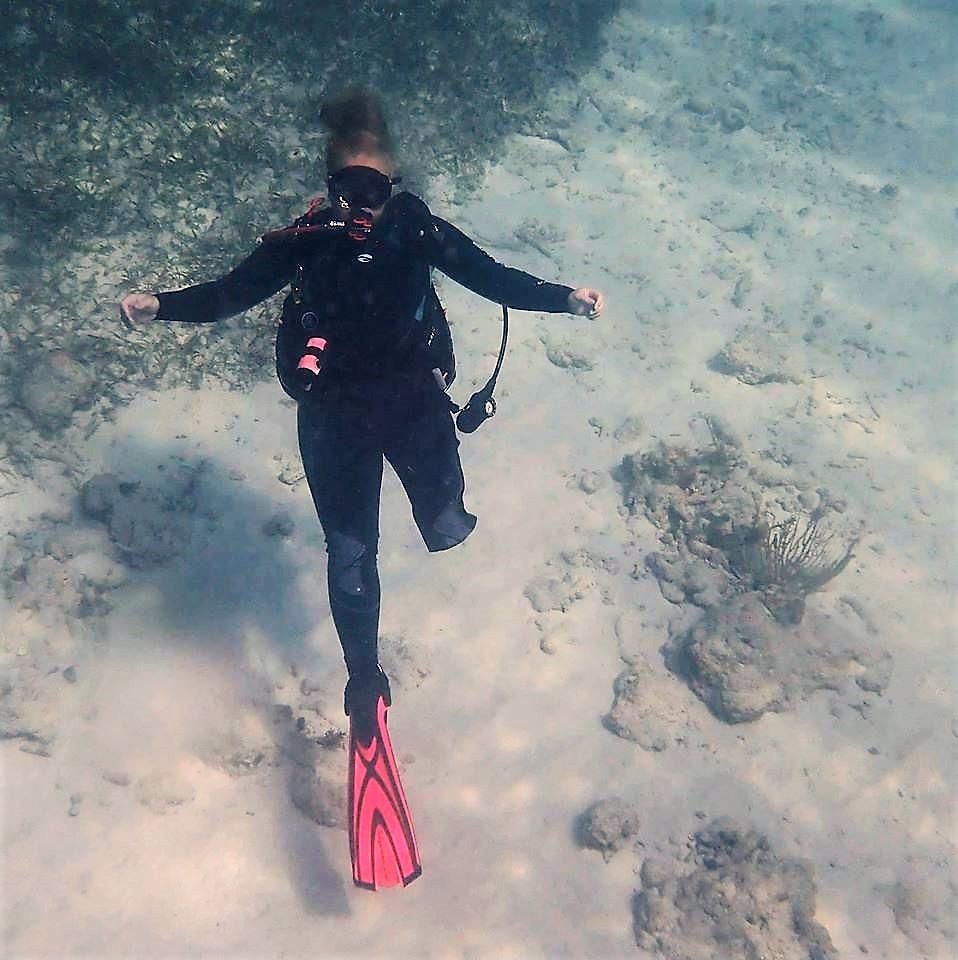 Amber Blount, USA
Amber is a PADI certified AOW Diver and is currently working towards being a Rescue Diver. Originally from Tulsa, OK, USA, she currently lives in Key Largo. She has worked for Key Largo Dive Center for 2.5 years and absolutely loves meeting all the new faces that the job brings in. Amber finally started diving in October of 2018 after a few not-so-glamorous attempts at the Open Water course. After losing her left leg above the knee in 2013, she found a number of ways to help with PTSD and anxiety, including CrossFit, swimming, and speaking to others about her experience.
Euna Zio, The Solomon Islands
Euna is an Open Water Dive Instructor from The Solomon Islands. Working for SIDE Dive Munda as a Dive Instructor and a Dive Guide, Euna is one of only two female instructors in the whole of The Solomon Islands – and the first female dive instructor to certify a new diver! She is also a seaweed farmer and is in the process of starting her own seaweed nursery. Her dream is to encourage more women in Solomon Islands to dive and to dive with them, whilst also learning more about conservation in her local area.

Jan Salise, Philippines
Jan is a Divemaster from Cebu, Philippines. She enjoys the feeling of being weightless underwater and loves underwater macro photography, with colourful nudibranchs being her favourite subjects. As a Trans woman in a male dominated industry, she finds it inspiring to belong to a community where everyone is open and supportive. Jan hopes to connect with many divers from the Girls that Scuba community and hopes to inspire the LGBQT+ community to join her dive passions, too!

Irene Marcolux, Canada
Irene was certified in the cold water of Quebec, Canada, and has also worked as an instructor in Switzerland and Thailand. As a PADI Course Director she trains future instructors, and is the first female to achieve Course Director status in Quebec. Irene is also a PADI Freediving Instructor, and her goal is to keep improving her freediving in order to become an Advanced Freediving Instructor. She is especially dedicated to raising acceptance of larger bodies in diving, and promoting diversity and creating a queer safe space.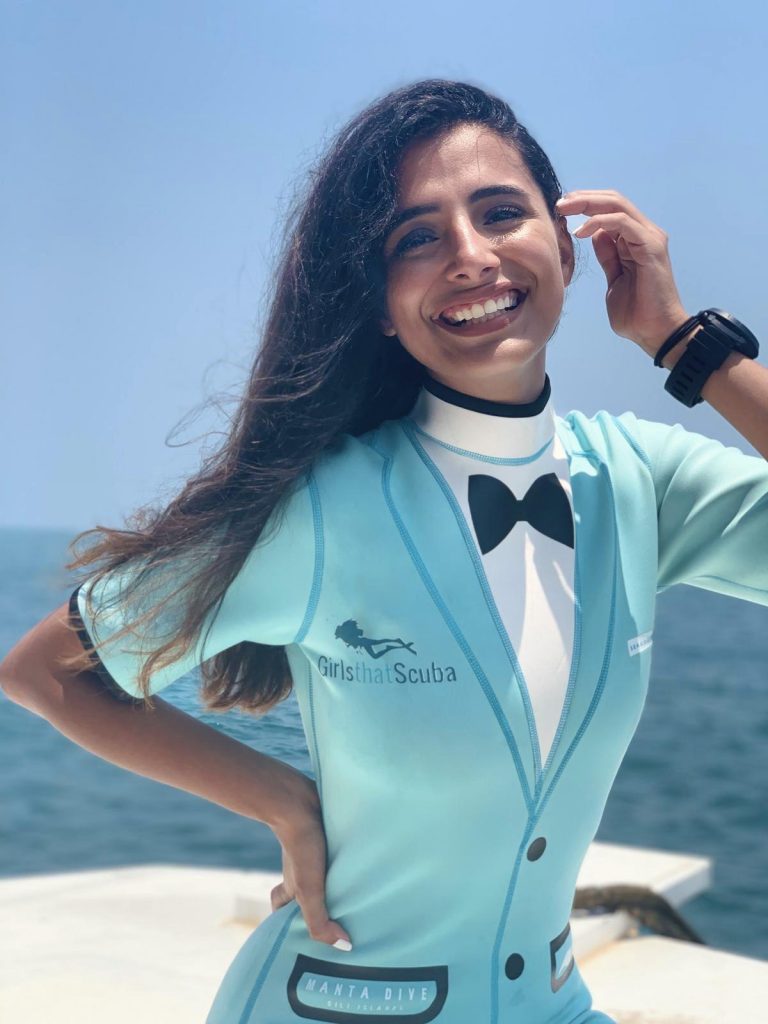 Mariam Alsaif, Kuwait
Mariam is a certified Advanced diver from Kuwait. Her biggest achievement has been her drive to chase a career that brings her joy. Former Marketing Executive at Chanel turned founder of MER, a dive tour operator specialising in liveaboards internationally. Her mission is to encourage more Arab women to join the diving world, letting others into her passion and discovering what she fell in love with.

Grace Westgarth, United Kingdom
Grace is a 17 year old Master Diver/Sidemount Diver who has just started studies for the Divemaster exam ready for when she turns 18. She learned to dive in Egypt in 2013 but since then has found a love for all UK diving! She is an aspiring underwater cinematographer and is hoping to help raise awareness of ocean conservation, especially in the next generation through the media of film.

Jessy Faya, Indonesia
Jessy is a certified Advanced Open Water Diver originally from Bali, Indonesia. When Jessy tried scuba diving for the first time back in 2013, she didn't know how to swim and worked on becoming a stronger swimmer to allow her to dive. She built a local community called "Lombok Airport Dive Club" to encourage her fellow employees at Lombok Airport to start diving. Her ambition now is to learn more about how to save coral reefs, focusing particularly on her local area in Lombok, a beautiful neighbouring island of Bali, Indonesia.