Giant Cuttlefish fishing restrictions lifted in South Australia
Temporary restrictions in place since 2013 on commercial and sport fishing for Giant cuttlefish have been lifted by the Department of Primary Industries and Regions South Australia (PIRSA). PIRSA has issued a statement that the permanent restriction zone around Point Lowly, Whyalla for the annual aggregation of Giant cuttlefish remains in place but the Department believes the population levels have returned to the point that fishing for cuttlefish can now be resumed in the Gulf.
The Scuba Divers Federation of South Australia (SDFSA) is seeking more information from PIRSA about this. There is growing concern that the economic cost to tourism with the potential reduction in numbers of Giant Cuttlefish has not been calculated. Updates to this news will be posted on the SDFSA website, https://sdfsa.net.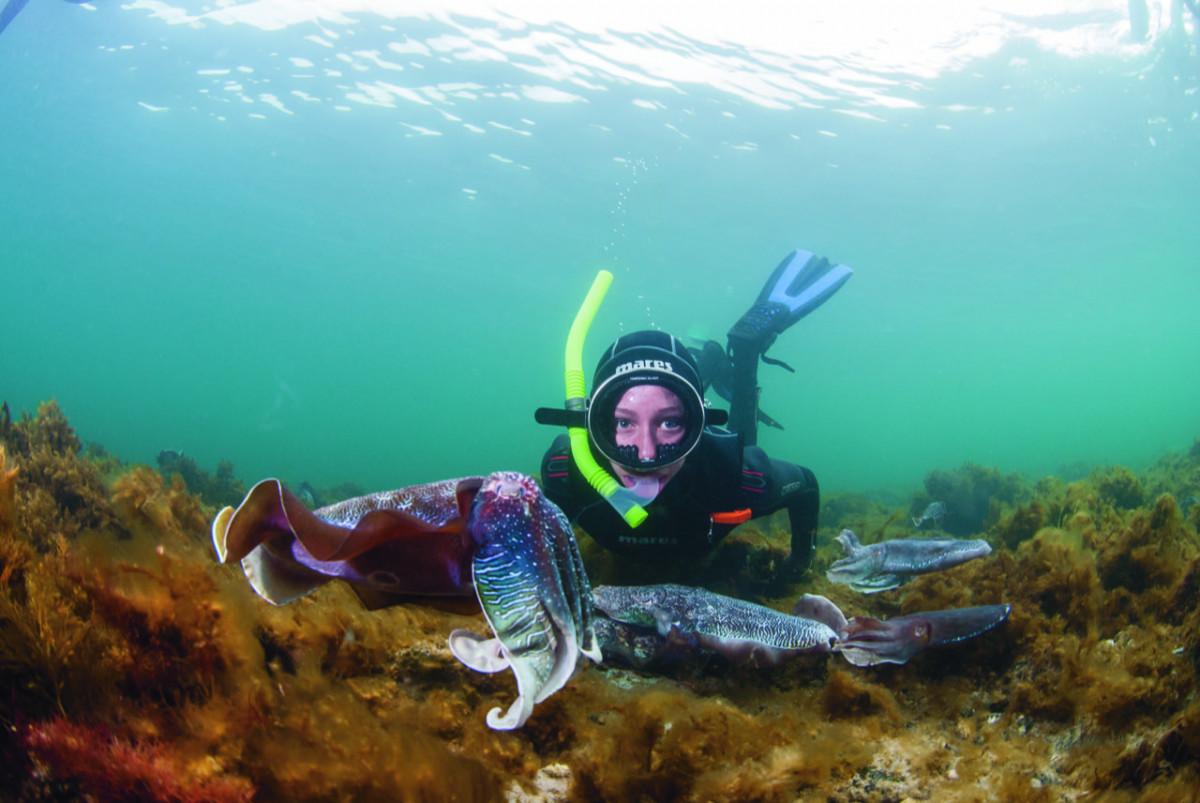 Professor Bronwyn Gillanders, President, Experiencing Marine Sanctuaries and Deputy Dean Research, Faculty of Science, University of Adelaide has provided the following statement:
"The Upper Spencer Gulf (USG) closure was only ever going to be temporary and so now that the numbers have rebuilt it was been removed. The more recent changes in abundance (since the initial closure to fishing) are we suspect part of a natural cycle in abundance potentially linked to temperature anomalies. Apart from the initial decline in the late 1990s, there is no indication fluctuating numbers are linked to fishing. T
here is also relatively little commercial fishing (e.g. prawn trawling) in that USG region. The recreational fishing numbers do allow individuals to take either up to 15 cuttlefish or a combined total of 15 squids and cuttlefish (boat limits 45 cuttlefish or a combination of 3 or more people) – I think perhaps a review of these might be warranted in relation to cuttlefish but I'd also like to see better data on recreational fish catches and cephalopods. From my perspective, there is a clear need for ongoing monitoring of abundance as has occurred since 2008. Given the uniqueness of the breeding aggregation ongoing monitoring is essential as significant declines in abundance of this ecotourism resource may impact the economy."
Article provided by Scuba Diver Federation of South Australia
Photo Credit: Carl Charter, Experiencing Marine Sanctuaries.
Want more from Scuba Divers Federation of South Australia? New Port Noarlunga Jetty Stairs Installed