Each month, the Scuba Diver test team assembles to rate and review a selection of dive equipment from a range of manufacturers. Products are split into price categories and are then evaluated for performance, comfort, ease of use, build quality, looks and value for money. The Test Team comprises Editor in Chief Mark Evans and a squad of volunteers, whose dive experience ranges from a couple of hundred dives to well over 6,000.
Wrist-mounted dive computers from £399-£799
This time around, the Scuba Diver Test Team look at one of the most-vital pieces of the modern divers' kit bag – dive computers, or more specifically, wrist-mounted dive computers.
Wristwatch-style dive computers will be tested later in 2018, for this review we concentrated on the larger units which mount on the wrist, although as this photo shows, there is still a vast range of sizes out there. We looked at all of their capabilities, ease of menu navigation, and how clear the display was.
Location:
Tested at Vivian Dive Centre, Llanberis,    www.viviandivecentre.com
Aqua Lung i750 (SRP: £663)
The Aqua Lung i750 is one of the more-expensive units on test, and it is also one of the most compact, being noticeably smaller than its rivals, but still sporting an OLED colour screen.
The menu is easily navigated via three buttons – two on the bottom, and one on the right-hand side – and is fairly intuitive. A test I always conduct is to see if I can operate a computer without referring to the manual (at least for the basic functions) and this passed with flying colours. It runs the proprietory PZ+ algorithm, which is based on the tried-and-tested Buhlmann ZHL-16C, and has four operating modes – air, nitrox, gauge and free dive – so can fulfil a variety of roles.
It also makes full use of Bluetooth connectivity – via its Smart wireless system, you can download your dives to your mobile device in a matter of seconds via the DiverLog app. You can also control and adjust all of your i750 settings through this app if you choose to do so, rather than use the buttons on the computer itself.
It is set up and ready to go for hoseless air integration, and can be 'paired-for-life' with an optional transmitter (though it can actually link to three transmitters and three gas mixes).
It is fitted with a robust rubber strap, but comes with a bungee system and mount for those who prefer that method, though I found the rubber strap perfectly serviceable. It also comes with a spare battery kit and O-ring – it is user-replaceable, and can be swapped out in a minute or two.
Ratio iX3M Easy Pro (SRP: £575)                BEST VALUE
Ratio are a relatively new name in the UK dive computer market, but the Italian firm have certainly come in with a strong unit that ticks a lot of boxes – and I mean a lot!
The first thing you notice about the iX3M Easy is that screen – it is huge, and the high-contrast colour display simply blasts its opposition into the stratosphere.
Ratio boast about IPS technology, which maintains clarity even when you view the screen at an angle, and it works – you can clearly see the screen even at a fairly steep angle.
As with the Aqualung, I jumped into the Ratio without consulting the intruction manual, but thanks to a user-friendly menu and four large buttons on the bottom, it is a doddle to use and within minutes I was confidently scrolling around.
The iX3M features the traditional visual and acoustic alarms, but it also has a vibration alarm, which can even be felt through a drysuit and undersuit.
It runs the Buhlmann ZHL-16B algorithm, can handle two gas mixes, and can pair with a wireless transmitter.
The computer has a rechargeable battery, which can last up to 40 hours, that is easily charged via USB.
Unbelievably, via the optional gas mix analyser, it can even check the contents of your tank. It also has a magnameter, luxmeter, thermometer, barometer, altimeter, the list is endless. You win hand's down the 'my computer can do more than yours' argument!
Scubapro Galileo Luna (SRP: £399 (with transmitter – SRP: £549)
The Scubapro Galileo family has long been the stalwart of the company's computer range, and the Luna represents the entry-level to this line-up. However, unlike the range-topping G2 (the updated version of the old Sol with a bright colour screen), the Luna has to make do with the old-school dot matrix display, making it the only one of the four computers on test to utilise this technology.
Now obviously, the display is not going to be as bright as its rivals – even when the backlight is switched on, it is at best a dull glow compared to the Suunto, Aqualung and especially the Ratio. However, that is not to say that the display itself is not clear – the crisp digits do stand out well, and with three 'size' settings, you can even make them positively huge. A bonus for those with failing eyesight!
As with the Aqualung and Ratio, I used the Luna straight out of the box, and it is effortless to navigate the menus with the three large buttons on the top. In fact, that is where the Luna scores highly – with the function of each button right there on the screen, it is virtually impossible to 'get lost'.
It has a user-replaceable battery that is easy to change over, and can link to a single transmitter. It actually represents exceptional value for money when you buy it with the transmitter.
So, lagging behind its competition due to the dot matrix display, but well priced and specced up, so still a viable contender. All it needs is for the G2 to be simplied into a 'Luna' version and Scubapro could have a real hit on their hands.
Suunto Eon Core (SRP: £599)                          CHOICE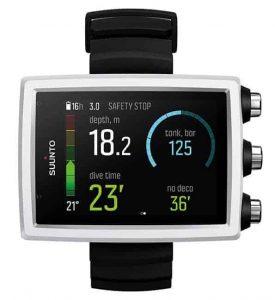 When the EON Steel came out, it was a game-changer for Suunto. With its sleek metal casing and vivid colour TFT screen, it was light years away from their previous dot matrix display wrist units.
Now the Steel has been joined by the EON Core, a more-compact sibling which benefits from the same colour screen but this time mounted in a composite body. And you know what, I actually prefer the Core over the Steel – it is solid, well made and I like the small size of this computer. It feels like it is all 'screen' and there is little wasted space, yet the three large buttons on the right-hand side are simple to operate.
As with the Aqualung, Ratio and Scubapro, I just jumped on the EON Core without looking at the instructions, and in no time was confidently navigating through the menus. They are very intuitive.
The Core has air, nitrox, trimix, guage and even CCR (fixed point) modes, meaning you will struggle to outgrow this unit whatever direction your diving path takes you. It runs Suunto's proven Fused RGBM algorithm.
The Core has a rechargeable lithium-ion battery, which gives 10-20 hours per charge depending on usage, and it has user-updateable software, plus it can connect to multiple PODs for air integration. It can also connect via Bluetooth to the Movescount app on your mobile device, so easy logging of dives, etc.
This is a belting little computer, with a lot of features and capabilities for the money. Well worth checking out.
www.suunto.com/en-GB/dive-collections/
Scuba Diver Verdict
Dive computers are a very personal thing. Once people find a brand or 'style' that they like, they often stick with what they know. All four brands represented here come from reputable manufacturers, so you can't go far wrong with any of them.
The Aqualung i750 is a very capable unit, and we liked its compact size. The Scubapro Galileo Luna is looking a little dated on the display front, but there is no getting away from the fact that it is a well-specced computer, and comes in at a great price.
However, the Ratio iX3M Easy Pro and the Suunto EON Core both stood out from the crowd. The newcomer and the veteran. The iX3M Easy Pro took the Best Value award, as at £575, with all of its many features, it represents crazy value for money. The EON Core nabbed the Choice award for its looks, capabilities and size.
Our gear content is sponsored by Mike's Dive Store, the UK's premier dive retailer. For all your diving needs visit them in-store or online for your diving, freediving, snorkelling and servicing.