We continue our fin reviews with a look at the mid-range models. There are many types of fins available these days, and in this price bracket we had paddle, split and vented fins, with either traditional rubber straps or stainless spring straps.
ON TEST THIS MONTH:
• AQUALUNG SHOT FX
• ATOMIC X1 BLADEFIN
• HOLLIS F2
• OCEANIC V16
• SCUBAPRO TWIN JET MAX
Location: Tested at Vivian Dive Centre, Llanberis
Date tested: 13/07/17 Water temp: 10 degrees C
AQUALUNG SHOT FX | SRP: £86
The Aqualung Shot FX fins are actually designed for women, but the stiffness of the blade increases as the size goes up, so these fins (to fit a size 9-10 boot) felt very similar to the almost-identical X Shot fins, which are considered more generic. Regardless of whether you go for the X Shot or the Shot FX, you will end up with a paddle fin with a relatively short, wide blade that incorporates various design features aimed at increasing the thrust and power generated while at the same time reducing fatigue and any loss of efficiency.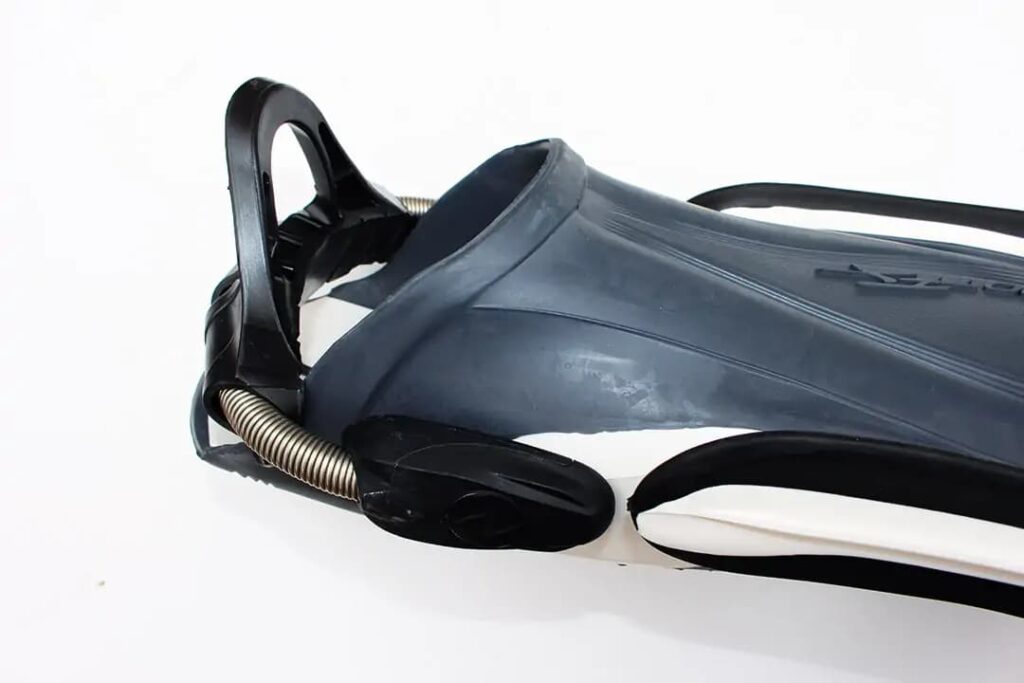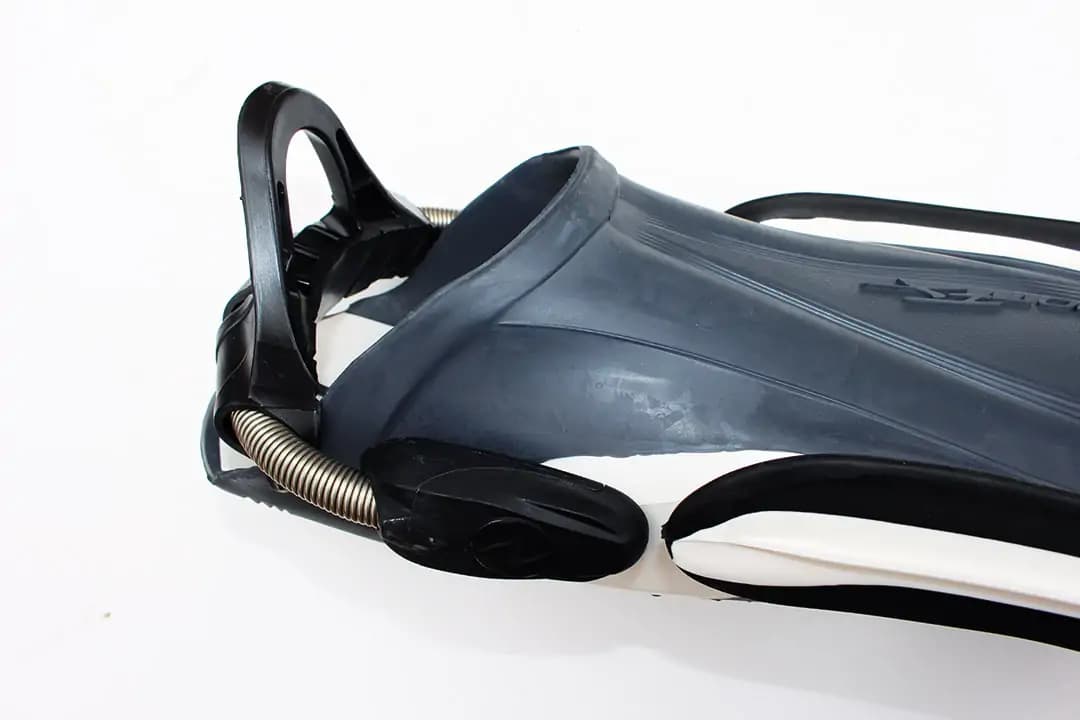 The spring straps are equipped with a large thumb loop and make putting the fins on and off very easy, and the non-slip bottom will prevent any embarrassing slips on boats. Available in a selection of colours.
The Shot FXs are a good-looking pair of fins, and they feature some nice detailing, such as the engraving on the blade and foot pocket. The supple foot pocket is extremely comfortable, and the spring strap means getting the fins on and off is a doddle, even when you have cold hands encased in thick gloves.
The blade does generate plenty of thrust both with a normal kick cycle and a frog kick, though you need good leg muscles to really get the best out of them. Manoeuvrability-wise, they scored well, and you could helicopter turn and back kick without any real difficulty.
VERDICT
Good-looking and well-made fins, with a relatively short blade, comfortable foot pocket and robust spring strap.
SCORE ••••••
ATOMIC AQUATICS X1 BLADEFIN | SRP: £103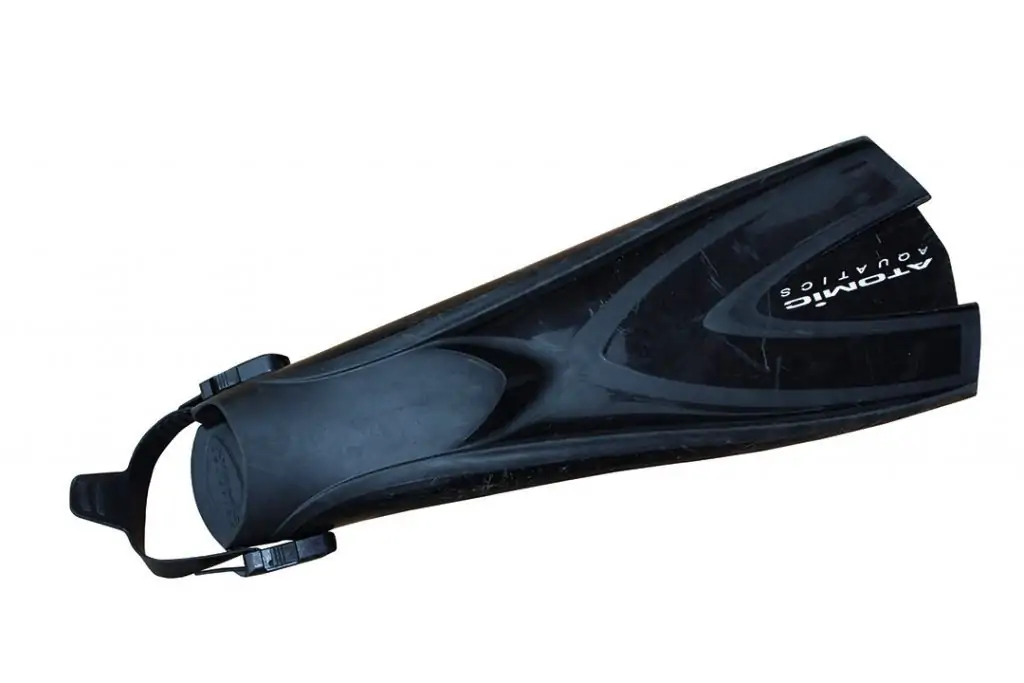 Atomic Aquatics are well known for their high-end regulators, but now they are building a reputation in the fin department also. The X1 Bladefin is a robust paddle fin which has rigid, low-profile side rails and a shorter, stiffer blade (than its more expensive sibling, the Bladefin) which is designed to make turning and pivoting easier, while vertical 'strakes' on the tips of the fins add stability and lower drag.
It has a long, tall foot pocket, designed for large booties and drysuits boots. The X1 Bladefins are equipped with Atomic's EZ-Lok buckle system, which allow the buckle to snap on and off easily. Available in blue, red, yellow, silver, pink, purple and black.
The X1 Bladefins are well-made, strongly constructed paddle fins with some neat design touches, especially the stablisers on the tips of the fins. In use, we found that they provided immense levels of propulsion, but as with most paddle fins, you do need strong leg muscles to really get the best performance out of them. That said, these were designed to work with all kick-styles, and for a relatively long fin, they can easily cope with frog kicks, back kicks and helicopter turns.
I would prefer a spring strap, but the EZ-Lok buckles are the next best thing – simply squeeze the buckle and the whole thing slides off the fin. Effective, even with thick gloves on.
VERDICT
Robust, well-made paddle fins with some neat design touches, comfy foot pocket and effective EZ-Lok buckles.
SCORE •••••••
HOLLIS F2 | SRP: £115
The Hollis F2 fins really stand out from the crowd thanks to their unique short, fat blade design, which is supposed to add blade surface on both the downstroke and the upstroke to increase your effciency with any type of kick.
The F2s are made via injection moulding using high-grade, heavy-duty monoprene, and are equipped with an integral stainless steel spring strap, with a large thumb loop for easy donning and doffing, which can be adjusted for a fine-tuned fit.
The Hollis F2 fins are by far the shortest fins on test here, yet thanks to their unique design, they generate an astonishing amount of thrust but without a lot of pressure on your leg muscles. The 'bellows' – for want of a better word – really do seem to give the fins more power, and you can feel and 'hear' them working as you move along.
Due to their short design, they offer plenty of manoeuvrability in tight spots, and you can frog kick, back kick and helicopter turn with ease. The foot pockets are generous, and the robust spring straps make getting them on and o a simple matter.
They only come in black, but with the engraved Hollis logo on the top of the foot pocket, they have a serious, purposeful look – one test team member described them as being very 'special forces'.
VERDICT
Solidly built, uniquely designed fins with a great performance, comfortable foot pocket and nifty, effective spring strap.
SCORE ••••••••••
OCEANIC VORTEX V16 | SRP: £79
The Oceanic V16 split fins have been around for several years now, and combine a mix of materials in order to enhance the performance. They are designed to be faster and more e cient than a standard pair of fins, and boast large side rails to add some rigidity to the long blades.
They are fitted with stainless steel spring straps that have a large thumb loop to make getting them on and off an easy movement. They come in blue/black or yellow/black.
The Vortex V16s are a good-looking fin, with a neat design. They are among the longest fins in this test batch, and one of two split fin styles. Thanks to the split blades, they offer a nice, easy kicking style with a normal fin stroke and develop a reasonable amount of thrust with relatively little effort, but there isn't the instant power boost you get with paddle fins.
It is possible to frog kick, back kick and helicopter turn in them, but the long blades and split design mean it isn't as neat and e cient as with some of the others on test.
The spring straps work a treat, and we could get the fins on and off with no dramas. The large foot pocket was also very comfortable.
VERDICT
Well-made, durable split fins with a comfortable foot pocket, and stainless steel spring heel strap as standard.
SCORE ••••••
SCUBAPRO TWIN JET MAX | SRP: £105
Scubapro have a great reputation for making top-quality dive kit, and the Twin Jet Maxs continue this tradition. They blend the vent design from the old-school Jet Fins with a broad paddle section that also incorporates a short split.
According to Scubapro, the blade is a dual-compound design that offers a stiffer blade with more feedback. Semi-rigid side rails enhance stability, while the vents reduce drag, and the soft foot pocket provides lots of comfort. The extended sole plate gives additional leverage to improve the transfer of power from foot to fin.
The Twin Jet Max fins are equipped with a traditional rubber adjustable heel strap, with pinch-release buckles.
The Scubapro Twin Jet Max fins are a big, heavy fin which combine the design elements of a split fin with a traditional vented paddle fin – and bizarrely, it works well.
You get masses of propulsion from a normal fin stroke, though you can feel those leg muscles working, and though they are long and broad, you can also get a reasonable frog kick, back kick and helicopter turn out of them, though their sheer size makes the latter a bit of a chore.
VERDICT
They are priced well for what they are, but I would upgrade to a stainless steel spring strap over the traditional rubber effort.
Big, heavy fins combing paddle and split fin designs, with decent performance, comfy foot pocket and traditional straps.
SCORE ••••••••••
Scuba Diver Verdict
We had a real selection of styles in this price bracket, ranging from full-fledged split fins and paddle fins to something blending the two, and one that looked completely out of this world.
In the Best Value category, the Aqualung Shot FXs went head to head with the Atomic Aquatics X1 Bladefins. Both were substantial paddle fins, and both delivered a solid performance, with plenty of thrust and a good all-round capability when it came to different fin strokes, but in the end, the Shot FX just came out on top.
The slightly shorter, wider design meant manoeuvering in tight confines was a little more straightforward, and they are a cracking price. The Choice award was simple. The Scubapros are great fins, but are quite big and heavy. The Hollis F2s are an unusual design, but it works well, and the short nature meant they were a joy to use. A worthy winner.
Our gear content is sponsored by Mike's Dive Store, the UK's premier dive retailer. For all your diving needs visit them in-store or online for your diving, freediving, snorkelling and servicing.