There are many types of BCD available these days, so this time we concentrated on traditional-style jackets, leaving back-inflate and backplate-and-wing set-ups for another group test. We examined their build quality, comfort, fit, ease of use (particularly weight pockets and accessory pockets) and the performance of dump valves and power inflators.
Aqualung Axiom £396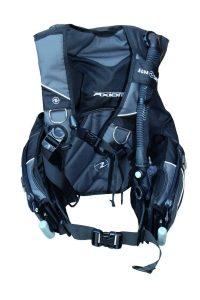 The Axiom is a durable, full-featured, SDV-style, wrap-around jacket with a super-streamlined air cell and Aqua Lung's proprietary Wrapture harness system, which uses swivel shoulder buckles and an ultra-thin back plate to provide unsurpassed comfort and stability, holding the cylinder close to your centre of gravity and transferring the weight on to your hips.
This is combined with the innovative Griplock tank band, which is strong, secure and easy to alter, and has the added benefit of preventing trapped fingers.
Rounding out the package is the tried-and-tested SureLock integrated weight system, built-in octo pocket, five stainless steel D-rings and one plastic D-ring.
The Axiom is a good-looking BCD with subtle colours that will not date quickly. It is extremely comfortable, and the Wrapture system really does seem to work – standing around prior to entering the water, the weight of the cylinder does seem to be spread out between your shoulders and hips. In the water, the cylinder is held close to your body, there is zero tank movement, and you can get into any position with little effort.
The test team all liked the Griplock tank band, which is simple to use and very effective, and the SureLock integrated weights are one of the best on the market.
The pockets are a reasonable size and fairly easy to access, but don't expect to put anything too large in there.
Scubapro X-Black £569
The X-Black is a well-specced BCD that benefits from Scubapro's exclusive AirFlex system (niftily highlighted by the red bungee threaded throughout the BCD), which simplifies buoyancy control and guarantees an extremely stable ride at depth.
It is constructed from a combination of durable 1000 denier and 420 denier nylon, and has an adjustable cummerbund that compensates for suit compression.
The Super Cinch tank buckle system locks the tank into place, and the quick-release integrated weight pockets lock in place via a secure pinch-to-release system.
There are eight aluminium D-rings, and no less than three main pockets, plus a zippered pouch on the cummerbund.
The X-Black has always scored highly with the test team, and this time was no different. It looks great, feels solid, and is immensely comfortable, providing enormous lift yet not squeezing you thanks to the AirFlex system – see, those red bungees really do work! We also liked the integrated weight pockets, which are held securely and will only release when you want them to. The Super Cinch tank buckle is simple to adjust but locks in place with little effort. This BCD has a plethora of pockets, and they are all easy to access. We liked the dual-pocket arrangement, and you will have plenty of room for spools, DSMBs, slates, small torches and so on. A lot of money, but extremely well built and one of the most eye-catching on test.
Zeagle Halo £567
Zeagle are well known for their durable, hard-wearing wing-style BCDs, but the Halo represents their first foray into the more-traditional jacket-style BCD.
It is made from a mix of 1000/1680/420 denier material for toughness, and it is equipped with Zeagle's Ripcord emergency weight-release system.
It has seven stainless steel D-rings, a depth-compensating cummerbund, non-dumpable trim pockets, and two large accessory pockets.
It also benefits from Zeagle's lifetime warranty.
The Halo has been in our Long Term Test stable for several months, and it holds it own here against strong competition. It is an expensive piece of kit, but it does have a lifetime warranty and is made to be extremely robust. It oozes quality.
The accessory pockets are simple to access, and handily, the zippered pockets where you stash the included mesh weight pockets are colour-coded with red zippers, so you don't accidentally open the wrong one.
The jacket is comfortable and holds you well underwater and on the surface, and there is next-to-no tank movement.
The Ripcord system is operated one-handed, and is one of the most-effective on the market for emergency jettison. Handing up your weights into a RIB involves opening zippers to get to them, but the included pouches help make that less of a chore.
Conclusion
Due to splitting our back-inflate jackets into a separate test, we were down to just three jackets for this Group Test. All of the BCDs reviewed performed well, as you would expect at this price point, offering plenty of support underwater and on the surface, and were comfortable when walking about topside as well.
The Best Value award went to the Aqualung Axiom, which is a great all-round BCD with some neat features – SureLock integrated weights, Wrapture harness and Griplock tank band – all at a decent price.
Our gear content is sponsored by Mike's Dive Store, the UK's premier dive retailer. For all your diving needs visit them in-store or online for your diving, freediving, snorkelling and servicing.