I arrived in Fort Myers as darkness fell, but it was hot and humid, so I'd dropped the hood to I could soak up the sounds and the smells of the region as I cruised to my second home-away-from-home, Tween Waters Inn Island Resort on Captiva, one of a series of islands that are linked to the mainland by a roadway and multiple bridges.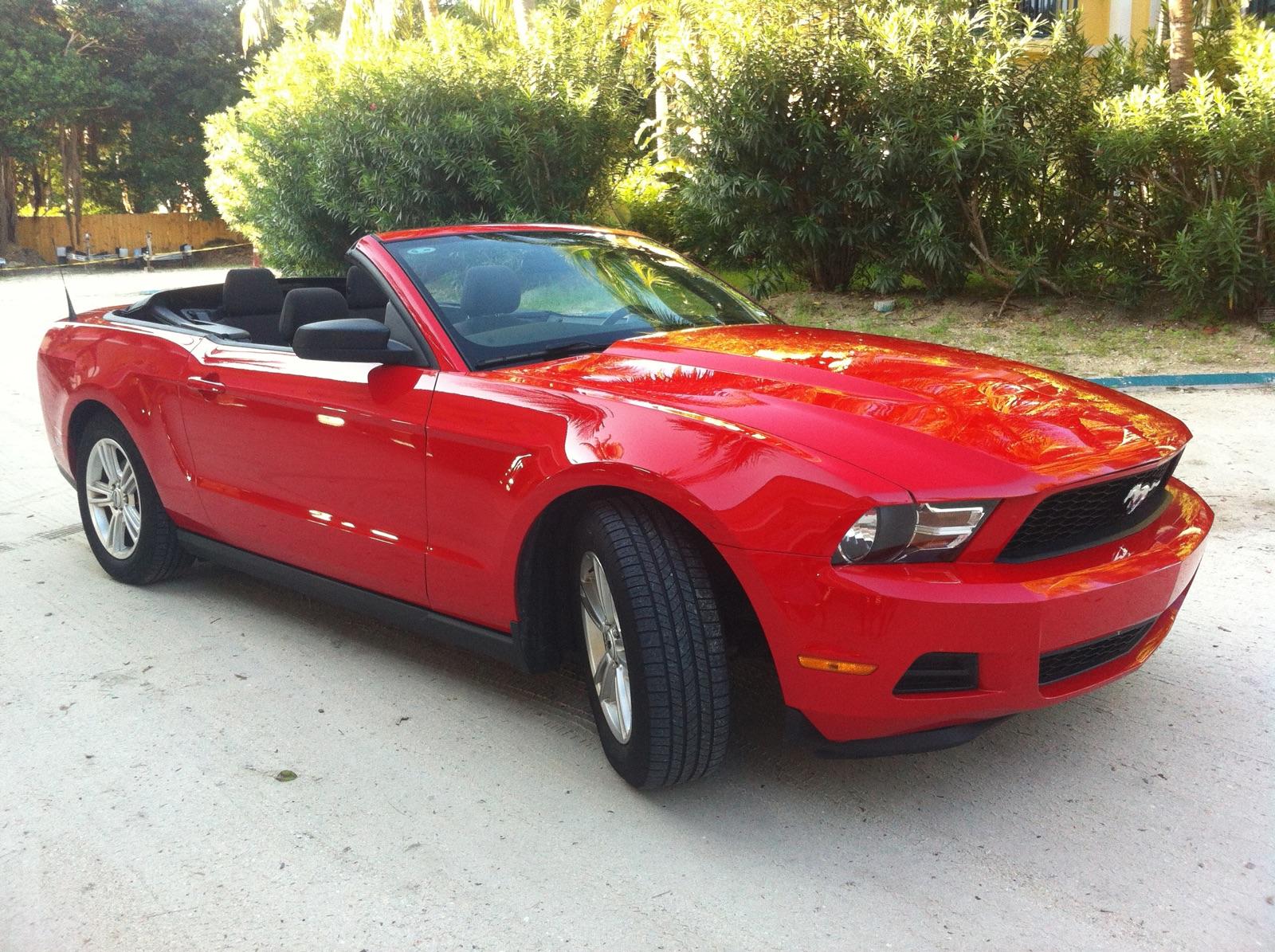 Tween Waters Inn – it lies on a very narrow strip of land, sandwiched between the Gulf of Mexico and the calm waters of the bay, hence the name – boasts a wide range of accommodation, including historic one-, two- and three-bedroom seaside cottages, one- and two-bedroom suites, Gulfview and Bayview studios, and guest rooms. It also has an Olympic-sized pool, hot tubs and children's wading pool, a spa, its own marina and a fitness center, plus it offers fishing, kayaking and bicycling nature trails and eco-adventures.
I had never ventured to this part of Florida before, but driving around Captiva and Sanibel on my first full day, it all felt weirdly familiar, and then it hit me – the design of the houses, the color schemes, the aromas of the sea and the mangroves, the endless blue of the ocean; it was all very much like the Florida Keys. In fact, one of the locals told me 'Captiva and Sanibel are like the Keys were 20 years ago', so no wonder I noticed so many similarities.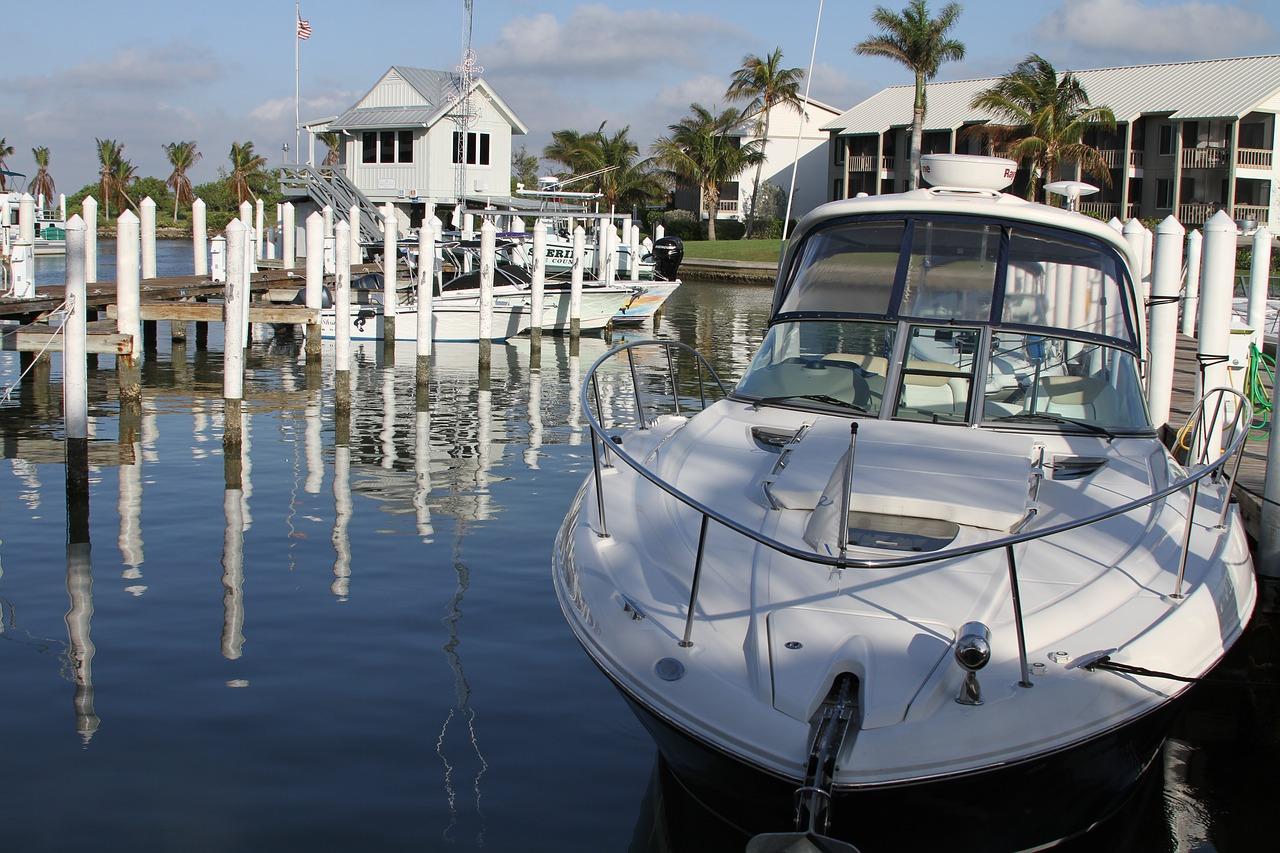 My first day of diving was shelved due to strong winds offshore, but thankfully these had died down somewhat the following day, and I eagerly piled my dive gear into the Mustang, dropped the top and headed to my rendezvous point with Kyle Ezerins of Reel Fish N Sea Charters. His 36-foot vessel is rated to carry six divers, but it ended up that I was the only person aboard (other than Kyle and his deckhand), so I lapped up the rock star treatment!
One of the only downsides to diving out of Fort Myers is the fact that most of the decent wrecks lie quite a distance offshore – the bottom here is plateau-like, and so to get any real depth (80-100ft plus), you need to head 35-plus miles out into the Gulf of Mexico. Once you are there the wrecks are spectacular (as you will find out), but runtimes of two-and-a-half to three hours each way can be a drag, especially if the weather isn't offering up flat-calm seas.
Did you know?
Goliath grouper can attain monstrous sizes – the world record for a hook-and-line caught specimen was 680lb! The harvest and possession of Goliath grouper have been prohibited in Florida and US federal waters since 1990, but the fish remains on the critically endangered list of the International Union for Conservation of Nature.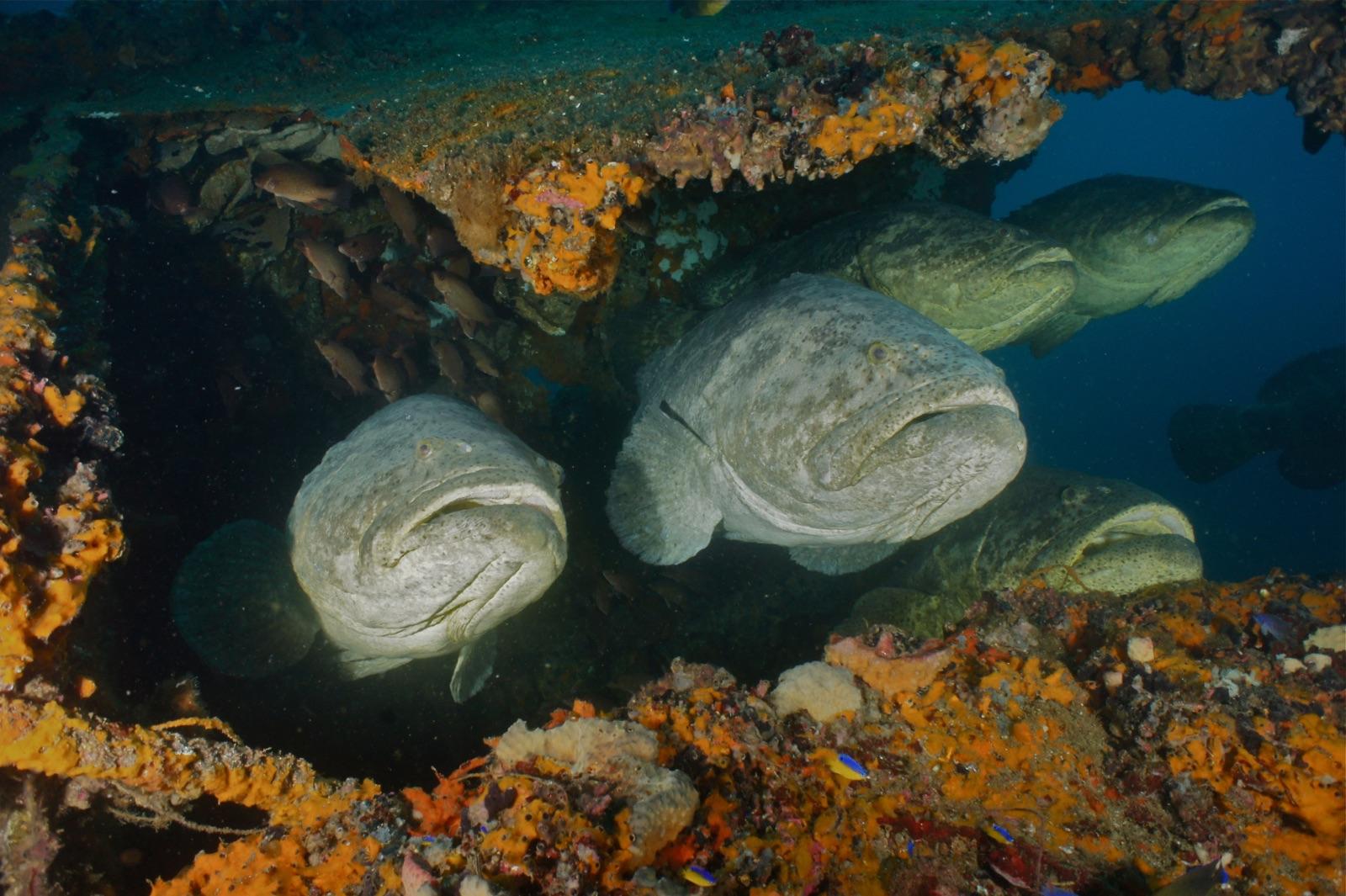 Typically, my first day of diving was accompanied by swells of four to six feet, with occasional eights thrown in for good measure – not good if you are prone to seasickness. And remember you are out all day – often we'd leave at 7.30am-8am and not get back to land till gone 7pm; that is a long time on the water if you are feeling rough. My advice is to load up with seasickness pills, even if you aren't normally susceptible, as there is nothing worse than being a long way offshore, wallowing around in a swell, wishing you were back on land.
My initial three wrecks soon showed why it is worth making the effort to get out here. First up was the Twin Barges, which not surprisingly is two barges lying upside down next to one another. They are covered in sponge and coral growth, and lots of encrusting algae, but as far as wrecks go are pretty bland, but what made them special were the 12-14 Goliath grouper that were hanging around inside and outside the hulls. I had timed my trip to perfection when it came to these monsters, as breeding season was approaching and so large aggregations were becoming common. There is something primeval about these beasts, which were easily 450lb and above, and measured over five to six feet in length. Peering inside a broken section of hull, I was greeted by five lumpy faces looking back at me – won't be doing any wreck penetration there, then!
The second dive was the jewel in the crown, the USS Mohawk. Just days before I arrived, the underwater art exhibition had been brought up due to weather worries, but now conditions had calmed down somewhat, and boy, was I glad – the 160-feet Coastguard cutter, which is now designated a US War Veterans Memorial, is a truly memorable dive. Much of the innards were left in place, which means when you swim through the superstructure, you can get a real feel for what each area and room was used for when the ship was in service.
When I dived it, it might have only been down for just over a year, but it was already swarming with marine life, including shoals of baitfish, spadefish, barracuda, amberjack, trevally and loads of encrusting growth. When I dived it I was also in a thick cloud of moon jellies – in fact, at times, it was like being in Jellyfish Lake in Palau!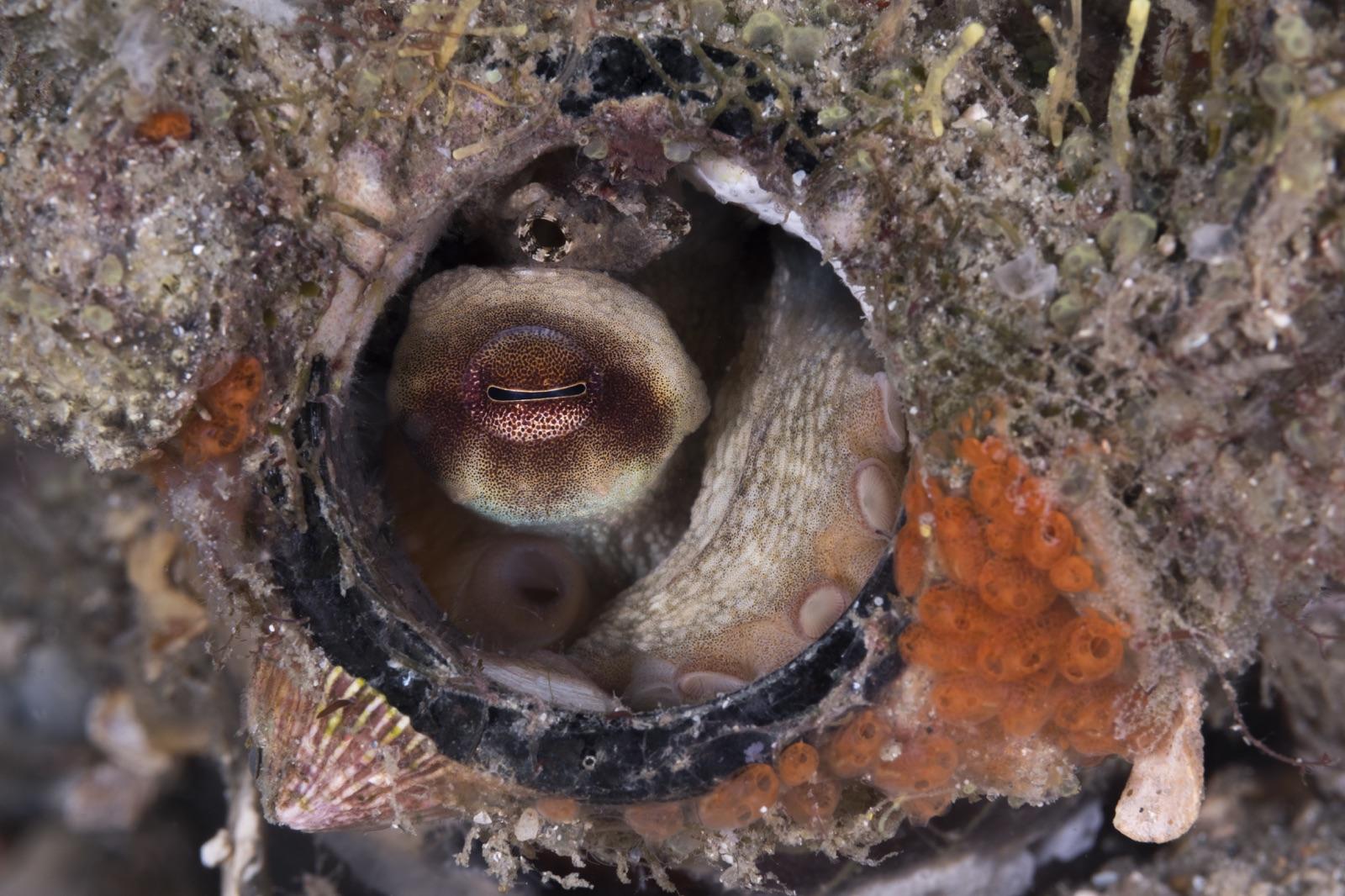 Rounding out the day we headed to the Pegasus, a 104-feet, steel-hulled tugboat now sitting in around 88-92ft of water not far from the Mohawk. It was another artificial reef, but time and tide have taken their toll and now it more-closely resembles a 'true' shipwreck. It is covered in life, including nurse sharks, moray eels, angelfish and shoals of snapper.
Day two of diving was flatter than the day before, but still a little lumpy, but captain Kyle decided to go for it and we headed 48 miles offshore to the wreck of the Fantastico, a 196-feet Honduran freighter which went down in 1993 in what has become known as 'the Storm of the Century'. It was carrying fertiliser from Miami to Tampa when it went down, taking seven of the crew of ten with it. Kyle had not dived the wreck, but had heard many good things, so was itching to see it for himself.
We dropped down the shotline and as we neared 50ft or so, the wreck loomed out of the green-hued water. The bow was fairly intact but twisted on to its starboard side, and the midships was flattened on the seabed. It was absolutely smothered in growth, with colorful sponges, corals and algae covering every nook and cranny on the hull, superstructure and masts. However, while the vessel itself was impressive, the marine life took our breath away – amberjack, barracuda and jacks filled the upper sections of the water column, and on the wreck itself, some 20-30 Goliath grouper swam in and around the structure.
The odd nurse shark also made the occasional pass, and large rays lay on the seabed. All too soon, our time on the wreck was up, and we made our way slowly up the shotline. Stopping at 15ft for our safety stop, we were enveloped in a shoal of baitfish, closely pursued by predatory jacks, and the next minute I had a metre-and-a-half blacktip shark nosing my fins! Cursing through my regulator, I hastily switched my camera back on and tried to get my strobes in position, but alas, he never came back into range, instead staying right on the limit of our vision. Schoolboy error – never, ever turn your camera off before you get out of the water!
We were both bursting with excitement, and were reeling superlatives off to one another as we got back on board the boat. Right there and then we decided we were doing a second dive – and this time we were going to follow the broken-up mid-section and find the stern.
Two hours later and back down the shot we went. A couple of pre-arranged shots were done on the bow, and then we started following the wreckage. We hadn't swum more than 60 feet when I saw the stern appear in front of us. This is at least three times bigger than the bow section, with lots of penetration opportunities, but any thoughts of sampling these went out of the window when I rounded the main structure and ran into no less than 35-40 Goliath grouper just hanging around. Making a slow circle and looking out into the blue, I noted we were literally surrounded by these behemoths – there were at least 100 of these gigantic fish. It was, quite simply, mind-blowing. While these were the undoubted stars of the show, we also saw five nurse sharks and some large shoals of spadefish and barracuda. The wreck itself is also very photogenic, with a large mast and crow's nest, all covered in marine growth, but in the brief time we had on it, the Goliaths demanded – and got – all our attention.
Those two dives on the Fantastico were among the best dives I have ever done in all my years of diving, and truly worth the nearly 50-mile run offshore. I can't wait to go back and do it again on a rebreather so I can get really up close and personal!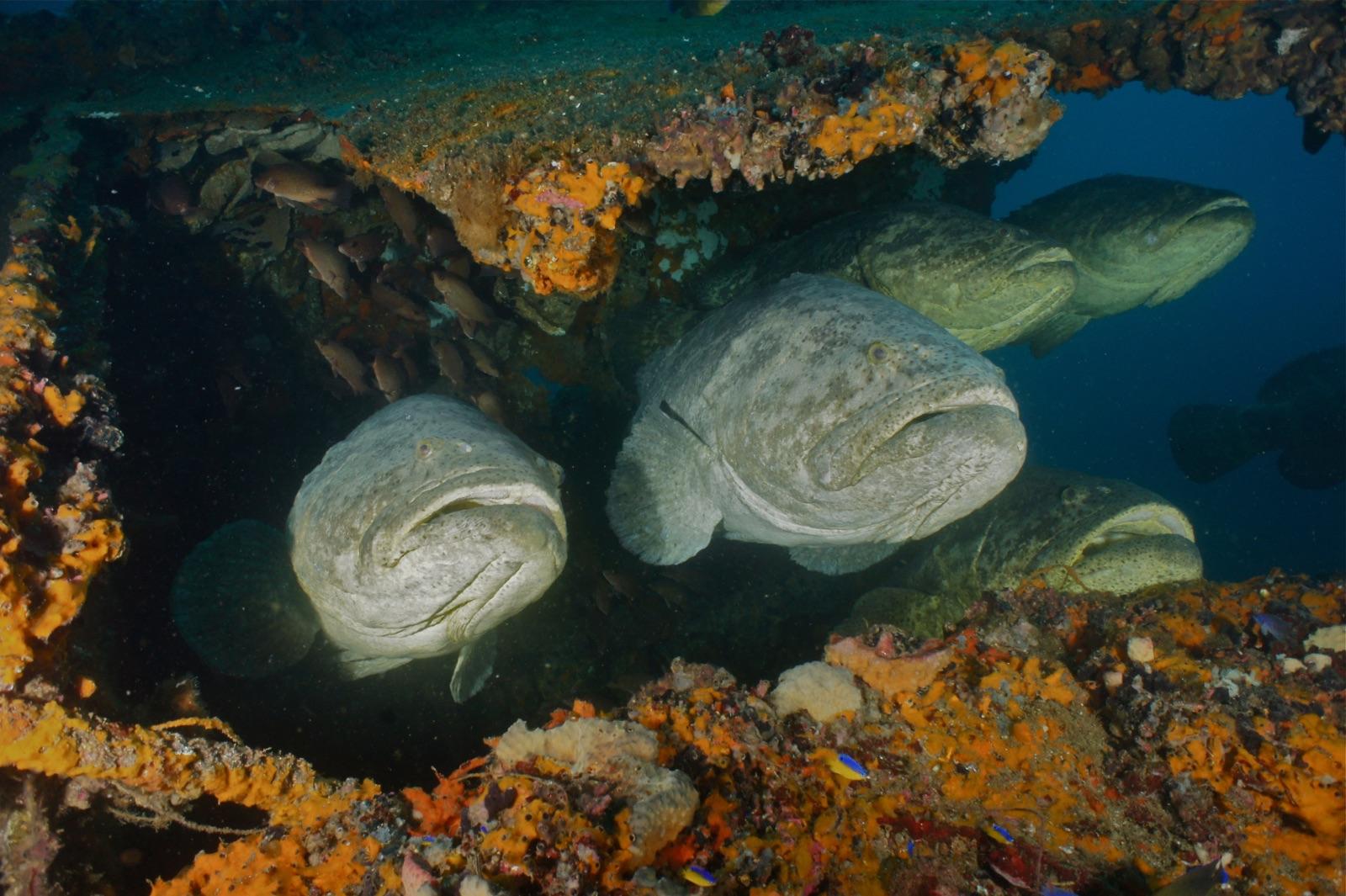 My time in Fort Myers was up, but I had chance to squeeze one last dive in. Checking out of Tween Waters Inn at 7.30am, I loaded up the Mustang with all my gear and drove to meet Kyle one last time. He had lined me up a dive on the ARC Tower, part of an artificial reef structure that had been in place for several years. The framework of the tower, which resembled a mini-rig, was home to a multitude of species of coral and sponge, and this in turn brought in all the reef fish, including damselfish, snapper and angelfish. It was also the territory of several large Goliath grouper. After the Fantastico, this was a fairly tame dive, but it was still a very pleasant way to round out my Fort Myers chapter.
Top Five Fort Meyers Dive Sites
Twin Barges – two barges lying upside down next to one another (as the name suggests!) which are now covered in sponge and coral growth, and lots of encrusting algae, and home to all manner of marine life.
USS Mohawk – 160-feet Coastguard cutter, now designated as a US War Veterans Memorial, which still has much of the interior equipment left in-situ and is already well populated by fish life.
Pegasus – 104-feet, steel-hulled tugboat now sitting in around 88-92ft of water. It was sunk as an artificial reef, but now it more-closely resembles a 'true' shipwreck after its years underwater have taken their toll.
Fantastico – 196-feet Honduran freighter which went down in 1993 and is now broken in two, with a debris field inbetween. Absolutely swarming with marine life, including sharks, jacks and, when I dived it, hordes of Goliath grouper.
ARC Tower – part of an artificial reef structure that has been on the seabed for several years and is best described as resembling a mini oil or gas rig. It is smothered in marine growth, which in turn has brought in all the reef fish.
Mangrove kayaking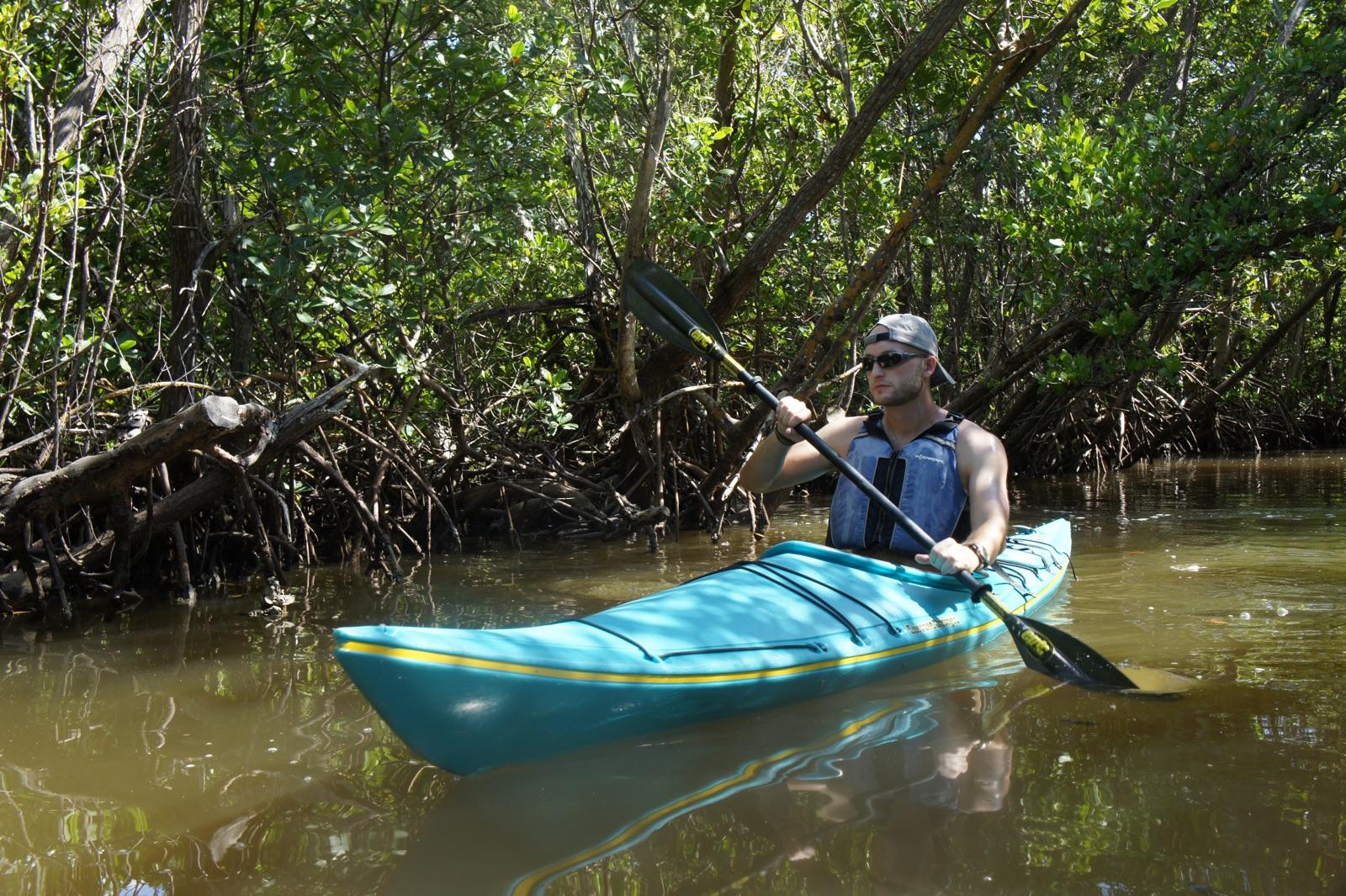 Taking a kayak out into the mangroves has to be one of the most-relaxed, chilled-out and downright cool things you can do when you are staying in the Fort Myers area.
I ventured out from the shoreline at our resort, Tween Waters Inn, in a single kayak (double versions are also available) and headed off, map in hand, to follow a trail that had been laid out through the thick mangroves that lay a few hundred metres away across the water. However, you can rent kayaks throughout Captiva (where we were), Sanibel and Fort Myers itself.
I paddled along the edge of the mangroves, marvelling at the egrets, herons and osprey that were roosting on the foliage, but was starting to get slightly worried I weren't going to find my way into the trail when a gap opened up and I ended up in a fairly large body of water within the mangroves. Once over the other side I entered a hidden realm, where the waterway snaked through the mangroves which grew overhead, creating a tunnel effect. It was eerily quiet, and it was truly deafening when I stopped paddling and just drifted along. All you could hear was the gentle sounds of the water lapping against the hull of the kayak, and the rustling of the mangroves in the light breeze.
I had taken the kayak out because the weather offshore had blown out my opportunity to dive on day one of my roadtrip, but it is a damn fine way to spend a few hours, so put it on your 'must-do' list if you head over this way.