Since 1990, Florida's beloved Goliath grouper have remained a federally protected species. That may all change as the Florida Fish and Wildlife Conservation (FWC) Commission is once again considering the possibilities to open the fish for 'limited harvest'. The Commission has put this topic on the agenda for a meeting 12-13 May 2021.
View the agenda for this meeting here
In April 2018, I attended a Florida Fish and Wildlife Conservation (FWC) Commission Meeting and the issue of whether to open up Goliath grouper to regulated fishing was in heavy discussion. During this meeting Florida State University researchers Chris Malinowski and Chris Koenig reviewed the most-recent findings regarding mercury levels in Goliath grouper. Both scientists stated that extremely high mercury levels in the Goliath grouper pose a serious danger to the health of anyone eating this fish. The FWC staff were not able to counter this fact since their data was at the time inaccurate and documented mercury counts that largely relied on juvenile fish. On that basis alone, why is there a need to kill the fish if you can't eat it?!
Read about mercury levels in Goliath grouper here and here.
Thanks in large part to public outcry to the notion of any kind of harvesting of Goliath grouper, along with those who attended the meeting and were given the opportunity to make the case at the 2018 meeting, the FWC Commission voted against harvesting Goliath grouper in Florida waters.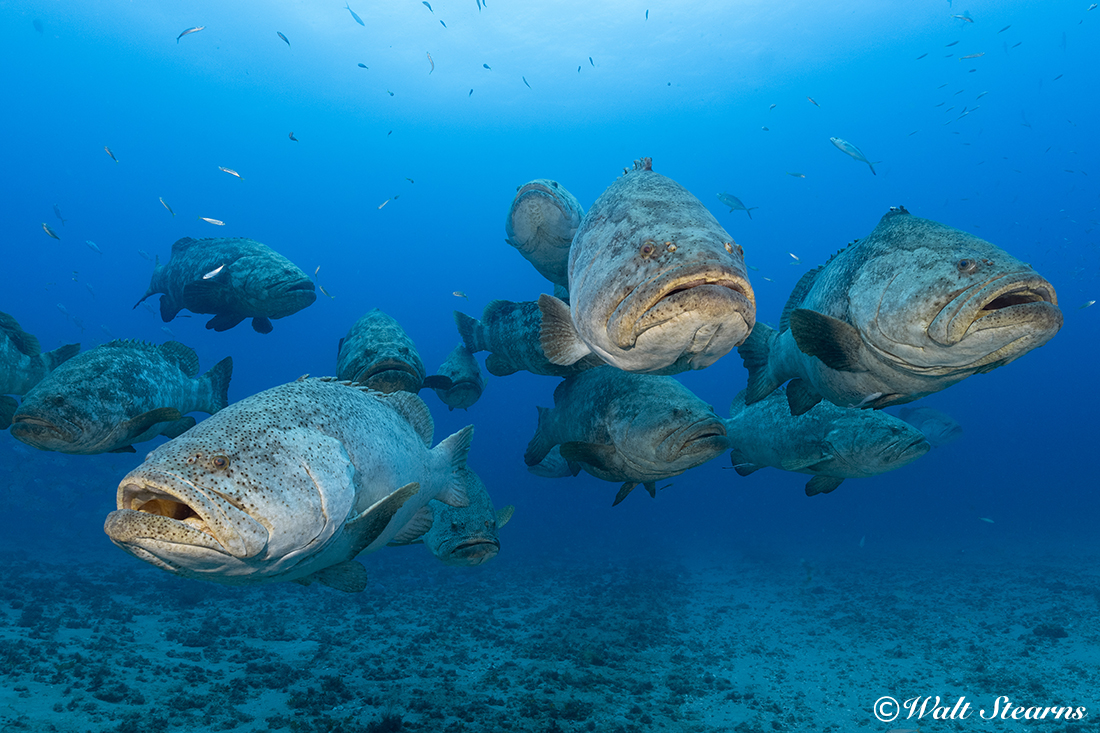 Surveys have also been conducted that focus on the value of the Goliath grouper to positive eco-tourism for South Florida. The destination remains the one and only place in the world where divers can actually see an active spawning aggregation of giant grouper. Add to this that for a number of years now, sportfishermen have been allowed to catch and release them, an approach used for other gamefish such as tarpon, bonefish and sailfish. As such Goliaths remaining in that category is not likely going to hurt the sportfishing industry in the slightest. This is all great, but there are some negatives.
Sadly, the Goliath grouper population is not doing as well as one might think. While recovery looked encouraging for a short time for these 'charismatic megafauna' after the federally mandated closure in 1990, in recent years the dive community have watched their numbers decline. The most noticeable decrease has been witnessed off of Palm Beach County's shoreline as the number of fish showing up between six primary spawning aggregations sites has dropped by half in the last four seasons alone.
Such a decline can be traced to a number of influences, namely habitat degradation, bycatch and poaching, cold-water events, and in all likelihood a continued rise of mercury levels within the fish shorting its lifespan. And now, the FWC is at it again with yet another proposal for 'limited harvest'.
Why the Goliath grouper should be left alone is very much on the record. Furthermore, the FWC's tactics for conducting the 12-13 May 2021 meeting on a virtual platform (due to COVID-19 policies) is somewhat suspect. Most disturbing is that public comment will be conducted solely online, so there will not be an opportunity for face-to-face discussion with the FWC Commissioners.
HOW WE CAN HELP
We do not have a lot of time to counter this proposal. The assistance of divers and others who care about the beloved Goliath grouper, is needed. The most-effective actions can include:
1) Write to the Florida Fish and Wildlife Conservation (FWC) Commission. Find individual or group messaging details here: (https://myfwc.com/about/commission/commissioners/)
2) Post on the FWC Facebook page.
3) Comment on the FWC Twitter page.
4) Post and share on your own Social Media accounts and ask your friends and family to help.
Photo credit: Walt Stearns