Finnsub have always done something a little out of the ordinary with their dive light ranges, and now there are the Finnsub BANG torches.
Finnsub has added two innovative new torches to their line-up – the BANG Spot, and the BANG Wide.
The Spot has a five-degree beam and according to Finnsub is designed for use in murky conditions or for signalling, while the Wide has a ten-degree beam and is designed for those in clearer waters who want maximum light over a wider area. Both put out 1,100 lumen for two hours at 100 percent power, or 366 lumen for ten hours at 30 percent, which given the compact size of the units is quite incredible.
They are depth-rated to 100m, which is more than enough for most people, and are powered by an efficient lithium-ion rechargeable battery. They can be charged up without having to 'open' the torches thanks to the charging points being at the back of the unit. As any diver knows, 'cracking' open a torch to get to the batteries when it comes to recharging time, or battery replacement, is crunch time, and is often when something doesn't quite seat right, resulting in a dead flooded torch on your next dive.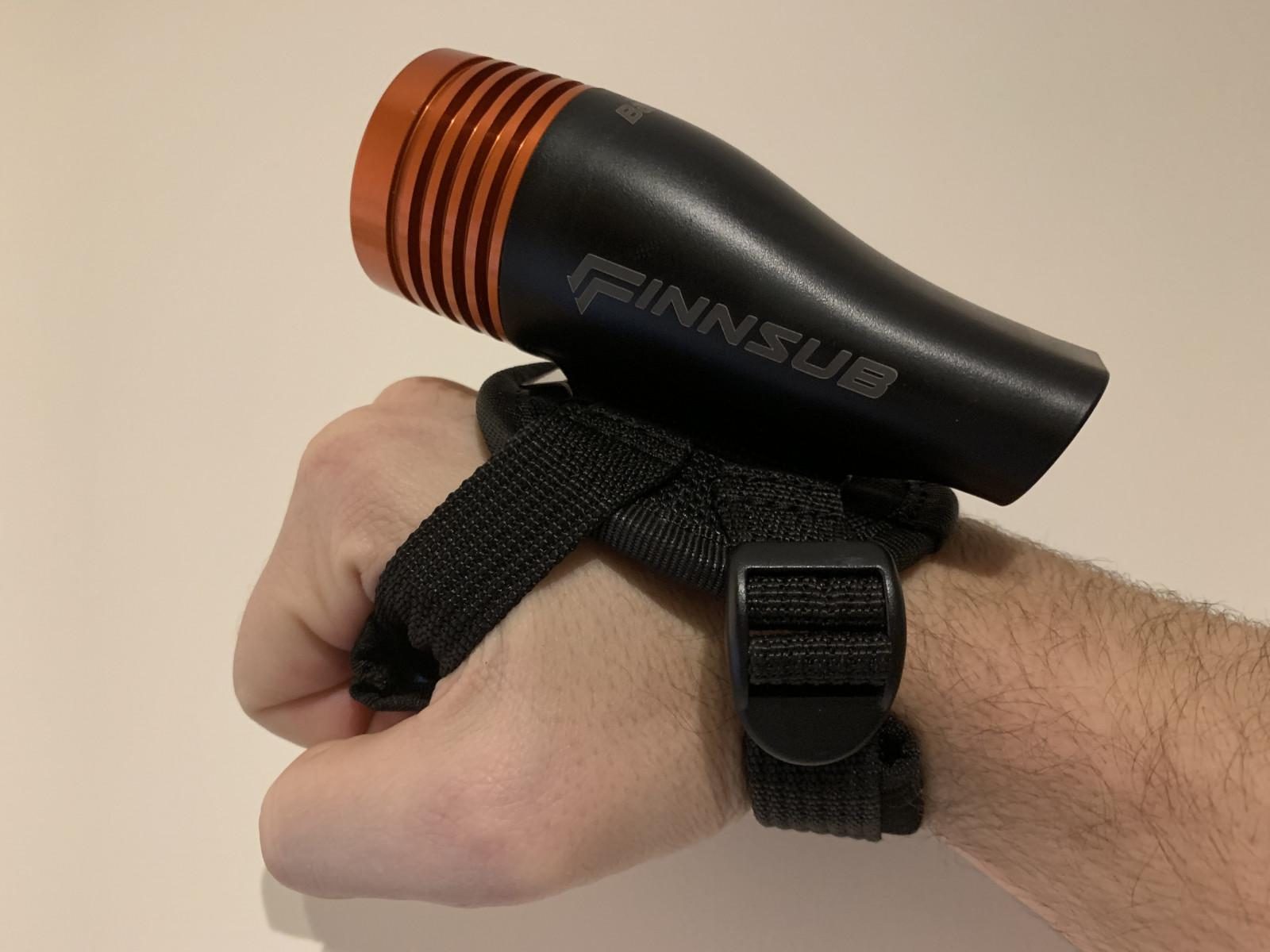 Removing that risk factor is a major bonus, and the charging cable attaches securely magnetically when you want to charge the BANG torch up. You must ensure that both the charging points and the charger itself are free from any moisture or salt residues, so after use, always rinse and then dry off thoroughly.
Another potential failure point on dive lights is the on/off switch and power controls. They can either pack-up working, or flood. Finnsub get around that issue by doing away with any visible controls at all! Both of the BANG torches are switched on and off, and the power levels changed, via a unique system where you lightly 'tap' on the 'BANG' logo on the light body. It is even designed to be used with gloves, and I tried it with both KUBI drygloves and 5mm neoprene gloves and had no issues with either – once I got the rhythm right.
Three taps with a 0.3-0.8 second gap between to turn on and off, and two taps with 0.3-0.8 seconds between to cycle through the power settings. It does take a little practice to get it right, and you will find yourself sat there tapping away to no effect for a while, but have patience, and once you have the hang of it, it is extremely simple and easy to turn the torches on and off, or adjust the power setting (NB: Only use the lower power setting topside).
The accelerometer has innovative dual software, so it senses whether the light is topside or underwater, and it is optomised for underwater use, so you'll actually find it easier to operate when you are diving. This clever software can even detect when the torch is being transported and not accidentally switch on.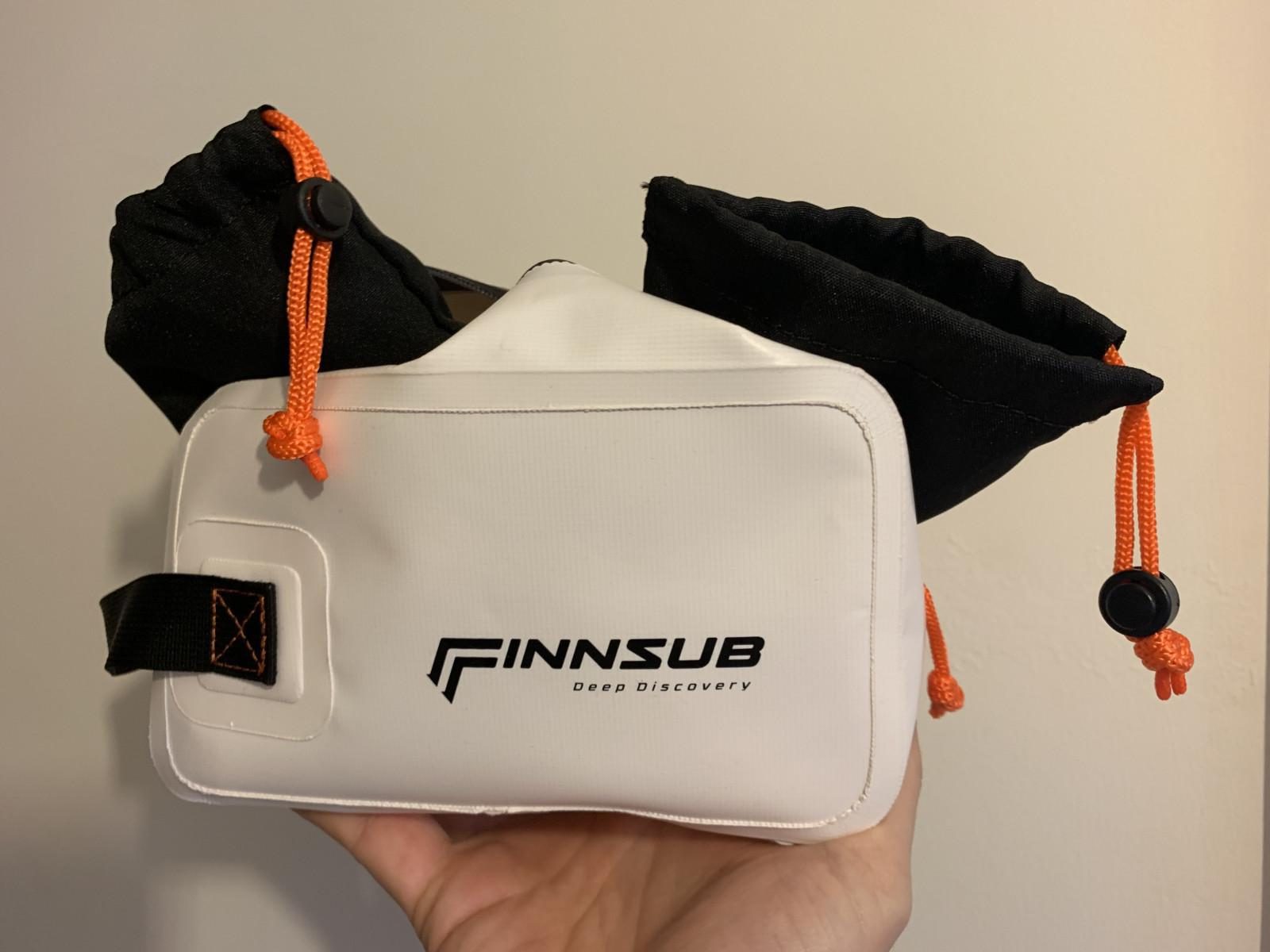 Each torch is supplied in a soft, zippered pouch for storage and protection. Within these drybag-like pouches, you will find the lights themselves and their chargers inside individual drawstring pouches – the torch one even has a handy image of the light printed on the outside. Both torches also come with a neat soft webbing-and-neoprene Goodman-style handle mount to hold the light securely on the back of your hand, but leave your fingers and thumb free to do other things.
This can be quickly and easily adjusted to fit a bare hand, if you are in warm waters, or a hand inside a thick neoprene glove in colder climates. I really like these sort of handles, the dive light just sits there for when you need it, but doesn't get in the way when you don't. That particularly applies to these units as they are so small.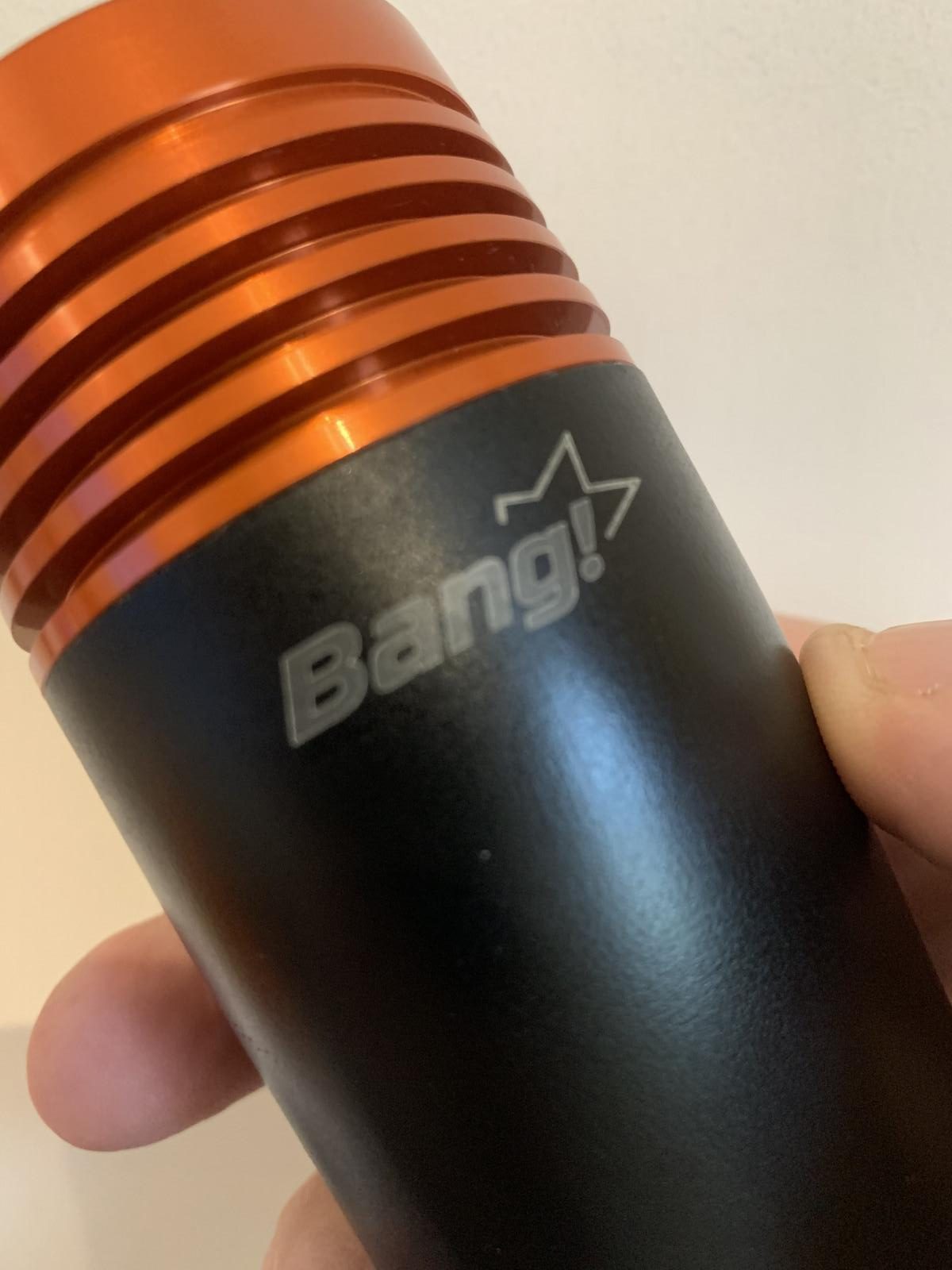 Being small but very bright, these Finnsub dive lights are perfect as primary UK torches, but equally would be ideal for the travelling diver, as they won't hammer your baggage allowance. Knock down the power to the lower settings and it is great for night dives in the tropics, but then find yourself inside a shipwreck or cavern and you can crank it up to full power.
I found the Spot perfect in UK conditions when there was a bit of detritus in the water, as the focused beam just sliced through the murk. The Wide still did a good job, but obviously illuminated more of the 'floaters', but this could be counter-acted by knocking down the power levels, which still meant it gave you decent light penetration but without reflecting on all the floating particles.
Want to read more Scuba Equipment Reviews?