­Beauty and the Beast a guide to the best diving in Fiji
Diveplanit Travel's Deborah Dickson-Smith normally plans a dive trip to Fiji every year, and now that borders are set to open, it will be the first international dive holiday on Deb's agenda.
Here's a comprehensive guide to diving Fiji, from north to south, east to west.
Admiring Fiji's rugged green volcanic landscape, it's not hard to imagine what stunning diversity of terrain and variety of marine life its aquamarine waters might reveal. The country's 333 islands support over 300 species of hard corals, more than 1500 species of fish and many species of soft corals, anemones, sea fans and nudibranchs. Circled by three of the world's largest barrier reefs, Fiji presents the ultimate adventure playground for scuba divers.
Acknowledged as the soft coral capital of the world, spectacular diving awaits in places like Vatu-I-Ra where colourful coral-clad pinnacles rise from 40m to just below the surface, teeming with colourful anthias, swarms of fusiliers and schooling jacks and barracuda.
The Great Sea Reef and the Great Astrolabe Reef offer exhilarating drift dives along their magnificently coloured walls in the company of pelagics like giant trevally, sharks and manta rays.
The world-famous Rainbow Reef in Fiji's north is named for its extravagant mix of soft and hard corals, sea fans and sea anemones in every colour of the rainbow and every direction you look.
For thrill-seekers, Fiji's shark diving sites present the opportunity to get up close and personal with several species of sharks, from little black tip reef sharks to magnificent tigers and bulls. Fiji's shark diving experiences present dive guests with the opportunity to come eye-to-eye with these magnificent apex predators.
Suncoast – Rakiraki
If Fiji is known as the soft coral capital of the world, then Vatu-I-Ra in Bligh Water, is the soft coral capital of the Fiji Islands. The main island jump-off point for Bligh Water is located about two and a half hours' drive north of Nadi on the main island of Viti Levu. The reef here is a maze of barely submerged coral pinnacles, all festooned with brightly coloured soft corals in yellows, pinks and deep purples. The soft corals attract crowds of bright yellow damsels, purple and orange anthias, while swarms of fusiliers ply up and down the pinnacles and schools of eye-bar surgeons hang silently in the blue.
The nooks and crannies hide morays and sweetlips and white tipped reef sharks rest in the bottom of sandy gullies. The dive sites here are all named quite metaphorically: Wheatfield is topped with long, wavy soft yellow corals that look for all the world like a field of wheat swaying in the breeze. Purple Haze is a wall draped in purple soft corals and Vatu Express is a drift dive – no finning required – just relax and enjoy the reefs and cleaning stations as you glide by.
Vatu-I-Ra is a favourite hangout of Fiji liveaboard the Nai'a and also accessible from the resorts near Rakiraki, including Volivoli Beach Resort.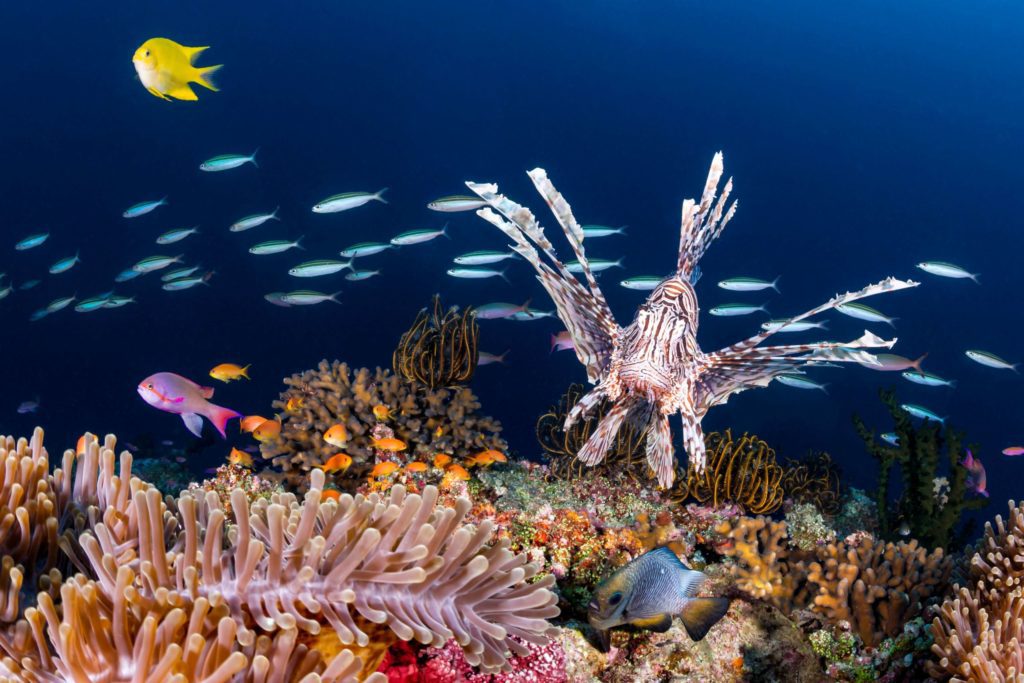 The Mamanucas
The Mamanuca chain of islands is the closest to Fiji's international hub of Nadi, a short ferry ride from the main island. As you cruise past the islands that dot this archipelago, you'll see plenty of palm fringed white sandy beaches and the stunning resorts. But the Mamanucas hold plenty of treasures beneath the water too.
The Malolo Sea Reef produces perfect calm conditions within the lagoon for snorkelling the colourful coral gardens, with easy diving for beginners on sheltered bommies and pinnacles. It's the perfect place to try diving for the first time, or even learn to dive, whether you're holidaying with friends, staying at a luxury resort, or on holiday with the family – kids as young as ten can have a go at diving in Fiji.
Within the lagoon there are sites like Sunset Reef, a slowly shelving reef excellent for novice divers looking for coral trout and Maori wrasse, and Supermarket, which offers a good chance to see bronze whaler and reef sharks. The ocean side of the Sea Reef is characterised by wall and drift diving. As well as rolling hills of pristine corals at sites like Big Blue, you'll find sheer reef walls at Wilke Wall and a good chance to encounter turtles, stingrays, sharks and even manta rays at Wilke's Pass.
For a luxury dive experience with your own dive butler, Vomo Island Resort, and for an equally wonderful (cheaper) experience: Treasure Island or Castaway Island resorts.
The Yasawa Islands
The Yasawa Islands stretch north from the Mamanucas, a chain of rugged looking volcanic islands. On the southern end of the Yasawas, you'll find a range of backpacker resorts, many with their own dive centres, offering an affordable, eco-friendly island-hopping experience for the young at heart. For those after a few more creature comforts, there are several luxury resorts tucked away amongst the islands at the northern end, where diving is included with your stay as well as gourmet food and five-star day spas. Being relatively remote, and close to deeper water, the Yasawas offer a good chance to encounter pelagic marine creatures like sharks and manta rays, indeed some of the resorts offer activities based around them.
From Mantaray Island you can snorkel with manta rays in season (May to October) as they come into the shallows to be cleaned. Further south at Kuata you can snorkel with sharks, and certified divers can enjoy the full shark dive experience on The Awakening shark dive. Here you can observe up to twelve different species of shark, from little black tips to mighty tiger sharks as they swim in front of you looking for the little snacks the dive guides have hidden around the feeding area.
A couple of good resort options for diving the Yasawas are Barefoot Manta and Barefoot Kuata Resorts. These dive sites are also accessible on a cruise with Captain Cook Cruises Fiji.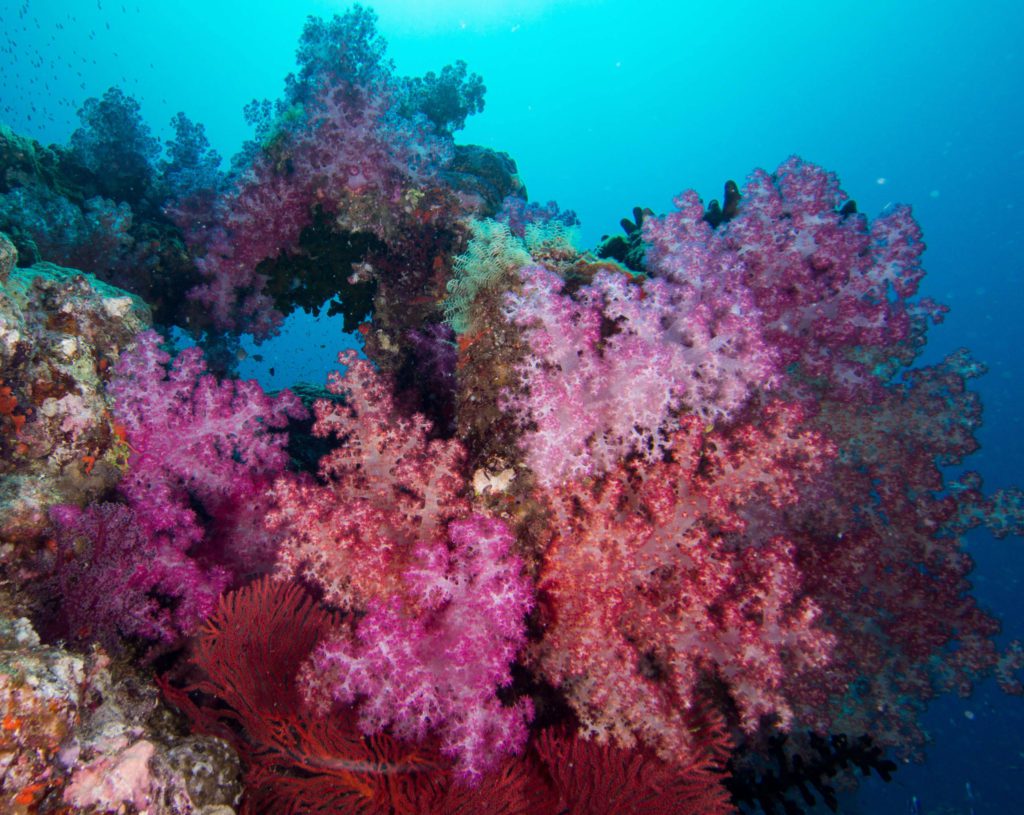 The Coral Coast
The Coral Coast is named for the fringing coral reefs that run along the southern coastline of Viti Levu – Fiji's main island. Though quite shallow and often out of the water at low tide, the edge of these reefs falls away hundreds of metres just a short distance offshore. This means that as well as gently sloping reefs, alive with all the usual brightly coloured reef inhabitants from nudibranchs to coral trout, there are walls and cavernous areas with deep slots, swim throughs and large overhangs.
Being very close to the drop-off produces chance encounters with bigger animals like turtles and even dolphins. The coastline is dotted with family-friendly resorts which offer a wide range of services in addition to the full range of water-based activities.
Diveaway Fiji manage dive operations for several Coral Coast resorts including The Outrigger Fiji Resort and Hideaway Resort and have exclusive access to a wonderful natural shark aggregation, where they often encounter over 50 sharks in a single dive.
Pacific Harbour & Beqa Lagoon
Still on the main island of Viti Levu, Pacific Harbour, gateway to Beqa Lagoon, is a two-and-a-half-hour drive southeast of Nadi. The shark diving in Beqa Lagoon is one of Fiji's most famous marine experiences. On these well-managed shark diving experiences, you can expect to see large bull and tiger sharks, as well as silvertips, reef sharks, and even lemon and tawny nurse sharks.
The sites inside Beqa Lagoon are long established and well organised. Typically, a low coral wall separates observers from the feeding area, and dive guests are led down the mooring lines and positioned behind the wall before feeding commences.
There are three shark dives in Beqa Lagoon: 'The Arena' managed by Beqa Adventure Divers, 'The Bistro' managed by Aquatrek and 'The Cathedral' managed by Beqa Lagoon Resort.
On some dives, the sharks are hand fed, on others, fish pieces are laid out around the feeding site for the sharks to discover. Either way, guests are treated to an eye-to-eye view of the sharks as they cruise around the site seeking out their lunch.
The double dives last 40 minutes each, but as the sites are at 20 – 26m (65 – 85 feet) they are only suited to divers with an Advanced Open Water certificate. For conservation reasons, the shark dives don't happen every day – but that's not a problem as there are dozens of other adventurous sites to be dived on the 144km coral reef that surrounds Beqa Lagoon, including a fascinating swim-through at John's Tunnel and the wreck of Chinese trawler.
The shark dives are open to guests from the many resorts in Pacific Harbour, including the Pearl South Pacific Resort and Uprising Resort, and Beqa Lagoon Resort on Beqa Island, but be sure to book in advance as they are very popular.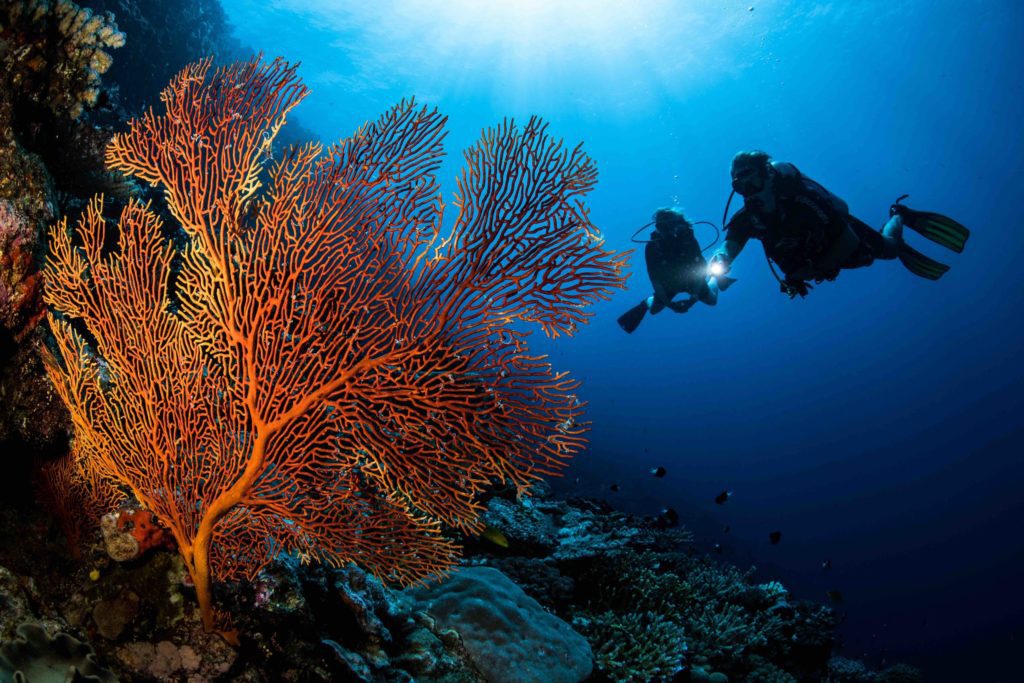 Vanua Levu, Savusavu and the Namena Marine Park
Fiji's second largest island, Vanua Levu, holds two of Fiji's best kept secrets as far as scuba diving is concerned: the Great Sea Reef and the Namena Marine Park. The Great Sea Reef is the third longest barrier reef in the world, and arcs 300km from the top of Vanua Levu towards the tip of the Yasawa Islands.
Though home to 80 per cent of Fiji's coral fish species, amazingly, much of the Great Sea Reef is still largely unexplored. It's the kind of place where you can just dive in and see eagle rays and manta rays, dolphins and turtles amid miles and miles of pristine hard and soft corals.
Vanua Levu's other secret is the Namena Marine Reserve – an island surrounded by a tongue of reef that extends 20km south from Vanua Levu into the deeper Koro Sea. The island and its surrounding reefs are contained within the Namena Marine Reserve.
What makes Namena so special is its location. Surrounded by spectacular seamounts and right on the edge of the reef drop-off, Namena is also on a migratory pathway for cetaceans. So, in addition to the 1000-plus species of reef fish, and 1000-plus species of invertebrates, you could see pelagic fish, dolphins and four species of whale.
Namena Marine Park is accessible from Savusavu resorts including the Jean Michel Cousteau Fiji Resort, and it is on the itinerary of Fiji liveaboard; the Nai'a.
Taveuni & the Somosomo Strait
World famous-Rainbow Reef is in Fiji's Somosomo Strait, a narrow channel between two islands. Here, nutrient rich waters from deeper areas are brought to the surface and over the reefs providing a constant food supply for the entire ecosystem of marine life that it supports.
Many reefs are either hard or soft corals, but on Rainbow Reef, hard and soft corals sit side-by-side, with sea anemones and sea fans dotted between them. It's this unique combination which ensures you can see every colour of the rainbow in any direction you look.
There are about two dozen dive sites to explore throughout the Rainbow Reef, and all are a riot of colour, bar one – the Great White Wall. Part of this dive site is a near vertical wall which drops from 20m and is blanketed with soft white corals down as far as the eye can see.
There are several dive resorts on Taveuni to suit all budgets, from Garden Island Resort at the budget end, to Taveuni Dive Resort and Paradise Taveuni, all offering fantastic dive packages.
Kadavu and The Great Astrolabe Reef.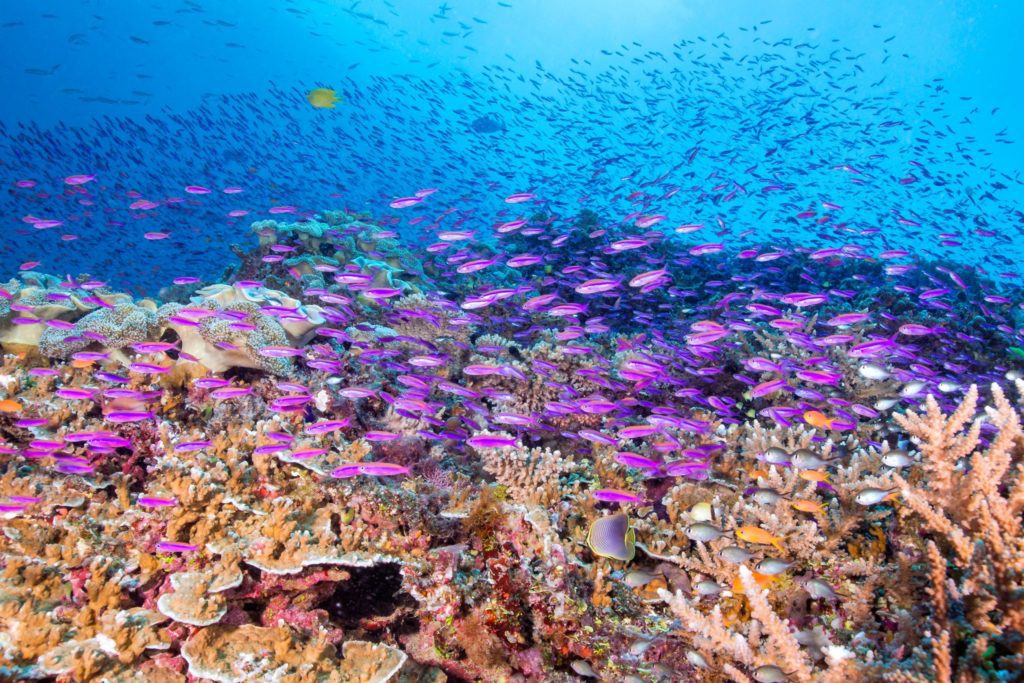 Kadavu Island is best known for the Great Astrolabe Reef, which runs along its southern shore and arcs north-east passed Ono Island up to Buliya Island, famous for manta ray encounters.
The Great Astrolabe Reef is a breeding ground for big fish like tuna, marlin, giant trevally and sharks. Gaps in the Reef can be subject to strong currents, but these also bring in the nutrients which feed everyone along the food chain, from the soft corals and reef fish to the big fish.
The environment makes for adventurous and colourful diving, with sites like Naiqoro Passage where you can experience big fish action against a background of colourful soft coral coated walls. There are also encounters to be had with mantas and other pelagics in shallower, sheltered waters around the islands of Ono and Buliya.
Kadavu's remote location results in resorts that are sustainably run, with eco-friendly, yet comfortable (and sometimes luxurious) facilities; and expect that much of what's served on your plate has come from a local garden.
For a wonderful experience on the lower end of the budget spectrum, Matava Eco Resort have been offering amazing marine encounters for many years, and for a luxury dive experience, Kokomo Private Island Resort offers valet diving, a farm to table dining experience, and the resort funds several marine conservation programs.
For more information about diving Fiji visit Dive Planit