STOP WHAT YOU'RE DOING, THERE'S A GROUP OF ISLANDS YOU'VE NEVER HEARD ABOUT:
FRANKLAND ISLANDS
This article was originally published on Tourism Tropical North Queensland Website. Find out more about Cairns & Great Barrier Reef activities.
Looking for an eco-certified river, reef and rainforest adventure? Look no further than the Frankland Islands in Tropical North Queensland.
Once connected to the mainland hundreds of thousands of years ago, these five continental islands combine rainforest vegetation and rocky outcrops with sandy beaches and a World Heritage-listed underwater wonderland. Unless you plan to DIY your island adventure (read: BYO boat), jump on board with Frankland Island Reef Cruises, who have exclusive access to pristine Normanby Island.
Get in the know with what to expect during your Frankland Islands adventure with this guide.
HOW TO GET TO FRANKLAND ISLANDS
Jump in the car and head 45 kilometres south-east of Cairns to the town of Deeral to start your river, reef and rainforest adventure. Take in the sights as you travel south, such as Walsh's Pyramid – the 922-metres-tall freestanding natural pyramid among the cane fields that Far North Queensland is famous for.
Launching from the Mulgrave River, take in the landscape of the base of Malbon Thompson Forest Reserve as you cruise along the calm river waters – keep an eye out for crocodiles in the water along the way and other wildlife along the banks of the river. Enjoy the river cruise for 30-minutes before reaching the ocean crossing to the islands – a short 10 kilometres away. With the shortest ocean crossing of all the Great Barrier Reef cruises near Cairns, this tour is perfect for families or anyone who struggles with seasickness.
Button: Getting there
WHAT TO SEE AT FRANKLAND ISLANDS
While Nemo might be one of the better-known inhabitants of the Great Barrier Reef Marine Park, there are thousands of other species to find in this natural aquarium. From sea cucumbers, sea stars, and giant clams to coral gardens made from hard and soft coral dating back hundreds of years, you'll want to put your head underwater to discover them all.
It's not just small marine species that enjoy the waters surrounding the Frankland Islands – turtles, dugongs, manta rays, and whales regularly pass through too. On dry land, the island's dense rainforest vegetation makes for popular nesting sites for terns, curlews, and imperial pigeons.
Button: Marine Life

WHAT TO EXPECT
With the tour capped at 50 people, there's no need to worry about sharing the reef and islands with crowds. During the day trip, you'll have up to four-and-a-half hours of adventure time up your sleeve to choose between a range of activities. Cruise on the water's surface and soak up the sun on a paddleboard or in a kayak, or grab a mask and snorkel to explore below.
While the Great Barrier Reef Marine Park might seem like the main attraction, don't leave without taking a walk on dry land. Get insider knowledge on the island's vegetation, rock pools, and birdlife during a guided island tour with a marine naturalist and Master Reef Guide. It's not all walk and no play either, with beach toys to entertain the little ones.
Button: Activities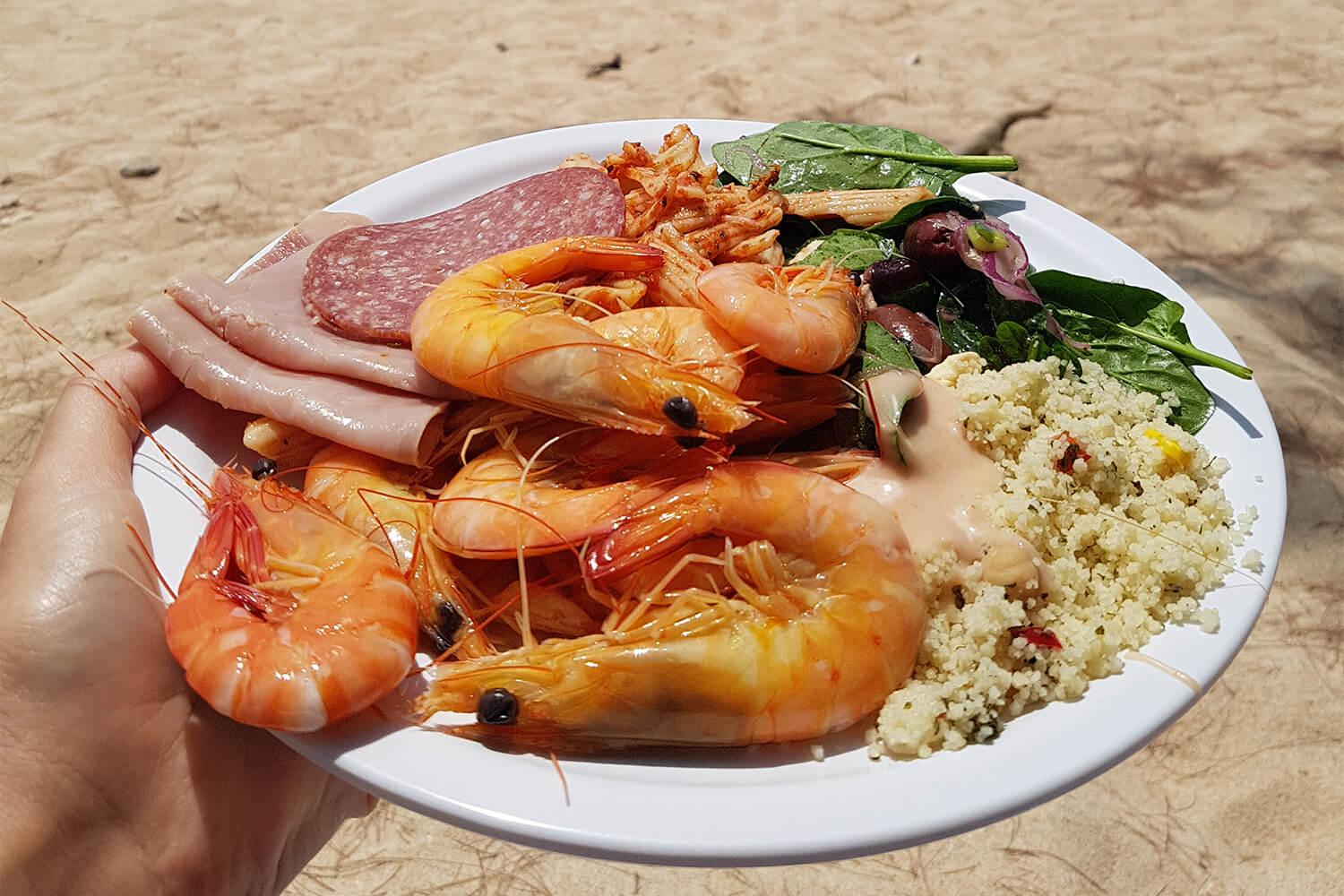 WHERE TO STAY – Frankland Islands Camping
While all the Frankland Islands are uninhabited (read: there are no hotels to stay in), camping is only allowed on nearby Russell and High Islands. You can extend your Frankland Islands adventure by booking a transfer with Frankland Island Reef Cruises to your overnight location on Russell Island.
Don't forget to obtain your permit first, before setting up camp on this pristine National Park.
Button: More information
WHAT'S PROVIDED
No need to pack an esky – Frankland Islands Reef Cruises provides morning tea, afternoon tea, and a freshly prepared packed lunch to enjoy beachside to fuel a full day of adventure. Marine Biologists are on hand to provide education about the marine park and islands during the guided snorkelling and rock pool walks.
To get the most out of your water adventure, floatation devices (including life jackets and pool noodles), snorkelling equipment, and protection suits are also provided, along with the guided snorkel tour.
Button: Frequently Asked Questions
For more about this region try: Genetic Goldmine of Tough Corals on the Great Barrier Reef