Beginning in December of 2019, divers will have a much easier time getting to one of the world's top shark diving sites. Located north of Grand Bahama Island on the edge of the Little Bahama Bank, Tiger Beach is famous for its tiger shark encounters. For years the best way to reach this site was aboard a week-long liveaboard charter. Various smaller boat operators have sporadically offered shorter excursions, including day trips originating on the coast of Florida. But due to unpredictable weather windows and the required 50-plus mile runs across open waters of the Gulf Stream, these trips were never a sure thing.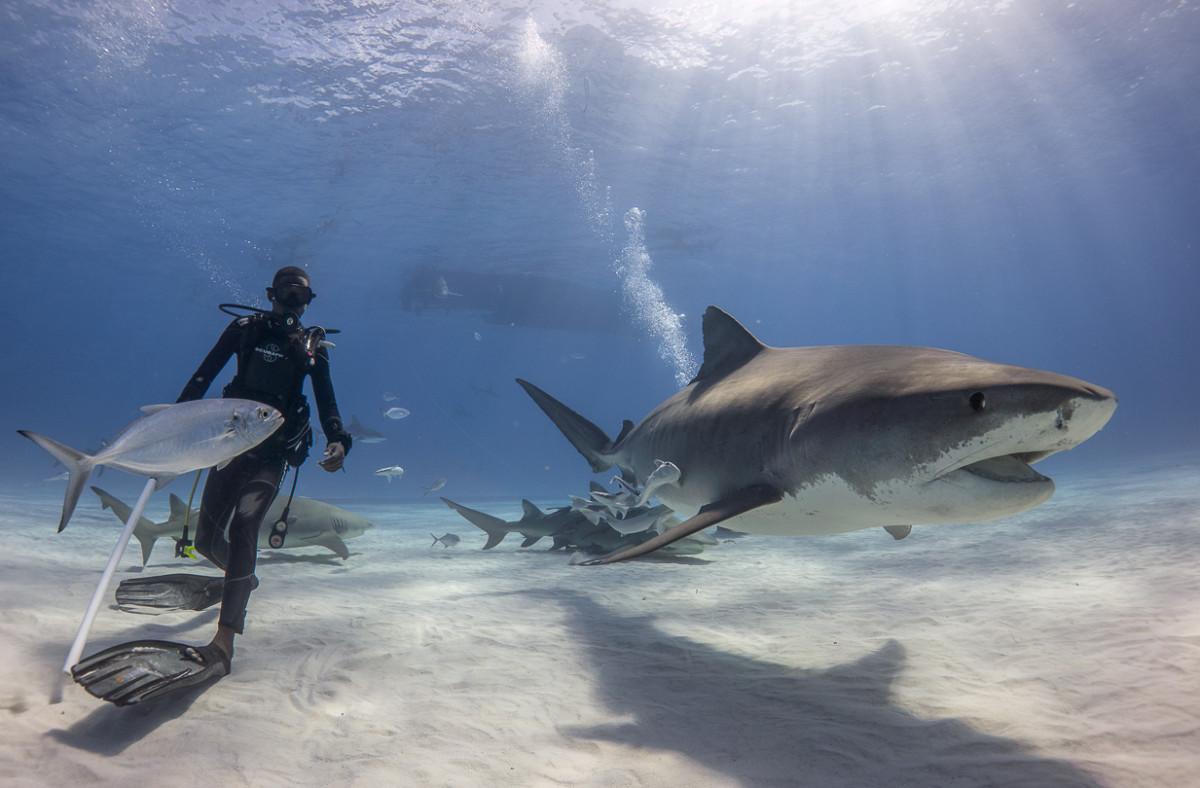 Now, Grand Bahama's West End will be the starting point for Tiger Beach Safaris, which are day-trip itineraries created by Neal Watson's Bimini Scuba Center. These excursions will depart daily from Old Bahama Bay Resort & Yacht Harbour and will be offered from November through June each year.
Neal Watson's history in the Bahamas dates back to 1975 when he opened his first scuba diving operation inside the Bimini Yacht Club on South Bimini Island. Neal Watson's Bimini Scuba Center is well-known for their Great Hammerhead Shark Safaris. "What we've learned over the years from our shark encounters in Bimini — specifically our commitment to safety and protocol — will no doubt parlay into our Tiger Beach dives in West End," says Neal Watson II. Like the Bimini-based hammerhead encounters, Neal Watson's West End/Tiger Beach excursions can be customized from as short as a two-night stay at Old Bahama Bay with a single day of shark diving to itineraries of a week or more.
The Old Bahama Bay Resort provides an ideal land-based option for those wishing to visit Tiger Beach. The property includes 73 spacious beachfront suites, a full-service marina and an oceanfront pool. In addition to be heralded for its "barefoot elegance and ambiance with an out-island remote feel", the resort is positioned 26 miles away Freeport's international airport, making it highly accessible from most major US destinations.
To learn more about Neal Watson's Bimini Scuba Center's daily Tiger Beach rates and/or package visit www.biminiscubacenter.com/tigerbeach or call Toll Free (800) 867 4764. Or you can contact Neal Watson II directly by emailing: neal@biminiscubacenter.com or calling the Local BAH phone number at +1 (242) 473 8816.