Diving Socorro Islands this summer, then make sure you don't miss these top 5 dive sites from your week of fun.
Diving Socorro Islands
Socorro, San Benedicto, Roca Partida and Clarion are four volcanic islands that make up the Revillagigedo Islands, some 250 nautical miles south of Cabo San Lucas.
Roca Partida
Roca Partida is only a small, guano-covered rocky islet poking out of the Pacific Ocean – it measures just 130 feet in height, and some 100 metres in length – and is so compact that divers can circumnavigate the entire site a couple of times on one dive. However, what it lacks in size it makes up for in content – the vertical walls attract hordes of pelagics, from various shark species (silky, gray, hammerhead, whale) to dolphins, manta rays and even humpback whales.
The Boiler (El Boiler)
The Boiler is one of the most-famous dive sites at San Benedicto Island and it is considered the premier spot for interacting with giant manta rays when diving Socorro islands, as they congregate here to be cleaned by clarion angelfish. It is a large pinnacle that rises up from the depths to within 20ft of the surface. Like Roca Partida, the site can be circled several times on a single dive. As well as the friendly mantas, which seem to bask in the exhaled bubbles of the divers, you can also expect to see dolphins, sharks and whales.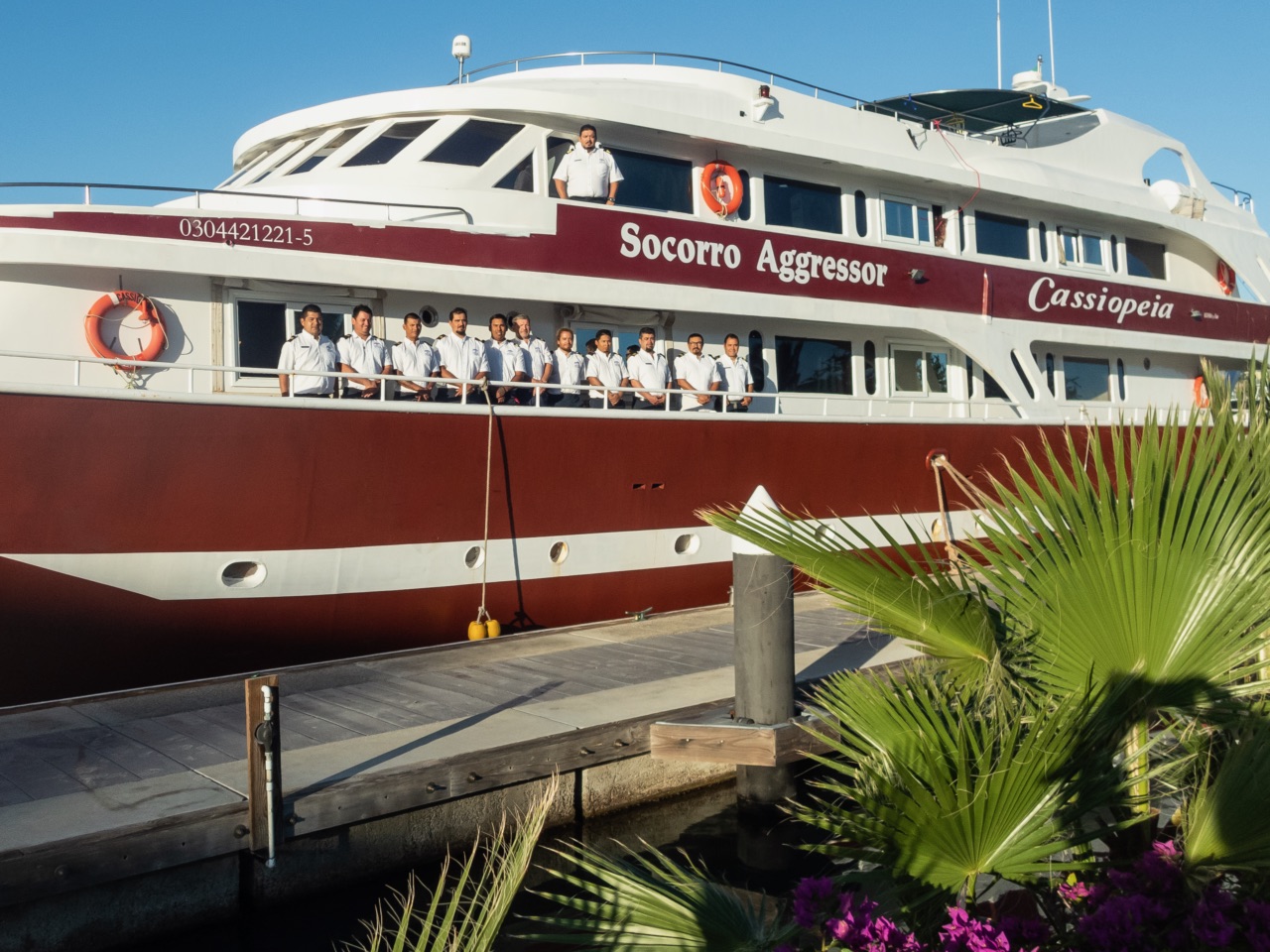 The Canyon (El Canyon)
San Benedicto's other 'must-dive' site is The Canyon. While mantas sometimes put in an appearance, this site is all about sharks – expect to see silkies, Galapagos sharks and hammerheads, the latter usually in vast schools numbering hundreds of individual animals. As with all sites when diving Socorro islands, you never know what else might turn up out of the blue.
Cabo Pearce
When diving Socorro islands, Cabo Pearce is a must-visit. It is effectively a long, thin finger of rock that stretches out off the east coast of the island and extends into the current. Massive schools of hammerheads characterise Cabo Pearce, although you can also encounter silky sharks and manta rays. The best bet is to drop down and take shelter from the sometimes-strong current among the rocks and wait to see what comes cruising by.
O'Neal Rock (Roca O'Neal)
O'Neal Rock is also known as Hammerhead Central, which might give you an inkling as to what you might see when diving Socorro Islands dive site. As well as the seemingly ever-present hammerheads, you can also see Galapagos sharks, grays and silkies, but if you can tear yourself away from the pelagics, on the plateau at 33ft-39ft, you can find smaller critters such as lobster, and there is also a photogenic cavern.
Hints & Advice
Socorro is known as Mexico's 'Little Galapagos' due to its remote location and plethora of pelagic animals that you can encounter, although it is often compared with the likes of Cocos Island and Malpelo as well. It is by far the easiest to get to from the USA, with the Aggressor departing from San Jose del Cabo, which has its own airport.
It can take 24 hours to travel to this magnificent area, so make sure you take some good books, catch some ZZZs so you are ready for the diving to come, and catch up with your fellow adventurers on board. Plus, there will be plenty of movies to while away the hours in the main salon, or in the comfort of your own stateroom.
Safety is paramount, especially when you are diving way offshore as at the Socorro Islands. All divers must carry a whistle and an inflatable safety sausage or DSMB at all times, and will also be provided with individual Lifeline GPS/radio beacons.
You will always be amazed when diving Socorro Islands regardless of when you go, but the Socorro Aggressor aims to hit some of the optimum months, operating from mid-November to the end of June (the vessel moves to Guadalupe Island from August to early November).
Diving at the Socorro Islands is recommended for experienced divers, due to the often choppy seas, strong currents and abyssal walls. You need to be confident in your buoyancy and happy dealing with surge, swell and currents.
Diving Socorro Islands Aboard The Socorro Aggressor
The Socorro Aggressor is a spacious yacht built for comfort, safety and stability. Each of the staterooms has individual air-con, a private head and shower, porthole view window, hairdryer, fresh towels and a 32-inch flat-screen.
There is a beautiful salon that is air-conditioned and well-equipped with an LCD TV and satellite telephone. There is also a large sun deck with shading, chaise lounges and deck chairs, a bar, and a complete photo/video center.