Top jobs are available on superyachts for qualified Divemasters and dive instructors, starting at €2,000-plus per month, on our client yachts.
Galileo Maritime Academy offers you two 15-day residential courses, either of which will give you the key entry qualifications for starting a career as crew on superyachts. Those with a service and hospitality background or skill-set will choose the Deckhand/Steward(ess) route (DSS) and those with a background or interest in engineering will choose the Deckhand/Engineer route (DEC).
Being a PADI-certified Divemaster or dive instructor is a huge advantage for successful career development on superyachts because each yacht needs one or more crew who are qualified to lead dive groups, and to train those guests who have no prior experience of scuba diving.
Many private and charter superyachts spend much time around the world's top dive sites and are fully equipped with compressors and diving equipment for reef and wreck diving expeditions. The qualified Divemaster/instructors will be tasked with supervising all diving activities and maintaining the related equipment on board.
Galileo Maritime Academy is the leading training and certification facility for professional superyacht crew in the Asia-Pacific region and the only such academy accredited by the UK government Maritime and Coastguard Agency (MCA) and approved to issue MCA Certificates of Competence to seafarers. Safety, security, survival, fire-fighting and first aid training (known as STCW 2010 certification) is required by international maritime law for all crew working on vessels of 24 metres or larger.
Galileo is based within the 200-acre site of Yacht Haven Marina in Phuket, Thailand, which is the largest superyacht marina in Asia. Galileo's facilities surround our stunning new training centre and crew residence, overlooking the dramatic seascape of Phang Nga Bay.  These facilities include our Advanced Fire Fighting School, Deepwater Survival Pool, School of Marine Engineering, our Survival Craft and Rescue Boats training facility and a fleet of training yachts and tenders for practical experience at sea.
Galileo considers that a key part of our mission is to help each graduate to find a suitable job on board a superyacht. We are consistently successful at this and between 80-90 percent of all our graduates get placed on one of our 200-plus client superyachts.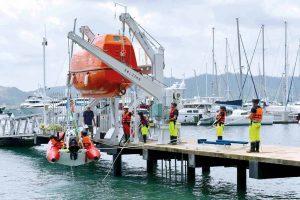 If you would like to qualify as a Divemaster or dive instructor, we invite you to do so at our partner diving academy Sairee Cottage five-star Diving Centre in beautiful Koh Tao (Turtle Island) here in Thailand and one of the world's most-amazing diving locations.
If you are already qualified or require more information about these well-paid career opportunities, please send an email to: HR@GalileoMaritimeAcademy.com, or check out our website: www.GalileoMaritimeAcademy.com
For our NEWSLETTER – please click NEWSLETTER
For our intake courses dates each month, please click HERE
Advertising Feature