SOLOMON AIRLINES AND PARTNERS LAUNCH LAGOON FESTIVAL TRAVEL SPECIALS INCLUDING 'DIVE FOR DIGNITY' WEEKENDS WITH MISS SOLOMON ISLANDS
– Miss Solomon Islands encourages adults to dive with proceeds going to the National Referral Hospital Cancer Unit
Solomon Airlines has announced range of special travel offers to Munda for the 2020 Lagoon Festival and Second Appointed Day celebrations, taking place Monday 7 December to Friday 11 December.
To coincide with the festivities, Miss Solomon Islands Gladys Habu, together with Solomon Airlines, Dive Munda and Agnes Gateway Hotel have also released two very special 'Dive for Dignity' weekends prior to, and following the Lagoon Festival, from 4-7 December and 11-14 December respectively.
"I am so delighted to share the thrill of learning to dive with others and to be able to create this opportunity for an extremely worthy cause," Miss Habu said.
"These two weekends are especially for adult divers, so if you have ever aspired to learn to dive, this is a wonderful time to do it, coinciding with the Lagoon Festival and especially as a portion of proceeds will be donated to the National Referral Hospital Cancer Unit," she added.
"The Lagoon Festival celebrations every year are a major attraction for travellers from throughout the Solomon Islands and of course an exciting opportunity for local residents to showcase and be proud of their region," said Colin Sigimanu, Commercial Manager for Solomon Airlines.
"This year also coincides with the Second Appointed Day anniversary so we expect interest to be heightened. We have created a range of affordable travel opportunities to make it as easy as possible for people to visit before, during and after the festival timeframe," he said.
Belinda Botha, Operations Director, Dive Munda said she was thrilled to see enthusiastic response to the company's partnership with youth ambassador, Miss Solomon Islands, and expansion of its weekend dive initiatives.
"The concept started as an International Youth Day initiative during Covid-19 utilising our team and working with our partners, to encourage more youth to learn to dive via facilitated sponsorships," she said.
"Underpinning all of our activity is a passionate aim to help protect and preserve one of the last wild frontiers on our planet, our ocean.
"These new weekend partnerships also create an amazing opportunity for adult Solomon Islanders to learn to dive at a reduced rate with part of proceeds also donated to a very worthy cause. Dive Munda is thrilled to donate to the cause and to continue to do good during crisis times." she said.
Details of the special packages are as follows:
'DIVE FOR DIGNITY' SPECIAL LONG WEEKEND PACKAGES FOR NEW DIVERS
4-night packages include return airfares, accommodation, light breakfast daily and 3-day Open Water Dive Certification Course with Dive Munda in conjunction with Miss Solomon Islands, Gladys Habu. Prices start from SBD$3200 ex Munda, SBD$4386 ex Gizo and SBD$5614 ex Honiara per person twin share, or SBD$3400 ex Munda, SBD$4586 ex Gizo or SBD$5814 ex Honiara for solo travellers.
The 3-day Dive Certification Course can also be purchased separately for SBD2200 per adult.
SBD$800 from each course sold will be donated to the National Referral Hospital Cancer Unit.
For those wishing to extend their stay to include the Lagoon Festival, additional nights are available from SBD$250 per person per night including breakfast. Additional dives can also be purchased in multiples of 2 dives for SBD1040, with SBD200 of that amount also being donated to the National Referral Hospital.
SPECIAL 7 NIGHT LAGOON FESTIVAL PACKAGES FOR CERTIFIED DIVERS
Solomon Airlines, Agnes Gateway Hotel and Dive Munda have also announced special 7-night flight, accommodation and dive packages for the Lagoon Festival duration, for those already certified, who want to be a part of Lagoon Festival action and dive at their leisure.
7-night packages including airfares, accommodation and 6 days of diving (12 dives total) are priced from SBD$7090 ex Munda, SBD$8276 ex Gizo or SBD$9504 ex Honiara per person twin share. Solo Diver packages are also available from SBD$7440 ex Munda, SBD$8626 ex Gizo and SBD$9854 ex Honiara.
The 6-day Lagoon Festival dive package can also be purchased separately for SBD5340 per adult. SBD1000 from each 6-day dive package will be donated to the National Referral Hospital Cancer Unit.
To book, or for further information contact Dive Munda on (+677) 734 1545 or 62156, Reservations on (677) 789 6869 or email dive@divemunda.com. Following confirmation of dive course registration, flights and accommodation will be coordinated with Solomon Airlines and Agnes Gateway Hotel.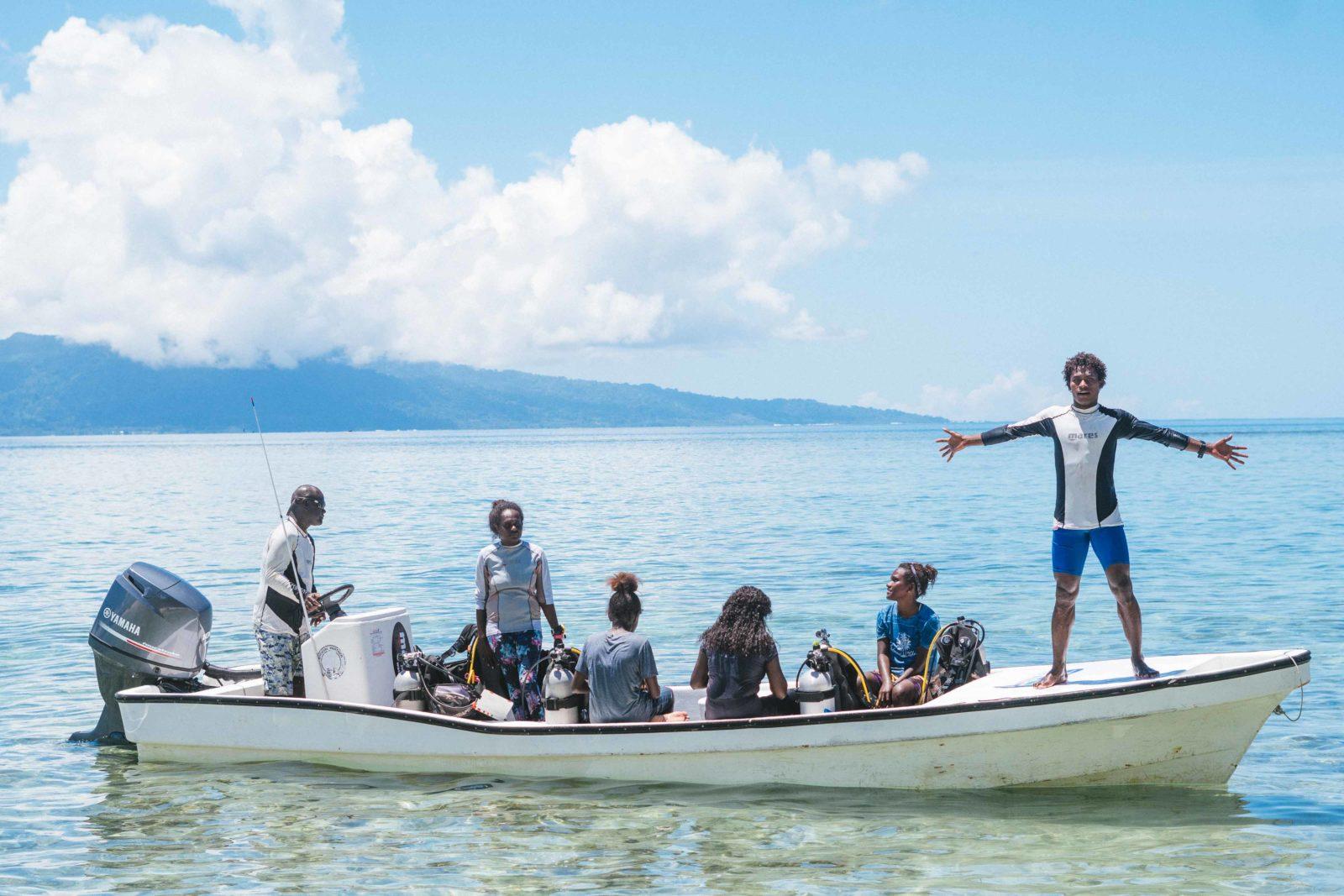 LAGOON FESTIVAL WEEKEND SPECIAL FLIGHTS AND AIRFARES FOR NON-DIVERS
Solomon Airlines is adding extra flights to and from Munda to further support the festival and meet demand for visitors and non-divers keen to join the excitement. The additional flights on the Saturdays and Sundays before and after the festival will provide greater itinerary options for travellers.
Flight IE864 will first operate from Honiara to Munda on Saturday 5th December, departing 10.00am, arriving 10.55am, returning the same day as IE865, departing 11:15am, arriving in Honiara 12:10pm.
IE864 will then operate from Honiara to Munda on Sunday 6th, Saturday 12th and Sunday 13th December, departing 12.00pm, arriving 12:55pm, returning as IE865 departing 1:15pm, arriving Honiara 2:10pm.
The extra flights are ideal for 7 and 8-night packages to ensure travellers can make the most of at least one weekend of diving or relaxing as well as the full week of the Lagoon Festival.
The airline has also released a 'Lagoon Festival Weekend Special' airfare offering 20% off the normal return airfare level, for those travelling from Honiara to Munda and returning on the weekends. Return economy airfares start from SBD$2736 per adult, with child and infant discounts also available. The special fares are on sale until 4 December 2020 for travel 5-6 December and 12-13 December 2020.
Bookings can be made through Solomon Airlines Reservations on 177 or in person or by phone with the airline's Point Cruz Sales Office on 20152, or via email sales@flysolomons.com.sb
Photo Credit: Dive Munda
For more on the Solomon Island try: