Family holidays can always present a problem – how do you keep everyone happy?
Well, how about head to Orlando and you can do the 'Disney thing' for the kids (and the young-at-heart!) as well as log a few dives in the warm Floridian waters.
The DEMA (Diving Equipment and Marketing Association) trade show is held in Orlando every two years, and in 2017, the Scuba Diver team decided to make the most of the trek across the Atlantic by tying in a family holiday – after all, the city is home to Disneyworld and Universal Studios. However, repeated days of theme parks can get more than a little tiring even for children with endless energy, so to break up the days of rides, simulators and experiences, we slotted in a cheeky day of diving in one of the local springs.
Handily, we had a local contact in the diving world – British ex-pat Paul Shepherd, who Editor-in-Chief Mark Evans has known for many years. Together with his American wife Kristen, he runs Seminole Scuba just a short drive north of Orlando.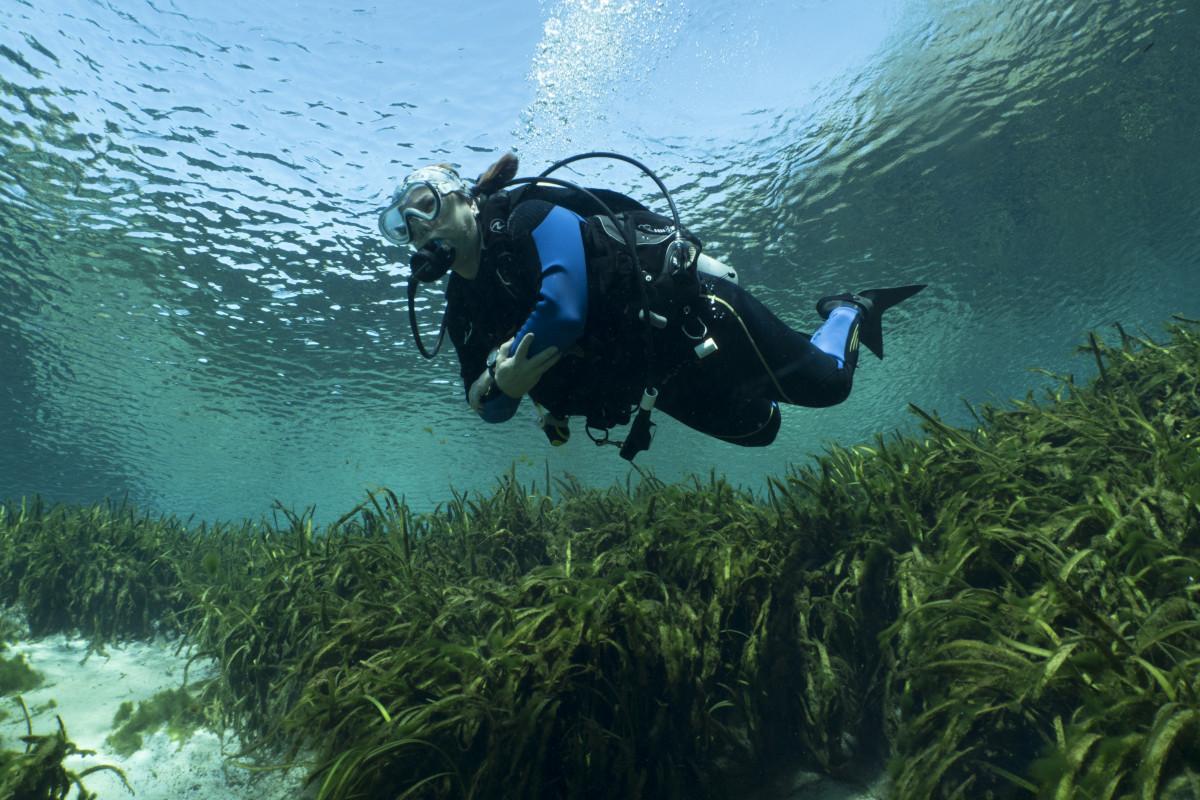 There is no need to haul any kit with you, as they can deck out multiple divers from head to toe in well-maintained rental gear, and they run guided trips to numerous local dive spots through a partnership with Adventure Trips Florida, whose Mercedes minibus is the last word in luxury, with electric leather reclining seats and flatscreen TV, and an adapted trailer for carrying the dive kit. It truly is a case of 'Pimp My Dive Bus'!
Paul outlined various options open to us, including Blue Spring (where you can see manatees from late-November to March), Rainbow River (a gentle drift down a river bursting with fish life), Blue Grotto (a cavern dive offering crystal-clear water and depths of 30m) and Devil's Den (an interesting underground spring), but given we had non-diving snorkelling children with us, we went for Alexander Springs, which is about an hour-and-a-half drive from the Seminole Scuba HQ.
Alexander Springs is approximately 37 miles east of Ocala in the Ocala National Forest in Lake County. It is a large spring depression and has a natural pool that measures 91 metres across with a maximum depth of 7.6 m, making it a relatively safe environment for all of the family.
The bottom is mostly sand, with limestone exposed near the spring vent, and there is a large vertical ledge near the vent. The water is crystal-clear, with a slight tinge of blue in colour, giving it an eerie appeal. Native aquatic grasses are plentiful, and there are thin algae patches present on the limestone substrate, plus broad swathes of water lilies and other aquatic vegetation.
There is a mixed hardwood and palm forest surrounding the spring, and there is plenty to do topside, including hikes, kayaking, picnics and more, so you could happily spend a full day here.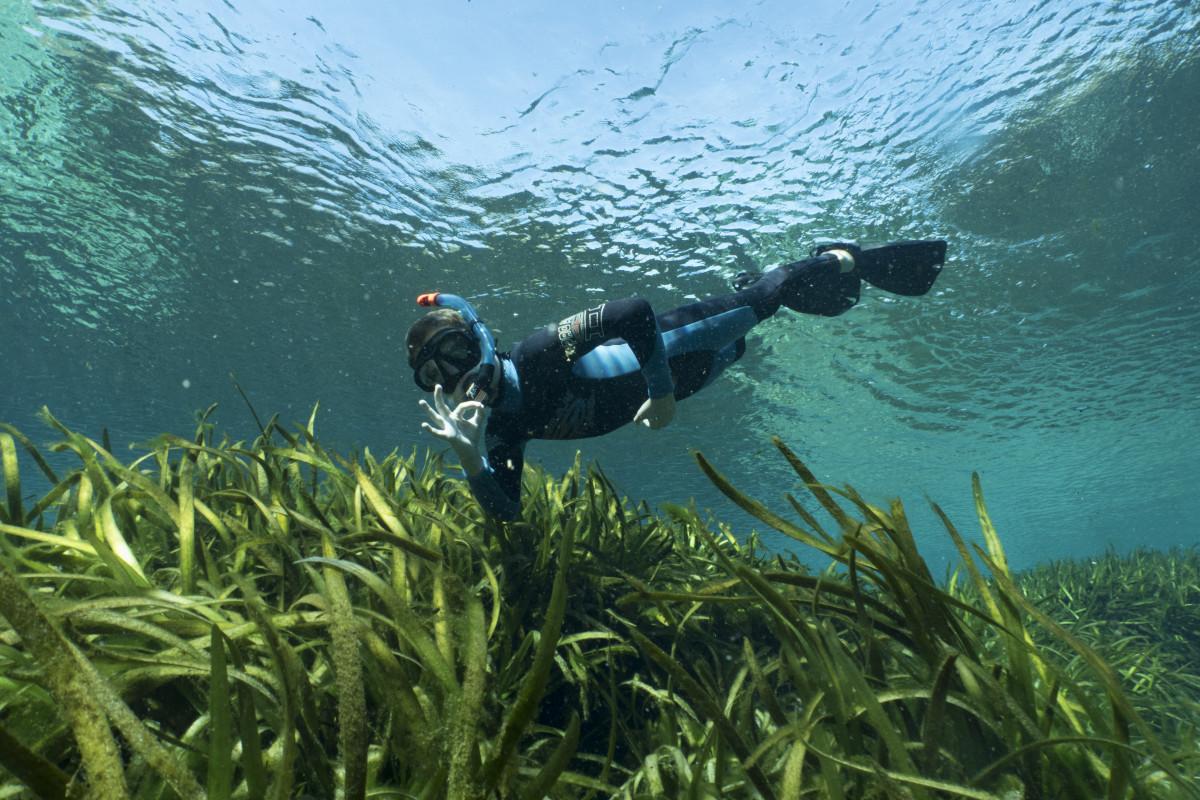 Marine life is plentiful considering the location – there are various species of fish, including tilapia, bluegill and bass, and we were also lucky enough to encounter a large alligator snapping turtle, which posed for a few photographs before swimming/lumbering its way through the mangroves and disappearing into the murky gloom beneath the tree roots. Small alligators can occasionally be spotted, but these are generally moved on to other areas as soon as they show up. Well-buoyed lines mark the limits of the 'swimming/snorkelling/diving' zone.
The vent area is the hotspot for divers, as it allows you to get more than 2m in depth, and this depression is an interesting feature. It is bizarre to see the sand 'bubbling' as spring water forces its way upwards, and further down there are even a few small caverns you can explore. Our snorkelling duo of Luke and Ryan enjoyed venturing in and around the patches of water lilies, which had 'paths' snaking through them, and the clarity of the water meant you could see for a good distance underwater.
Alexander Springs might be a little 'tame' for experienced divers, but when you are with family in tow, it is a good compromise. Some of the other local dive spots offer a little more for qualified divers, including a river drift dive and so on. It all depends on your group and how much time you can devote to diving. If you can do a few days on the trot, Seminole Scuba and Adventure Trips Florida will run multi-day trips to West Palm Beach (Blue Heron Bridge is apparently a mecca for macro), Fort Lauderdale or even the Florida Keys.
Seminole Scuba
Seminole Scuba is a family run PADI five-star IDC dive centre – it is owned by British ex-pat Paul Shepherd and his American wife Kristen – that boasts an immensely well-stocked shop, a huge line of top-of-the-range, well-maintained rental equipment, and being a PADI Instructor Development Centre, can offer courses from entry-level qualifications for the raw novice to professional or technical for the more-experienced veteran.
Adventure Trips Florida
Laszlo and his ultra-luxurious Mercedes minibus, complete with adapted trailer fully decked out to securely and safely carry cylinders, wetsuits, BCDs, and all the other diving paraphernalia, can whisk divers everywhere from the local dive sites to the coastal areas of West Palm Beach, Fort Lauderdale and the Florida Keys. The miles are eaten up by the comfortable long-wheelbase van, which is superbly fitted out with electric reclining leather seats, flatscreen TV and multi-speaker stereo system, and with Laszlo taking care of the driving, you can chill out and enjoy the scenery – or tilt your seat back and grab a power nap.
Photographs by Mark Evans and Paul Shepherd